Dreams Tulum Resort & Spa and the Allure of Mexico
You can almost hear the chisel-tones of the stonemasons as they taught the bare rock the shapes of civilisation. It's no surprise these people of ritual crafts and old Gods saw the magnificence of the sheer limestone, or the hospitality in the rolling hills of Tulum. In time they made it their seaport, a place to trade jade and turquoise, and soon Tulum's prosperity was written in the fine paints of grand frescos. Unusually, they chose to fortify their homestead with a wall carefully plucked from the stones of the land, a sign of the heart, soul, and economy invested in this settlement. It was their home, their livelihood, their very essence.
This, at least, is what the ruins of Tulum tell us about their Mayan creators. The rest remains the most enigmatic species of history, teasing us with possibilities while withholding any sure sense of closure. But it is precisely this fact that keeps the region at the forefront of the holidaymaker's mind. The stonework of Tulum tugs on the imagination, asking questions for the sake of answers we can never know, purely because the questions themselves are so remarkably beautiful. Who built the towering Castillo on the cliff edge? Who are the men and beasts in its art? How could these people merit such fortification? It's like a jigsaw with half the pieces missing and the box long lost: the desire to speculate a solution is simply irresistible.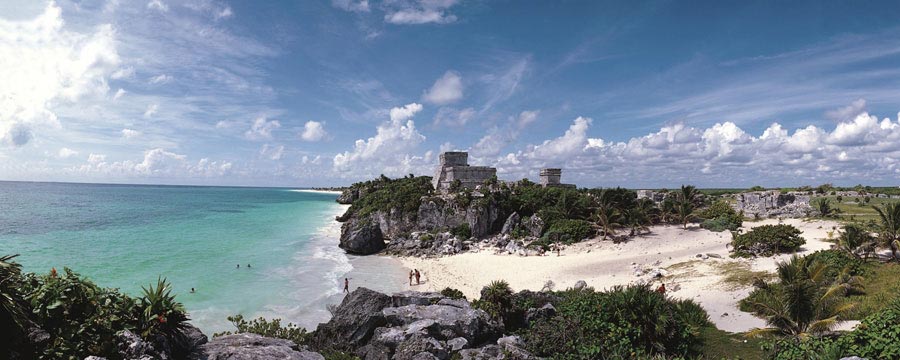 This is the power of the fragment. Tulum is beautiful precisely because it is incomplete, its former glory endlessly reimagined in the pieces left to us. Holidaymakers of every age and interest are drawn to this incompleteness, the most curious of curiosities, because trying to fit it all back together is infinitely more pleasurable than knowing the answer. It's a part of the old world that will remain largely unknowable, and nothing nourishes the spirt like a good old fashioned mystery.
Whisk me away
Thankfully, the modern travel industry makes it easier than ever to fall in love with the Mayan world, and one of the finest examples on the market is Dreams Tulum Resort & Spa. Elegantly situated in the history-rich town of Tulum, Dreams Tulum Resort & Spa marries the allure of Old Mexico with the ground-breaking family friendly all inclusive format pioneered by Dreams Resorts.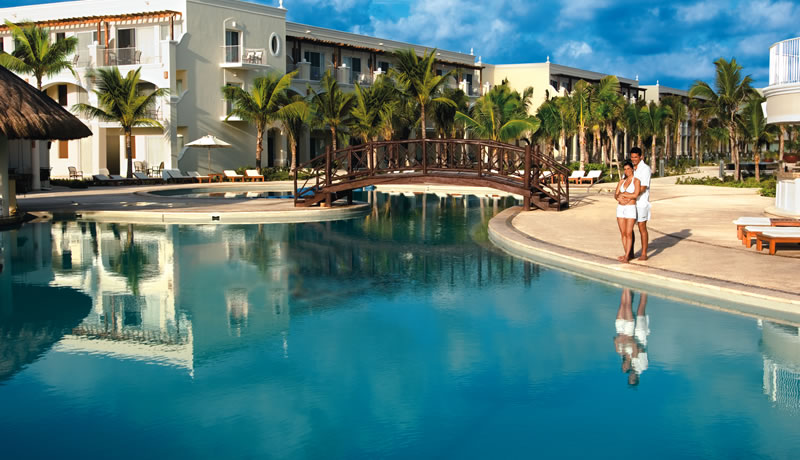 An outstanding basecamp
Much as the Mayans saw the strategic value of Tulum as a seaport,  Dreams Tulum Resort & Spa capitalises on its location. Within 5 minutes you can reach the Tulum Ruins, or the eco-adventures of Xel-Ha. Xel-Ha is an aquatic exploration through lagoons and caves, all the time telling the ancient Mayan narrative though artefacts and activities. If the dramatic features of the land catch your eye, there are a number of cenotes (underground lakes) that offer a unique opportunity to explore the hidden world beneath Mexico's surface. But not only is Dreams Tulum Resort & Spa well positioned, it's well equipped to house you during your holiday.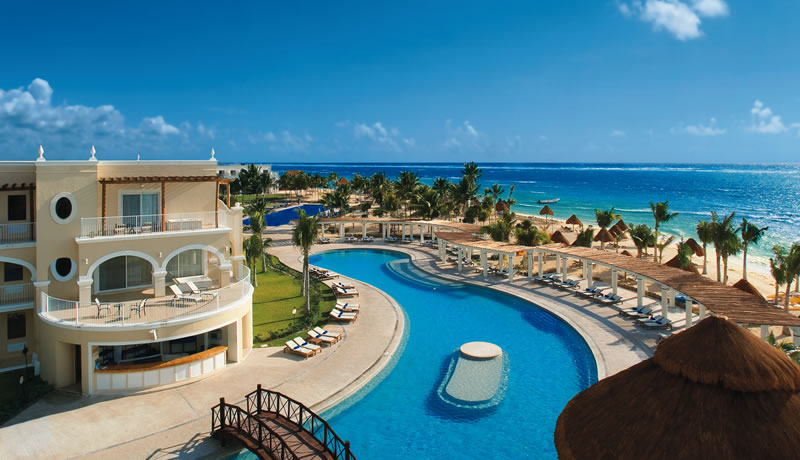 From grand stone to swish suites
Tastefully decorated in contemporary Mexican décor, the guestrooms and suites of Dreams Tulum Resort & Spa are designed to embrace absolute comfort for guests of all ages. Soft beds, colourful highlights, and stunning exotic views will reiterate the beauty of the land throughout your stay. Perhaps inspired by the grand stones of the region, you can also enjoy the smooth texture of marble floors beneath your feet. Better yet, Dreams Tulum Resort & Spa have not rested on their successes. 222 of their rooms and suites were recently refreshed, and new luxurious adults-only suites were added to the property. It doesn't matter if you're a family of adventurers, a pioneering couple, or any holidaymaker in need of some classic relaxation – Dreams Tulum Resort & Spa has your name on it.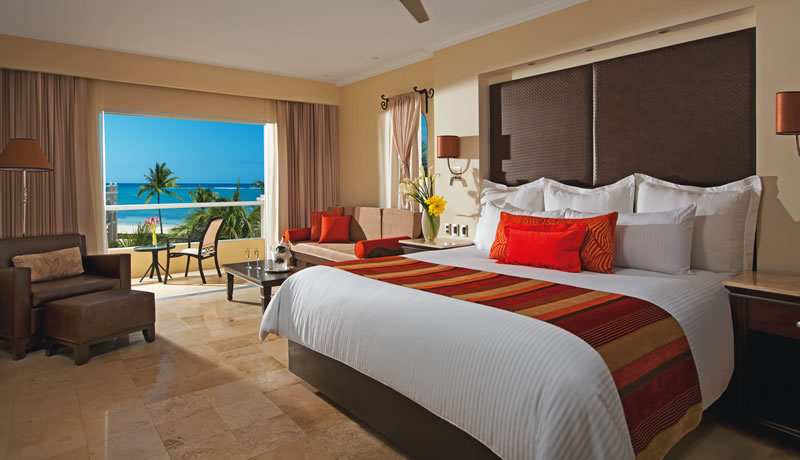 Nothing is left to chance
The term "all inclusive" would fall flat when applied to Dreams Tulum Resort & Spa, hence their well-earned Unlimited-Luxury® programme. If you want it, Unlimited-Luxury® will be happy to oblige:
•   Full breakfast, lunch, dinner and snacks each day
•   Unlimited natural fruit juices and soft drinks
•   Unlimited international and domestic top-shelf spirits
•   Spacious non-smoking rooms and suites, graciously appointed and luxuriously equipped
•   Mini-bar refreshed daily with soft drinks, bottled water and beer
•   24-hour room service
•   Pool and beach wait service
•   Endless daytime activities and live nightly entertainment
•   Theme parties, oceanfront bars and entertainment venues
•   No reservations at specialty restaurants
•   No wristbands required
•   Explorer's Club for kids with supervised activities
•   Teen's activities
•   All taxes and gratuities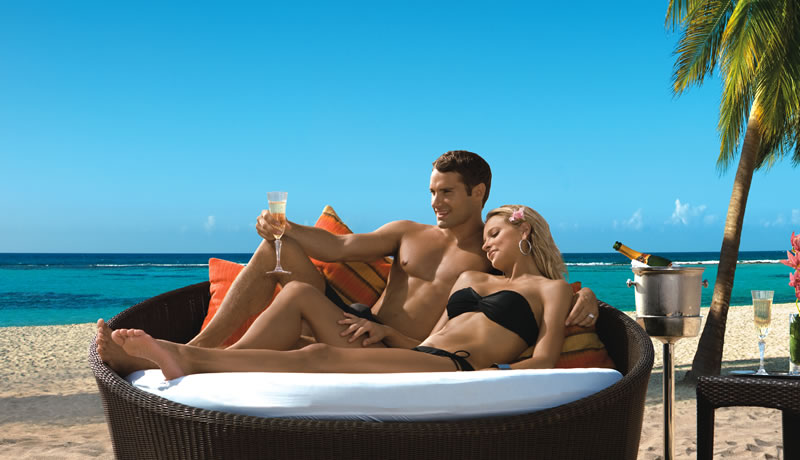 No need to run on empty
Weather you choose to leisurely take in the sights or boldly venture forth into territories unknown, the dining options at Dreams Tulum Resort & Spa will keep you on top of your game. No reservations are required, and you're sure to find something perfectly suited to your tastes at one of the resort's 9 outstanding restaurants.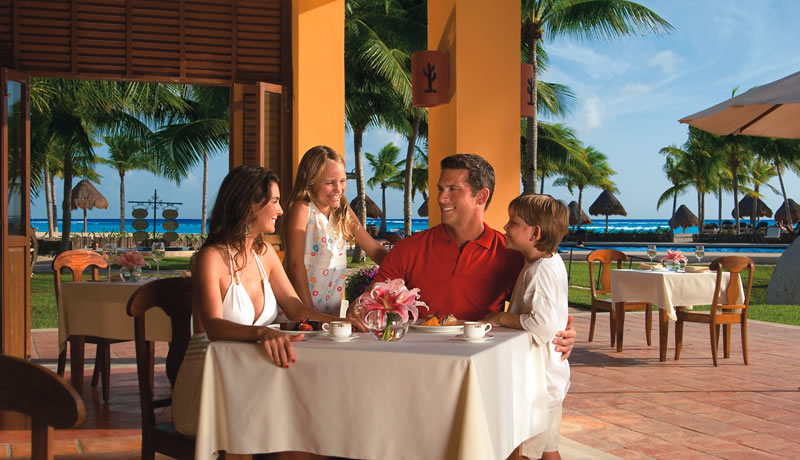 Something for everyone
If you fancy some of the more traditional holiday pursuits, Dreams Tulum Resort & Spa can help you with that too. They've got a spa that combines hydrotherapy and indigenous Mayan treatments, they offer complimentary greens fees at the Riviera Maya golf club, and they've even got a slice of other exciting activities such as diving, snorkelling, and kayaking. For the younger holidaymakers, the Explorer's Club for Kids will keep your children busy with their own unique flavours of supervised fun.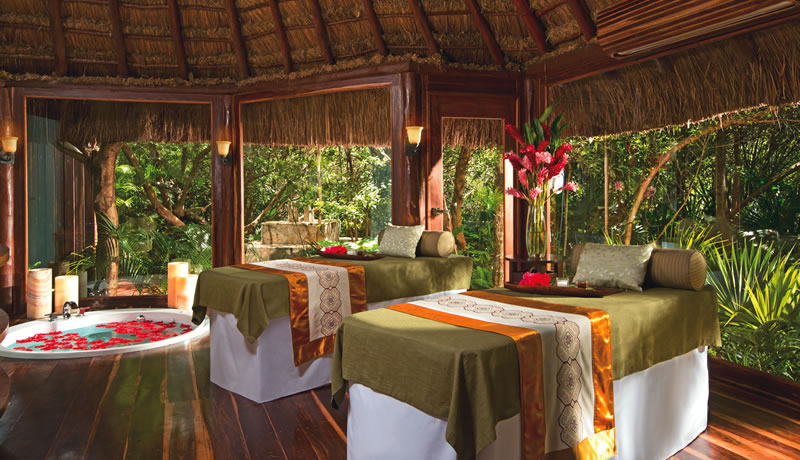 Curiouser and curiouser
There's something special about Dreams Tulum Resort & Spa and its surroundings that can't quite be captured in words. Dreams Resorts' Unlimited-Luxury® programme offers the type of all-encompassing completeness that satisfies the senses, and Tulum offers some intriguing historical splinters ideally suited to satisfying the soul. It's the perfect match, executed perfectly.
If you want to know more about Dreams Tulum Resort & Spa you can follow this link, or you can get involved right now by calling us on 08444 999 333. Either way, we can help you keep the mystery alive.