Jenny hits El Dorado Sensimar Seaside Suites
Sit back and let Jenny walk you through her Mexican getaway at El Dorado Sensimar Seaside Suites, broken down into handy bite-sized chunks. Go forth and discover more, Holidaymakers.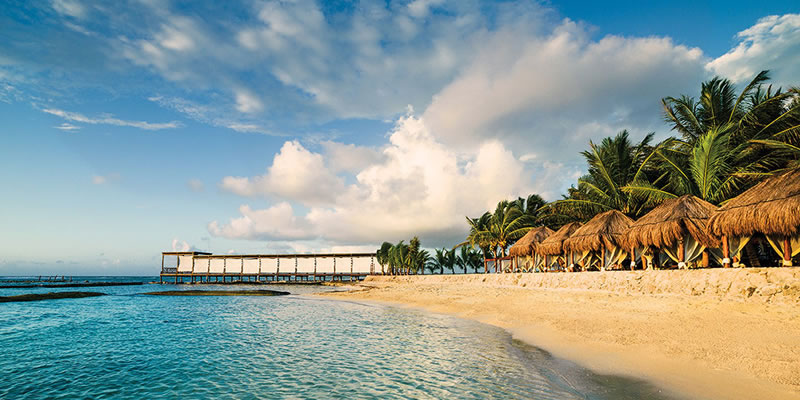 My Getaway
El Dorado Sensimar Seaside Suites. 7 nights, Nov 2016.
My Room 
Ocean Front Infinity Pool Balcony Suite. It was amazing.
Favourite Restaurant 
I can't choose just one!
Mia Casa Italian: Decorated like an Italian piazza, complete with a gondola as you entered. Try the beef, it's mouth-wateringly delicious.
Beach Barbecue: Tables in the sand with spectacular ocean views. My favourite dish was chicken and shrimp skewers, hot off the grill and washed down with a Strawberry Daiquiri while we watched pelicans swooping down to catch fish and take a cool off in the sea.
Magical Moments 
We pre-booked a candlelit beach dinner set in our own tree house dotted with candles. I had lobster and my hubby chose steak, the food was so delicious we both wanted to lick the plates clean.
Favourite Moment 
Watching the sunrise while swimming along the Ocean Front Infinity Pool Balcony Suite. Closely followed by hitting Playa del Carmen with friends and tasting traditional tacos with the locals and then dancing until the sun came up at the beautiful dance club, La Sanitaria.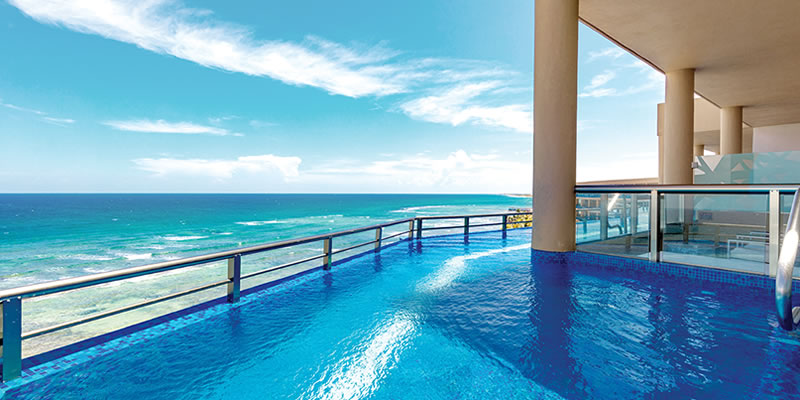 Favourite Entertainment  
Glow beach party at Guacamayas Bar on Tuesdays. Let the UV body artist paint you pretty and dance the night away on the beachfront.
Find Your Sea Legs 
Make the most of free canoe and snorkel hire. Enjoy complimentary daily trips discovering trumpet and parrot fish in the open waters. You can also spot the best places to snorkel so you can hire the gear and head back on your own.
Favourite Element 
The resort staff can't do enough for you. They really go to town creating authentic Mexican themed nights too. It feels like you're wandering around Mexico City surrounded by local street food sellers. 
Getting  Out and About 
Take a trip to Puerto del Carmen. Getting there is a piece of cake and costs just 350 pesos. Hit 5th Avenue for lots of great shops to explore. Top tip: head there early evening for a really great Mexican vibe.
Favourite Tipple 
Chocolate Martini. Sipped while sitting on a double wooden swing at Guacamayas Bar with stunning sea views. A top spot to watch the sunset.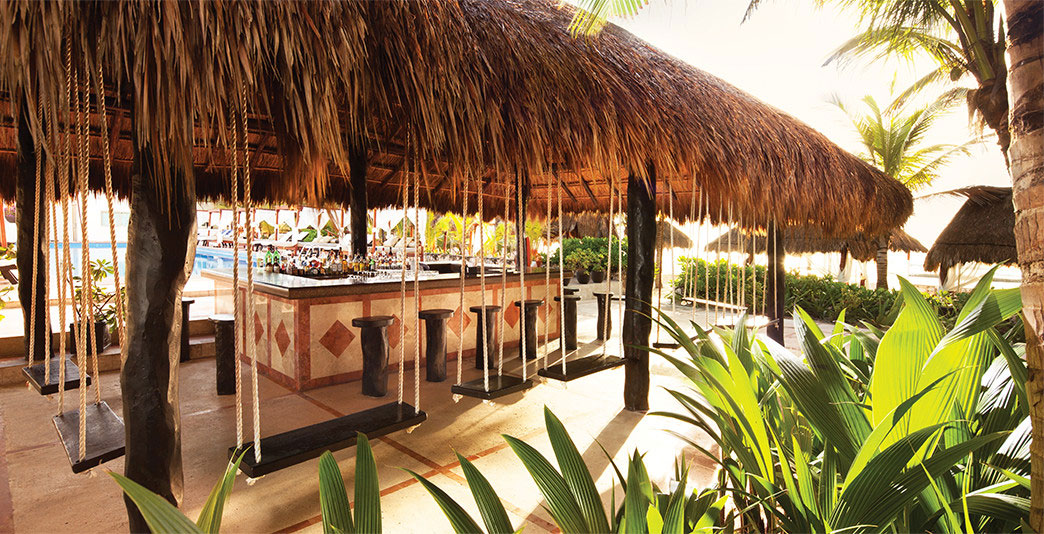 Want to know more about El Dorado Sensimar Seaside Suites? Push the funky orange button or holla in the comments below.

El Dorado Sensimar Seaside Suites from only £1,100pp