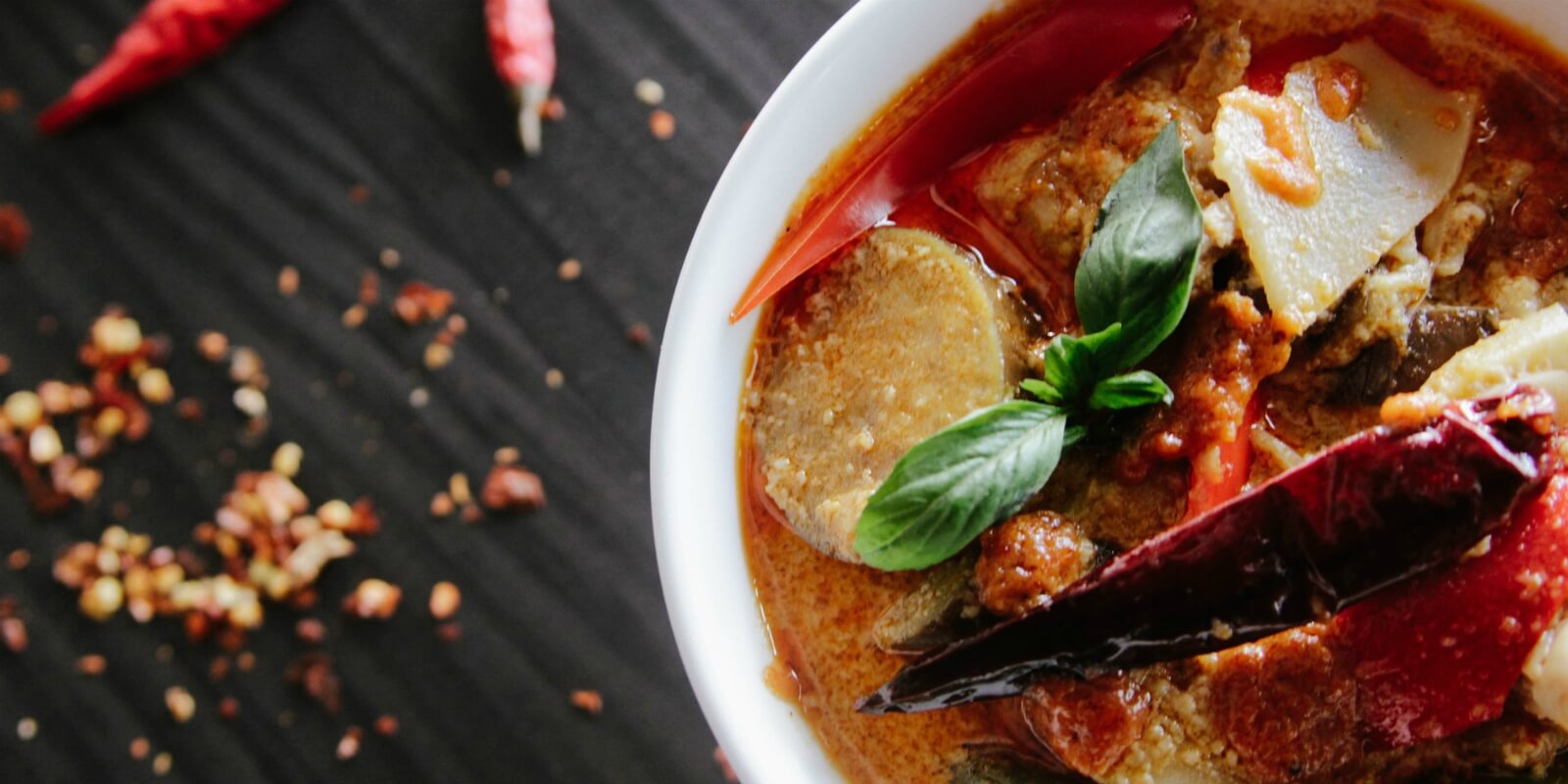 The UK might be back in lockdown, but we want to give you the chance to take your taste buds on a tingling tour with some delicious Caribbean recipes.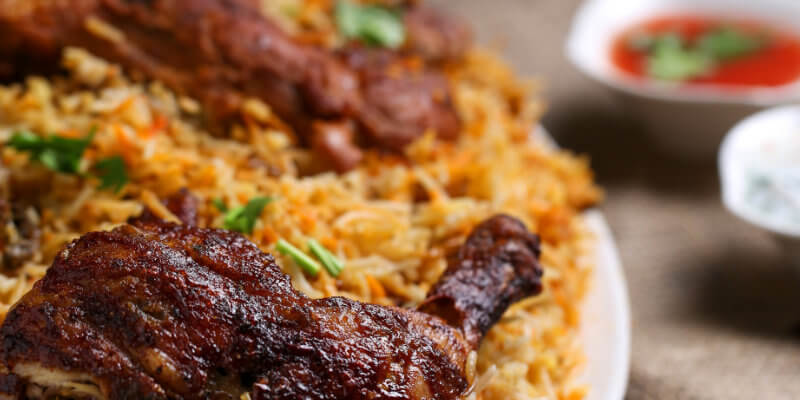 As the UK careers into Lockdown 3: Return of the Sweatpants, it would be easy to sit at home in front of Netflix and not do anything productive. However, we're proposing you crack out the pots and pans to alleviate your boredom with some amazingly easy Caribbean recipes.
We've put together a range of recipes from across the Caribbean that you can easily try at home.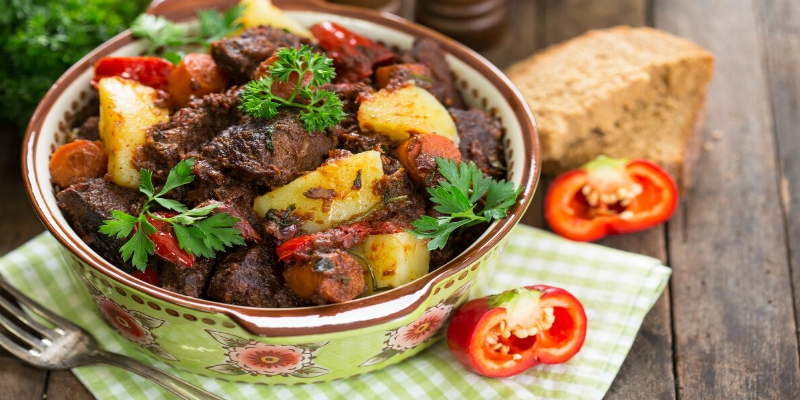 ---
Feed your senses with some special Caribbean cuisine
The great thing about cooking up some delectable Caribbean recipes in the comfort of your own kitchen is that it's a feast for all the senses. You'll enjoy the stunning aromas around your home, the concoction of colours will dazzle your eyes and, of course, your mouth will thank you later.
So, without further ado, let's start our merry jaunt around the kitchen favourites of the Caribbean.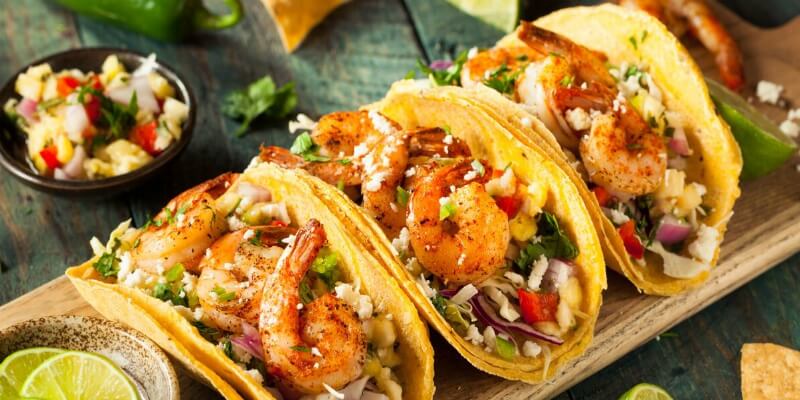 ---
Caribbean recipes
Jamaican Jerk chicken rice and peas
What a place to start! There's so many amazing Caribbean recipes which came out of Jamaica. Jerk chicken rice and peas is a staple of many a Jamaican menu with a nice amount of spice from the chicken waking up your senses and the unctuous rice filling your belly. Perfect for a self-isolation treat.
Plus, if there's one thing we know from looking at the supermarkets it's that everyone's got rice in the cupboard.
---
What you'll need:
4 x chicken thighs (or pork loin)
1 x tbsp olive oil
3 x tbsp Jamaican jerk sauce
1 x chicken stock cube
1 bunch salad onions (spring or red onion will work in a pinch)
50g creamed coconut (coconut milk)
500g Basmati rice
410g red kidney beans
Step 1
Boil the kettle and warm the oil in a large non-stick pan over a low heat. While the oil is warming coat your chicken in the jerk sauce in a shallow dish. Now that the oil has warmed, lower in your coated meat, keep the excess sauce in the bowl, you'll be needing it. Cook on both sides until cooked.
Step 2
While all that cooking is happening pour 150ml boiling water into a medium pan. Over a high heat crumble in the stock cube and coconut milk. Add your chopped onions to the pot, then tip in the rice and beans. Make sure you keep stirring this delicious mix as you don't want your rice to clump together. You can add more water if your rice looks like it's drying out.
Step 3
Tip the rest of that jerk sauce we saved earlier into the pot with the milk, rice beans and onions. Warm through and continue to stir.
Step 4
Plate it up by piling the rice high top with your chicken or pork then add the sauce as the kicker!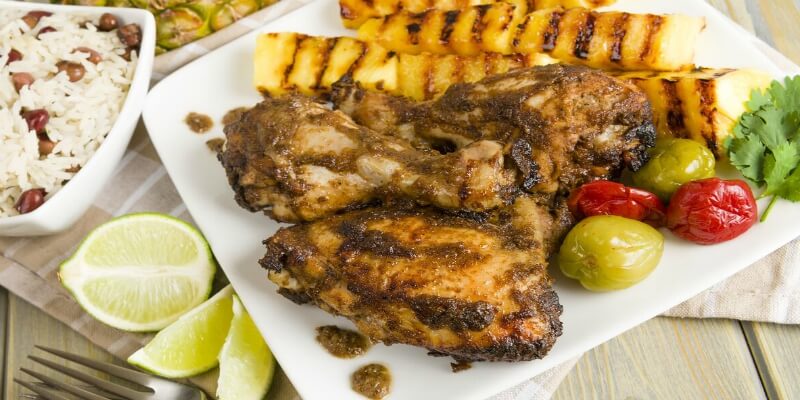 ---
Macaroni Pie
Adorning many a plate in Barbados, macaroni pie is the perfect feel good meal. It's basically a take on macaroni and cheese and it's delicious with or without accompaniment.
---
What you'll need:
1/2 pound tubed macaroni
4 cups grated cheddar cheese
1 cup evaporated milk
1/3 cup ketchup
1 tbsp. yellow mustard
1 small onion, grated
1 egg, beaten
Step 1
Bring a pan of salted water to the boil and once you have a rolling boil add in your macaroni tubes. Once these are tender but still firm drain the water from the pan taking care to keep your macaroni in the pot not the sink.
Step 2
Add the onion, cheese, milk, ketchup, mustard and egg and season to taste. At this point you can have a bit of fun with some marjoram, thyme and paprika if the mood takes you. Once the onions have gone slightly translucent tip the whole thing into an greased oven proof dish
Step 3
Add some breadcrumbs to the top if you're feeling fancy, or add more cheese. Whack that sucker in the oven and finish off watching that serial killer documentary you've paused on Netflix (about 30-40 minutes or until golden brown).
Step 4
Serve and give each other those nodding, wide-eyed, full-mouthed looks that says "that's good"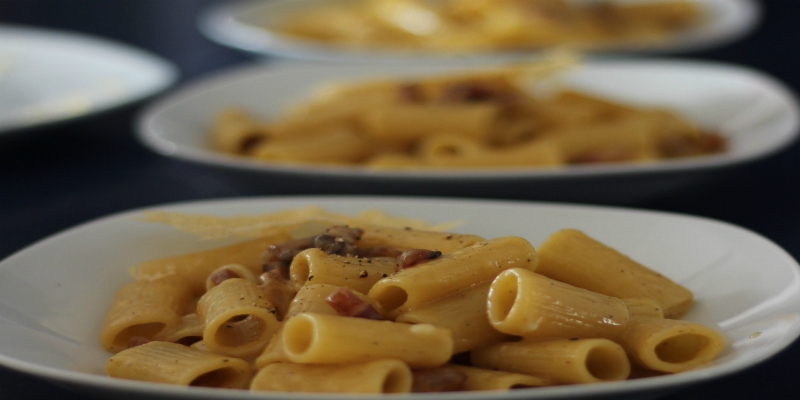 ---
Caribbean Fish Cakes
Served all over the Caribbean as a light snack, meal accompaniment or finger food. Whichever way you're thinking of consuming them one thing's for sure, they go down well!
---
What you'll need
1 onion, diced
1 cup flour
1 tsp baking powder
1 egg lightly beaten
1 small hot pepper, finely diced
chopped parsley, thyme and marjoram
1 lb boneless, skinless salt cod (most white fish will suffice)
1 cup water
Step 1
Prepare your fish by boiling in six cups of water for four minutes, then get rid of that water and boil a second time for a further three minutes. Then you should be able to flake the fish with a fork.
Step 2
Combine your freshly flaked fish in a bowl with the other ingredients. Stir it to within an inch of it's life (or until a thick batter forms if you're a purist). Feel free to add more water or flour if you're going too wet or dry.
Step 3
Drop the mixture by the teaspoonful into oil on a medium heat. But don't over crowd the pan like it's Black Friday and the TV's have got 50% off.
Step 4
Serve with whatever fancy dip you've got lying around, mayo, ketchup, dominoes garlic and herb dip, KFC gravy.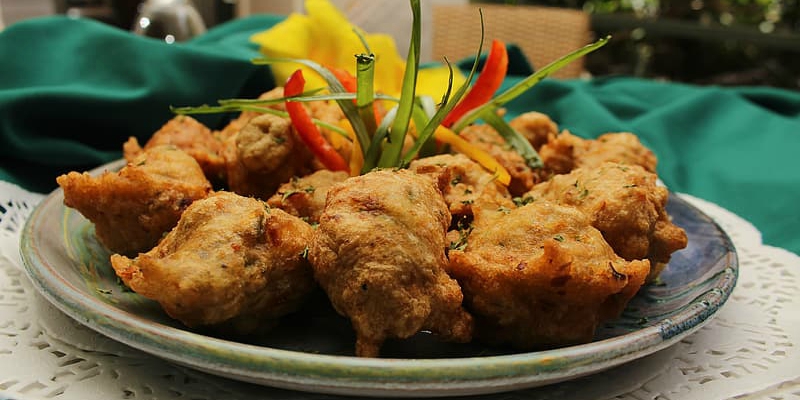 ---
Ital Curry
Now for something a little different. Whether you're a full blown vegan or you're trying to keep your lockdown healthy by doing Veganuary we've got something for you. This stunning vegan Ital Curry recipe from incredible Rachel Ama is perfect for bringing the sunshine to your kitchen.
---
What you'll need
1 red chilli
1 red onion
3 green onions
1 thumb of fresh ginger
4 cloves of garlic
1 tsp dried thyme
2 1/2 tsp curry powder
1 x 400g coconut milk
1 x 400g chopped tomatoes
1/4 cup of water
1 vegan vegetable stock cube
Salt and black pepper to taste
1 x 400g black eyed beans
1/2 butternut squash
1 potato
1 sweet potato
2 carrots
1 courgette
But we'll leave it to Rachel to tell you how to bring it all together!
---
Burritos
We think it's about time we skipped over that other powerhouse of Caribbean recipe creation, Mexico! And what could be better than a delicious burrito to make you forget all about self-isolation.
---
What you'll need:
1 tbsp sunflower oil (or olive oil. Who, cares?)
1 medium onion, finely chopped
2 garlic cloves, minced
500g beef mince
1½ tsp ground cumin
1½ tsp paprika
¼ tsp hot chilli powder
2 tsp tomato purée
400g tin chopped tomatoes
1 x 210g tin kidney beans, drained
75ml beef stock
4 tbsp chopped coriander, plus extra to garnish
8 x 20cm flour tortillas
100g Cheddar cheese, grated
Step 1
Heat your oil in a pan over a medium-high heat. Cook the onion and garlic for about five minutes, give it a courtesy stir every now and again. Then add in the beef and now lets really turn up the heat (literally turn the heat to high). Cook for three minutes in that inferno, stirring as you go to break up your beef.
Step 2
Whilst your stirring you can also stir in some cumin, paprika, chilli powder and tomato puree. After about a minute you can throw in the big guns, namely the kidney beans, chopped toms and stock. Then your work here is done for 20 minutes.
Step 3
After 20 minutes your concoction should be thickened and ready to be taken out of the hot seat. Remove it from the heat and add in the coriander and some salt and pepper.
Step 4
Whack your grill on high and spoon your delicious mix into some tortillas, with some cheese, on a backing tray. Fold over the sides of the tortilla so you've got little parcels of awesomeness ready to go. Then throw some more cheese over the top (treat yourself, you're self-isolating). Bung the whole thing under the grill for 1-2 minutes or until your cheese has melted.
Step 5
Serve with whatever you like and eat with your hands like a wild animal.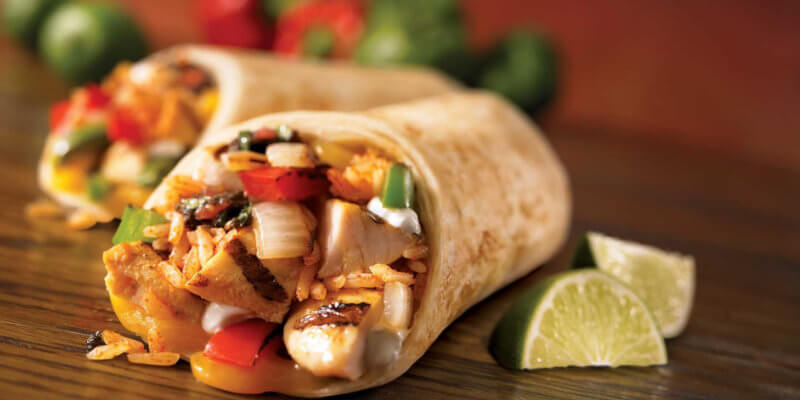 Cuban-style Refried black beans
We're taking your taste buds off to Cuba now and don't try to stop us! This one is super quick and easy but seriously delicious. Cuban-style refried beans are a perfect Caribbean recipe to serve as a side or just as a snack that you can eat out of your hands as you devour your fifth boxset of the week.
---
What you'll need:
2 x tbsp of olive oil
1 x tsp (teaspoon) minced garlic
1 x black beans
1 x green pepper
Half yellow onion
Half a can light beer (chef gets the rest)
1 x tbsp cilantro (just for garnish if you're fancy)
Step 1
Heat the oil over a medium heat cook the garlic in the oil first for 15 seconds, then add in onions and peppers. Cook and stir for 10 minutes. Pour in the black beans and beer, simmer until thick. Usually takes about 15 minutes.
Step 2
That's it, we told you it was easy. You've earned yourself another beer!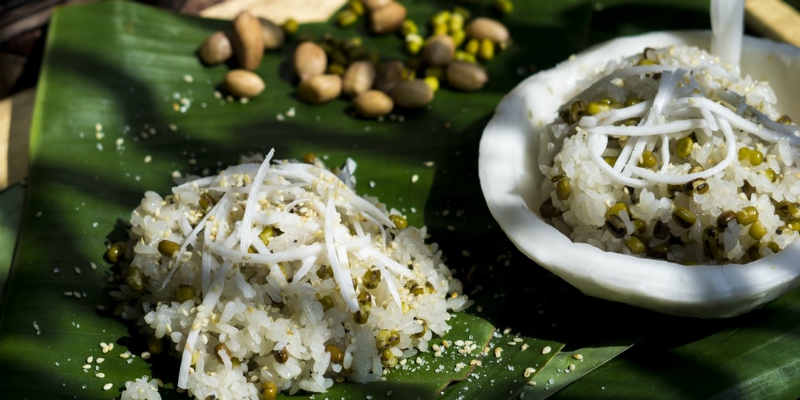 Caribbean Beef Patties
We're finishing this magical mystery tour of culinary delights with a trip back to tasteytown, or Jamaica as it likes to be known. These patties are a beautiful way to get something completely different inside you in isolation.
Plus, it's a really simple recipe so you can break them out anytime! So remember a Caribbean beef patty is for life not just for self-isolation.
---
What you'll need:
1 x small onion
2 x garlic cloves crushed
250g beef mince
2 x tsp turmeric
2 x tbsp tomato puree
1 x potato cut into small cubes
2 x tbsp hot sauce
500g shortcrust pastry
1 x egg beaten
Step 1
Heat a drizzle of oil in a pan and cook the onion for approximately five minutes. Add in the garlic and beef, and continue to cook until the beef is browned. Sling in your beautifully diced potato, half of the turmeric and the puree, you can add in some thyme here too if you've got the guts, finish with 200ml water. Cover and simmer for approximately the same amount of time as half a 30 minute TV show. Think the Simpsons or something like that.
Step 2
Remove the lid and cook for another five minutes. Add in your hot sauce and let the whole thing chill out.
Step 3
Heat the oven to 220°c, 200°c fan or gas mark 7 to me and you. Take a pound out of your pocket if you haven't already spent them all on supplies, and roll out your pastry to the same thickness. Cut out six 15cm circles. Divvy up your mince between them, mix your egg and the rest of the turmeric into eggy wash and run it around the outside of the circles. Fold the circles over and seal the edges.
Step 4
Line a baking tray with baking parchment and arrange your little parcels of deliciousness in the shape of a goose or your favourite TV character, or however you like. Wash the parcels with the egg and turmeric again and bung the beauties in the oven for 20-25 minutes!
Step 5
Enjoy the fruits of your labour in your dressing gown on the sofa and try not to make eye contact with the begging dog.
---
There you have it! Six delicious Caribbean recipes to bring the sunshine to any space as we all head through lockdown together!
Stay safe and try something new!