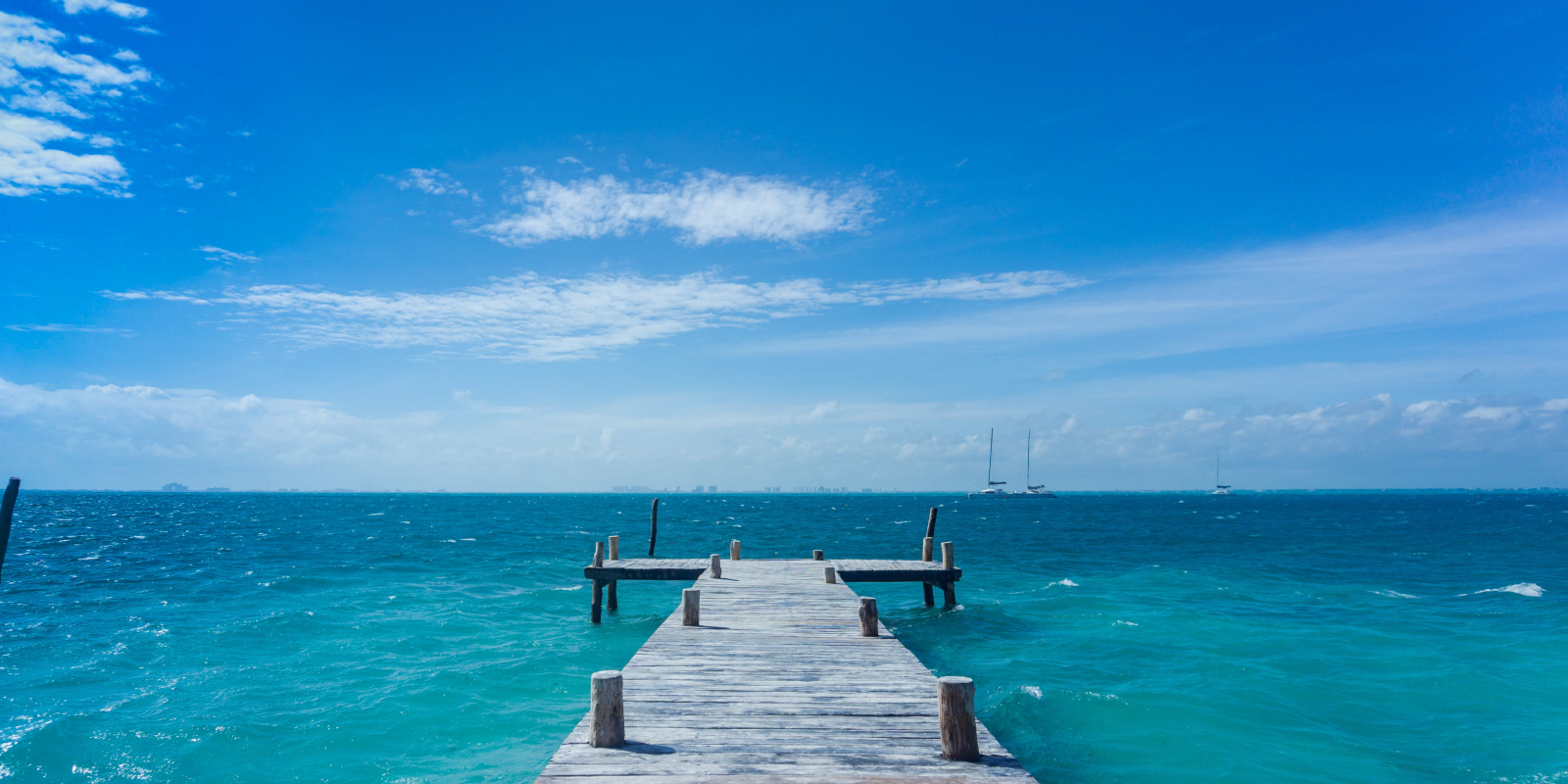 We have handpicked 8 of the best things to do in Playa Mujeres. A beautiful beach zone located just 25 minutes from the bustling hotel zone of Cancún.
---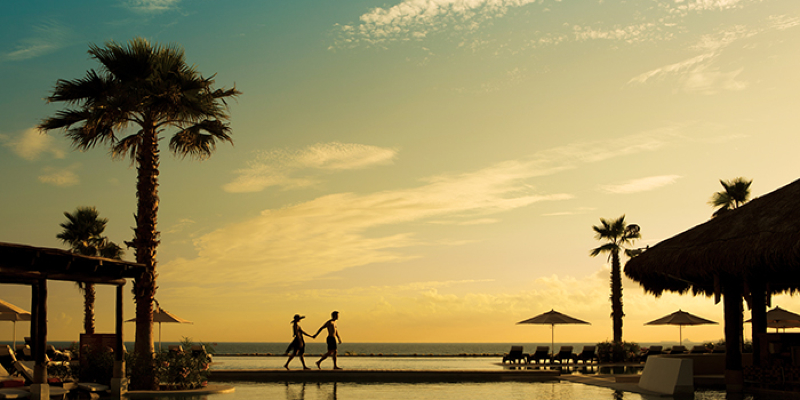 Here are 8 of the best things to do in Playa Mujeres, from making friends with dolphins to channelling your inner Andy Murray.
The area itself is known for it's luxury hotels, but there's also plenty to keep you busy whilst you're there. If you are wanting to miss out the hustle and bustle of the hotel zone in Cancún, this is the best place to stay.
A selection of beautiful resorts are available to book on Caribbean Warehouse. Even including one of the best all-inclusive resorts in the world, Excellence Playa Mujeres.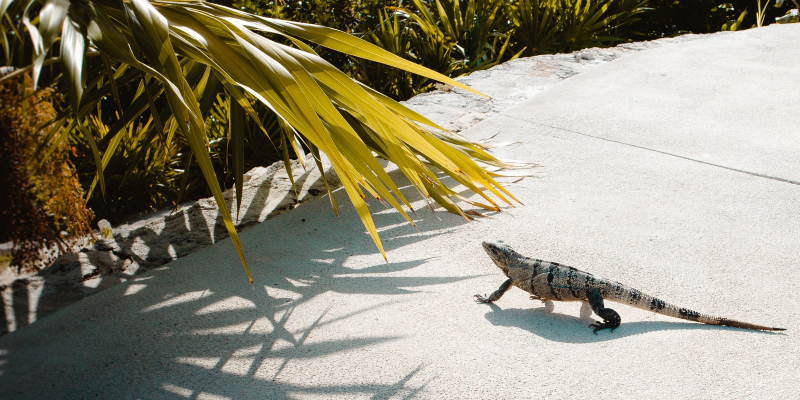 ---
8 of the best
Playing Golf
Isla Mujeres Swimming with Whale Sharks
Isla Mujeres Visit El Centro
Boat Trips
Swimming with Dolphins
El Meco Ruins
Playing Tennis
Resort activities
Check out 8 of the best things to do in Playa Mujeres, including some incredible resort activities that might help you decide which resort you want to stay at.
---
Playing Golf in Playa Mujeres
Named as one of the best courses in Mexico, this 18-hole golf course is a golf lover's dream!
Designed by professional golfer Greg Norman, this course is definitely one of the best things to do in Playa Mujeres.
The 7,218 yard course is surrounded by incredible views and luscious greenery. There are lessons available if you are not too confident at golfing. But even if you are a beginner, it is the perfect place to learn your putters from your wedges.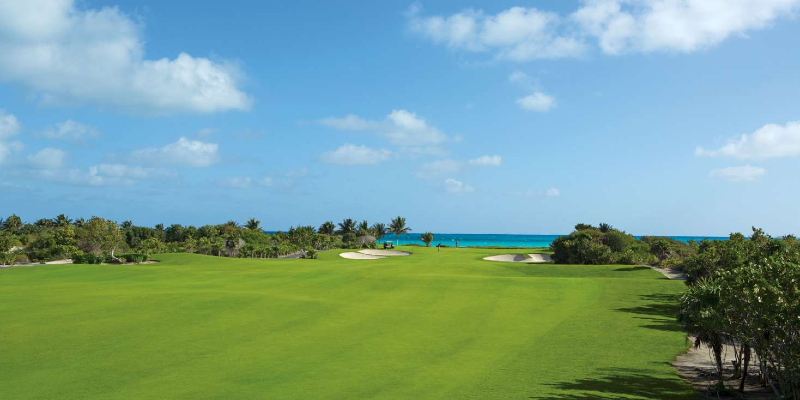 For the golf players out there, the course can also present a challenge. With on-course competitions and a par value of 72, it is great fun for everyone.
For those staying at the Secrets or Dreams Playa Mujeres Golf & Spa Resort, you can take advantage of some free extras at the golf-course. Enjoy complimentary greens fees or Unlimited Golf Week packages- sounds good to us!
---
Isla Mujeres
Across the water from Playa Mujeres is the island of Isla Mujeres. Known for its picture-perfect beaches and tranquil atmosphere, we definitely recommend a trip here.
From Playa Mujeres you can access the island by Ferry. You get to experience more of Mexico, whilst also keeping the laidback vibes of Playa Mujeres.
Swimming with Whale Sharks
Fancy swimming with the gentle giant, also known as the whale shark? As the largest fish in the world, there is plenty to see of them.
If you are wanting to encounter this once-in-a-lifetime experience, Isla Mujeres is the place to be. There are different companies which offer the chance to swim with these incredible creatures through a private tour.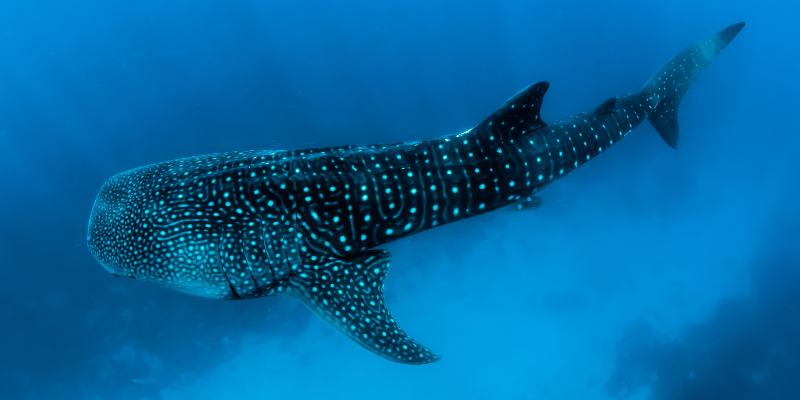 Grab a snorkel and your GoPro and go meet this plankton living fish. Fun fact: you also don't need to be scared about being gobbled up, as their teeth are actually very tiny! Eating is laborious work for a whale shark, so they tend to stick to shrimp and algae.
Visit El Centro
There are lots of places to discover in Isla Mujeres, so if you are looking for colourful streets, it's a great place to go. El Centro is the downtown area of Isla Mujeres and can be explored by foot.
If you are looking for gifts, the markets offer you the perfect solution. From handmade crafts, clothes to locally made arts, there's the perfect souvenir for the whole family.
Indulge in ice cream as you roam the streets, and of course, stop of at the bars for a refreshing beer. The streets vendors offer delicious traditional treats, so make sure to grab a bite to eat before you head back to the ferry.
---
Boat Trips
One of the best things to do in Playa Mujeres is to channel your inner Jack Sparrow and set sail on the Caribbean Sea.
Discover the magnificent marine life living underneath the ocean's surface, and then enjoy sunbathing on the deck. A boat trip is a great way to leave the poolside, but to still have a relaxing day.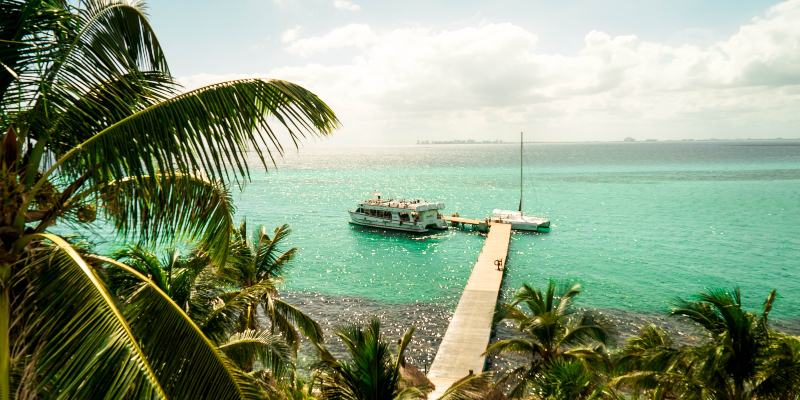 There are plenty of different tours that operate in Playa Mujeres, so you can find one that is best for you. Most of the tours offer the chance to stop off and find Nemo, along with enjoying some drinks and food up top.
---
Swimming with Dolphins
If a whale shark is a bit too big for you to swim with, what about our other gentle mammal friend, the dolphin?
Another one of the best things to do in Playa Mujeres is to experience the opportunity to interact with a dolphin, in a completely natural environment. The Delphinus Conservation Sanctuary ensure that their dolphins are protected and given the best quality of life possible.
You can enjoy this dolphin experience at Dreams Playa Mujeres Golf & Spa Resort.
The chance to learn more about these beautiful creatures, whilst also swimming with them is a magical experience. Plus, the whole family can come along so it will be a great life-long memory to create.
---
El Meco Ruins
Learn more about the Mayan culture with a trip to the archaeological site El Meco. When most people visit Cancún, they tend to visit Chichen Itza or Tulum, but El Meco is another amazing sight to see.
Just a ten-minute car journey from the main resorts of Playa Mujeres, you can find it on the outskirts of Cancún. It is believed the structure was used as a major port for Mayan people. Sailors would look out for the pyramid in the centre of the ancient city to know where they were.
The ruins themselves are very well maintained, and you can even spot iguanas that roam around the site. There is some shade which covers the ruins, so it is also a peaceful spot to just relax and take in your surroundings too.
It's one of the cheaper tours in Cancún too, and you can have access to the whole site for 55 Mexican pesos. For around £1.95 we think that's a pretty good steal, so it's definitely on our list for 8 of the best things to do in Playa Mujeres.
---
Playing Tennis
One of the best things to do in Playa Mujeres is to learn from the best at the Rafa Nadal Tennis Centre! For those not familiar with the tennis world, Rafael Nadal Parera is a Spanish professional tennis player.
The centre uses inspiration from the training method used at the Rafa Nadal Academy by Movistar in Manacor.
Whether you are new to the sport or already have experience, there are different programs available for every kind of tennis player at the centre.
Children are also welcome for a game, so it is a great chance from them to meet others and find a new hobby that they can take home with them.
---

---
Finest Playa Mujeres, By The Excellence Collection
If you're looking for a luxurious break with amazing activities, Finest Playa Mujeres will welcome you with open arms.
This family-friendly resort has perfected the luxury experience, whilst also providing all kinds of fun.
Whether you're looking for land or water activities, there's a wide variety to choose from. From kayaking and deep-sea fishing to yoga and cooking lessons- you'll never be stuck for things to do.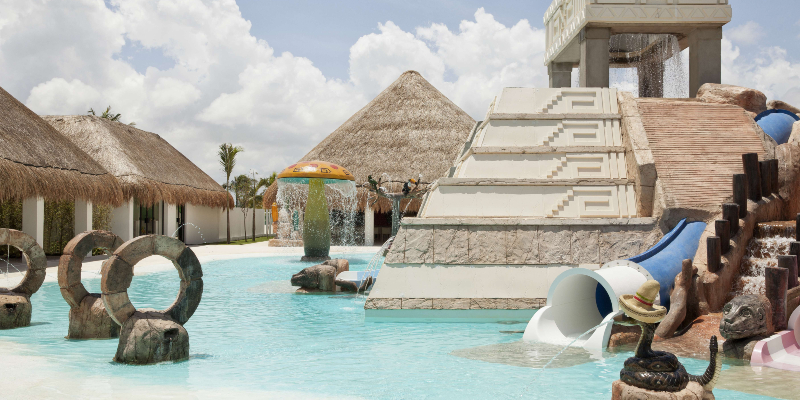 Dreams Playa Mujeres Golf & Spa Resort
So, we know we've said a lot about Dreams Playa Mujeres Golf & Spa Resort, but they have so much to offer! One of the best things to do in Playa Mujeres is to check out this resort and all it has to give.
Not only do they have an amazing golf course and a dolphin experience at their back door, but they also have an onsite waterpark.
It is one of the top Cancún resorts which has both a lazy river and a waterpark. The children's section also has a giant splash bucket and smaller waterslides, meaning there's plenty of enjoyment to be had by everyone.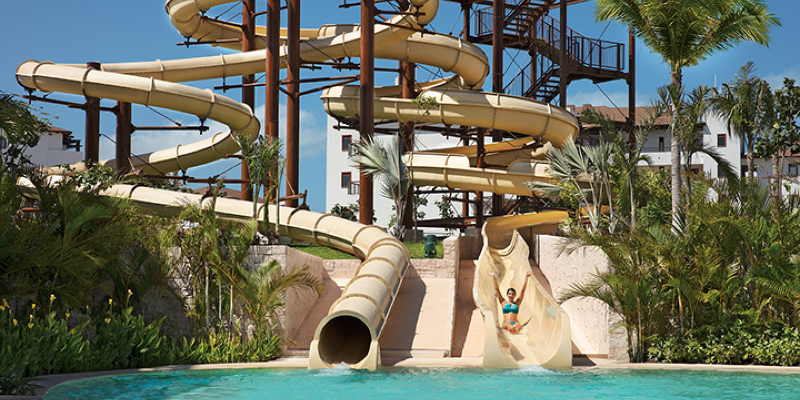 Excellence Playa Mujeres
Excellence Playa Mujeres is in a league of it's own when it comes to amazing amenities and fabulous service. This adults-only resort is the perfect romantic retreat for couples wanting to enjoy some time together.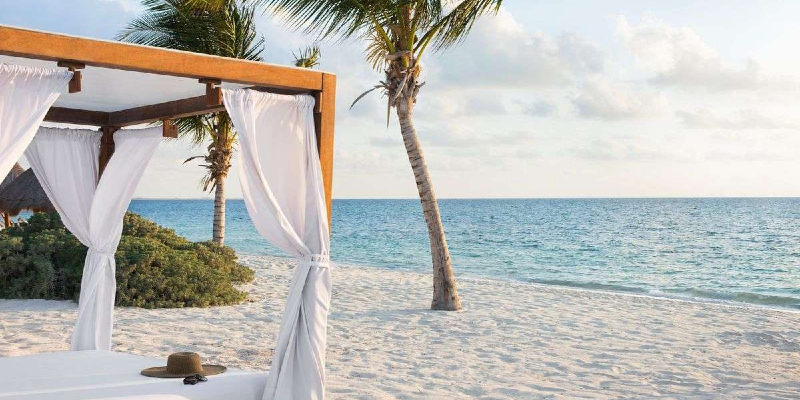 There is a wealth of complimentary activities available, you'll be spoilt for choice. Some of our favourites include introductory scuba lessons, bicycle tours and beach volleyball.
If you fancy something a bit extra, they also offer some more activities at an additional cost. You could go deep-sea sport fishing, or on a sunset pleasure cruise on a yacht.
---
I'm ready to hop on a plane
We're all ready for to wake up in paradise after this past year, and Playa Mujeres offers the perfect break from reality.
There's so much to see and do, whilst also providing a more relaxed atmosphere than the main city. Although, if you did fancy a trip to downtown Cancún, it's only around a 20-30 minute drive.
If you want to find out more about Cancún before you decide on where to book, check out our blog on our top 10 reasons why we love it there.