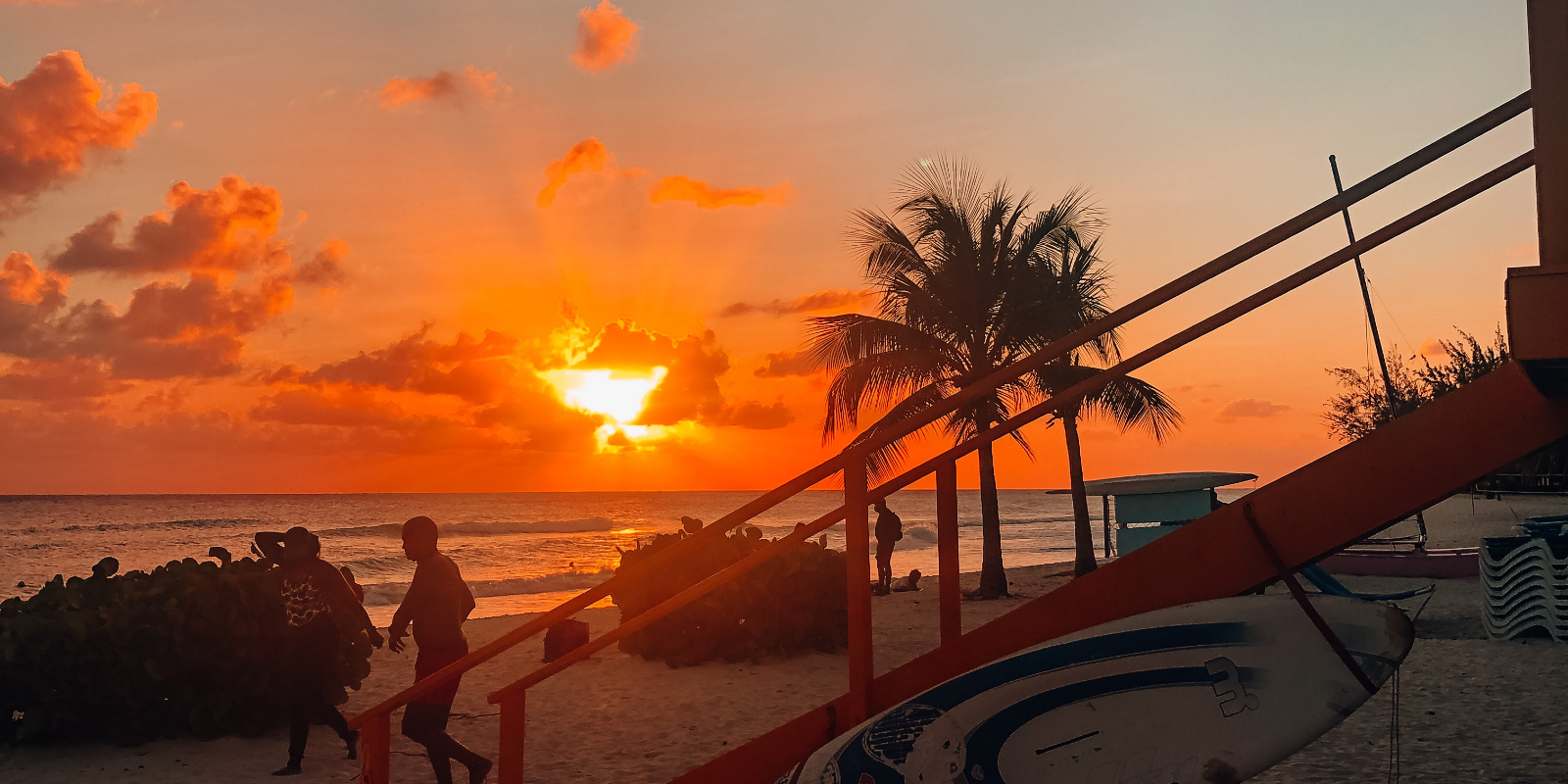 The best things in life are free, and they're even better when you're in a beautiful Caribbean country. Check out 9 of our fun and free things to do in Barbados.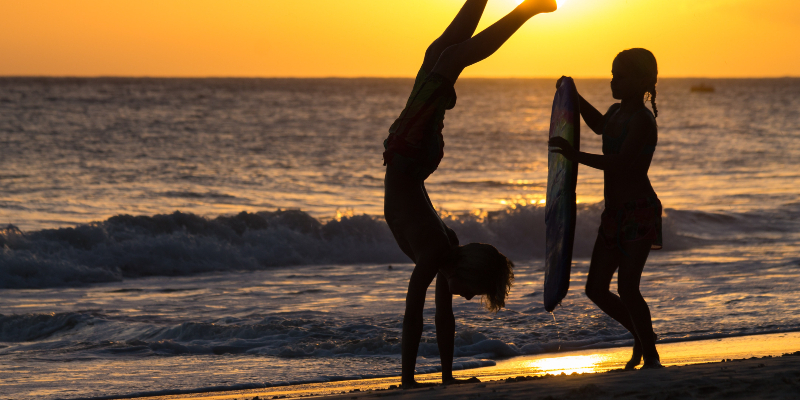 Barbados is well known for its stunning luxury villas, incredible restaurants, and amazing excursions that can sometimes come at a high-cost. But that doesn't mean that there aren't plenty of free things to do in Barbados which are still just as remarkable.
With magnificent locations and plenty of culture to learn about, it's easy to save your money and still experience all that Barbados has to offer.
Our list will help you create a budget Barbados break. Whilst still maintaining a quality Caribbean getaway.
---
Put your money away! It's on us…
From perfect stretches of coastline to historic towns, check out 9 of our favourite free things to do in Barbados:
Sunbathe on the Beach
Take Part in Water Sports
Go for a Hike
Visit Bridgetown
Take a Trip to the Boardwalk
Party at the Festivals
Visit a Local Market
Watch a Sunset
See the wildlife
---
Sunbathe on the Beach
There's no doubt that Barbados beaches are famed for their glorious stretches of white sand and azure oceans. What makes it even better is that all the beaches are open to the public, for free!
We've got a whole blog post on the best beaches in Barbados, so we won't go into too much detail. But we will let you know that they are all amazing, and if we were to price them up we'd have to say they are PRICELESS.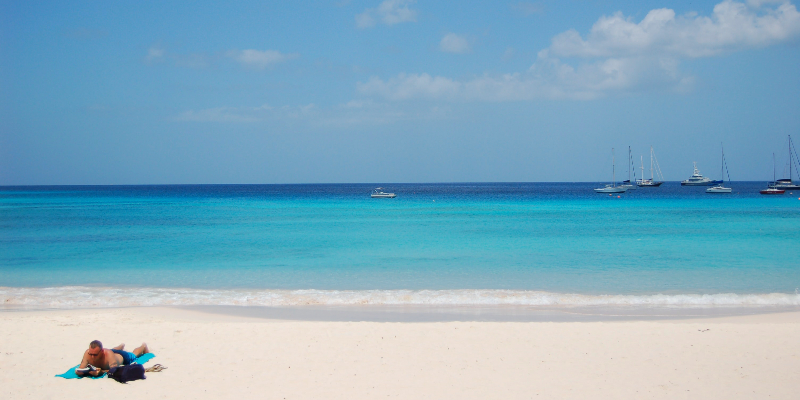 Kick back and relax on the immaculate sands, soak in all of the sunshine rays and think about how life can't get much better. It doesn't matter where about you are staying in Barbados; you are bound to be near a pristine coastline.
As it's completely free to visit the beaches, all you need is a towel, some snacks and plenty of sun cream. Spend your whole day lazing by the ocean waves and enjoy the subtle breeze that comes from it.
---
Take Part in Water Sports
Fancy yourself a bit of a surfer? Maybe you've done a bit of diving on your past holidays? Well then why not take part in some water sports on your Barbados break.
Of course, we don't expect you to pack a surfboard and diving equipment in your suitcase, but sometimes these sports are on offer for free with the resort you are staying at. Check whether they are on offer for free, or whether they have them at a discounted rate.
Either way, it's a great way of making the most out of what Barbados has to offer for free. The sea in Barbados is immaculate, and you're sure to find some vibrant fish or be able to catch a wave or two.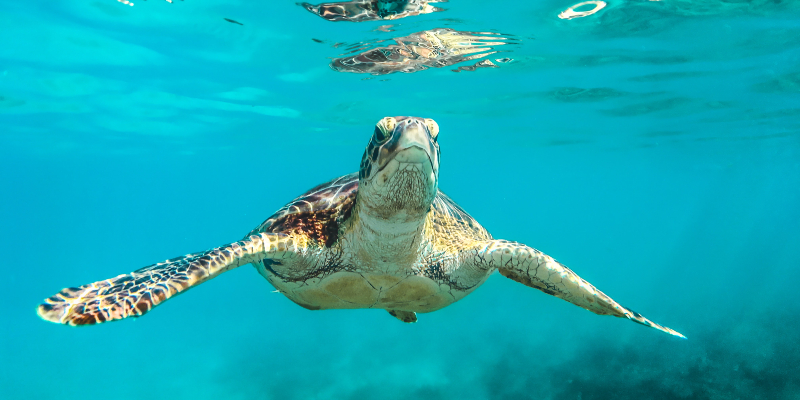 If you have some space in your suitcase, you could take your own snorkel. This is an amazing way of snorkelling at your own pace and discovering what the Barbados ocean is home to. Grab your GoPro and record some footage to show your friends at home, they're sure to be jealous!
---
Go for a Hike
Not only does Barbados have wonderful beaches, but it's also full of lush forests and guided trails to hike around! There's nothing better than feeling like you've accomplished something after going for a big hike and then seeing the panoramic views.
There are different types of hiking trails to fit the different abilities. Whether you want to have a nice relaxing walk through the botanical gardens, or if you prefer something more hardcore like rugged rock formations and steep hill climbs.
Some of the more popular hikes included an abandoned railway hike to Bathsheba, a hike around the Sunbury Plantation area or a beach hike along Pierhead, one of the longest beaches in Barbados.
Make sure to pack some suitable hiking gear, and make the most of the beautiful, and FREE, landscapes of Barbados.
---
Visit Bridgetown
A trip to the Capital is a must and there is plenty to keep you busy in Bridgetown, and you don't have to spend a penny! You could simply walk around the town for a couple of hours, and you will be entertained by the beautiful scenery and historic landmarks.
One of the most important landmarks in Bridgetown is the magnificent Parliament Buildings. You don't have to enter the buildings to appreciate it, just taking in the neo-Gothi-style architecture and stained glass windows is pleasing enough.
A trip to Queen's Park allows you to see the amazing giant baobab tree. It stands with an astounding 18 metre circumference, and it's believed to be more than 1,000 years old. This unique tree is said to have been brought from West Africa after it's seed floated across the Atlantic Ocean.
Of course, there are also plenty of stunning beaches. Carlisle Bay is overlooked by Bridgetown, and it has perfect white sands and crystal-clear waters. It is a great spot to go snorkelling, and there are even shipwrecks to explore.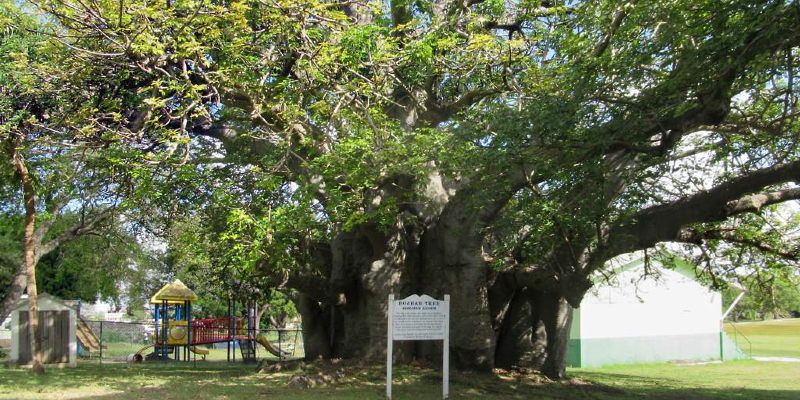 ---
Take a Trip to the Boardwalk
On the south coast of the island is the Barbados boardwalk, a mile long walk nestled across Hastings' coastline. The boardwalk is free for everyone, and there is even complimentary parking throughout the area.
It's a great way to get from the different beaches, and there are several restaurants and bars along the way. You'll find that there is a real relaxed atmosphere on the boardwalk, and whether you see joggers, elderly or those just wanting a quiet walk, everyone is very respectful.
A lot of the boardwalk is lined with tropical plants and vegetation. Keep an eye out for the vibrant flowers that bloom throughout the year.
Make sure to also wear suitable shoes as the boardwalk can get very hot during the day. So, sun cream up, grab your sunhat and get ready to go for a pleasant walk in the sunshine.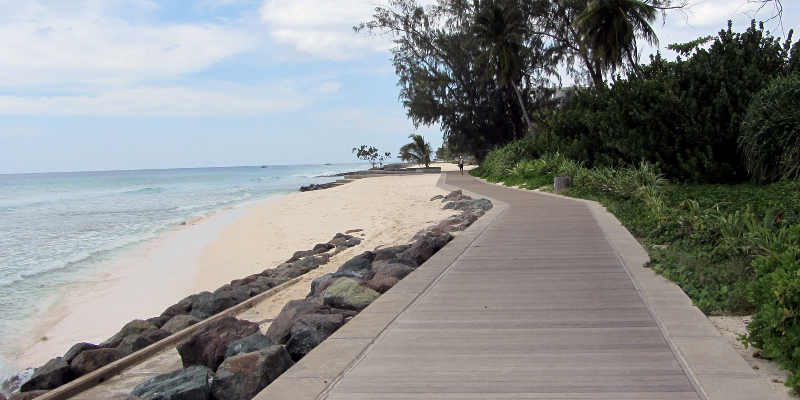 ---
Party at the Festivals
Barbados is renowned for it's famous and fabulous festivals, and a lot of them are free to take part in. Whether you want to join in with the celebrations, or enjoy them from afar, there are several different festivals throughout the whole year.
One of the most popular festivals in Barbados is the Holetown Festival. This week-long celebration in February commemorates the first British settlement in Barbados. With street parades, music, dancing, arts and crafts it's amazing fun for everyone.
There is also the Crop Over Festival which is one of the largest festivals. The celebrations begin in July and last for around 3 months. This colourful festival celebrates a 200-year-old tradition that honours the end of sugar cane season. There are parties all night long, with beautiful outfits and fabulous live music.
---
Visit a Local Market
If you can resist the temptation of picking up a bag full of local goods from the markets, then this is definitely a fun and free thing to do in Barbados. However, we totally won't judge you if you can't refrain from picking up a Bajan souvenir!
The local markets are a great way to get a taste of the Bajan way of life. You will learn more about their culture and food, plus you can chat more with the locals and get to see how friendly they are. Most are free to enter, and you can spend as long as you wish roaming the different stalls.
There are different types of markets, such as fish markets, farmer's markets, and open-air markets. Cheapside public market is a popular one, you'll find lines of colourful carts and stalls full to the brim of fresh produce here. From sweet fruits to spicy peppers, we would recommend using your saved up cash to try some of these delicious treats!
---
Watch a Sunset
It goes without saying that watching the sunset is an amazing free way to spend your time. Make the most of what nature has to offer, find a picture-perfect spot and watch the sun slowly go down.
Holetown Beach is said to be an incredible spot to watch the sunset. It's white sands and turquoise waters create a real Instagram-worthy snapshot. There are a few beachfront restaurants too, so if you want to enjoy the sunset whilst indulging in some mouth-watering food, go for it!
There's not much more to say about this free thing to do in Barbados, except it's definitely up there for an incredible memory-making moment.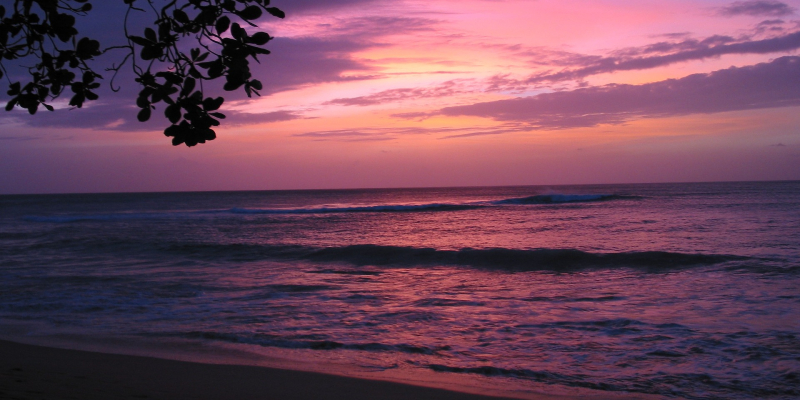 ---
See the Wildlife
Barbados is home to a magnificent array of animals. From monkeys to mongooses, you can catch a glimpse of some incredible species. The well kept tropical gardens and coral reefs mean that the animals and fish can live in as much peace as possible.
The mischievous green monkey is an animal that you can spot all across Barbados. You will often see infant green monkeys hanging onto their mothers as they climb through the woodland.
The mongoose was introduced to try and reduce the amount of snakes in Barbados, and boy did they do a good job! There are very few snakes now, but many mongooses. Again, you will find a lot of these in Barbados. It is also good luck to have a mongoose run across the road in front of you. I wonder if the same applies for cats in England?
Once the sun sets in Barbados, you may hear a strange background noise of whistling. This is actually the whistling frogs! They tend to come out at night and inform everyone of their presence with their mating call.
Checking out the wildlife is as free as it gets, and it's also a really great experience- how many people do you know who have seen a green monkey? (Just a side note, they're not actually green- see picture below)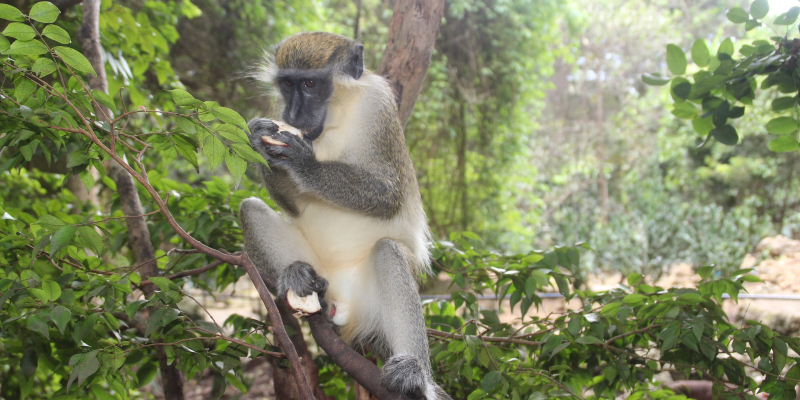 ---
Saved enough to book your next holiday?
Having some budget friendly plans in your itinerary is always a positive on your holiday. Don't shy away from finding free things to do, as you don't always have to splash the cash to have a good time.
Barbados has plenty of luxury resorts and expensive activities to take part in, but it's always good fun to find the more inexpensive things to do!
If you have never been to Barbados before and want a little more information on this beautiful country, check out our blog on a first-time traveller's guide to Barbados.