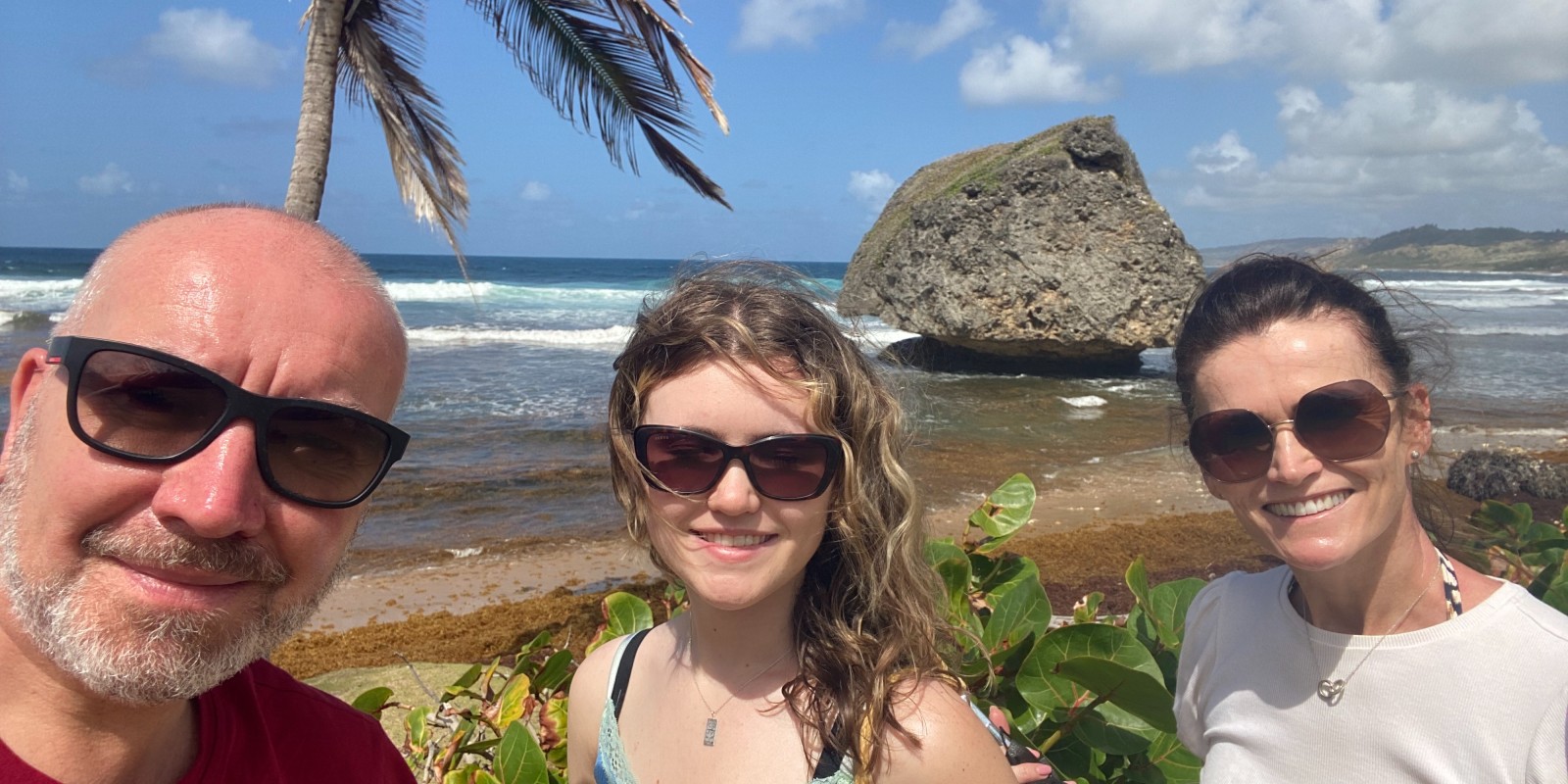 Blue Bay CEO Alistair Rowland recently travelled to O2 Barbados. We caught up with him recently to find out how it went.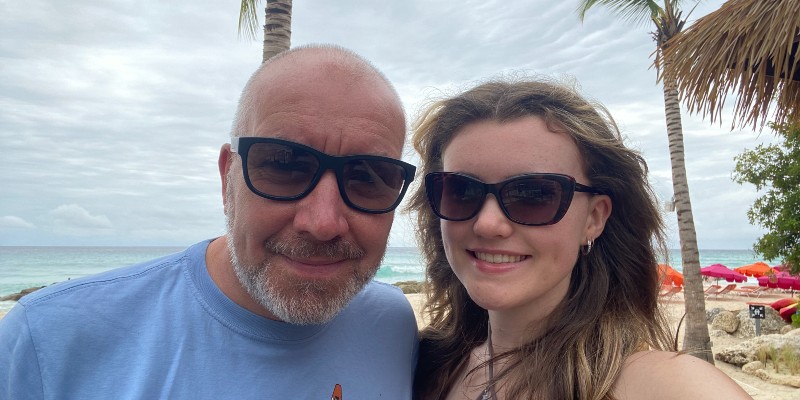 Alistair decided the newly refurbished and now all-inclusive O2 Beach Club & Spa Barbados was the place for his first family trip after the COVID pandemic.
Now he's touched back down in good old Blighty and we want to know how it went.
Our reporter Tom caught up with him for a chat about how it went and what he thought of the brand new area at O2 Barbados.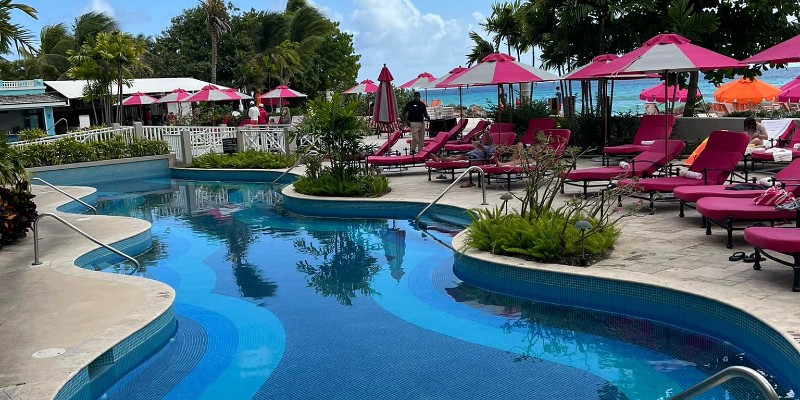 ---
Hi Alistair, hope you're well and returning to the pace of life well. First things first, how was the trip?
Yes, I'm managing to settle back in fine, thank you! The trip was very good. Really nice to get away again after so long. I had forgotten what going on holiday was like!
---
Absolutely, so starting right back at the beginning then, how was your journey out?
Well… we struggled to begin with as Storm Eunice hit on the day we were originally due to fly out. So that flight got canceled. But because we'd registered our information with Virgin Atlantic via API, we received a text and email the evening before notifying us of the change and detailing ongoing information about the new flight. Within that I suppose we were a great advert for going on a package holiday rather than booking separately. As any issues with rebooking all the parts would have been sorted for us if we'd booked through an agent like Blue Bay. 
This flight delay had knock-on effects for the parking at Manchester airport, our resort transfers, and accommodation booking. Along with everyone else who had experienced the disruption, we spent the day trying to get through to Manchester Airport parking. In the end, we just turned up the following day and the parking reservation was fine.
But eventually we managed to sort it and headed to the airport the next day. However, I must say, Virgin were very good with their communications and keeping everyone informed.
---

---
After that rocky start then, how was your airport experience?
While upgrading to upper class is not normal for us and more of  a treat after such a long time, we would definitely recommend it as an experience at least once. 
In addition to allowing us pre-flight private lounge access, it meant the check-in and security processes are completed on a fast pass. 
That 1903 Lounge was particularly welcoming when we had three hours to kill as a result of arriving very early not knowing what the parking issues would be. 
The upgrade also meant we boarded the plane first and were in the lap of luxury during the flight. Service was perfect and it was my daughter's first experience of Virgin upper class. It made a 9 hour flight feel more like 2 hours.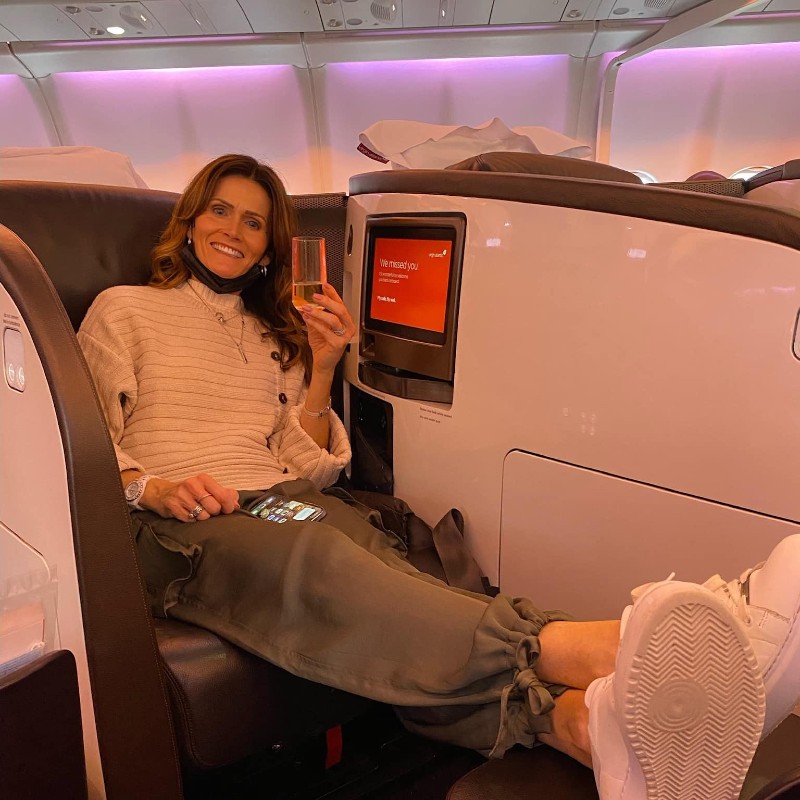 ---
How did you find using Barbados's BIMsafe app?
The BIMsafe app is the location and monitoring system used by the Barbados government. It's utilised as a way to track the completion of COVID entry requirements by passengers.
So, for example, you would enter the details of your pre-departure PCR test and passenger locator form etc. When you've loaded all the data to the app it produces a QR code for you to scan and progress through checks when you land in Barbados.
On the whole it was fine, but, if you haven't travelled for a while, I would recommend allocating a couple of hours to complete everything, its pretty straightforward if a little time-consuming.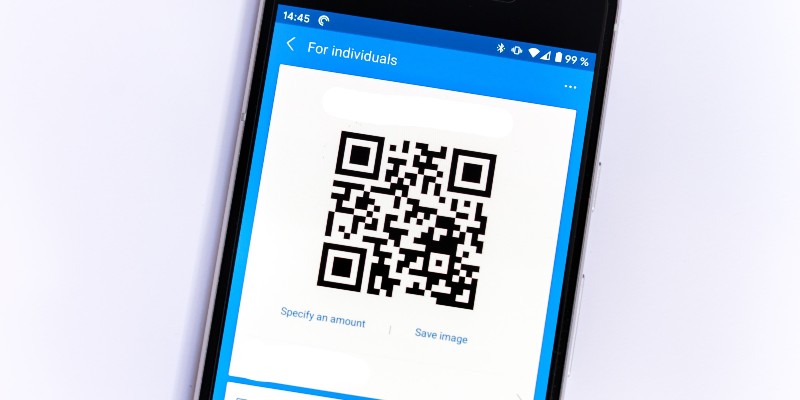 The cancellation of our flight meant that we had to attempt to edit the flight details in the app. This wouldn't usually be an issue, however, the app wouldn't allow us to simply edit our details. In the end, we had to just load a completely new set of passenger data, so we effectively had two bookings without knowing how that would be received in resort. 
Luckily our tests were fine and still within the accepted range. However, if the cancelled flight had of knocked out tests out of the accepted 3-day range we would have needed to buy more tests and upload those details to the app again. Which could've been a costly additional spend. 
---
How was your experience in Barbados airport?
We were so excited when we landed, however, the immigration queues were longer than usual.
Luckily we had been advised by one of our agents to buy the fast track arrival pass – at a cost of US$60pp (£45). This was definitely good value after a long flight. We had collected our luggage and were on our way to the hotel within about 20 minutes.
---
We couldn't agree more. So, now you've completed your 20-minute transfer. What were your first impressions of O2 Barbados?
Well, as with most Barbados holidays, we arrived at dusk so I couldn't really get a feel for the place properly until morning.
Having said that, we went down for a late dinner and, with a saxophonist playing in the resort we were soon relaxing into the Bajan vibe.
After our meal, we arrived in reception and, after a welcome drink and personal tour of the property we were shown to our room. We'd requested a room in the resort's brand new building and were delighted to be shown to our accommodation in this section.
Main pool

The stunning beach (more about that later)

Swim-up bar
---
Ok, so what room type did you stay in and how was it?
The room was beautiful, we stayed in an Ocean View Junior Suite and it reminded me of a room you might find in Las Vegas with its two queen beds. Along with its contemporary features and bright design it felt super-modern. The bathroom was impressive, probably the largest shower I have ever seen!
The resort team were immaculately presented, as were the public areas of the resort. You definitely pick up more of a beach club vibe than other, more uptight, five-star resorts. 
As is usual, there were a couple of occasions during our stay where the minibar hadn't been refilled, we needed something extra for the room or other small frustrations. However, when we called for assistance, they made sure to send someone to assist immediately, the service was really good.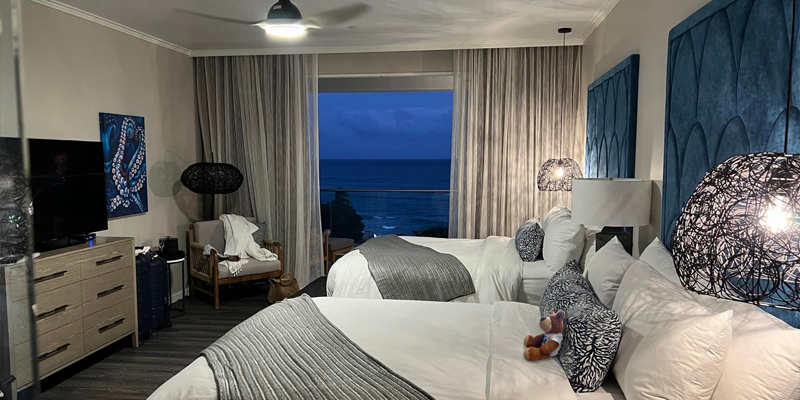 ---
Moving out of the room then, how did you find the resort's beachfront location?
It was great, the beach was incredible, as you would expect. A great fact about Barbados is that the beaches are all public. So, you could head out on to the sand and walk the length of the beach if you wanted.
O2 Barbados does have a sister property, Sea Breeze Beach House. So guests have the option of visiting either of their sites. Although we just decided to stay put, as O2 is just as nice.
Perfect place for catching a sunset

Beautiful beachfront location

Grabbing some family time
The pool guys organised regular activities for adults/older kids such as pool volleyball & beach games – these are detailed on the daily planner along with restaurant opening times. There are bodyboards which were good fun in the waves of the south coast and we even saw turtles in the sea right in front of the hotel.
There's a lovely lounge just over the bridge by the poolside where we often grabbed a beer or a coffee and they have a selection of board games if the sun gets a bit hot!
The sun loungers are particularly comfortable in this family area – they're about 1.5 times the size of a normal lounger, along with the poolside waiter service, it was very relaxing!
---
Talking of facilities, how did you find the restaurants and bars?
The quality of food was very good. Breakfast at Elements (with indoor and outdoor seating options) was beautiful and there was a wide selection of food available. This was the main resort restaurant where they also ran themed evenings for dinner. These switches meant the menu stayed fresh and interesting.
Lunch time is generally served at the Bluefin Beachside Grill. And, while it is salads, wraps, burgers and pizzas and the like, it's a high-end resort so the service and quality of food is top-class. In fact, I'd probably say this was my favourite restaurant. 
Generally we mixed it up between Elements, Bluefin and Brisas, the Mediterranean restaurant serving tapas, for dinner. We enjoyed a special night in the fine dining restaurant – Oro, situated on the 9th floor, overlooking the resort.
Having said that, though, there's isn't a great deal to do in-resort at night. While there is mealtime entertainment, it's all done and dusted for around 10-11pm. But, it's worth remembering that the resort is also located in St Lawrence Gap. So, if 10-11pm is a bit too early for you to hang up your gladrags, then you can get out into the bars and restaurants of "The Gap". 
---
Did you manage to get out and explore the water sports or resort spa during the trip?
We actually didn't manage to check out the spa. Although, a travel journalist from the Daily Mail stayed at the resort recently, on her visit she raved about the O2 Barbados spa. So, I think it could be worth a visit.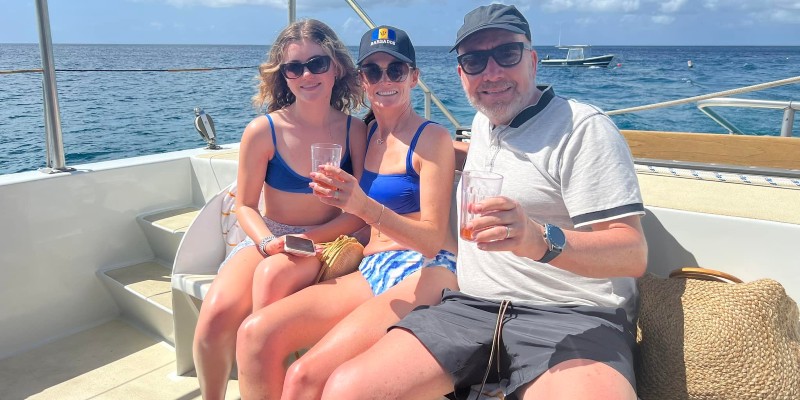 ---
Okay, so how about any excursions?
We did get out on a couple of trips though. One of which was a catamaran trip out to snorkel with the turtles and the other was a Barbados safari tour. We loved both of those.
I would say the island safari was my favourite out of the two, though. We explored the area where Rihanna was brought up and got the chance to discover the less touristy areas like Bathsheba and the more rugged east coast.
---
After all that then, was the exit journey as smooth as the entry (minus the storm, of course)?
Our Suntours transfer arrived on time. Following a smooth 20-minute journey to Grantley Adams airport, we had another very efficient check-in experience with Virgin.
Although, we had to join a rather long, snakey queue at security. This was mainly due to the fact that a cruise party were checking in and there were few members of staff on duty with two security staff manning three Passport Control desks. You can choose to upgrade and expedite some parts of your journey from UK to the island, but I don't think there's an option on the return.
But that laid-back attitude is part of the charm of Barbados. We love that about the island when we're there, so we shouldn't get frustrated when it follows us into the bureaucratic environment of the airports.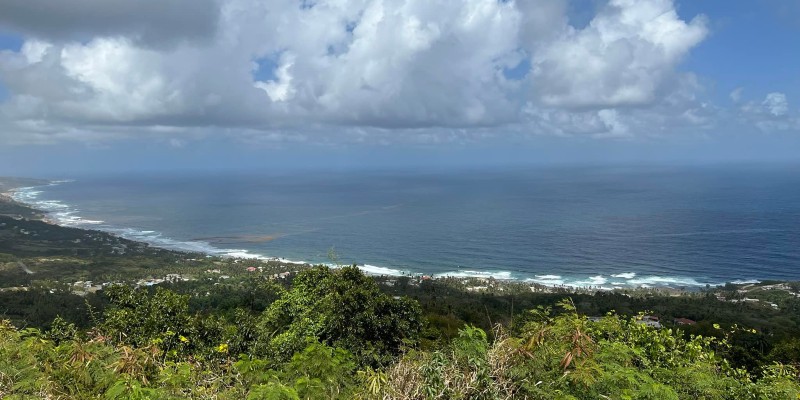 ---
So, to the big question, would you go again?
Oh, to Barbados and O2 Beach Club, absolutely! The new resort is beautiful, and the modern design of the resort's new area is very much my cup of tea. However, those who prefer a more traditional taste of the island may prefer to stay in the original building. Both are lovely, just completed in different styles.
What O2 Beach Club & Spa have done really well is create a five-star environment, with a more genuine feel to it, with brilliant service.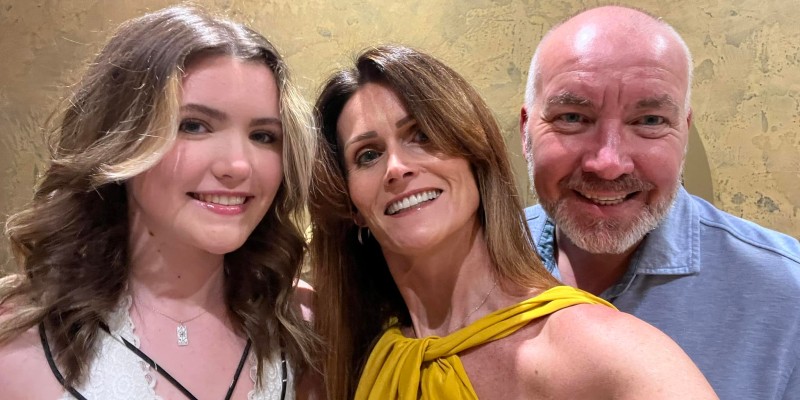 ---
Ready for your own 02 Barbados Adventure?
The newly refurbished area of O2 Beach Club is just waiting to be explored.
If you're ready to follow in Alistair's flip flop prints or you just want more info on this awesome resort, then click the button below.