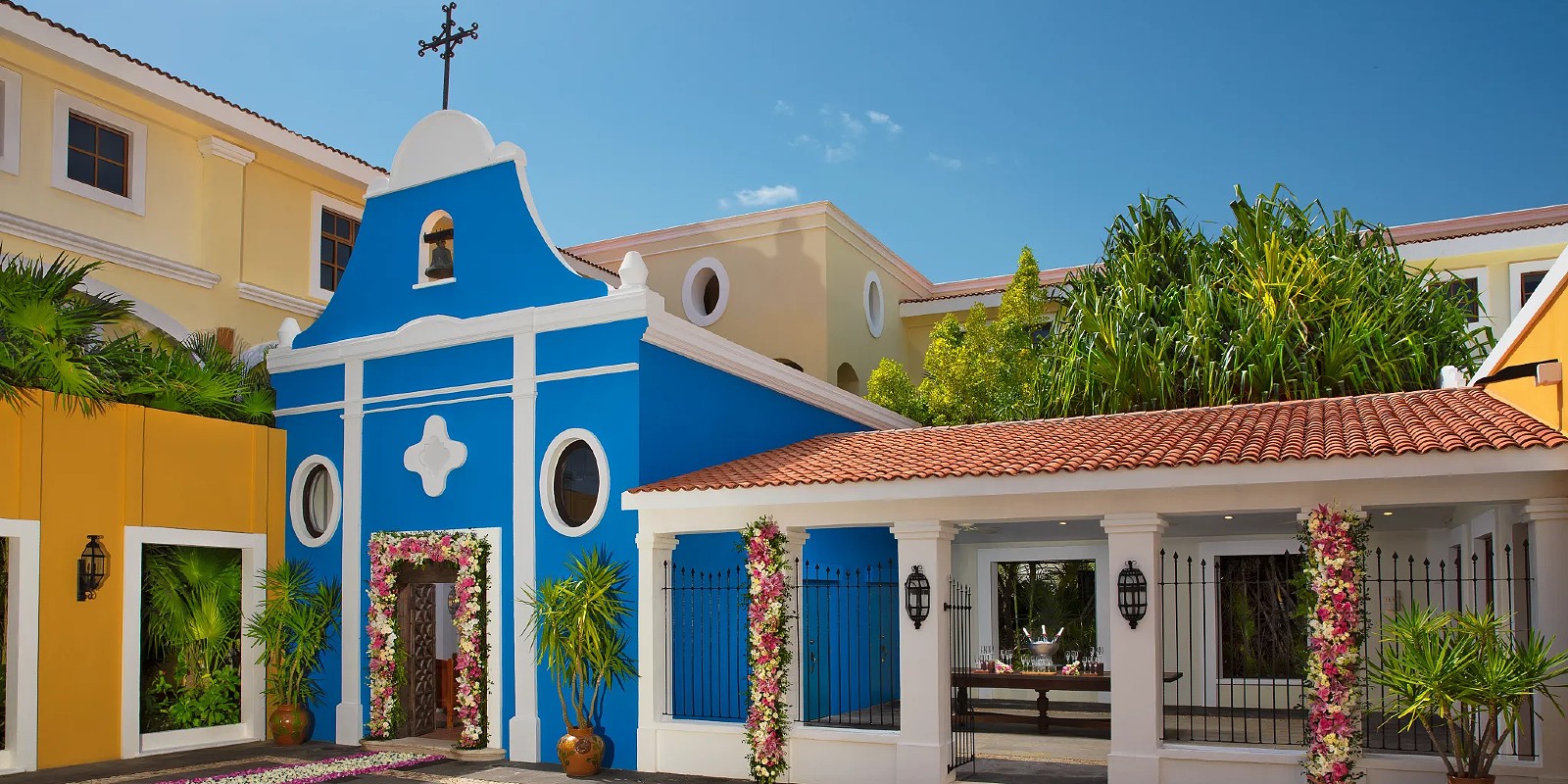 We spoke to a wedding coordinator to find out about the top all-inclusive destination wedding locations in Mexico.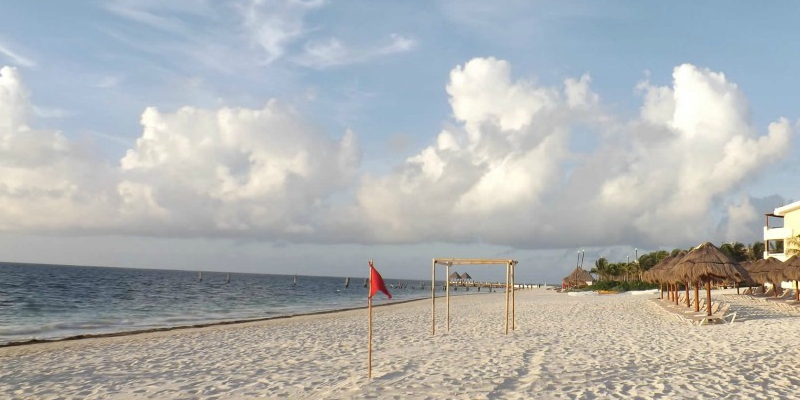 These 6 top all-inclusive destination wedding locations Mexico are ideal for staging a showstopping celebration on the sand.
We enlisted the help of a wedding coordination professional to find the best resorts for getting married in Mexico. She also gave us her top tips for making your special day even more enchanting.
But before we get those tips, let's introduce you to the top 10.
---
6 Best All-Inclusive Destination Wedding Locations Mexico
Now Sapphire Riviera Cancun
Secrets Maroma Beach Riveira Cancun
Dreams Riviera Cancun
Zoetry Paraiso de la Bonita
Secrets The Vine Cancun
Dreams Tulum
---
Now Sapphire Riviera Cancun
Our first hotel in the countdown is also the first of many entries from stunning Cancun. The beautiful Now Sapphire Riviera Cancun rests about 20 minutes from Cancun International Airport. Perfect for those who don't like to stay cooped up for too long.
If you want an adults-only dining option to accent your special trip, then Paramour French restaurant is ideal. A stunning range of Continental delicacies offer that high-end vibe.
The Beaches in Mexico are not private but the Wedding Coordinators here do their best to keep any interlopers away. The shimmering beach provides the quintessential backdrop to that destination wedding you've always dreamt of.
Elsewhere, the large pool area, spa, water sports and fitness centre all help elevate this resort above the ordinary. Plus, we find it's always good to keep a gym close by. Especially when there's an all-inclusive buffet on offer and a fabulous wedding gown to fit into.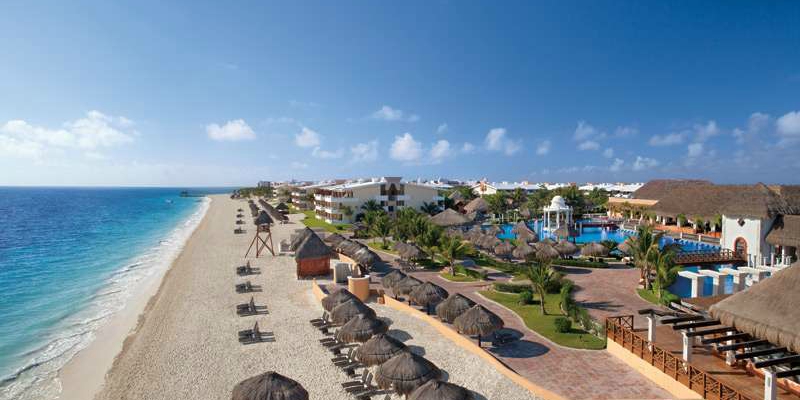 ---
There's only one word to sum this resort up: Stunning.
But fringed by crystal clear blue Caribbean waters and a multi-award-winning beach, It's easy to see why! Boasting a relaxed ambiance that is perfect for couples and groups, the stage is set for a beautiful ceremonial celebration. 
A good Mexico destination wedding tip is: get a gazebo. Not only do they look incredible when dressed, but they also provide some welcome shade on the big day.
The gazebo at Secrets Maroma Beach Riviera Cancun is a great example. You've got cover from the hot sunshine and jaw-dropping views over the ocean. The resort allows a maximum of three weddings per day. Meanwhile, the terrace outside Portofino restaurant is a great option for a reception as it's a sizeable space overlooking the relaxing spa.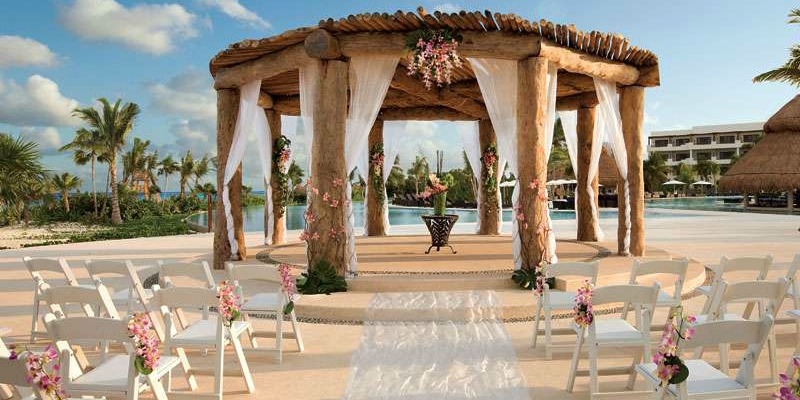 ---
The Weddings Team at Dreams Riviera Cancun are absolutely incredible. They work hard to put you completely at ease and you really get the sense they love what they do.
In terms of destination wedding locations here, you're spoilt for choice! Choose from the Wedding Gazebo, Beach or the Lobby Staircase. The latter is a different option because it's very grand and perfect for photographs! Plus, it's also likely not to be too busy around this area during the daytime. There is the added option to use the pool Jacuzzi area for your cocktail hour which is a great setting for photos.
Elsewhere, the resort also features a wine cellar which can be used for wedding receptions. If you're looking for a well-situated resort that caters to families but has adults-only hotels nearby, Dreams Riviera Cancun is a perfect option.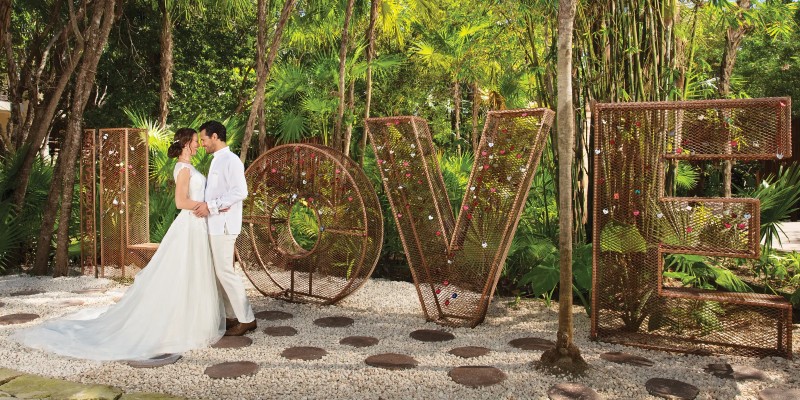 ---
Zoetry Paraiso de la Bonita
Moving forwards on our list of the top all-inclusive destination wedding location in Mexico and it's our first Zoetry Resorts property. Zoetry are part of AM Resorts Group, so the Unlimited-Luxury concept applies. However, the beauty with the Zoetry brand is its focus on wellness.
So, if it's a completely relaxing holiday that you're after with no distractions, then Zoetry Paraiso De La Bonita is the one for you. With a AAA 4 Diamond award and four gourmet restaurants, you can be guaranteed that each one will provide you with an experience to remember.
The resort itself is very green and in keeping with its surroundings. Meanwhile, the architecture is traditional with a reflection of the Mayan Culture. Zoetry allows you to build your wedding package to exactly how you imagined it. In addition, they also offer Mayan ceremonies, so if you've always dreamed of a traditional Mexican Wedding you can have that too. Although, Mayan ceremonies are not legally binding.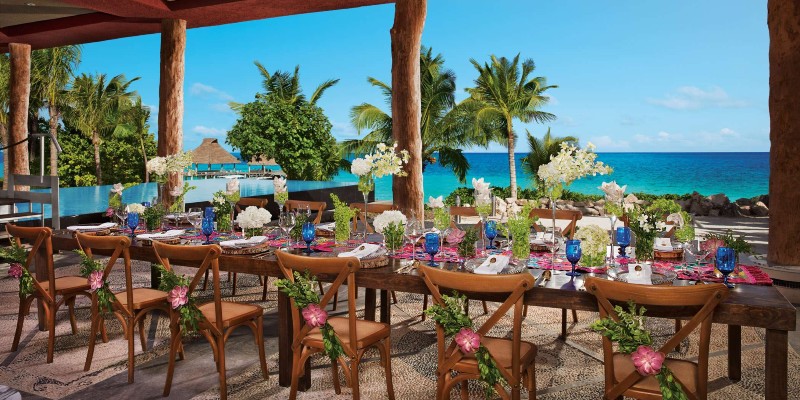 ---
Secrets The Vine Cancun
A modern and contemporary resort right on the shores of a white sandy beach with crystal blue waters. Secrets The Vine is always a popular choice with couples looking to tie the knot in Mexico.
Another reason many couples choose this resort is they only perform one wedding per day. So, you'll be the only couple celebrating! One of the nicest locations for a ceremony is the Boardwalk, it looks out to sea and the photos at sunset will be stunning.
One impressive unique point for Secrets The Vine is that because of where it's situated in Cancun, it is the only AM Resorts property in Mexico in which you can officially have a Sunset Wedding! At the other resorts, there is no sunset opportunity as the sun sets in the West – where the hotel is located! The lower floors in the hotel are all the standard Deluxe & Junior Suites, then the next 8 floors are Preferred Club. I'd 100% recommend the Preferred Club rooms here as you get a better ocean view, Butler Service, An upgraded minibar and access to the preferred club pool which is brilliant!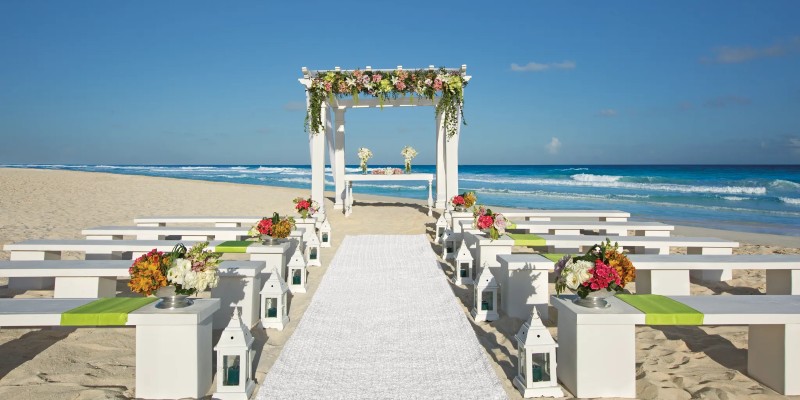 ---
Dreams Tulum Resort & Spa
Our final stop-off on this magical mystery tour of the top all-inclusive destination wedding locations in Mexico is Dreams Tulum Resort and Spa.
The resort is in a perfect location to explore the best things to do in Tulum. In addition, because you're also further away from the airport (approximately 2 hours), you're closer to the incredible things to do in Cancun.
The hotel has a newly refurbished wing with the addition of Swim-Out Suites and Premium Garden View Junior Suites which are superb. They also offer interconnecting rooms for families. A huge selling point, though, from a wedding perspective is that it has access to its own chapel. A perfect option for couples wishing to celebrate a Catholic marriage in Mexico (however please note that religious ceremonies are not legally binding in Mexico).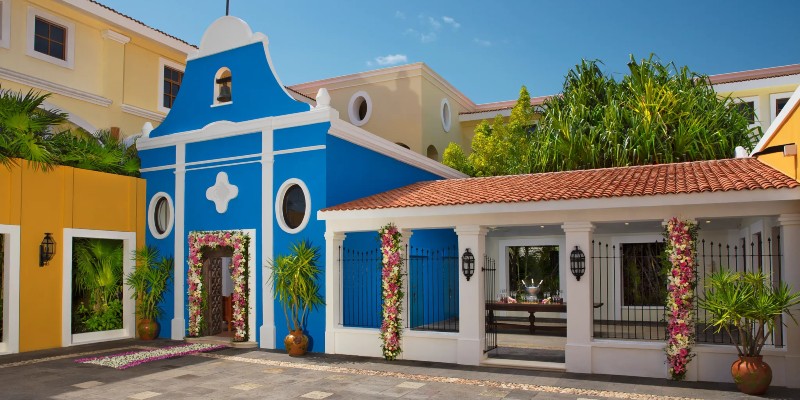 On the other hand, you might like to get married in a beautiful church location and then have the reception on the beach. Dreams Tulum offers 5 locations for weddings – two beach locations, the Chapel, the Convention Terrace and the Garden Gazebo.
The Garden Gazebo is a new location recently constructed for weddings out in the verdant resort gardens. Located towards the back of the resort, the gazebo isn't overlooked, so privacy is attainable.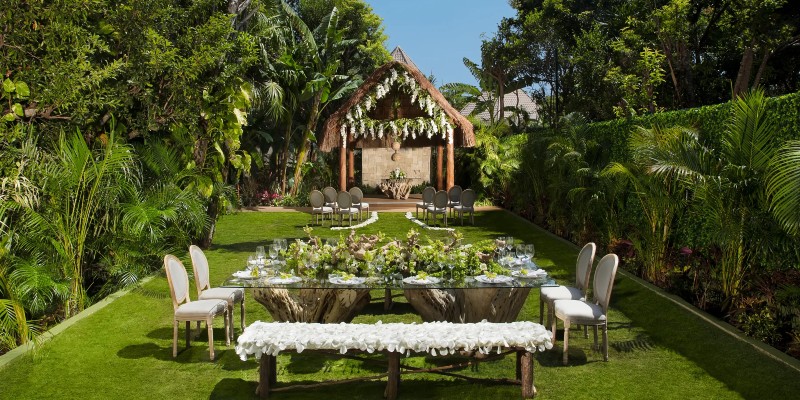 ---
Top Tips For a Dream Destination Wedding in Mexico
Each resort is ruled by a different Judge, therefore legalities and costs can differ.
Most resorts only require your passports and tourist cards to perform a wedding. However, this is subject to change and is different at every resort. We recommend checking with your Wedding Coordinator for the most up-to-date info.
There are charges for the blood tests, validation & translation of your Marriage Certificate. Plus the transportation of the Judge and City Hall & Court Fees. Each resort has different charges which can be determined on request (again, subject to change).
As a general rule, allow four working days to meet with your Wedding Coordinator on arrival and to carry out the blood tests. Weekends and Holidays do not count as a residency period (especially important to note at Christmas and Easter).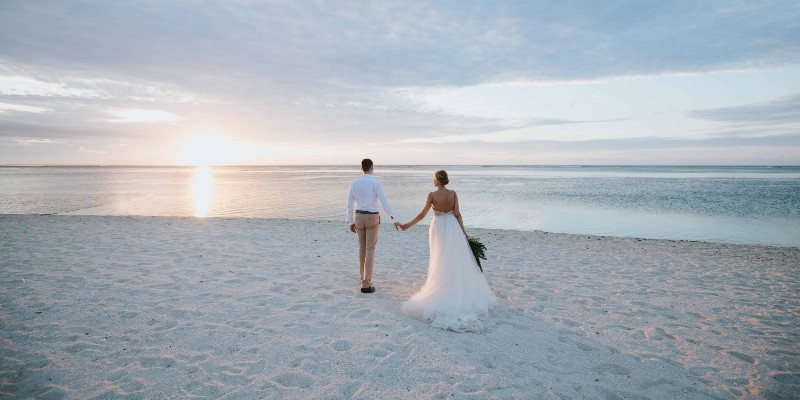 ---
Find the Perfect Resort for You
The great thing about weddings is: you can pretty much have them your own way. So, if none of these top all-inclusive destination wedding locations in Mexico are ringing your bell, you can always choose somewhere else. 
For example, if you're not settled on Mexico, how about we show you some other Caribbean resorts offering free destination weddings?
But if you like what you've seen, click the button below to see our complete range of awesome Mexico resorts. So you can start vetting your perfect venue now.