Sandals & Secrets Holiday
My second trip to the beautiful Caribbean island of Jamaica provided me with what turned out to be an immensely unique experience; not only would I be presented with the opportunity of sampling the delights of the world famous Sandals resorts, but as an added bonus I would then go on to spend a further week in the luxurious company of Secrets.
What made this experience so particularly unique is that Sandals Whitehouse is widely regarded to represent the 'traditional Caribbean' whereas Secrets Wild Orchid very much so gives an insight into the modern and contemporary approach that Jamaica is now moving towards. So not only would I be guaranteed to be spending two weeks in what is quintessentially paradise, but given an ideal opportunity to compare and contrast what these 5* resorts (adults only) have to offer.
On arriving into Montego Bay airport, we were immediately greeted by a Sandals representative who made it clear to us that our every whim would be catered for. We were guided to a member of staff who promptly took our details, collected our luggage and guided us to the Sandals lounge. Yes, Sandals have their own lounge in Montego Bay airport! It was immediately clear that the 5* experience had very much begun. In the Sandals lounge various refreshments were presented; with the air conditioning and comfortable interior making the wait for the transfer to arrive almost enjoyable! Once our minibus had arrived both ourselves and our luggage was escorted to the transfer to begin what we believed would be a daunting one and a half hours journey.
This was proven to be profusely inaccurate however, as the breath-taking scenery of the lush green landscape and mountainous verges that this beautiful island has to offer were on full show. This, accompanied by some traditional Jamaican music and a well air-conditioned bus, not only made the transfer an enjoyable experience but also heightened the anticipation for what was in store for us.
On arrival to Sandals Whitehouse, you are immediately presented with an exterior full of grandeur and poise. Members of staff were waiting eagerly to meet us with a cold flannel and a delicious rum cocktail; and as we were escorted into reception, we were promptly greeted by staff from the reception and our butler, Patrick. We were quickly checked in, and Patrick gave us a small tour en route to our accommodation.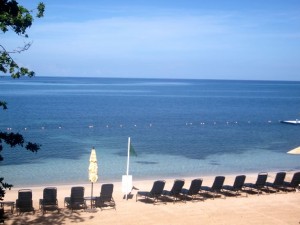 For our weeks stay at Sandals Whitehouse we stayed in the Honeymoon Beachfront One Bedroom Luxury Suite which was situated in the 'Dutch' part of the resort. On entering the room Patrick gave us a mobile phone to contact him and detailed information of his role during our stay; what was on offer and ultimately what he could provide for us, even offering to un-pack our suitcases! Although we politely declined this gesture, it was once more clear that this would be an experience to remember. The room itself was spacious and had a homely feel that you could immediately immerse yourself in. The seating and dining area along with a spacious balcony overlooking Caribbean ocean gave further emphasis to the luxurious surroundings.
The surrounding facilities were equally as extraordinary. What was particularly impressive was the fact that there is both a main swimming pool and a further three swimming pools along with a number of Jacuzzis for each block of accommodation. Perhaps on appearance this doesn't seem overwhelmingly unique; but the sheer expansive nature of Sandals with their Italian, Dutch and French quarters would mean guests would have quite a journey if it was only the main pool available. Sandals recognised this potential issue and ultimately catered for it. From the noisy and energetic French pool providing a number of games and activities to the quiet and chilled out Dutch and Italian pools, everybody's needs are catered for. Such is the expansive nature of Sandals Whitehouse, regardless of the potential decibels emanating from the French or Main pool, you can be guaranteed to find peace and tranquillity at either the Dutch or Italian quarter.
There is also an extensive list of activities available for those itching to escape the clutches of sunbathing, with the staff tirelessly working to entertain your every whim or desire. From aerobics classes, to pool tournaments and even volley ball; you are sure to find an activity to suit your needs. You can even take a walk over to the water sports centre that will happily provide a number of exceptional experiences absolutely free. For those with a desire to explore what the depths of the Caribbean sea and the coral reef have to offer, take advantage of the complimentary diving lessons allowing you to gain the PADI qualification if you so wish. However, if like me you prefer to witness the beauty of the sea from a drier viewpoint, daily glass bottom boat rides are also available. The staff really do go above and beyond their duties during this trip; even diving to the sea-bed and recovering various forms of sea life.
After a long day basking in the scorching temperatures of Jamaica, Sandals Whitehouse also offers you the opportunity to further wind down at their impressive Red Lane Spa. Although this service does come at a cost, you can be assured that it is money well spent; with a number of treatments, a sauna and a steam room available for your pleasure.
For the evening, the opportunity to explore your taste buds is evident with no fewer than 7 À la carte restaurants all catering for various categories of cuisine; from Italian to Asian, Mediterranean Seafood or Traditional Caribbean. With no reservations required or restrictions on dining, you are free to sample cuisine from across the globe.
Once you have been wined and dined, the entertainment team are once more in full flow for the evening's programme. Rest assured, there is always a full schedule of performances on offer whether in the grand Cabaret Theatre or the Piano Bar. For all the romantics there is music and dancing on the candle-lit beach and you can even dine on the beach if you so wish; a perfect way to celebrate your time at Sandals Whitehouse.
To conclude, Sandals Whitehouse provides precisely what is described and more. I cannot begin to describe what a fabulous holiday we had at the resort; one week was simply not enough. For luxury and Jamaica at its traditional and un-spoilt best, Sandals Whitehouse is the perfect destination for the ultimate relaxing holiday.
I must admit, during the transfer to Secrets Wild Orchid, I did feel a certain degree of reluctance. Not because I had any doubts that I would continue to have a fantastic holiday, but simply because after experiencing the traditional Sandals Whitehouse, I wanted more. Would the modern and contemporary approach even appeal to me now?
Such trepidation now appears ridiculous in hindsight as my fears were soon allayed. On entering into the vast complex of the newly built Secrets Wild Orchid situated just a short twenty minute transfer away from Montego Bay; it was clear that luxury can present itself in various forms. We were immediately greeted by eager staff waiting to take our luggage and simultaneously handed a glass of chilled champagne. The luggage handler then escorted us into the lavishly completed reception area where once more we were promptly checked in and shown to our room.
Now, what I found particularly unique about Secrets Wild Orchid based on first impressions was their desire to ensure that all holiday makers are treated equally as well. This meant that although we could upgrade to preferred club if we so wished, every room had a sea view and was equally as expansive. Our room category was a Junior Suite situated on the fifth floor of the building. In all honesty, this categorisation simply does not do the room justice. Essentially it was a penthouse suite situated literally on the beach facing out into the vastness of the Caribbean Sea. The views were breath-taking; and I found it extremely impressive that Secrets had a desire to ensure all holiday-makers enjoyed such views.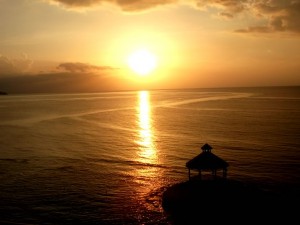 The room itself epitomised what you would expect of a modern contemporary dwelling, with a partitioned bathroom enclosed by a sliding door, large four poster bed and a large flat-screen television decorating the wall. Along with a complimentary in-room fridge which is stocked daily and large balcony, there was literally everything provided for your ultimately luxury. The air-conditioning was particularly useful given the humidity at times. Should you wish to order room-service, this was a complimentary service available 24 hours a day which I thought to be particularly impressive. The menu available gave an excellent range and the food was prompt. Once finished, a deposit box situated by the door to the suite took any remaining plates or cutlery. So you were literally never disturbed. These were checked and emptied regularly by the exceptional staff. It was clear to us at an early stage that the modernity of Secrets Wild Orchid would be equally as enjoyable.
The complex itself was equally as expanse and we spent much of the first day exploring what it had to offer. Once more, we found ourselves in another unique situation. Secrets have been particularly clever in their construction of both Wild Orchid and the neighbouring St James. Early on in the development it was clear to Secrets that the initial blue-print of constructing one hotel consisting of four separate units' was potentially an administrative nightmare. As such, as two separate hotels, both Wild Orchid and St James offer either the standard stay or preferred club. It really is that simple. Each unit has its own pool bar and large pool, coinciding with a beach-front which stretches along the entirety of both hotels.
The beauty of this set-up therefore is that with the shared facilities that both hotels have to offer, you can alternate between the two. For those of you with a desire for sporting activities, the St James side predominately caters for these tastes with tennis courts, a gym and water sports activities; with non-motorised water sports complimentary. The Wild Orchid side took up the role as prime entertainers with five of the six restaurants situated in this vicinity. With Italian, French, Mexican and Traditional Caribbean food available to name just a few, Secrets really did cater for all tastes and requirements and ultimately allowed you to dine in style. Should there be a queue, you will be presented with a pager which will automatically alert you when a table is ready. It was these small, but efficient extra's that immensely impressed us and further confirmed what a fantastic resort Secrets have built.
Furthermore, should you wish to sample Jamaica at first hand, the Margaritaville Bar situated on the 'Hip Strip' in Montego Bay ran regular shuttle buses each night to and from Secrets Wild Orchid. Now, understandably, you might perhaps feel a certain sense of disinclination to leave the safe surroundings of the complex itself, but I would recommend this as a good night out as primarily it is tourists who tend to visit such night-spots as opposed to locals.
To conclude, Secrets Wild Orchid well and truly presents the future of Jamaica. Essentially, it is all down to your personal preference. Whether you prefer the traditional Caribbean charm that Sandals has to offer, or the modern and contemporary style of Secrets Wild Orchid, you are certain to have both a wonderful and luxurious time in the paradise that is Jamaica.