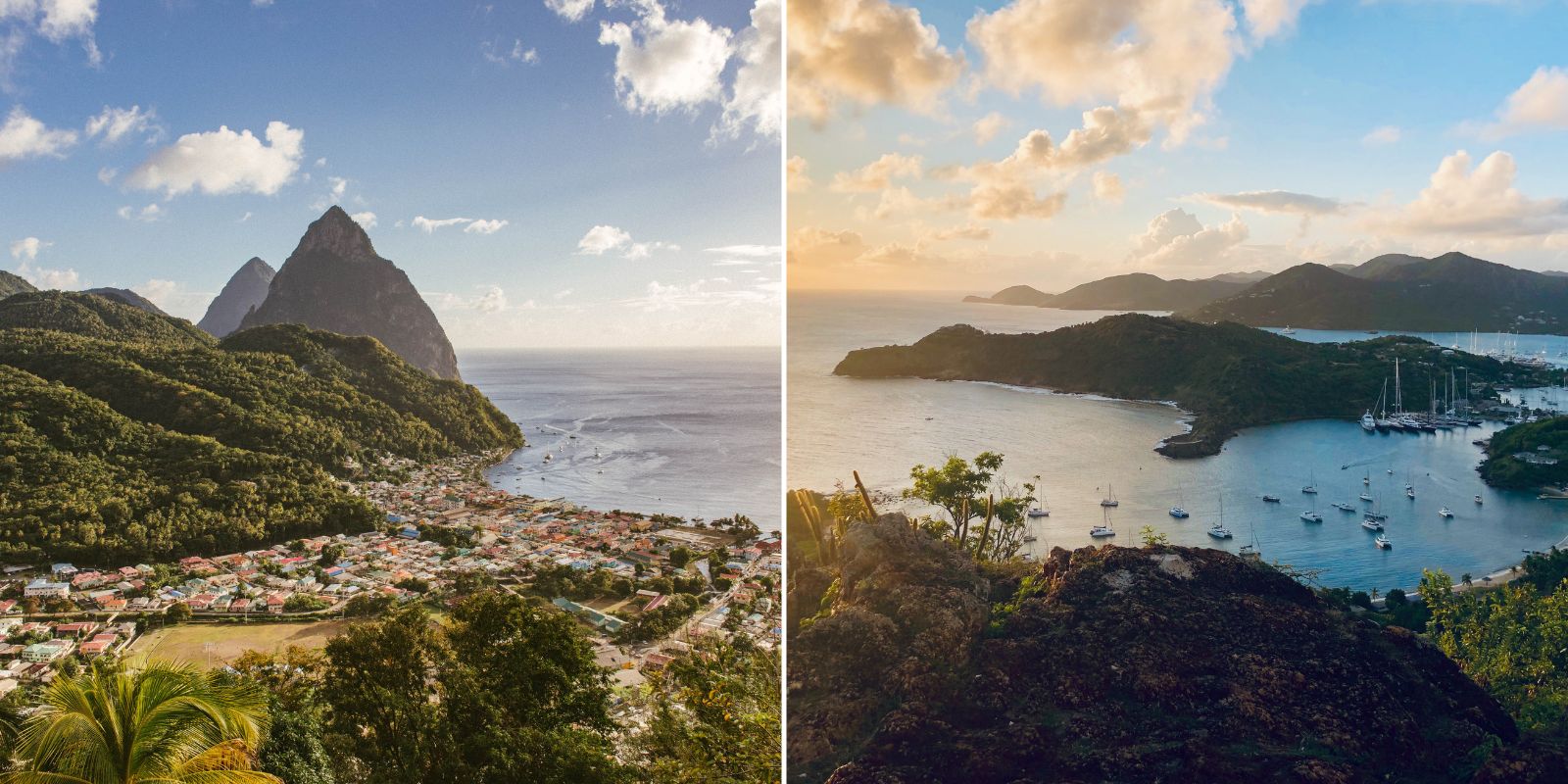 When it comes to booking an incredible Caribbean getaway. You can do a lot worse than Antigua or St Lucia. But how do you choose just one?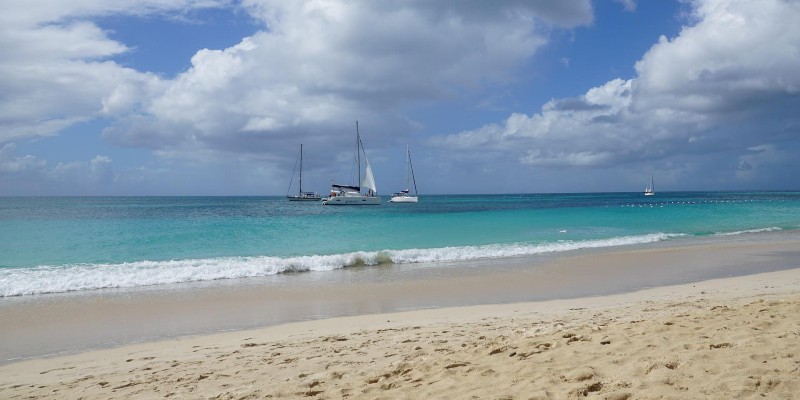 If you're battling it out between Antigua vs St Lucia for your next Caribbean escape, then it can be tricky to know which to choose. 
But don't worry, because we're about to unpuzzle the whole thing for you! 
In this blog, we'll tell which island is better for you and why. Plus, we'll also outline some top things to do in either destination. Hell! We'll even tell which one would make the better honeymoon destination. Now that's thorough!
So, where should you go?
---
Antigua vs St Lucia
If you're more into kicking back on perfect white sand beaches then Antigua is perfect. However, if you have more of a thirst for adventure, then you should choose St Lucia. 
As with any holiday destination debate, this argument depends on what you want from your escape. 
However, that's not to say that St Lucia doesn't have its fair share of staggering beaches. And Antigua certainly isn't without its adventurous charms. 
So why don't we dig a little deeper to see what makes each destination tick?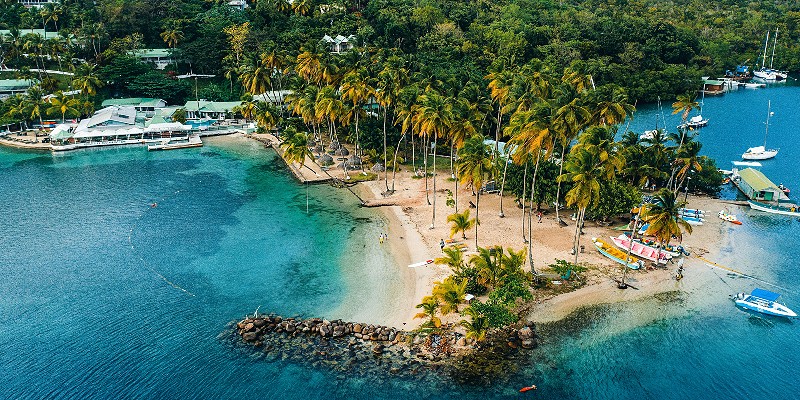 ---
3 Best Things To Do In Antigua
Anywhere dubbed the "Land of 365 Beaches" is going to have lounging on the sand as the top thing to do. And the beaches in Antigua are unrivaled. 
However, there are other things to do away from the shoreline. Here are our top 3 picks: 
Visit St John's 
Shirley Heights 
Nelson's Dockyard
---
What Is St John's, Antigua?
St John's is the island's capital city. But get any ideas of imposing high-rises and bustling traffic-laden streets out of your mind.
There's is a decidedly calmer way of life here. But that's why we love the Caribbean, right?
However, like other capitals around the world, there's also a host of great things to do in St John's. From historic forts and plantations to modern shopping plazas. There's plenty to enjoy!
What Is Shirley Heights?
Shirley Heights is a 480ft high lookout that offers some of the most incredible views out over the island. 
Visit on a Sunday and you'll be treated to a party when you reach the top of the hill. With music, dancing, traditional food vans, bars, and mind-blowing sunset views.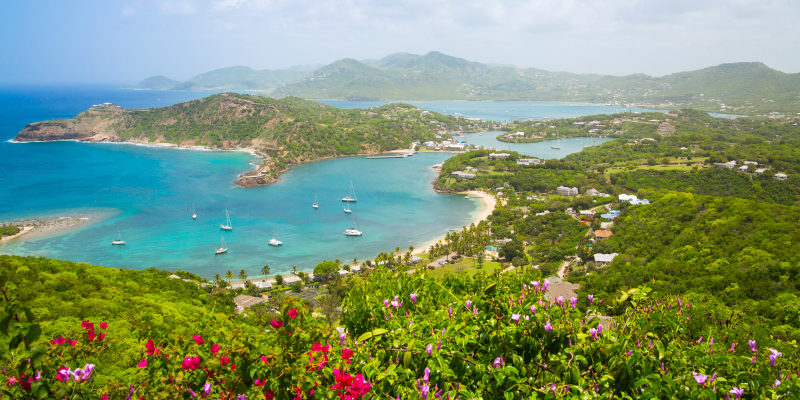 What is Nelson's Dockyard?
Just next to Shirley Heights in English Harbour is another popular spot. Nelson's Dockyard is a cultural heritage site and marina. 
This UNESCO-protected site is a national park and offers tourists the chance to learn more about the island's vibrant past. 
---
3 Top Things To Do In St Lucia 
Meanwhile, in St Lucia, there are even more activities to fill your itinerary. Go from the shore to the tip of a volcano in one day with a host of awesome excursions. 
But our top 3 trips are: 
Visit Rodney Bay 
Climb the Pitons 
Luxuriate at Sulphur Springs  
---
What is Rodney Bay?
Rodney Bay is a popular town up on the northwest coast of St Lucia. But don't be fooled by its sleepy quintessentially Caribbean demeanour. There are a host of great things to do in Rodney Bay. 
Kick back on the perfect sands of Pigeon Point. Or make the move over to Reduit Beach and try your luck on Splash Island Water Park. 
What Are The Pitons?
They are a majestic staple of the St Lucia skyline. But you can actually climb the Pitons. 
Day tours are available to help you scale the volcanic peaks. But remember there will be a bit of walking involved. So go prepared!
What Are Sulphur Springs?
Down in the southwest of St Lucia, Sulphur Springs is a dormant volcanic crater. But the site's natural hot springs and mineral-rich mud make it the perfect place to grab some high-grade skincare too. 
---
Should You Choose Antigua or St Lucia For Your Honeymoon?
Again, it depends on what you want from your perfect post-nuptial escape. However, St Lucia isn't known as the most romantic island in the Caribbean for nothing. 
Antigua can provide you with those picture-perfect beaches for filling your Insta with dreamy loved-up shots of you too. But St Lucia delivers action-packed activities, as well as dreamy locations for an impromptu photoshoot in the shadow of the super romantic Pitons. 
Our girl Jo chose to get married in Antigua and she had the time of her life honeymooning on the land of 365 beaches.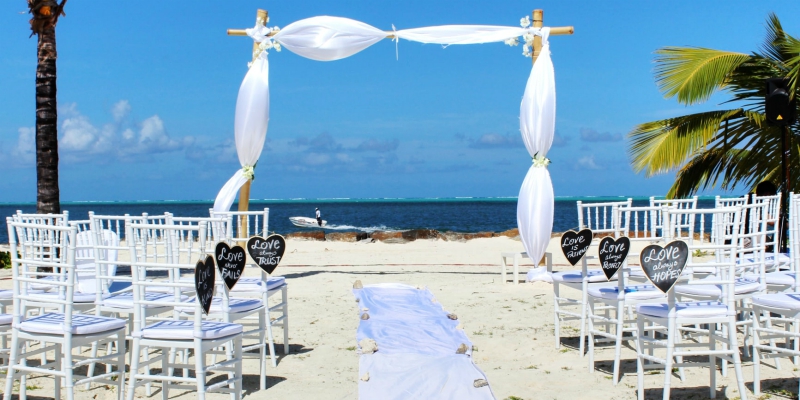 ---
Top Hotels in Antigua Or St Lucia
In terms of top places to lay your head, you won't struggle for options in either of these locations. They are stunning Caribbean islands after all. 
However, Antigua has its fair share of TripAdvisor-rated resorts offering five-star all-inclusive privileges. 
Meanwhile, in St Lucia, there's another host of high-grade resorts. However, we should also tell you about Bay Gardens resorts. This is where you'll find Splash Island and 3 resorts for the price of 1. 
Or you could always click the banner below, sign-up, and check out our latest unbeatable offers for St Lucia, Antigua, and other mesmeric islands. 

---
Are You Choosing Antigua Or St Lucia?
When choosing between Antigua vs St Lucia, it pays to know what you want from your holiday.
However, both destinations have a host of beaches, fun activities, and high-end resorts. So, you're not going to kick yourself for too long if you don't choose correctly.
In the meantime, we've been pitting more islands against each other. So why not click the button below and see what happens when we face off St Lucia and Tobago?