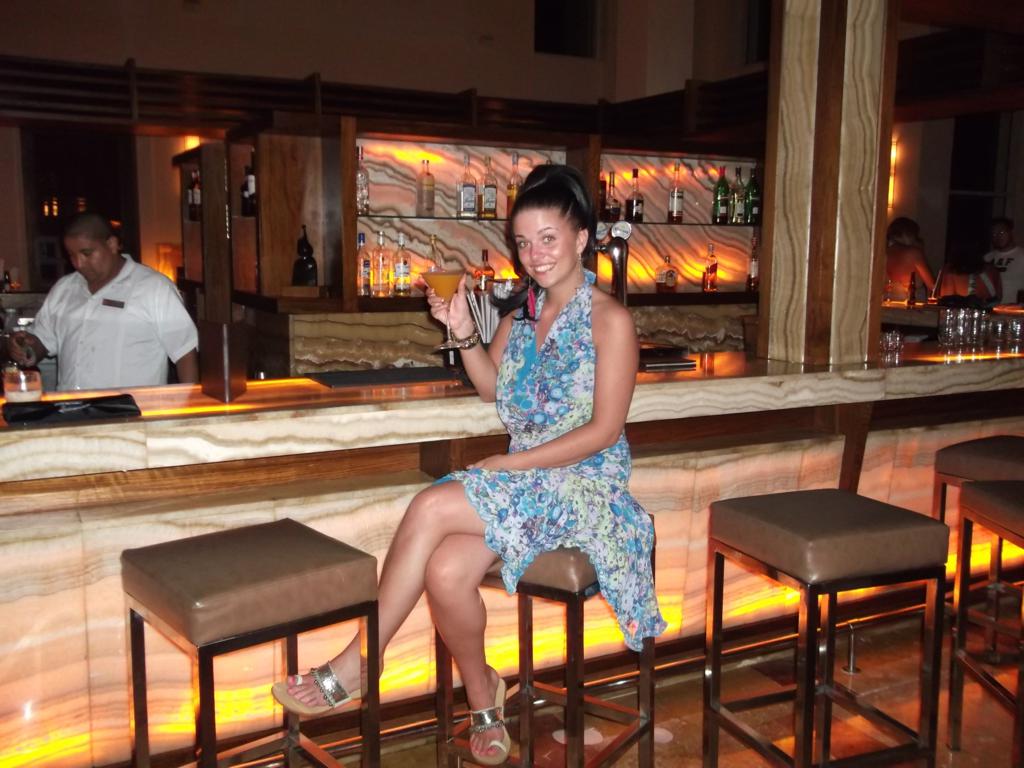 5th – 7th September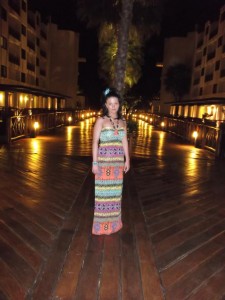 After a long but pleasant flight with Thomas Cook we arrived at Cancun airport at 2pm, we were greeted by Jumbo Tours and were taken to our first resort, Dreams Riviera Cancun. Upon arrival our luggage was taken care of and we went to the reception area to check in. The reception was breathtaking and we were amazed at the outlook all the way down to the sea.
We were directed to our room, which had a very authentic & stylish feel with an inside Jacuzzi and a balcony with an amazing view of the garden and sea.
Once at the room we rested for an hour then decided to have a walk around the hotel. We had a look around the pool and ended up on the beach; everywhere was immaculately clean, the white sand beach and the turquoise blue sea were beautiful. When the sun had gone down we retired to our room to shower and dress to dine out.
The choice of restaurants was unbelievable, we couldn't decide where to dine first but we opted for the Mexican "El Patio". It was very authentic and traditional it gave us a real taste of Mexico on our first night.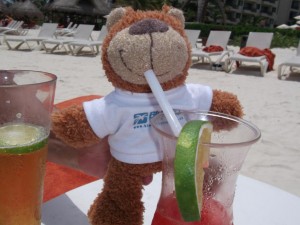 After an early night and after a very comfortable sleep in our two queen size beds (as requested) we got up and went for breakfast at the world café. They had a buffet style cuisine with a wide variety of international foods. Staying by the pool for a few hours seemed like a good idea, as we were a little jet lagged. We skipped lunch after indulging in our buffet style breakfast and went to the beach for the rest of the afternoon, we had a few cocktails which were bought to us by the very friendly and attentive waiters.
During our stay at Dreams Riviera Cancun we visited quite a few of the excellent restaurants and sampled their different cuisines. We frequented to the top bar in the reception area where there was always entertainment. The staff were always helpful, attentive and friendly all through our stay.
My closing thoughts of our visit here is that it is a fabulous hotel, all expectations were met and we thoroughly enjoyed our stay here. On the 8th September we checked out at 1:00pm and we were met by the same Jumbo Tours representative (Jennifer Lopez!) and we were taken to our next resort, Now Jade.
8th – 10th September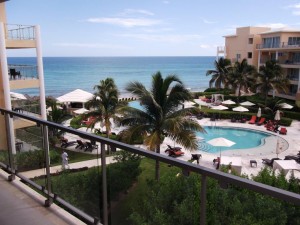 It took approximately 15 minutes to get to Now Jade. When we arrived we were greeted with a champagne cocktail and a cold flannel. We checked in and were taken to our room by the Concierge. Our first impressions of the hotel were that it was very modern, spacious with an outlook from reception to the gardens and ocean. Our room was a Preferred Club Ocean View. We were surprised at how big and luxurious it was with a large balcony with Jacuzzi. As requested we had two queen sized beds, there was a living area, a bedroom and a separate bathroom.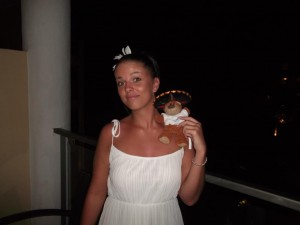 We unpacked and went to look around the hotel and its surroundings. We went to the Preferred Club area that included a private separate pool and a private area of the beach. We dined at the Carnival Buffet at night and went to the Scores Bar after where I took part as a judge in the American Idol panel. The Scores Bar is where the entertainment mostly took place at night time. There is also entertainment at the lobby bar which included live music; during our stay there was also a flea market and a Mexican show at the mini plaza where we could buy nice souvenirs, this is where we treated Bayley to his Sombrero!
As we had access to the Preferred Club areas we also had access to the Preferred Club Lounge, this had a quiet relaxing atmosphere and offered a variety of snacks and drinks throughout the day. We made use of the lounge as we used the computers which had unlimited internet to email home.
Our first morning we decided to have room service and ordered a continental breakfast that included fresh fruit, a selection of cakes and croissants, toast, jams, tea & coffee. There was plenty to choose from.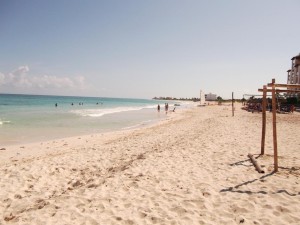 On site there are lots of additional amenities including a spa, beauty salon, shopping mall (small but adequate) and many more. There is a very nice jewellery shop as well where I purchased a ring for my Mum for her birthday. We did spend most of our time in the day by the Preferred Pool or at the Preferred Beach. For lunch we dined at Castaways and at the Carnival Buffet, both of these restaurants were very nice and offered something for everybody and at night we dined at several restaurants (again we were spoilt for choice); Spice and Capers being my favourites. We were waited on hand and foot and again the staff were very helpful and friendly.
The hotel is exceptionally clean, it is situated right on the oceanfront with everything you could possibly want to ask for. We both enjoyed our stay here. On the 11th September (my Mum's birthday) we checked out at the Preferred Club Lounge.
11th – 18th September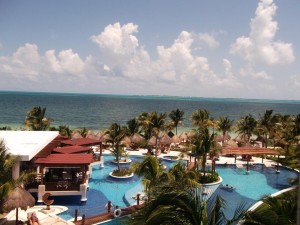 Today we got up early and packed ready to move on to Excellence Playa Mujeres; we were again picked up by Jumbo Tours at 1pm where we then made our way to the next resort. The journey took around 40 minutes; we approached Excellence through a long private driveway and were met at a large wooden door by the Concierge with champagne and a cool flannel. He took care of our cases and escorted us through the reception which was very grand and had a swooping staircase to the lower floor, the Concierge guided us to the Excellence Club Lounge where we were to check in. He also gave us a little tour of the Excellence Club facilities.
Once we had checked in we were taken to our room; an Excellence Club Junior Suite Ocean View. The room was very plush and had been decorated with streamers and balloons plus champagne and fruit. The room had a marble shower room, white leather suite, LCD TV, Jacuzzi (with windows that opened onto the balcony). There was an enormous double lounging bed on the balcony and the views were fantastic.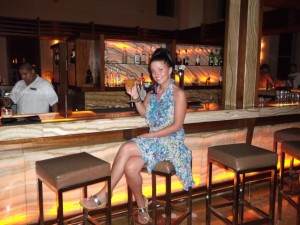 We decided to leave unpacking for an hour and went to explore. The Excellence Resort is as it states; excellent! There are many restaurants inside and out, many pools to choose from; some private and quiet, others with music and entertainment and indoor shops and various bars. We spent a lot of our time at the Martini Bar! It was very cool with a relaxed atmosphere.
We decided to order room service for my Mum's birthday; it had been a busy day and we felt like relaxing for the night. We ordered room service which was lovley and I had been to reception to hire a film; a birthday cake was also delivered to our room which added a special touch.
The next day we made up for it, we went for breakfast at Toscana (we came here several times for breakfast and sometimes lunch). In the day they offer buffet style cuisine and at night they have a set menu Italian style. After sun bathing all day we got ready with our champagne and ate at the Lobster House, which is a little restaurant outside; the food is superb. Tonight we went to the nightclub till late!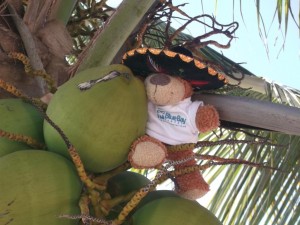 Before coming to Mexico I had always wanted to swim with dolphins so the next day we met Alex the Jumbo Tours representative. We had booked a Royal Swim for myself and an encounter swim for my Mum at the Dolphin Discovery which is situated on the small island of Isla Mujeres. A couple of days later it was time for us to go on the excursion; we were met by Alex at reception who took us to the transport. We were taken to a small dock as we had to take a 20-minute boat trip from Cancun to the island. The trip was beautiful; when arriving we were given a small talk of what to expect from the dolphins. The dolphins were amazing; we did various activities with them including a foot push and a dolphin kiss. In all we had around 50 minutes with them. Afterwards we were informed that we could experience interaction with the stingrays and sharks; Mum opted out on this one but I wanted to experience everything, thankfully they kept a distance which I was grateful for! We spent a full day here as the boat didn't depart until half 5 but there was plenty to do as there was a restaurant, bar and a swimming pool. At the end of the day there was time to purchase our photos that we had taken with the dolphins.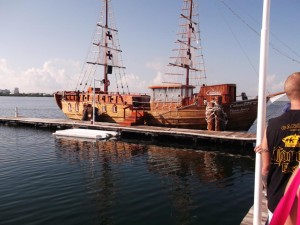 Today was Mexico Independence Day; when we had arrived back at the hotel the outside area looked great, it was all made up with decorations, there was a flea market, Mexican singers and dancers. It was a great night, I thoroughly enjoyed this day.
During our stay at Excellence we mostly just relaxed and soaked up the sun, and enjoyed every minute of it. There is also a private section of the beach where we were spoilt by the Concierge staff and sun bathed on the double lounging beds.
The choice of dining at this hotel is out of this world, we dined at many of the restaurants but I would have to say my favourite was Spice which was Asian cuisine. We dined here a couple of nights as they had a great choice of foods. All of the restaurants are fantastic, I wasn't disappointed once.
Sadly our holiday came to an end. We had a lovely time in Mexico, without a doubt this has been the best holiday of my life. I would return to any of these hotels and would recommend them to everyone.