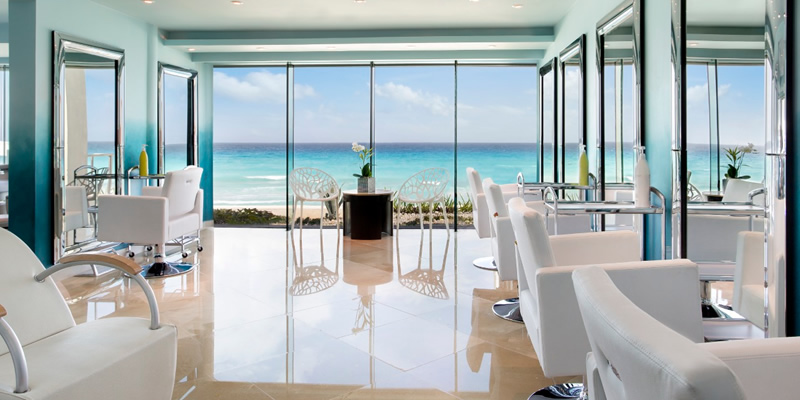 Kirsty and Georgina took a cheeky getaway to Hard Rock Hotel Cancun for a chill-out Mexican style. Kirsty found herself particularly relaxed as she was pampered to the max at Rock Spa® and tasted the delights of Hard Rock Hotel Cancun's finest dining experiences. 
Feeling all Rock Spa®
If a Mexican getaway wasn't already relaxing enough, the spas at Hard Rock Hotel Cancun soon saw off any aches, pains and daily stresses. The spa experience itself was like being transported into a utopia where I was sprinkled with 'magicalness' that zapped me of anything but feeling super chilled out. Okay, so the only real magic is how relaxing the experience actually is. But, there is a kind Mexican gentleman who takes you to a room of calming candles and aromas that instantly make you feel like you've stepped into heaven.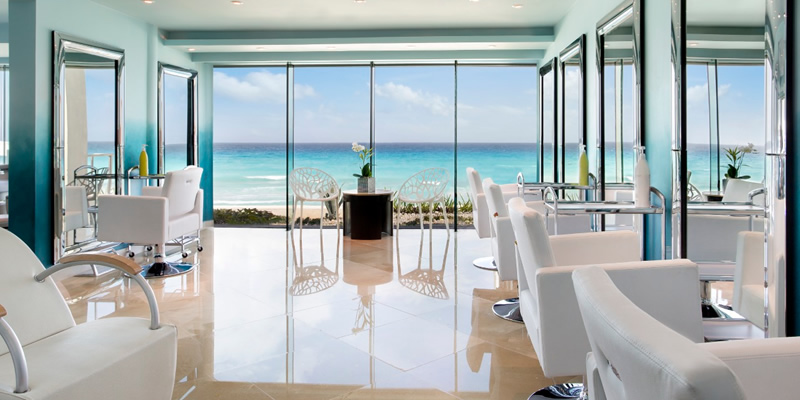 In said room, you're given a warm wheat bag that's draped over your shoulders to relax those muscles and cool refreshments to cleanse your inner self. Even the complementary fruit at Hard Rock Hotel Cancun's Rock Spa® is out of this world, served in a mini shot glass and fresh to taste. Before you know it, you're being transported from the room of amazingness and taken for your treatment. And I thought I was relaxed before.
I happily spent the afternoon sampling the different treatments that Hard Rock Hotel Cancun had to offer, making sure that every last inch of my body was fully relaxed before hitting sun loungers for a busy afternoon of, well, more relaxing. The best treatments by far were the fully body message and facial. Wow. The consultants were amazing and tailored the treatment to my personal style to make for a boss-level treatment.
With complimentary resort credit, the spa treatments at Hard Rock Hotel Cancun were great value. A rock star standard service for next to nothing and they're so easy to book. Just ask your concierge team.
Foodie's Paradise
The food. Now that's something else. Any foodies have got to try out the food at Hard Rock Hotel Cancun. There's so much choice that you're never left wanting. The only problem would be having too much choice… but that's easily solved by the buffet! The Ipanema Grill satisfies the meat eater, with succulent meats served until you turn over your place mat to say stop. Literally. For a taste of the local cuisine, Frida serves traditional Mexican dishes that enlighten all the senses. Even the location of Frida is a mighty fine treat with views overlooking the beautiful ocean.
Not forgetting Zen. My favourite of all. Before you even taste the food, the décor and ambiance feed your inner explorer. You've got to try the teppanyaki tables!  My favourite dish was yellow curry and spring rolls. Now those spring rolls are high flyers. Although, quite tricky to eat with a chop stick, especially for those less refined in chop-stick usage like myself. It provided some entertainment for the other guests I can tell you. But I did find my own way of using those chop sticks. Fear not, forks are available on request!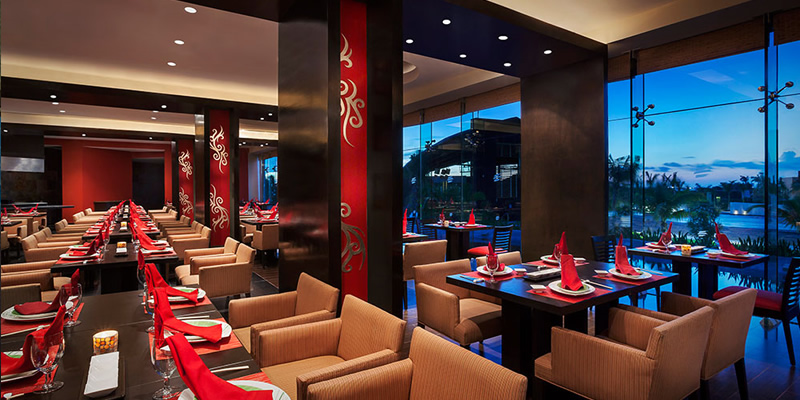 Another top thing about dining at Hard Rock Hotel Cancun is that there are no reservations required, so you can turn up to your favourite restaurant when you want! If you go at a busy time, no fear. You're given a small buzzer so you can go and enjoy one of the amazing cocktails at the lounge bar while you wait for a table! There's no hanging around, just chilling like a rock star!
Relaxing can be hungry work so when those late night munchies strike after a few cheeky cocktails, the complimentary 24 hour room service at Hard Rock Hotel Cancun is on hand. Even after eating all those spring rolls in Zen! The menu is so extensive it caters for all and is as tasty as any of the food served in the restaurants. It wasn't just any old food, it was delicious. If you ever get the chance, try the lime pie for dessert. Best dessert ever made.
If the relaxing Rock Star experience has tickled your fancy, or you've just got to have your own slice of that lime pie, have a little press of the orange button below to find out more about indulging in that relaxing goodness yourself.