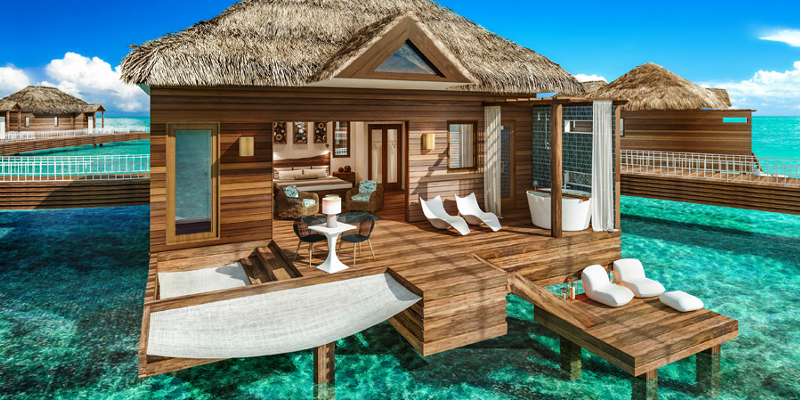 Ladders that descend straight into turquoise water, four-poster beds, and the private pools of over the water suites make them the pinnacle of honeymoon dreams. They also look pretty epic on your Facebook feed.
Unlike most getaways which place you on the brink to watch over the ocean, over the water suites take it up a notch, placing you directly above the tropical waters. Sandals Resorts have once again delivered that very concept to the Western Hemisphere, so you can drink 360° seascapes from every vantage point imaginable. And what better place to settle than St Lucia. A down-to-earth corner of the globe holding the title as the Caribbean's most stunning destination.
"All-new over-the-water villas at Sandals Grande St. Lucian mould the ultimate escape for couples in love."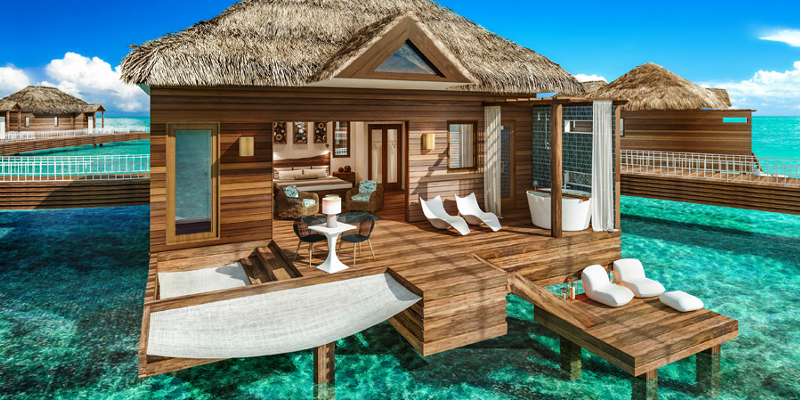 Over-the-Water Bungalows Land in St. Lucia 
Marrying modern indulgence and exotic palapa-style architecture, the all-new over-the-water villas at Sandals Grande St. Lucian mould the ultimate escape for couples in love. Delight in the apex of luxury: savour 24-hour room service as the gentle sea breeze keeps you refreshed. You're coupled with the main resort via complimentary private boat transfers, creating a wide range of opportunities, and an unequalled sense of seclusion.
Magic of the Underwater World
These innovative offshore havens feed the endless azure of the Caribbean Sea directly into your suite. Gaze at the marvel of the underwater kingdom without even leaving your room. Genius glass floor panes and backlit waters create an opening to the polychromatic vibrancy of the St. Lucian shallows.
Private Patio 
If you can peel yourself away from those immersive vistas, slide open your patio doors to unveil the harmonious fusion of your infinity pool and the crystal-clear ocean. Step into your Tranquility Soaking Tub™, bask in alfresco bathing, and feel wrapped in the tropical, utopia-esque beauty. Entwined, these moments make a pure elixir for romance. 
Butler Elite Service
In true Sandals Resorts style, naturally, your suite will come with your very own personal butler, to ensure every detail of your getaway is handled with humble grace. They're part mind-reader, part magician, and will do pretty much anything you ask. Just say the word and it shall be made so.
"These innovative  bungalows feed the endless azure of the Caribbean Sea right the way into your suite."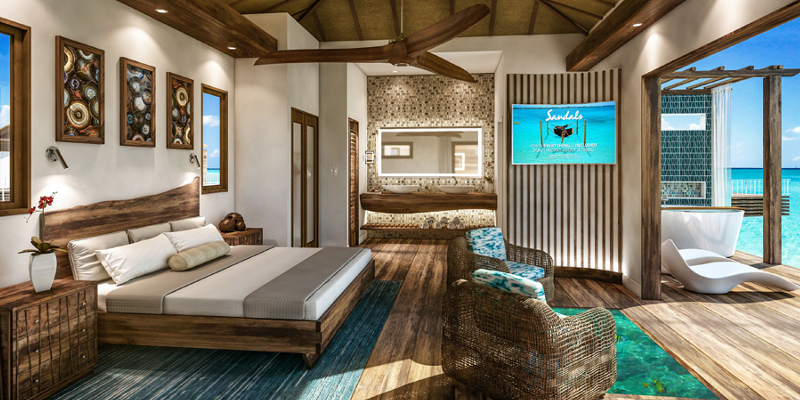 It will feel like the two of you have the entire blue universe to yourself, and nothing screams intimacy more than that.
If you're as super-excited as we are about these cutting-edge Sandals Over-The-Water Villas, do let us know in the comments below.
Go on, take the plunge, and check them out, Holidaymaker.