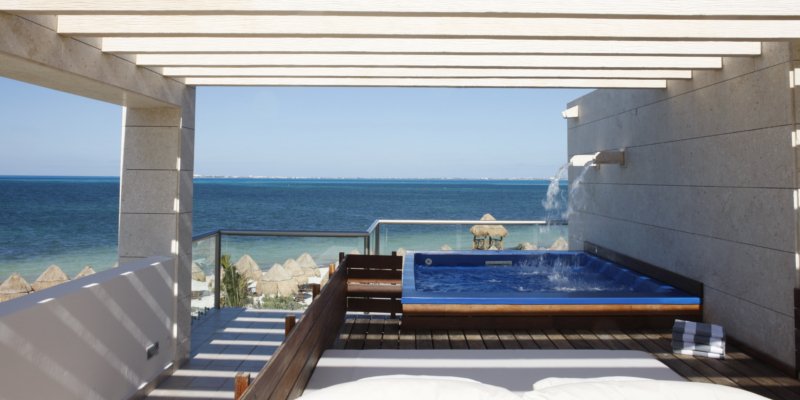 Beloved Playa Mujeres greets you with the fresh aromas of lemon grass, synonymous with tranquility, serenity, and pure luxury. Right from the moment you step through the majestic gateways, you know you have entered a world of intimate, exclusive experiences. Beloved Playa Mujeres is famed for its impeccable service, lavish suites and all-natural Caribbean beaches. Ranked one of TripAdvisor's Top 15 All-Inclusive Resorts in the World, this boutique sanctuary is the primo resort for luxurious couples escapes.
For the most discerning holidaymakers on the quest for the upper crust of escapes, Beloved Playa Mujeres is essential. Here's the low down from my visit to Beloved.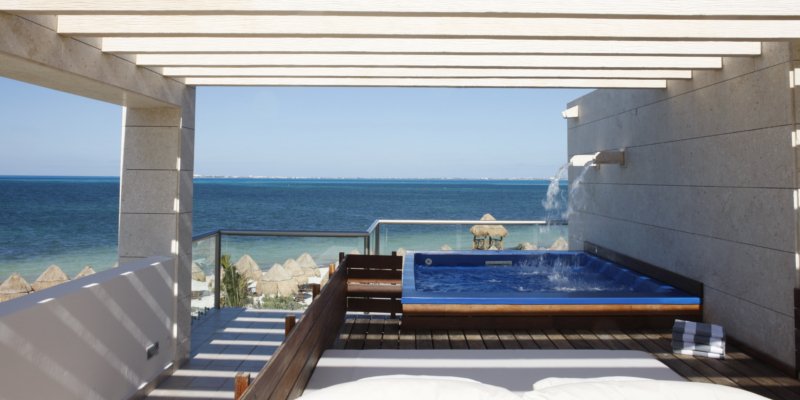 Fast Facts
• Bask in elusive seascapes and romantic sunset vistas of the two-mile sun-drenched beach.
• Be totally spoilt with the most personalised service, including beach and pool waiter service and an extensive 24-hour room service menu.
• Sip on your tipple of choice from your well-stocked mini bar and fridge, tailored to your fancy.
• Each suite is an elegant retreat home to the biggest in-room Jacuzzis I have ever seen.
• Make a bee-line for state-of-the-art fitness centre with a separate TRX Training Room.
• Indulge in fine dining at your choice of 4 restaurants, serving an array of cuisines from traditional Mexican, Caribbean, Mediterranean and more.
• Take it down a notch with gentle handcrafted treatments at The Beloved Spa.
• Make the most of complimentary luxury Bvlgari toiletries, from the classic body wash and shampoo to cotton buds and body wash.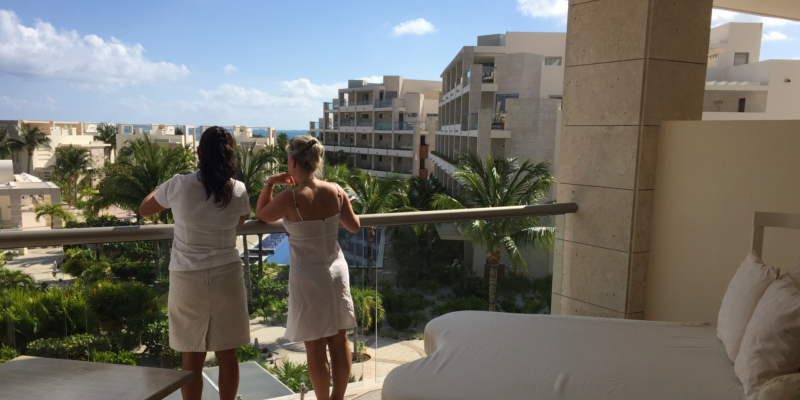 Top Tips
• If you're thinking Mexico for your honeymoon, Beloved Playa Mujeres is the ideal candidate.
• Experience The Best All-Inclusive Resort in the World with a complimentary night-pass to Excellence Playa Mujeres right next door.
• Make time for the complimentary Aqua Vita Spa Treatment at The Beloved Spa.
• Get an authentic taste for Mexico at Lupita Restaurant. The special taster menu is out of this world.
• Bag yourself a Beach Front Casita Suite, it's like having your own house right on the beach.
• Order breakfast on the balcony whilst wooing those eye-parts with gorgeous Mexican vistas.
• Head down to Playa Mujeres Golf Course. It's one of the finest courses in the world.
Get Involved
Treat yourself to a helping of luxury and splendour at Beloved Playa Mujeres. If Beloved has already stolen your heart, let us know in the comments below, or have a push of that lovely orange button to find out more.

Experience Beloved Playa Mujeres from £1,604pp