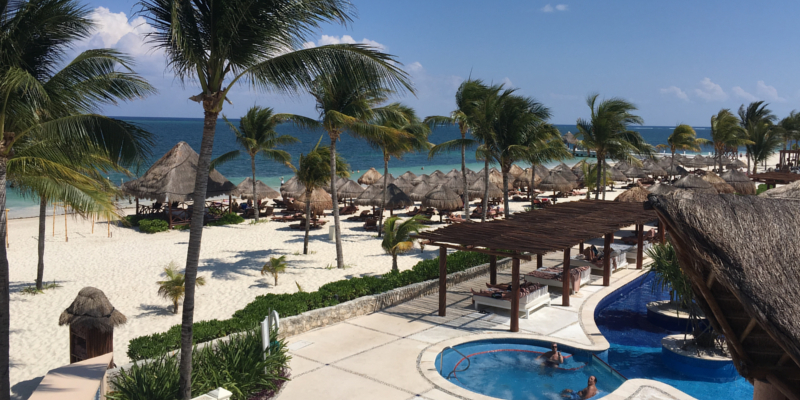 I remember my first thoughts when I first stepped foot in Excellence Riviera Cancun all the way back in 2004. In the five years leading up to my first stay here, I had already fell in love with the Riviera Maya, but this jewel in Excellence Resorts crown made me realise there was always a further step up in class and quality. This adults-only luxury enclave will anticipate your every desire, and keep you returning time and time again. This was my seventh stay at this fantastic hotel but more importantly, my first return to my Mexico home since 2012. So, what is Excellence Riviera Cancun looking like today?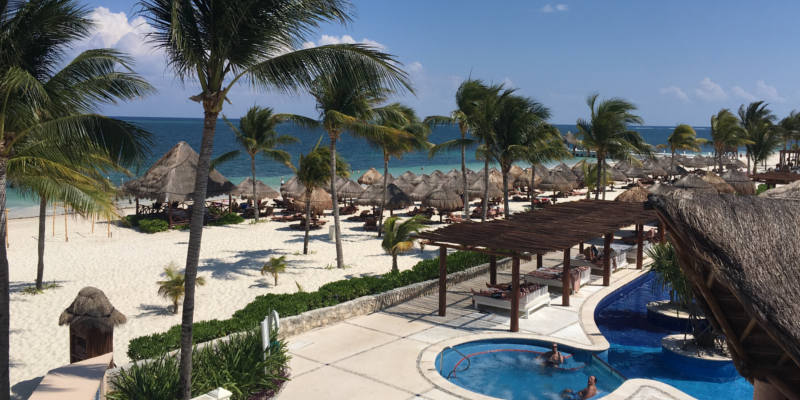 The Low Down
• Bask in the traditional Mexican ambience creating a warm, vibrant, tranquil atmosphere.
• Set on immaculate white sands and surrounded by rich archaelogical sites, Excellence Riviera Cancun offers the best of both worlds.
• Delight in personalised service. The staff here really go above and beyond to get to know you.
• All 440 suites have been completely refurbished donned with brand-new beds, décor and state-of-the-art TVs.
• Talking of suites, they've added 40 Rooftop Terrace Suites which provide that extra touch of elegance.
• Since my last stay, new dining options included Indian cuisine in the Basmati restaurant, and the Flavour Market dishes up Spanish tapas.
• Check out the brand-new Sports Bar with snacks menu, rounding the á la carte offerings up to 10 restaurants.
• Complete revamp of the 5 gourmet restaurants:  The Lobster House, Grill, Spice, Barcelona, and Toscana.
Top Tips
• Sit back, take time to yourself, and unwind in ultimate luxury.
• Kick-start your evening at the Martini Bar and order a glass of champagne to set the mood.
• The teppanyaki table in the Spice restaurant should be a staple of any Excellence Riviera Cancun holiday.
• Opt into the Excellence Club and experience a whole new level of indulgence.
• The Excellence Club Two-Storey Rooftop Terrace Oceanfront Suites are unreal.
• Order yourself a Mango Tango. A lush blend of Strawberry & Mango Daiquiri with rum.
Get Involved
Whether you're new to the Excellence Hotels Group or a serial Excellence holidaymaker, then I recommend you give some serious thought to staying at Excellence Riviera Cancun, where without any doubt, you will fall in love with the hotel, it's staff and it's amenities.
Got your own top tips from Excellence Riviera Cancun? Let us know in the comments below, or have a push of that lovely orange button to discover it for yourself.

Experience Excellence Riveira Cancun from £1,758pp