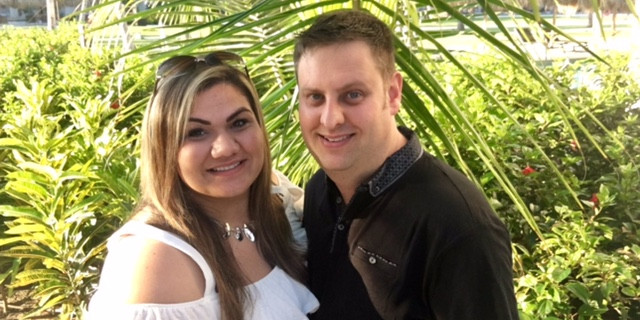 Mrs Rackley, Home Interior Blogger and Organisation Guru, escaped for a well-earned getaway at the all-new Excellence El Carmen. A big lover of all things Mexico, specifically Excellence Playa Mujeres, the sister hotel Excellence El Carmen had big boots to fill. Mrs Rackley talks us through her Dominican Republic holiday with a whole host of top tips and recommendations for a luxury Caribbean escape. 
"We booked our trip to Excellence El Carmen and let me tell you we were blown out of the water"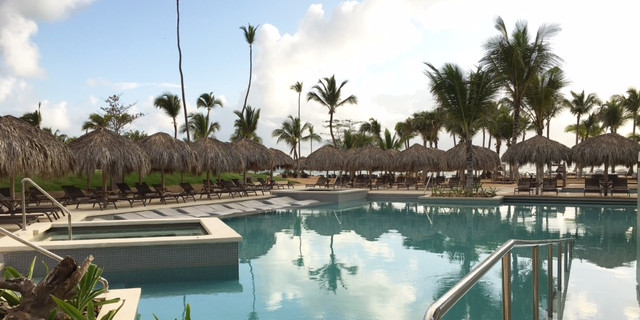 Being frequent visitors to Excellence Playa Mujeres we had seriously high expectations when we booked our trip to Excellence El Carmen and let me tell you we were blown out of the water!
From the moment we arrived at the gates and were greeted with delicious champagne (even better tasting than the Excellence Playa Mujeres one!) and an ice-cold towel we knew we were in for a treat. We were immediately whisked off to the Excellence lounge for a relaxed check-in and then escorted to our room. Our booking with Blue Bay Travel included a free room upgrade to a Two-Storey Roof Top Terrace Suite – this was the first time in this room category for us and it was incredible! The room had the most breath-taking views and the rooftop plunge pool was where we spent half of our trip relaxing. The decor in the room was much more modern than Excellence Playa Mujeres with clean crisp lines but at the same time maintaining a luxury Caribbean feel – I'd highly recommend that room type to anyone looking at this resort!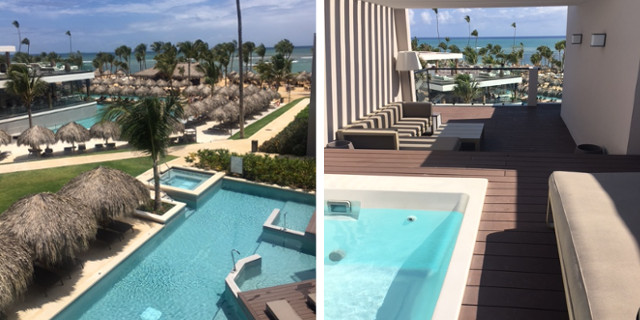 We had 7 fantastic meals during our stay at Agave, Basmati, Chez Isabelle, The Grill, Spice, Magna and Oregano. We love the choice of restaurants and food at Excellence Resorts, there was always something on the menu that appealed and every dish we had was delicious! Particular favourites included beef tenderloin at Chez Isabelle, cylinder-shaped lamb at Magna and tamualipas at Agave.
The daily Excellence newsletter always contains daily spa deals, which we redeemed early on for a Miilé Couples Massage – the spa is definitely worth a visit! Every massage included a free hydrotherapy circuit too, we were led around a series of areas from the usual steam room, sauna and water jets to buckets of freezing water, a rock walkway with jets and a mini head massage to finish – and all of that before we had even started our massage! The massage itself was incredible, like nothing we've ever experienced in the UK, so much so that I even drifted off to sleep a few times before catching myself! On the subject of massages, we also wondered along the beach to a highly recommended little shop called Tropical Treasure, which had a large selection of souvenirs as well as reasonably priced massages on the beach front – we got some lovely bits to take home!
"We love the choice of restaurants and food at Excellence resorts, there was always something on the menu that appealed and every dish we had was delicious!"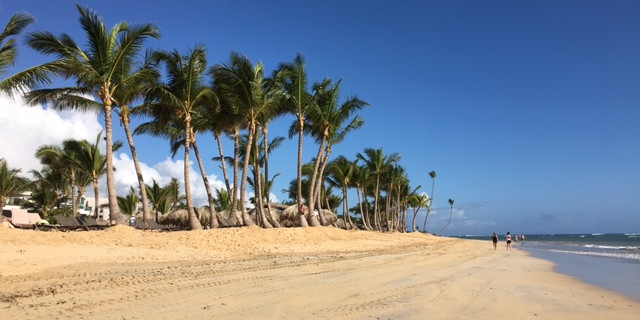 During the day the resort looked half empty but in the evening when everyone gathered at the theatre for the nightly show it was clear to see just how full they were – that's another thing we love about Excellence Resorts, they are always so brilliantly laid out that you never feel it's overcrowded and you have so many options of how to spend your day to suit everyone. The evening shows were entertaining, we particularly enjoyed the fire show, magic show and circus show.
Another thing that Excellence Resorts do well is making their visitors feel special, to which Excellence El Carmen was no exception. Small things like when the staff remember your names or your favourite drinks, to special chocolate platters and drinks being sent to your room unexpectedly – it's these little touches that made this trip exceptional for us and we cannot wait to return again. If you're looking for a beautiful resort in the Dominican Republic with lots of added extras then look no further.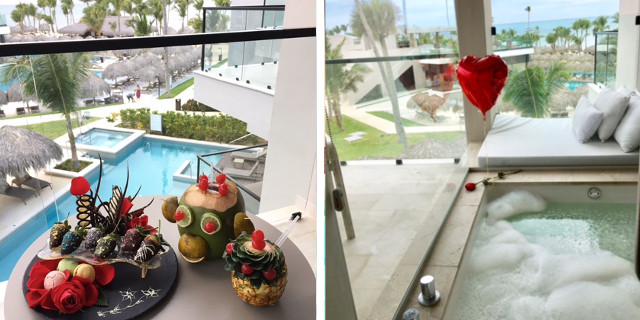 Top Tips
• Make sure you try a few treats from Aroma – ice-creams, muffins, pastries galore!
• Try the Lobster House or Oregano for lunch, they have different menus than for dinner.
• Head over to Las Olas on the beach for delicious stone fired pizzas!
• Relax on the Sky bar for beautiful views of the ocean during the day and stunning views of the stars at night.
• Ask Aurelio at the Martini bar for some mini beer shots to start your evening!
• Learn a few basic Spanish words and phrases.  The staff love when you try some Spanish with them.
• The daily events board is located near the Theatre and includes more than the newsletters, be sure to check this daily.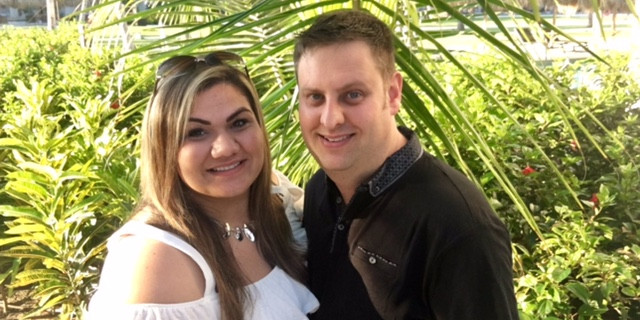 Be inspired by Mrs Rackley by following her on Instagram and Facebook or visit her website Mrs Rackley Home.
Let us know what you loved most about Excellence El Carmen in the comments below. Or, discover more by clicking the funky orange button.

Excellence El Carmen from only £1,667pp