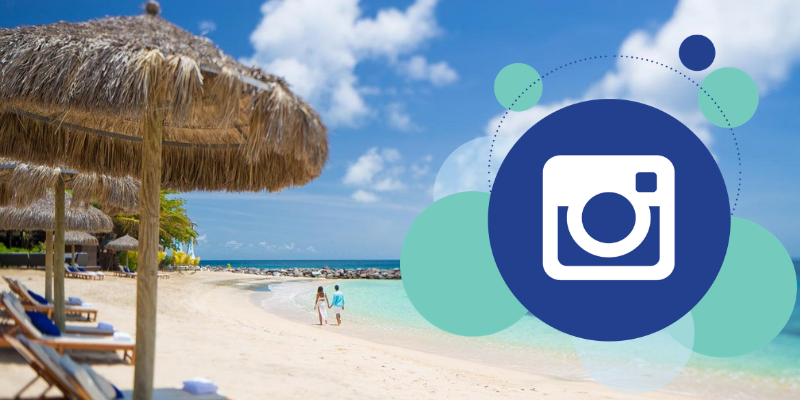 Hands up! Who's spent longer than they wish to admit getting lost in the deep depths of Instagram? You know what I mean, you start innocently scrolling through a few snaps and before you know it you have been on your phone for an hour and have somehow landed on your next-door neighbours' aunties' boyfriends' holiday snaps from 2008! No judgement here, I spend many a day scrolling the 'gram to be inspired by the endless array of destinations that keep my holiday hit-list constantly refreshed. It's all in the name of research though of course, so I can present to you some of my favourite finds on my insta-travels. This particular Instagram deep dive is dedicated to my top picks featured in the Blue Bay Travel Big Sale
Bel Jou St Lucia

Views for days! St Lucia is all about the scenery so pick your vantage point wisely. Soak up outstanding vistas over Castries and the iridescent Caribbean Sea complimentary of Bel Jou's ideal location.
Experience Bel Jou St Lucia from only £1,121pp
The Grand at Moon Palace
This resort within a resort delivers 10 restaurants, 9 pools and 7 bars along with all of the extensive amenities and facilities on hand throughout the rest of Moon Palace Cancun. There's so much to see that a photo just doesn't cover it, so feast your eyes on 60 seconds of the Gorgeous Grand at Moon Palace.
Experience The Grand at Moon Palace from only £1,639pp
Sandals Grenada Resort & Spa
Situated along the pristine shore of Pink Gin beach, this is a trend-setting Sandals experience combining the best of everything Grenada has to offer. A perfect choice for a honeymoon if ever there was one!
Experience Sandals Grenada Resort & Spa from only £4,355pp
Time Out Hotel Barbados
Ideally located in the popular Saint Lawrence Gap area, only 20 steps from the famed white sands of Dover Beach, Time Out Hotel is an unprecedented treasure of Barbados. Affectionately known to all as 'The Gap', Saint Lawrence Gap is the place to be for fine dining, great nightlife, shopping, cultural attractions, and astonishing island landscapes.
Experience Time Out Hotel Barbados from only £0pp
Now Larimar Punta Cana
It's clear to see why Punta Cana has been famed for being one of the Top Destinations in Mexico & the Caribbean by the 2011 Trip Advisor Travellers' Choice Awards with its miles of palm-studded white sand beach and crystal-clear waters…
Experience Now Larimar Punta Cana from only £1,069pp
Bacolet Beach Club
Nestled on a hillside overlooking a secluded private sand beach, this chic retreat is the quintessential spot to kick back and soak up that special, warm atmosphere only a boutique resort can achieve. I think a champagne breakfast on the balcony is a must with these views.
Experience Bacolet Beach Club from only £1,000pp
The Verandah Resort & Spa
Sitting atop a beautiful perch on Antigua's pristine northeast coast, The Verandah Resort & Spa is an eco-friendly luxury resort adjacent to the stunning Devil's Bridge National Park. What better place to indulge in a cocktail or two!
Experience The Verandah Resort & Spa from only £1,555pp
Couples Tower Isle
This iconic resort features its own private island, fresh new guest rooms and chic, island style. No kids. No singles. Just intimacy and pure seduction. It's a couples' paradise. Only a drone could capture the true intimate feel that https://caribbeanwarehouse.co.uk/holidays/jamaica/saint-ann/couples-tower-isle?blg has to offer.
Experience Couples Tower Isle from only £1,320pp
Have you been inspired from these gorgeous 'grams? See them for yourself when you bag a bargain in the Blue Bay Travel Big Sale!
Click the button below to request a quote from one of our experts or click here to find out more.