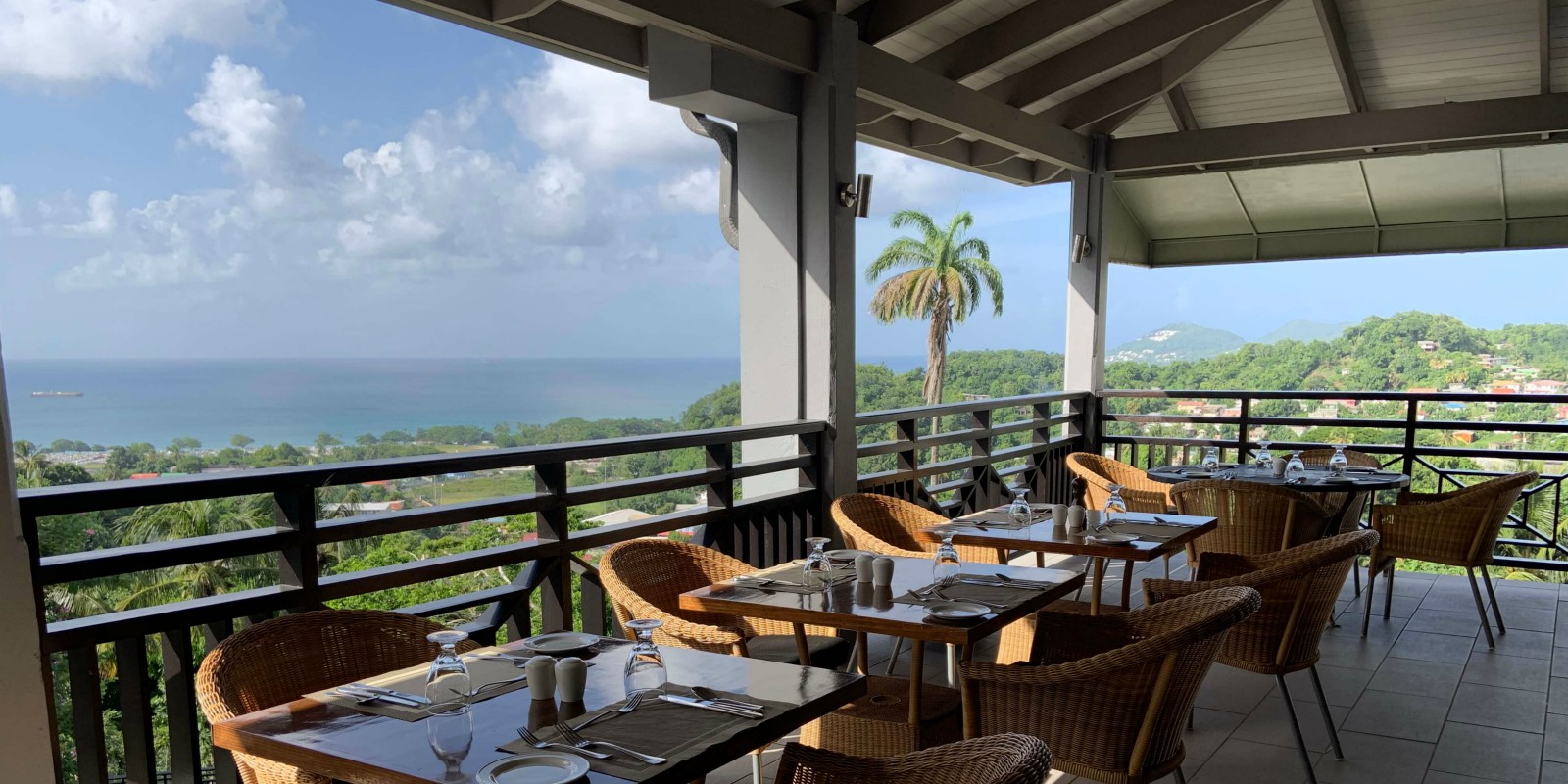 I recently headed off to St Lucia in search of discovering why this destination is so popular with Caribbean tourists. When you think St Lucia, you think of the famous Piton Mountains, luscious rainforests, crystal clear waters and heavenly white-sand beaches. The island regularly ranks as one of the world's most breath-taking holiday destinations and for good reason.
One thing that doesn't instantly spring to mind is the cuisine that the island has to offer. St Lucia's Creole heritage means a combination of French and West Indian flavours dominate the culinary landscape. British influences are also widespread and with tourism now the island nation's leading industry, the result is an amalgamation of traditional flavours with influences from around the globe that will leave your taste buds yearning for more.
No place on the island encapsulates this as much so as the Bel Jou St Lucia. Set in the luscious hillside overlooking the island's capital city, is a sanctuary of gastronomy and panoramas. Offering an array of food to its guests coupled with the jaw-dropping spectacles of both Castries and the Caribbean Sea, there really is no better place to indulge your senses than at the charming Bel Jou St Lucia.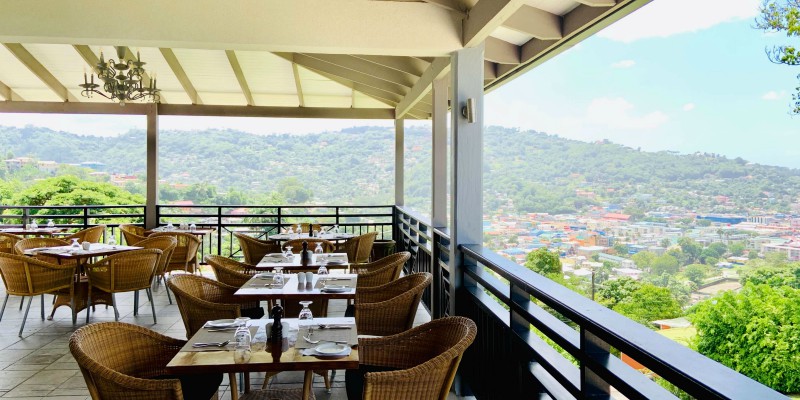 The hotel's Verandah Restaurant is where you will spend most of your mealtimes. Located in Bel Jou St Lucia's epicentre and open for breakfast, lunch, and dinner, it is here that you can tuck into a range of dishes and cocktails whilst taking in the glorious panoramic sights.
Rise And Shine
At the buffet breakfast, you are met with the smell of hot coffee and waft of other enticing scents. Both continental and cooked options are available, and a chef will be on hand to make your eggs just how you like them. Local options such as sautéed saltfish, banana loaf, fried plantain, green figs, and cod bakes can also be enjoyed. You may want to wash your breakfast down by choosing from a plethora of regional beverages. Flavoured teas such as cinnamon, cocoa, and bay leaf are alternated every morning, or you can sip on locally sourced fruit juices such as mango and guava.
What's For Lunch?
Whether you have been relaxing by one of the hotel's two pools, kicking back on your balcony or patio or exploring some of the surrounding areas, you are sure to have worked up an appetite by lunch-time. With its buffet spread, the Verandah Restaurant again combines classic dishes with localised flavours to give you a wealth of options to choose from. A range of rice dishes, fresh salads, cured meats, cheeses and hot food can be enjoyed. Regional options include callaloo and crab soup, sautéed pumpkin, yellow split peas as well as local salads and baked goods.
The Main Event
In the evenings, the restaurant mainly operates on an à la carte basis, although themed buffet nights are available on a couple of nights per week. The presentation and flavours of its à la carte options are spectacular. The abundance of dishes available ensures that all manner of guest is left feeling delighted after their evening meal. Conventional options such as chicken stir fry, beef burgundy, and seafood linguine can be enjoyed and for those feeling a little more adventurous, local dishes such as St Lucian pan-fried salmon, corn pancakes & black bean or spiced pork loin are available.
Afternoon Treats
For those seeking to refuel during the hours of 11am-7pm, look no further than the cosy Lulu's Cabana. The hotel's second eatery is the perfect spot to grab a light afternoon snack or for those who missed breakfast, tuck into a hearty meal. From pizzas to burgers, salads to sandwiches, this restaurant offers a range of dishes and cocktails that are well worth exploring during your stay at the Bel Jou St Lucia. Located just next to Lulu's Cabana is the hotel's Coffee Shop where, between the hours of 4-5pm, self-served afternoon tea can be enjoyed. A range of tasty treats such as scones, biscuits, sandwiches and pastries are waiting for you next to the hotel's 'take and trade' library.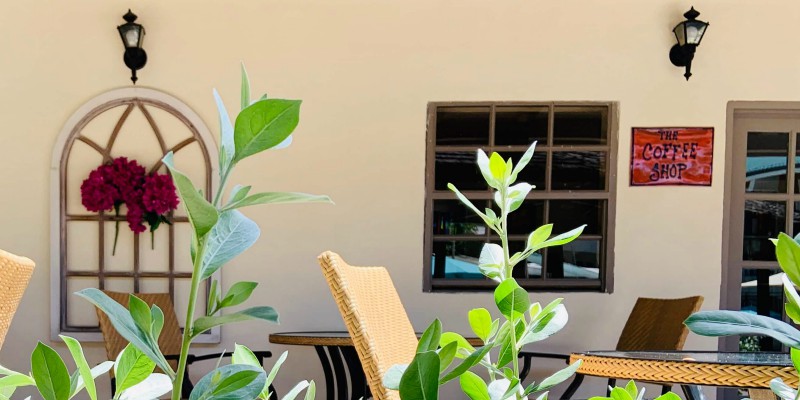 For those wanting to experience that unforgettable Caribbean charm in all it's splendour, then BBQ night at Bel Jou St Lucia is unmissable. On a candlelit table under the stars, as a steel drum band plays in the background, you undergo a culinary journey that is truly unforgettable. Smokey meats topped with BBQ sauce made from local fruits are the focal point of the evening. Combine this with a host of seafood options as well as rice and potato-based accompaniments and the result is a wealth of flavours, smells and sounds that encapsulate everything we love about the Caribbean. Fire breathers and dancers are on hand to supply the post-dinner entertainment in what promises to be a memorable evening.
Experience Chef's Table
For the real foodies making the trip to St Lucia, you may want to put your name down for the exclusive Chef's Table experience. Occurring once per week in the surroundings of a closed-off buffet area of the hotel's Verandah Restaurant and only available to a maximum of 12 people. It is here that you will get to enjoy several courses that are all made from scratch by the hotel's flamboyant head chef who loves to experiment with unconventional flavours. Expect lots of food flipping, flambé cooking, mouth-watering dishes and heaps of laughter as you get to know your fellow guests whilst your evening meal is created right in front of your eyes.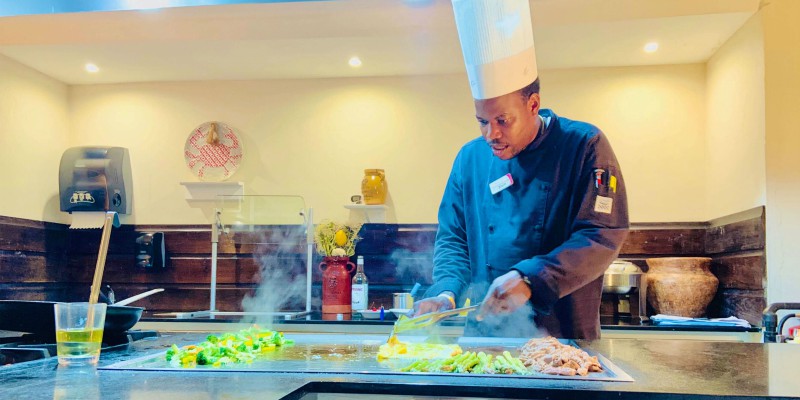 My Top Foodie Tips
Head to the Verandah Restaurant to enjoy your meals whilst gazing out over Castries and the Caribbean Sea
Wash your breakfast down with one of the tasty local teas on offer
Put your name down at the hotel's reception to experience Chef's Table, you won't regret it
Give one of the chilled soup options a try, you may be pleasantly surprised
Try the beer-battered fish and chips at Lulu's Cabana made with locally brewed Piton beer
Get your hands on and try the locally adored banana ketchup
Try as many different foods as you can, especially the St Lucian dishes
If you are seeking a relaxing location that is a perfect place to take in jaw-dropping panoramic views of the St Lucian landscape and beyond, then look no further. Couple this with the abundance of first-rate cuisine that the Bel Jou St Lucia has to offer its guests and you will struggle to find a better value Caribbean escape.
Ready to embark on your own culinary journey? Click the button below to request a quote from one of our travel experts or click here to find out more. Looking for more from St Lucia? Check out our St Lucia Holiday Collection here.

Experience Bel Jou, St Lucia, from only £1,159pp