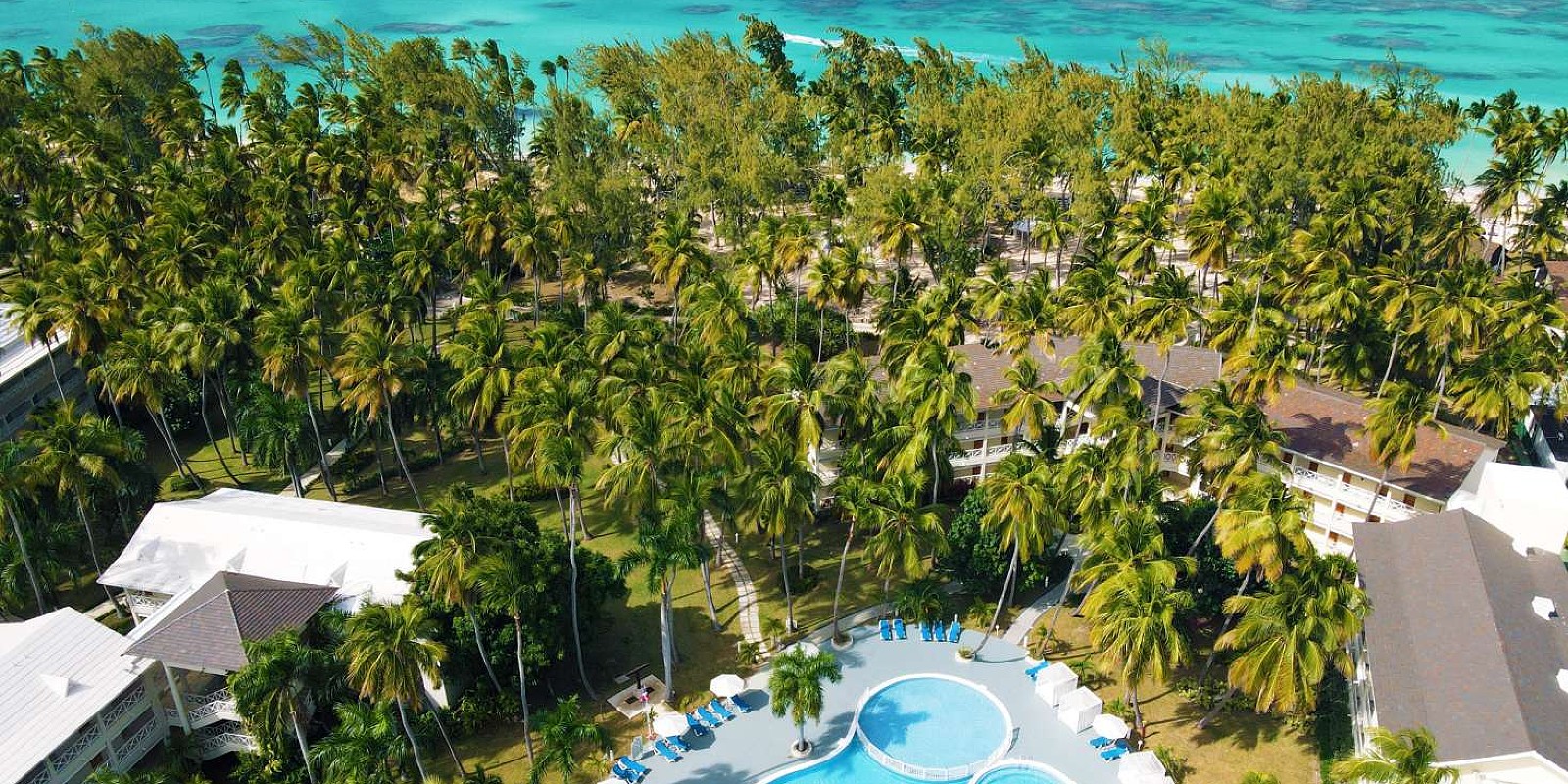 Slip into holiday perfection on the shores of one of the world's best beaches at Vista Sol Punta Cana Resort & Spa.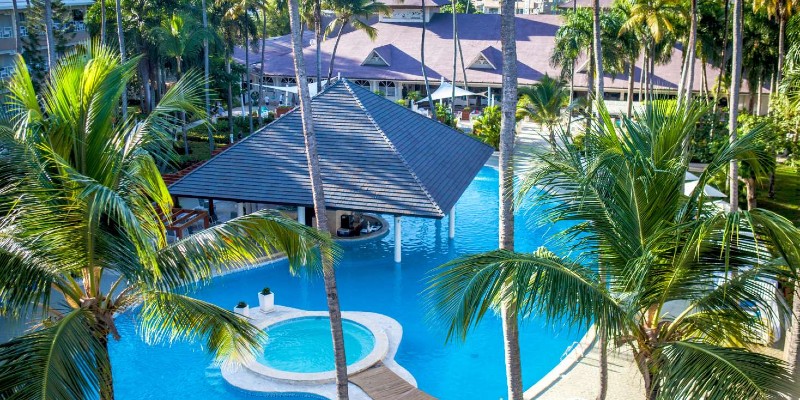 From its elegant perch on the soft white sands of incredible Playa Bavaro, Vista Sol Punta Cana Resort & Spa couldn't be more perfect as a Caribbean retreat.
But there's far more reasons why we love Punta Cana and this resort than just a pretty beach.
With a world of activities, gastronomic options and chic rooms & suites you'll be bowled over by Vista Sol. So, let's get into more detail about what you can expect from the worldie of a resort.
---
Introducing Vista Sol 
We know we just said there's more to this place than just a beach, but we think it's worth just lingering on the sand for a moment.
Placing in UNESCO's top 10 beaches in the world, Playa Bavaro is a vision in white, green, and azure. Just steps from your room, the shimmering white sand beckons you over. Pull up a blue sun lounger and stare out into the glistening Caribbean Sea as it dances up to the horizon. Swaying palm trees line the sand to finish of the paradise-aesthetic.
However, if you can pull yourself away from the shore, prepare to have your senses dazzled all over again by the resort. With seven bars, five restaurants, three pools, a spa, fitness centre and kid's club there's something for everyone here.
But for now, how about we show you to your room?
---
Rooms and suites
As a result of the latest Tropical Warehouse offer, you could set up shop at Vista Sol Punta Cana Resort & Spa in perfect comfort. Get an upgraded stay in a stunning sea view room which places the dazzling Caribbean Sea right on your private balcony.
The bright and airy rooms welcome the outside in with huge windows drenching the space in natural light. Splashes of intense colour from soft furnishings and awesome artworks add a playful element to the decor.
However, the main thing to talk about when it comes to the rooms at Vista Sol is the comfort levels. Expansive king-sized beds and chic bathroom suites make sure you always feel like you're being spoilt. After all, what's a holiday without a little decadence?
Speaking of decadence, who's hungry?
---
Food & drink
As we said earlier, the resort boasts a whopping seven bars and five restaurants so you definitely won't be stuck for choice when it comes to keeping your strength up.
First things first, filling your belly. The gastronomic options at Vista Sol Punta Cana Resort & Spa stretch from Japan to Italy and pretty much everywhere in between. Treat your senses to an all-inclusive affair at the Japanese teppanyaki restaurant or add even more vibrancy to your day with an evening meal at El Mariachi Mexican restaurant.
On the other hand, you may love your all-inclusive buffets. If so, you need to check out the main buffet restaurant for breakfast, lunch and dinner. Serving favourites from across the globe as well as incredible themed evenings, you can forget all about those dreary, tasteless hotel buffets you've had in the past.
With a plethora of bars available too, from beach bars right the way through to casual sports and elegant theatre bars. There's a perfect environment for your favourite tipple. Plus, if you fancy a nightcap or a cheeky boogie, how about checking out the disco.
---
Lots to do
When you're not lounging on the incredible beach, chowing down on the delicious fare or sampling a sip in the bars, you could be trying your hand at a world of activities.
Get an introduction to scuba diving in the resort pool, take an unforgettable hobie cat ride on the ultramarine waters. Or you might like your watery fun to come at a more sedate pace, if so then maybe kayaking or paddle boarding might be more 'you'.
If you prefer to stay on dry land, you can also get involved with a plethora of sporting pastimes like focussing on becoming the Rory McIlroy of mini golf. Alternatively, you might like to have kickabout or a tennis knock-up the resort has you covered.
However, if you're more into reclining than running, the spa is the place to be. Let's check that out in a little more detail now.
---
Slow the pace in the spa
Over in the resort spa you can take advantage of a range of soothing treatments to push your relaxation into the stratosphere.
There's everything from hydrotherapy, reflexology and aromatherapy through to massages, beauty, and exfoliation treatments. As you step foot in the spa the indulgent vibes start to work their magic.
In the end, even the hardiest of stresses and strains will melt away and you'll be left feeling relaxed and rejuvenated. Meanwhile the younger ones could be getting to know all the amazing activities in the mini club a little better.
---
Ready to go?
If that walkthrough of Vista Sol Punta Cana has got you champing at the bit to get out there, then we don't blame you. This resort seems purpose-built for ending isolation in the best way.
All you need to do for now though is click the big blue button below to get started on building your very own Vista Sol quote. Then just kick back and wait for your hol to appear on the horizon.
After all, we all need something to look forward to, right?