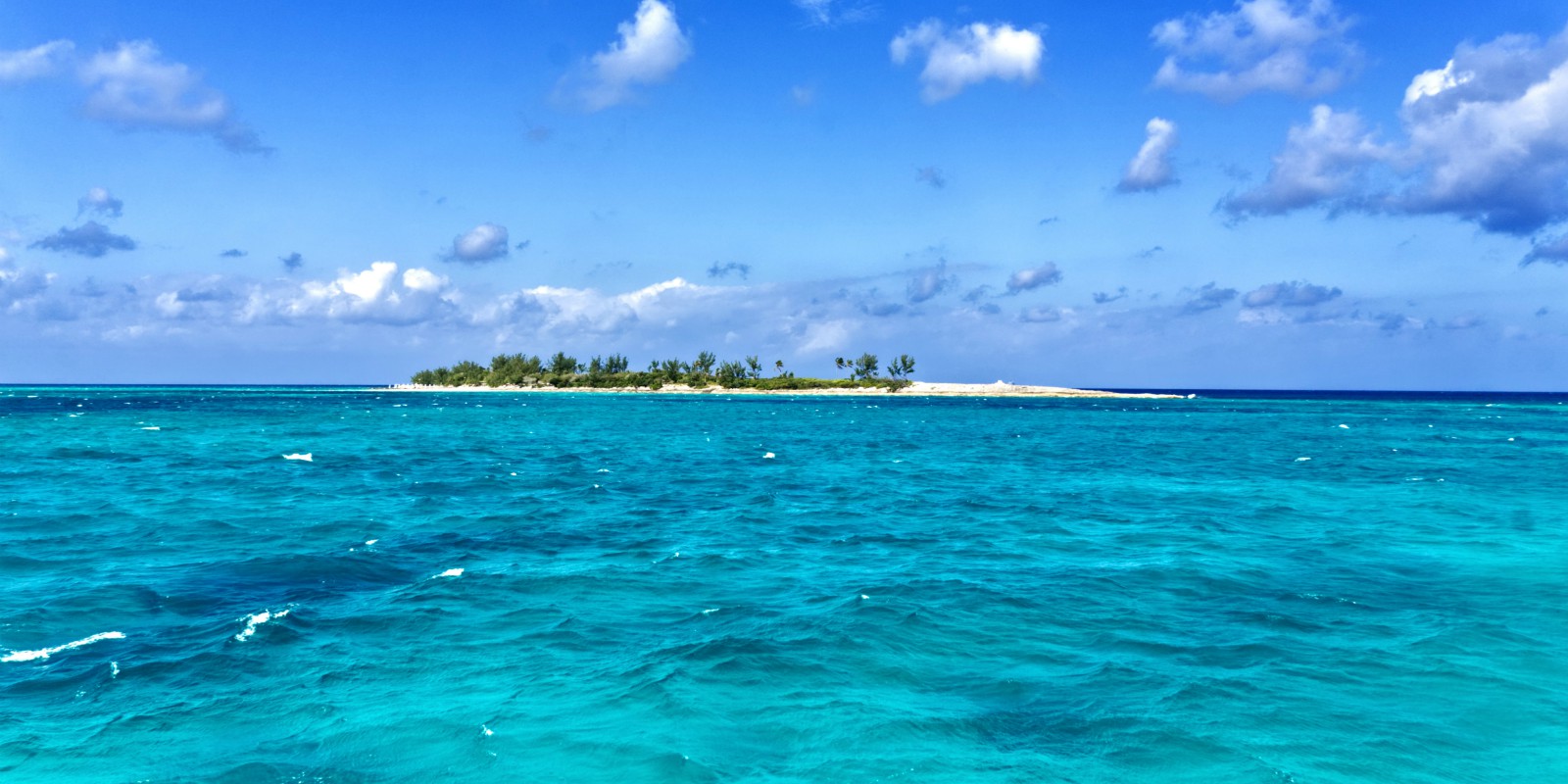 16th September 2010
I checked into London Heathrow at 08.00 for my flight to Miami with Virgin Atlantic, to be met by all of the other Travel Agents attending the Bahamas Fam Trip. Check in ran smoothly and before we new it was 11.15am and time to depart London Heathrow. This was my first time flying with Virgin Atlantic, and was pleasantly surprised by the service   and in-flight entertainment. After a lengthy 9 hour flight, we arrived into Miami, cleared customs and checked in for our connecting flight to Nassau, Bahamas. I was surprised how short the flight was from Miami to Bahamas, at just 55 minutes.
Landing into Nassau at 21.40, meant the sun had already gone down, and we checked into Sandals Royal Bahamian at 23.00. We were immediately assisted and taken to the Concierge Lounge for Check In, into my Balmoral Honeymoon Grande Luxe Suite. I found the room to be very spacious, with a huge king size four poster bed and fully stocked mini-bar.
As this was our first night at the Sandals Royal Bahamian, our host Gary decided it would be good to have a night cap at Cricketers, the authentic English Pub, serving traditional fare from Fish and Chips to Shepherds Pie. Before we new it we had all been up over 24 hours, and after a couple of drink's we decide to retire to our bed, as tomorrow we have the Sandals Work Shop & Resort Tour to look forward to.
17th September 2010
After a good nights sleep, we meet for breakfast at 08.30 in Spices, this is an open-show kitchen which serves international favorites for dinner, but at breakfast offers a buffet service, from fruit, to an omelet and egg station to your traditional English breakfast, there is so much to choose from! After breakfast, we head to the conference room at Sandals Royal Bahamian for our Sandals Workshop which is again hosted by Gary, a true Scotsman who is full of jokes, and kept us motivated through out the trip! Our Sandals Workshop takes us through new refurbishments taking place in other Sandals Resorts, re-capping on the benefits of the concierge and butler service rooms, and also the benefits of the "Luxury Included" brand.
At 11 am, we are met by Cheddi, who is the Director of Sales for Sandals Royal Bahamian, originally from Jamaica, we can see straight away she is full of Jamaican Charm. Cheddi escorts us to the ferry which we take to Sandals Cay, the off shore island. Sandals Cay was a place to escape for some exotic relaxation; also no music is played on the island, so it is a complete "chill out" place. The island has shaded hammocks, private beachside cabanas, pool including swim up bar, whirlpool and Bahamian Restaurant. After our tour of Sandals Cay, Cheddi Escorts us to our hosted dinner, which is set on a terrace, right by the sea, the table was beautifully decorated, to show the effort and detail that they put in for Wedding Guests. We have a sumptuous Lamb and Sea Bass lunch, which was followed by Guava Duff for dessert. Once lunch had finished, we head back to the ferry to begin our tour of Sandals Royal Bahamian. Visiting many room categories from luxury rooms, concierge rooms and butler suites, also visiting many of the restaurants, from the Crystal Room, which still has the original chandelier from when it was originally owned by the Duke and Duchess of Windsor, estimated to be worth £250,000!
The Resort Tour was finished by 3pm, so we take the opportunity to head to the stunning beaches to catch some rays of sun, and catch up on our sleep, as tonight we have dinner at Junkanoo Street Party, which Cheddi stressed was a night not to be missed!
7pm: We meet for the Junkanoo Street Party, which consist of jerk chicken stands, Caribbean rum stands, face painting, street dancers and much much more! Following the street party we head to the Piano Bar, which is where you can have a sing along to favorites such as Journey: Don't Stop Believing, and afterwards head to Cricketers again for our night cap.  Little did we know that our night cap would turn into me, Gary the host and 3 other friends Lee, Jon & Dave practicing our volleyball skills in the pool until 1am in the morning, the joys of having a 24 hour pool! After this we decide to go to bed as again this has been another very long day!
18th September 2010
Today, we are lucky enough to have a whole day at leisure, so we are up bright and early; we have breakfast again at spices and hit the beach by 10am! The day was spent sunbathing, and again using the leisure facilities such as pool volleyball, table tennis, land volleyball and much more. We head to the snack bar for lunch, to sample some of the delicious pizza's, burgers and much more. After lunch i have a spa treatment booked at the beautiful Red Lane spa, i had a Tropical Bliss Massage, which was 50 minutes long, this was truly amazing, and something i would definitely recommend at any Sandals Resort.
7pm: We meet at Cricketers for a pre-drink before dinner, and then we have a reservation at the Crystal Room which is of an international cuisine, i enjoyed a delicious lamb dinner, followed by ice cream for dessert, and after dinner we head to Cricketers again as it is Karaoke Night, although none of us are brave enough to have a go! Before we know it we are all sharing stories again and laughing the night away, and myself Lee, Jon and Dave retire to the Jacuzzi to make full use of the "Luxury Included" Benefits.
Sunday 19th September
Early start today as we are due to depart Nassau at 06.20 for our flight To George Town, i am really excited about checking into Sandals Emerald Bay as i am aware its an all Butler Suite! On arrival in George Town, the airport is barely existent it is that small, and we are greeted by our Sandals Representative. After our 20 minute transfer we are entering the drive way of Sandals Emerald Bay, and its looks stunning! Arriving at 08.30 means we are just in time for breakfast in the Bahamas Bay Restaurant, which is again buffet service with so much to choose from. After breakfast we are greeted by Andre the Sales manager who will be escorting us today for our Resort Tour. First of all he show's us 3 room categories, all with stunning ocean views! Afterwards we are taken to the amazing Greg Norman Championship Golf Course, personally i am not a golf lover, but you have to go for the amazing views of the most turquoise sea you have ever seen!
12.30: The resort tour is now over and i have just met Quinton, my Butler during my stay, who kindly lead me the way to my Exuma Honeymoon Luxury Suite, then offered to un-pack for me and offered to do and ironing during my stay, i was given a mobile and any query i had, he insisted i must call him. As we now have the afternoon at leisure, we again hit the beach to make the most of our stay in this beautiful weather. Lunch time arrive and we head to barefoot by the sea, where i enjoy a delicious meal, and as it was such an early start i then head back to my room to catch up on some sleep from the night before.
7pm: We meet in The Drunken Duck, where we are greeted by Kerry who is the bar's manager, who lets us in on the best cocktails to start the night. Afterwards we are split into 3 groups for our dinner, and i was lucky enough to dine with Gary our host, so i new a night of laughter was ahead! After Dinner we meet again in The Drunken Duck Pub, where we share many more stories on destinations we have been lucky enough to visit, and i get to show many table tennis abilities off too! After a late night chatting i get to bed at around 4am… and i have to say it was an unbelievably long day!
20th September 2010
This is our last full day at Sandals Emerald Bay, so i intended on making the most of it. We were up bright and early at 8am for breakfast, which was followed by our Sandals Workshop again, re-capping on the sister resorts, and the changes taking place at the moment.
11am arrives and the hard work is over, we hit the beach for our final day, also making use of the boogie boards through out the day. Today, we decide to have lunch at the Bahama Bay restaurant which for lunch offers a buffet service, consisting of pizza, pasta and much more! After lunch it's off to the beach again and we are greeted by Sampson, Kellie's Butler, who kindly came down with 6 flowers for the girls to put in our hair and we had pictures taken on the beach! The rest of the day is spent relaxing as we know tomorrow we fly home, and it is going to be a very long day!
7pm: We Meet at The Drunken Duck pub before our dinner at Il Cielo, the Italian Restaurant, where we have a hosted dinner by Patrick the General Manager of Sandals Emerald Bay, who is a true gentleman! Full of many stories and jokes! For dinner i enjoyed a Spaghetti Bolognese, followed by Vanilla Panna Cotta for dessert…Delicious! After Dinner we head to The Drunken Duck Pub again, for a final farewell drink, where we chat on the most memorable moments of our trip so far, which was to be followed my myself Lee, Jon & Dave competing in a pool tournament, what a way to end your stay in the Bahamas! Before i now it its 2am and again think its time i should retire to bed as i am due to leave to hotel at 6am tomorrow!
One word to describe my time – AWESOME!

Thank you to everyone who attended and helped me have the best time!