New York & Mexico Holiday
Saturday 28th August 9am, I logged into my Continental Airlines Account 24hrs prior to departure. Great service I booked 4 extra legroom seats for our flight to Newark from Birmingham. The following morning we set off for Birmingham only to find out the ESTA's for our kids were invalid as they had renewed their passports. We had to file new ESTA's online, not what you want to being doing 2.5hrs before you depart at 6:30 in the morning. Drama over we are on our way to New York.
We board the aircraft and to our surprise we are greeted with 4 comfortable seats including Seat Back TV's. A choice of on demand, movies, TV Shows & Music. Perfect for a flight of just over 6.5hrs. We enjoyed a good onboard experience with a choice of meals & several complimentary drinks. Alcoholic drinks were a supplementary charge but the TV's & headphones were complimentary. We filled in one customs form onboard for the whole family & to our surprise on arrival we were through immigration in less than 10mins. Having travelled many US airports Newark was by far the quickest. We looked at prebooking transfers but chose to grab a cab on arrival as the rates seemed expensive to prebook. This proved to be a good choice as we found a line of cabs waiting at preset pricing. We paid $70USD for a large cab for 4 people with cases, this included Tax & Tolls + a tip. We were quoted over £100 in the UK to Times Square. The cab to Sofitel Times Square was less than 30mins & we were soon checking in to our rooms.  We booked a double room & a twin, our request for Interconnecting rooms was confirmed on arrival. The rooms were very comfortable & the hotel location was superb.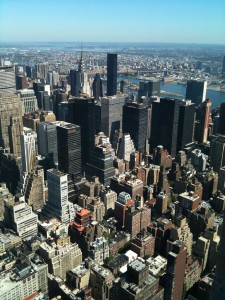 We only had two nights in New York so wasted no time setting off down 5th Avenue by foot. After a few minutes we were at the Empire State Building. I'm not the best with heights but everyone else was keen to climb the building. We took the elevator to the 80th floor and purchased our tickets for the observation deck. We opted for the $20USD tickets & took another elevator to the 86th floor. The views from the outdoor observation terrace were spectacular. We opted to miss out the skyride & set back for the comfort of the street below.
We spent the next few hours in and out of shops as we walked down the 40 blocks or so towards ground zero. As we got closer to the WTC site the memories of seeing people fleeing through the same streets came flooding back. We spent a few minutes at the site and then took time to look through the memorial preview building. Once the memorial site is complete it will be a must see experience for any traveller to NYC.
The heat wave was taking it's toll so we hailed a cab which was an experience. Great value at $10 USD back to Times Square but having spent several hours as a pedestrian being a front seat passenger was even more hair raising. The crazy cab man was zipping around & honking at fresh air. He loved his stories of pedestrians with broken legs and the sight of 44th street was welcome.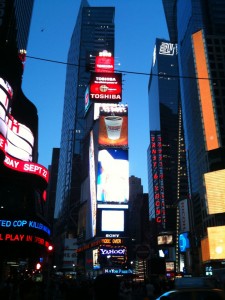 A quick freshen up & we set off for the short walk across a couple of blocks to sample Times Square at night. Wow this is trully the city that never sleeps. The city really comes alive at night & we settled for a table with a great view of the square. After a good meal & a couple of beers we headed back for the comfort of our rooms at the Sofitel. The beds were extremely comfortable & we all enjoyed a good nights sleep easing us in to the time zone change.
Day 2 in New York was set up well with a good breakfast at the competitively priced Red Flame diner next to the Sofitel. We decided to walk the opposite way up 5th Avenue from the previous day. This route would take us about 15 blocks up to Central Park. This part of 5th Ave had the more exclusive designer brands. We were soon at Central Park & decided that we would take the 20min horse and carraige ride. Our guide took us through some of the park and pointed out several facts along the way. We paid $50USD to the first available carraige driver as we were not in the mood to waste any time. But based on the number available I am sure we could have haggled to at least $40USD.
We decided to walk through the park and visit the Zoo. It was time for lunch & we stumbled across an Art Deco Paris-style cafe called Rue 57.  We opted for the waiters recommendation mini Kobe burgers. He was not wrong they were splendid and it was a relief to receive a normal size portion for a change. We jumped in a cab heading for Broadway, they have a good selection of the more mainstream shops at reasonable prices. After several hours & many purchases we jumped in another cab to freshen up for our final night in NYC.
We strolled over to Times Square again opting for a meal at the Hard Rock Cafe. We had to wait for about 30mins but it soon passed as we checked out the memorabilia gallery. After a super meal and a few drinks we were all ready for bed. We were scheduled for the early flight down to Cancun so we just took in our last sights of New York at night before settling in for the night.
Next morning and we were all ready for our favourite destination Mexico.  No problems with cabs again in NYC, the bell boy had us sorted in a couple of minutes and we agreed $60 for the trip back to Newark.
Newark Airport and Continental Airlines were once again a good experience. We sped through security & did a little shopping before boarding our flight. Once again the same flight service but with the added bonus of Live TV channels, $6 per screen for multi channel access.
We were soon speeding through Cancun Airport and our Jumbo Tour Rep was waiting for us.
We had booked 5nts at NOW Jade in Preferred Club Oceanview Suites. The transfer was around 30 minutes and the cool towel/welcome drink was a great start.
The Suites were impressive & my first impressions of NOW Jade were good. During our 5 days we experienced a selection of restaurants, our favourite was Senses. No kids and an impressive setting with gourmet cuisine to match. We loved the a la carte preferred club breakfast restaurant. The Eggs Benedict was without question the best I have ever sampled & the service was top drawer.