Diane's Visit to Sandals Grande Antigua
Click here to book Sandals Grande Antigua from £3,736pp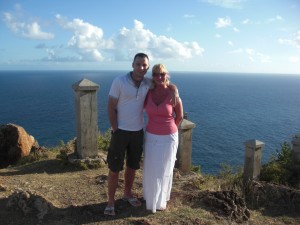 On Saturday 26th March I set off with my husband for a much looked forward to holiday to Antigua. The holiday was for my husband Chris's 40th Birthday. I had previously been to Antigua with work and loved it so much that we decided to take our own holiday there. We were flying with BA and the flight went really well. The food was great and the cabin crew were fab, really friendly.
On arrival into Antigua we made our way to the Sandals check in desk where we were allocated our minibus to be transported to the resort. Once at the resort we were met by one of our two butlers, Cosi. He checked us in to our room which was amazing. We had the "Mediterranean Honeymoon Penthouse One Bedroom Ocean View Suite", now that's a mouthful!
The room was outstanding and had the most amazing views. We could also see the weddings from our balcony.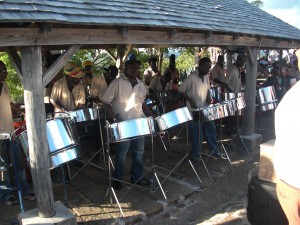 We did go away for a completely chilled out holiday but decided that we could not miss the spectacular sunset and party at Shirley Heights on the Sunday. The views are fab and the atmosphere is brilliant. All afternoon there are steel bands and then the reggae bands come on after the sunset. There is also a BBQ and bar. This is a weekly party every Sunday.
Our days were spent lazing around the massive pool with a cool box which our butler filled with drinks for us every morning and put with our loungers for when we went down. There were pool waiters around as well just in case we needed anything else. We could have called our butler to bring us our lunch everyday, but we thought with all that food and drink we needed to walk to the restaurants ourselves!
We had some wonderful meals and our favourite was in Kimono's, which was the Tepanyaki where the chef cooked right in front of you.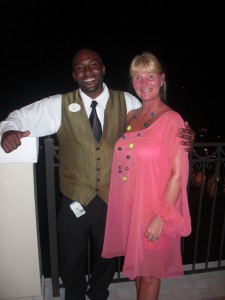 We also had some great nights in the Cricketers Arms (the English pub), it was quite amusing to see the Americans trying to play pool and darts (Chris became quite a celebrity as he was teaching them all to play).
We also did the complimentary snorkelling trip with Sandals where they took us out on their own boats and we stopped off and snorkelled off the reefs. Chris did this a few times during the holiday, but I was quite content to laze on my sun lounger.
We went up to the room around 4 in the afternoon to be greeted with rose petal baths, champagne and fruit which the butler had organised for us.
We met some really good American friends whilst we were there (so if you are reading this, hi to Jason & Courtney and John & Abby). We all went to the casino on our last night where we found, to my husbands delight, that our room number had been pulled out in a drawer for $50usd casino credit; this was gone within 3 minutes!
All too soon our week was over and we were heading back to the airport for our BA flight home. Before we boarded we made a quick trip across the road to Sticky Wickets, the original cricket ground for Antigua, where the Stanford 20/20 games were played. After bending the ear of one of the locals for 15 minutes about cricket, we made our way back to the departure lounge. I think this is worst we have ever felt about having to leave an island and go home, so I am sure that we will be returning as soon as we can.
You can read more about Sandals Grande Antigua on our hotel page here.
Or you can see more of Diane's holiday snaps on our Facebook page here.