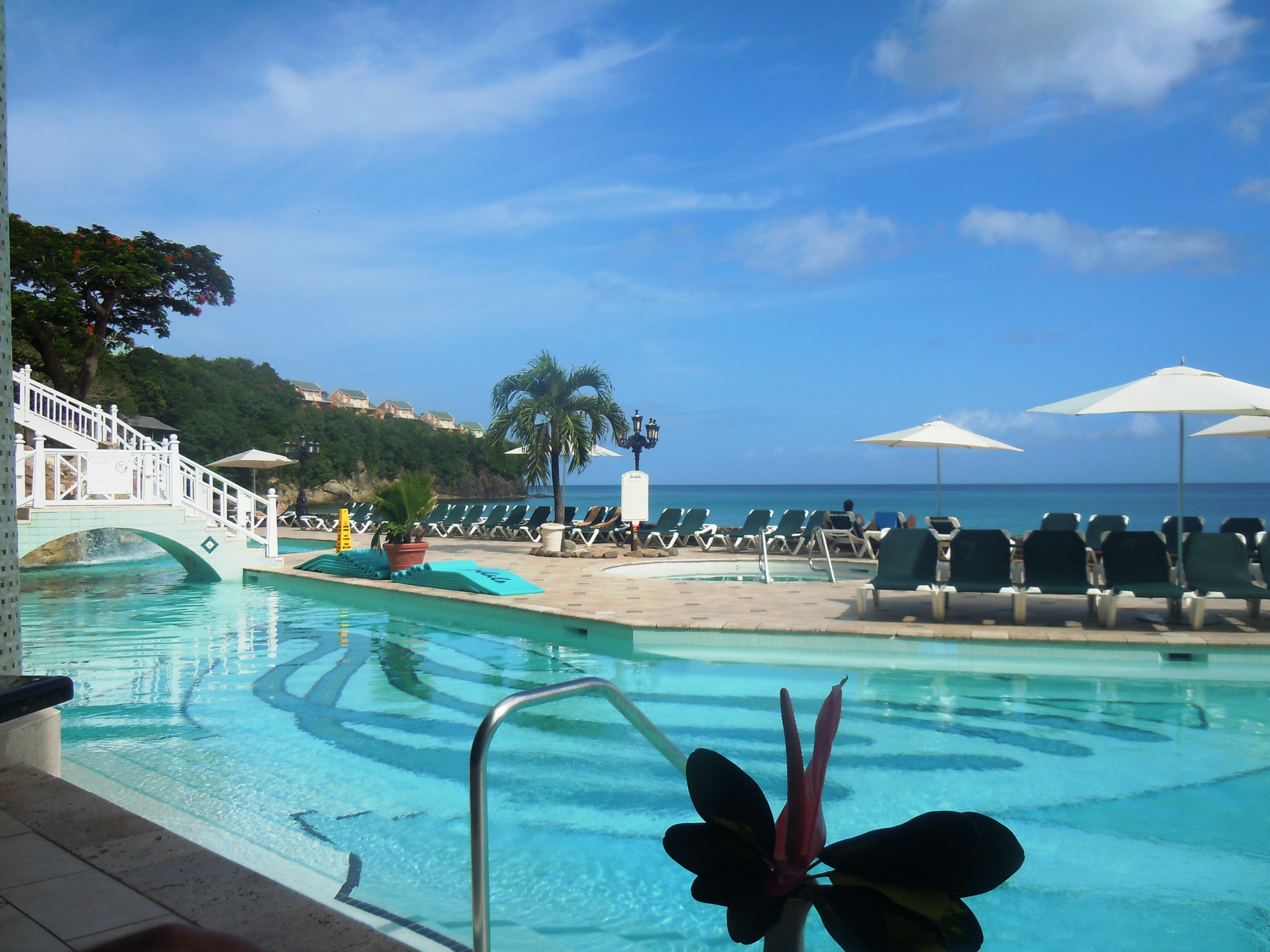 St. Lucia was our chosen holiday destination for this year and I could not wait! We travelled down to London the night before our flight, which was great! It meant that we woke up feeling refreshed and best of all our holiday started a day early! We checked in with British Airways at 7am and after dropping off our luggage and clearing security we headed straight to duty free.  After a bite to eat and a pre-flight drink (or two) we were called to board our flight. Our flights with British Airways were fantastic as we had a great selection of the latest films to watch, tasty in-flight meals and a complimentary bar service – 8 hours and 30 minutes? No problem!
Our Room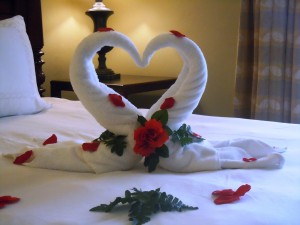 On arrival into St. Lucia we cleared immigration, collected our bags and made our way outside of the airport for our Sandals transfer.
Hot Tip: Sandals have their own lounge area just outside the airport doors where you can enjoy a comfortable chair and a flat screen TV whilst you wait for your transfer.
After a short 10 minute wait, we were met with our mini bus transfer and our wonderful driver – Alex. The transfer time to Sandals La Toc takes approximately 1 hour and 15 minutes but this flew by as Alex told us all we needed to know about St. Lucia and even showed us the banana farms!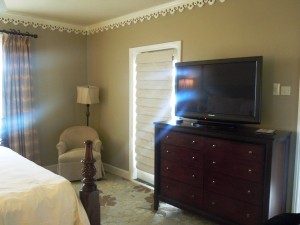 We had a Butler room booked at Sandals so on arrival at the hotel we were taken up to the Sunset Bluff for our check-in at the club lounge. We were met by our Butler, Sherman who gave us an ice cold flannel and a rum punch before escorting us to our room. My first impression of the room – WOW! We had a Romeo & Juliet Sunset Bluff Ocean View One Bedroom Luxury Suite which was beautifully decorated with dark wood furnishings and complete with a Jacuzzi and a HUGE bed! Sherman poured us a glass of bubbly and gave us some information about the facilities at the hotel; we were also given a mobile phone to call our butler whenever we needed or wanted something – everything was taken care of! After a long day we decided to stay in our room and order from the complimentary 24 hour room service menu followed by a nice long soak in the Jacuzzi!
The Resort & Activities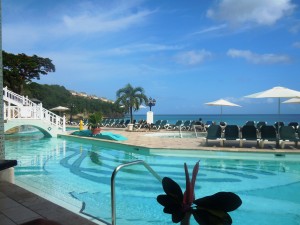 The resort is relatively large but if you don't fancy the walk, Sandals have it covered as there are shuttles that you can hop on and they will take you around the resort. There are 4 pools (two with swim-up bars) located around the resort. We tended to spend most our time around the pool at the Sunset Bluff as this was closest to our room and tended to be much quieter. We didn't even have to worry about reserving sunbeds as we could call our butler and he would take care of this for us – bliss! We spent most of our stay at Sandals completely chilling out but there is lots going on including golf, water sports and beach activities for those who want to be on the move.
Hot Tip: There are three Sandals properties in St. Lucia which means that you can stay at one and play at three. Sandals provide complimentary transfers to and from each of their hotels so if you want to enjoy activities or dine at the other resorts you can do so at your leisure.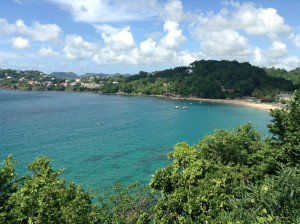 There is entertainment on each night at La Toc and every Friday is a street party.  From performers on stilts to traditional Caribbean cuisine, the street party is a MUST! There are also cosy little seating areas with fire pits near to the main pool and the Sunset Bluff pool where we sat and relaxed most nights with a glass of champagne.  We didn't venture out of the resort during our 14 night stay in St. Lucia as we wanted to relax and enjoy the beautiful Caribbean sunshine however, if I have the chance to go to St. Lucia again anytime soon, I would love to visit The Pitons!
Hot Tip: The weather during our stay was brilliant, we tended to have a shower most afternoons which lasted for around 15 minutes or so but this really helped to cool the temperature down as it can be very hot during June (don't forget to pack the factor 50)!
Bars & Dining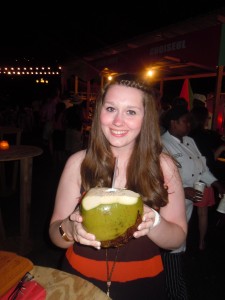 There are 9 restaurants to choose from at Sandals La Toc serving a variety of different cuisines. Reservations are not required at any of the restaurants except for the La Toc & Kimono's, but our butler had already arranged these for us. The La Toc restaurant was my favourite; we ate there for two nights in a row as the beef tenderloin was to die for! Kimono's was also great as we got to enjoy a teppanyaki table! The chef was brilliant as he entertained us with his culinary skills as well as cooking our food in front of us.  After our evening meal we tended to go over to Herbie's Piano Bar.
Hot Tip: Herbie's is most definitely one of my highlights at Sandals La Toc! Not only can you get great cocktails and live music there, the atmosphere is fantastic as it was guaranteed that by 11pm everyone was on their feet singing and dancing!
The Cricketer's Pub is another great feature to the hotel which we thoroughly enjoyed. The Cricketer's had some real homely comforts with traditional English décor, pub furnishings, 'pub grub' and to top it off its 2am closing time! During the day we mostly ate at Neptune's or the Bella Napoli pizzeria as they are both situated in a beautiful location next to the beach and the food is delicious!
Memories of St. Lucia
Overall, my stay in beautiful St. Lucia was perfect! I couldn't have asked for any more from Sandals, the staff were spot on and ensured that we were taken care of from the moment we arrived to the moment that we left. The St. Lucian people are incredibly friendly and make you feel most welcome in their colourful culture. St. Lucia is most definitely one of my favourite Caribbean islands and I hope to be back there sometime in the very near future!