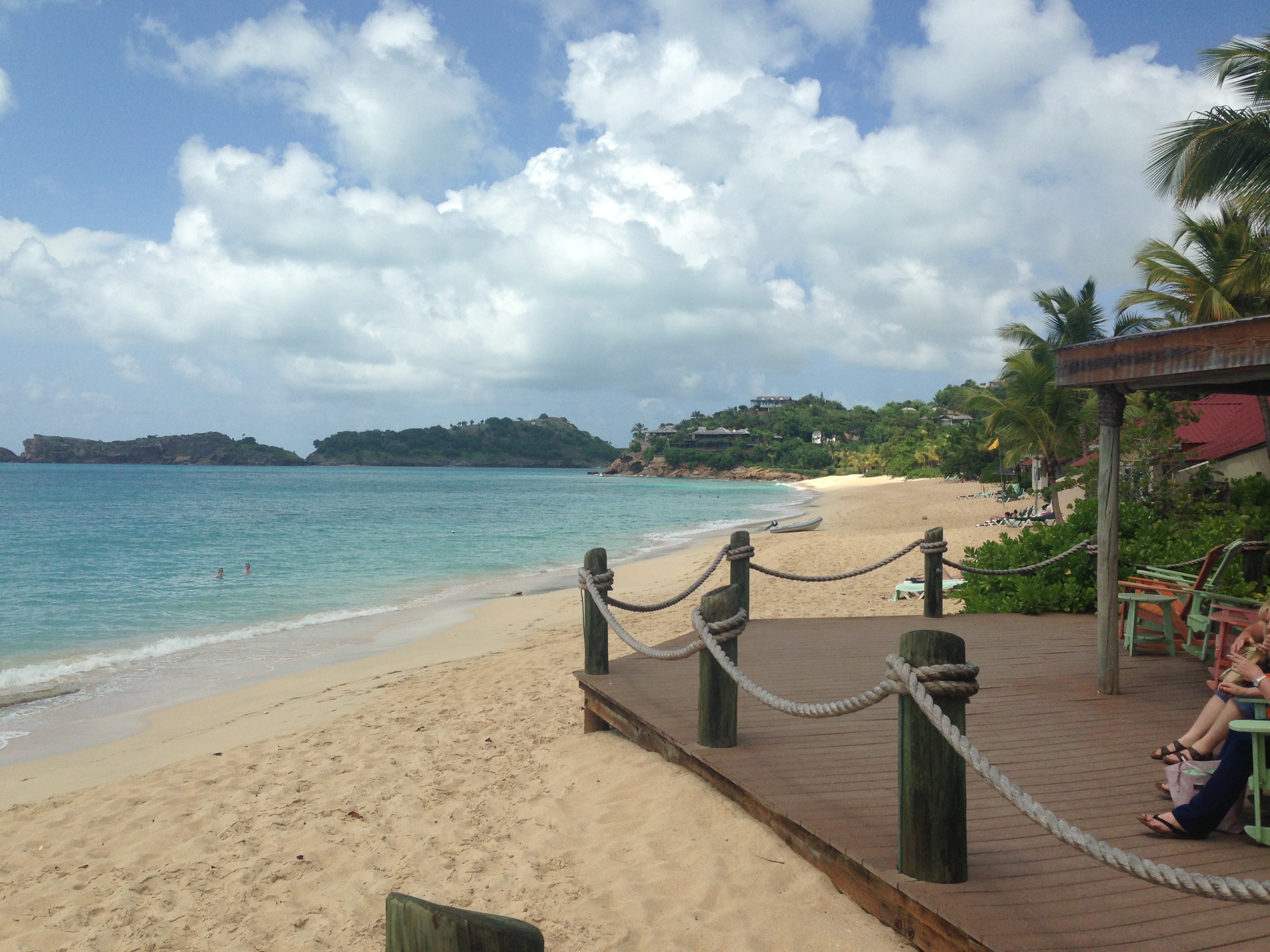 The third day was our favourite day from the whole trip, because we went out on a Catamaran and enjoyed the views of Antigua from the sea! We visited a secluded beach which could only be described as stunningly peaceful. After an hour of relaxing and exploring the sea life we set sail to Turners beach which again boasted stunningly pristine sand. On the Catamaran we were given juices, water, and our favourite rum punch! They played Caribbean music so we could all have a good boogie and enjoy ourselves – fantastic!
St James Club and Shirley Heights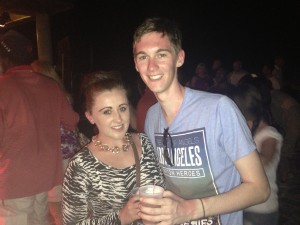 Once the trip ended we all headed back to the second hotel of the trip and stayed at the St James Club. We all freshened up then headed out on one of the best trips offered on Antigua: Shirley Heights. When we arrived we went straight to the top of the mountain where we could see the sun setting over the beautiful harbour down below us. There was a steal band playing upbeat music and a mix of locals and tourists all enjoyed the moment together. After half an hour when the sun set the steal band stopped playing and a local group came on stage and started to sing. This was one of our favourite moments as the atmosphere was so happy and lively, and we could just feel an inexhaustible Caribbean energy! Without question Shirley Heights is an absolute must if you are visiting Antigua. After soaking up this vibrant culture we made our way back to The Verandah where we had dinner at Dockside, before heading to the bar for some classic karaoke moments.
Jolly Beach
The next day we headed out to Jolly Beach Resort, and we have to say this property had a fabulous pool area and the whitest beach on the island.
Hot Tip: Jolly Beach would be suitable for anyone on a budget that really value that unique Caribbean feel, and it is great for families and couples looking for a lively hotel that will meet there all their requirements within a budget.
Blue Waters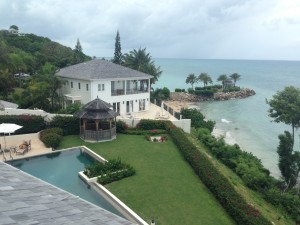 Out next stop turned out to be my favourite hotel, Blue Waters Resort & Spa. We were all greeted with a glass of champagne and a cold flannel and a big smile! This place gave us the best welcome out of all the hotels we visited. We were then taken around the property, and highlights include the water sports hub, the gorgeous gazebo where weddings take place, and the stunning suites that overlook the strikingly blue ocean.
Hot Tip: Blue Waters is ideally suited to families and couples alike who value a break that is relaxing and luxurious in equal measure.
Galley Bay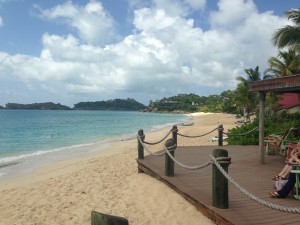 Our final hotel, Galley Bay Resort, is a luxury 4 star adults only hotel with simply amazing grounds. We visited a few room types which all varied in style, ranging from gorgeous garden cottage style to fabulous beach front rooms, and we were also treated to a delightful 3 course a la carte  seafood lunch. The beach was long, clean, and and very beautiful, perfect for romantic walks.
Hot Tip: The Staff at Galley Bay were very genuine and couldn't do enough to help you, and we would recommend this hotel to honeymoon couples, or couples who simply want to reconnect and rekindle their romance.
We finally headed back to St James Club to enjoy a 4 course Italian meal at Piccolo Mondo, a restaurant that we can easily recommend as one of the best from our travels.
Reflections of Antigua
This was our final day in Antigua so we were taken around the St James Club, a hotel which we believe is fantastic for any guest, offering many activities to keep you occupied alongside quieter places to relax. After a brief tour of the hotel we had some free time to enjoy the facilities at our leisure. To sum up Antigua it was beautiful, authentic, and we would recommend it to anyone. We cannot wait to go back!