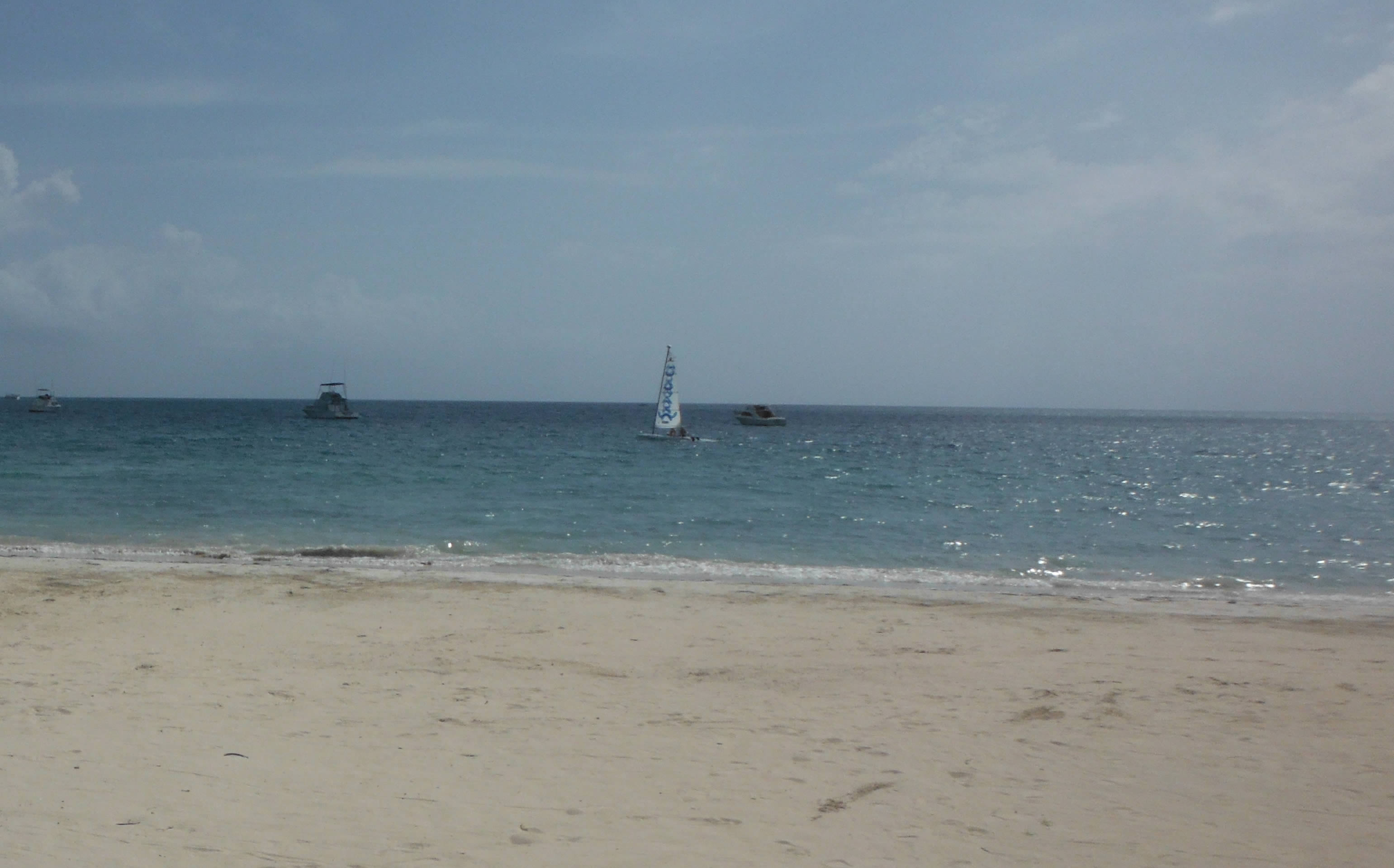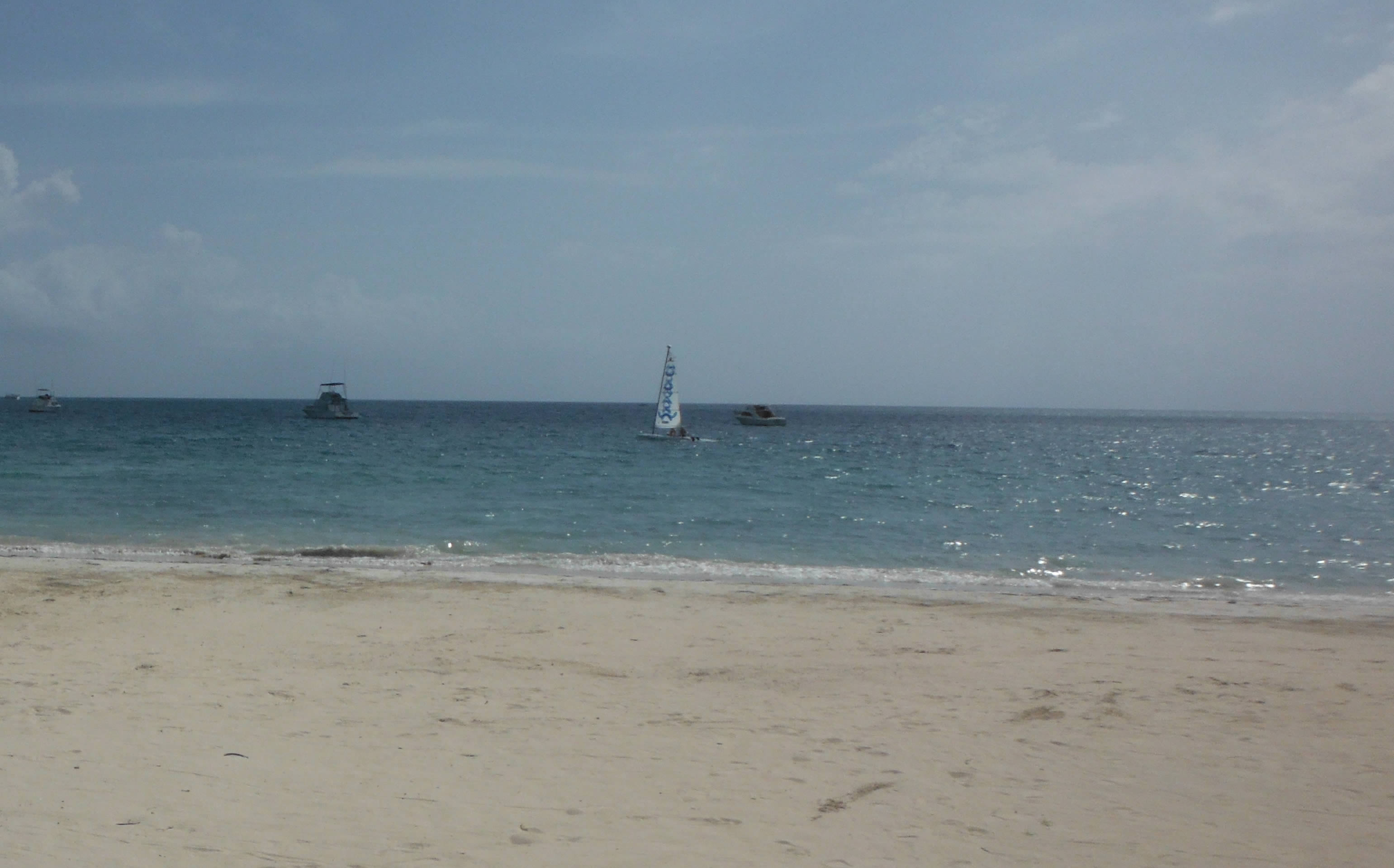 Day 4
I was sad to leave Sandals Whitehouse, it had such a homely feel to it, the staff even came and sang a goodbye song to us before we departed. The next adventure would be based at the Sandals Grande Riviera.
Sandals Grande Riviera Beach & Golf Resort is a wonderfully large hotel and it takes a moment to gain your bearings of where everything is. The resort has undergone a major refurbishment, ringing in to the tune of US $60 million, and you can certainly tell. Once I had checked-in it was time for the pool! The staff are great fun with them providing a jolly sing-a-long and lots of laughs.
The evenings entertainment was a Managers Cocktail & Beach Party at the Ochi Beach Club, which was immense fun. The food was superb and there was such a huge selection – I'm surprised people were able to dance after all that food!
Day 5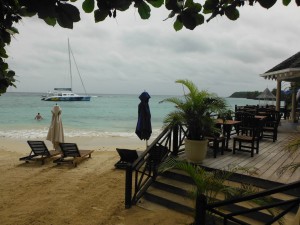 This hotel has a beautiful Georgian style to it with an old warm charm. It features 2 private beaches and all the rooms come with impeccable butler service. It's such a sweet hotel with all the added benefits of using the hotel facilities next door at the Sandals Grande Riviera before coming back to your homely retreat.
It is a hotel for the discerning couple looking for the ultimate in seclusion from the rest of the world, but with the option to change their mind for a night with having access to next door. I just love the fact that each room boasts an ocean view and the greens are so beautifully maintained.
---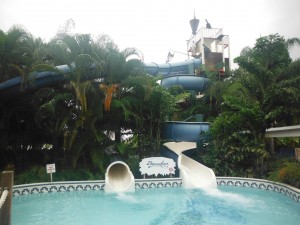 Wow his hotel is impressive – a sprawling 22 acre property, so plenty of space for everyone! The beach is simply stunning and includes a lift to help families with buggies or walking difficulties. The resort is in an elevated position, which provides amazing views from everywhere. There are so many restaurants and snack bars to choose from and they all smell great as you meander past them – the ice cream machine is also a big hit with the kids by the pool!
The kids will never be bored once at this resort, there is a plethora of pool areas to play in and don't forget the water park, Xbox lounge and golf course that kids can play on after 12pm. For something a little extra special there is also the option to attend a Sesame Street lunch – the kids get so excited when they see the characters, never mind the adults wanting their photo with Elmo and Bert! Such fun memories for any family vacation.
---
Our evening meal was at Kimonos, I loved watching the chefs cook and sing or tell jokes – the atmosphere was perfect and complemented the impeccable food superbly.
Day 6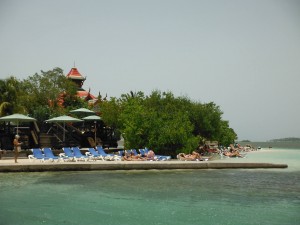 When you first arrive you get a great vibe from the Georgian style great house reception area and the further you look at the resort everything is simply intrinsically gorgeous. Once again the new swim up rooms are very desirable and not far from anything you needed, I can see why this resort retains its repeats customers so well.
We caught the boat over to its offshore island where they have a swim up pool bar. I can see why they are going to build water bungalows here in the next few months – it is just breathtaking!
---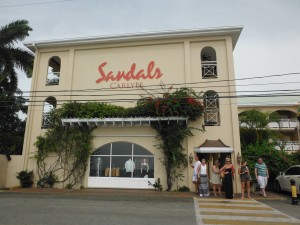 A quaint hotel across the road from a public beach. The hotel provides a free shuttle service to the beach and there are 19 dining options within easy distance of the hotel, which easily makes up for the smaller size of the property. I was genuinely surprised by how much this hotel is a hidden gem – small, intimate and hardly anyone there when we visited, yet the hotel was nearly full. The Pool is superb and a there is a splendid on-site restaurant and entertainment area. If you are looking for a quiet hideaway but with easy access to everything nearby and a great price, this hotel is your ticket.
---
We spent the evening on the beautiful long white sand beach of Sandals Montego Bay on the north coast at the Stew Fish restaurant and the food was delicious! Another great day followed by a few drinks and a trip to the English pub on site for a bit of karaoke.
Day 7
Today's trip was on board a Catamaran. The tour was hosted by Island Routes and there was no transfers involved, it docked right outside the hotel, and from the moment we were on board it was fun, fun, fun! First stop was snorkeling through a beautiful great reef – saw plenty of aquatic life and took a few photos to prove it! Next stop was Margaritaville for a few drinks and a go on the Water-chute and floating activity course – it's hard not to fall off and is such a laugh.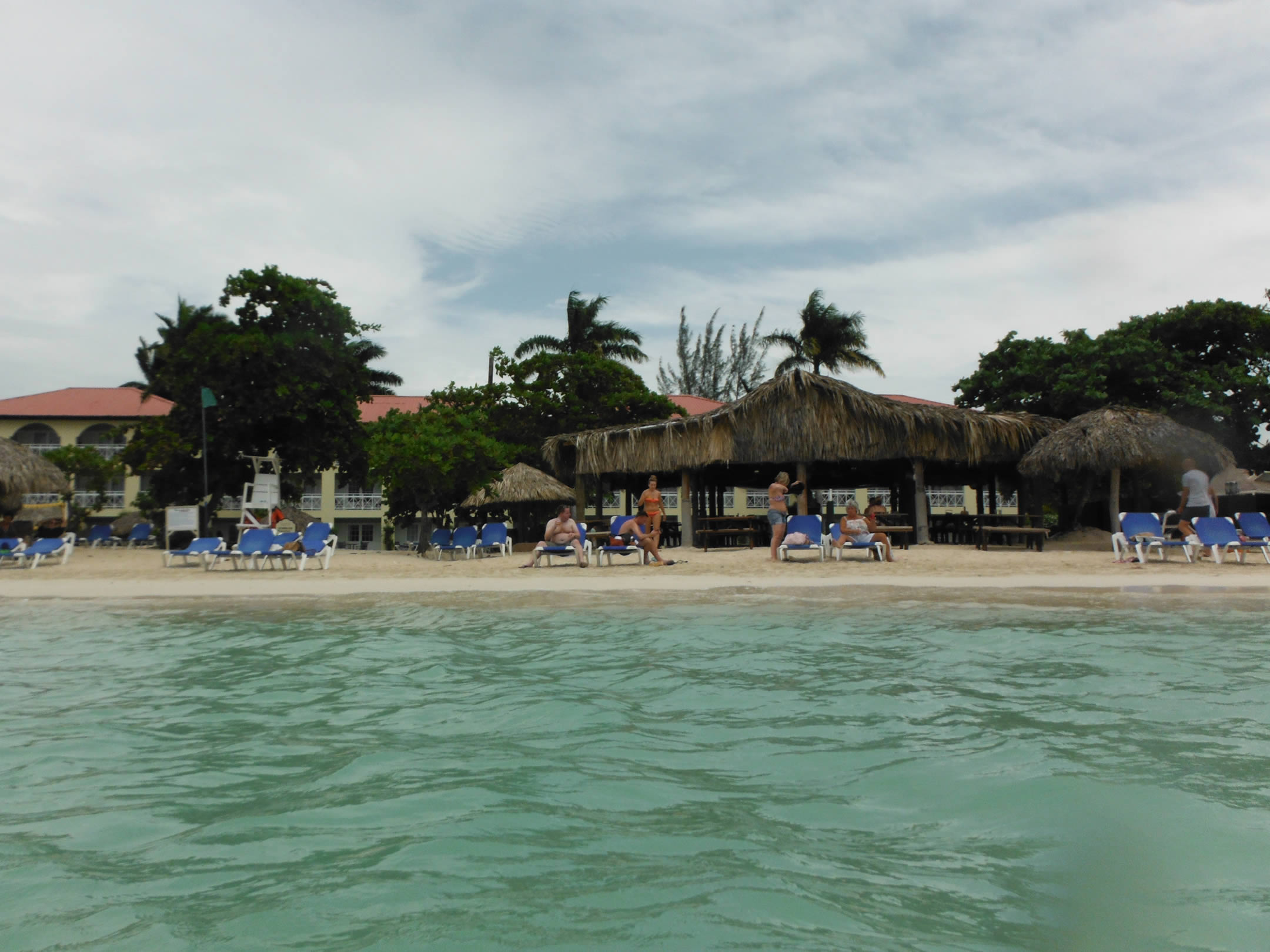 Back on the catamaran and a bit of lunch, accompanied by a few more drinks and some dancing. It's amazing how quick time flies when you're having fun! Once we were back on land we attended a hosted dinner at an elegant fine food restaurant. It was a lovely end to a fabulous week, and I most certainly plan on returning in the near future.
Day 8
It's the last day and the sun is shining, time to chill, relax and soak up the glorious sunshine and try out the water sports which are free and so much fun!
And before you know it, I'm back home and at work – till the next time!
I love Jamaica, yeah mon!
By Christina