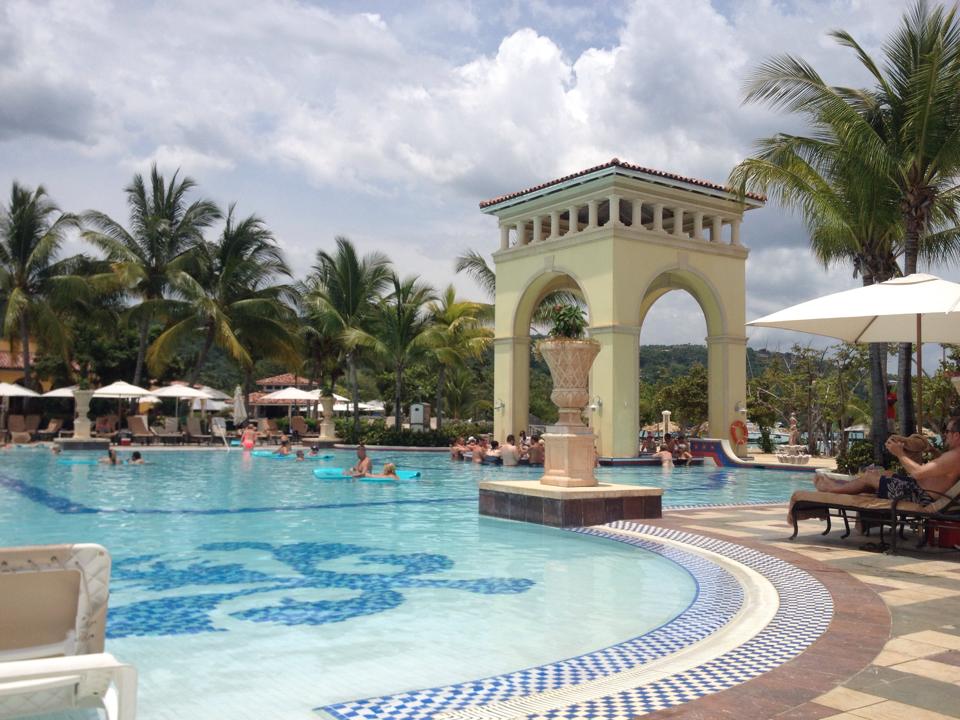 Day 1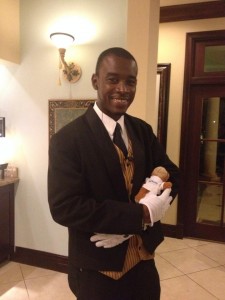 I had the delightful pleasure of flying with Virgin Atlantic to Montego Bay in Jamaica. I still have a soft spot for the new aircraft and the service that Virgin provides is still great. Clearing customs was a breeze and we were collecting our luggage in no time before making our way to the Sandals lounge at the airport for a cold towel and red stripe beer – a very nice way to arrive after a long flight!
It was dark when we arrived at Sandals Whitehouse and it looked pretty and elegant, which only served to increase my excitement to be spending 3 nights at this wonderful hotel. I was allocated a One Bed Butler Suite, my butler was Ainsley and he issued me a sandals mobile phone so I could contact him whenever I needed. A quick change for the al fresco evening meal at the Italian restaurant, proceeded by watching some entertainment outside by the bar area and a few drinks, before chilling out on big comfy white sofas around the outdoor fire pits – all this forced me pinch myself to check I was actually back in the Caribbean.
Day 2
With my body still adjusting to the time difference I was up at the crack of dawn to watch the sunrise at 5:33am on the jetty – a perfect romantic scene for couples to share. Being up so early gave me a chance to walk around this beautiful resort with no one about, allowing me to view the differences between the sections, as the hotel has named 'villages' to help you remember where your room is located.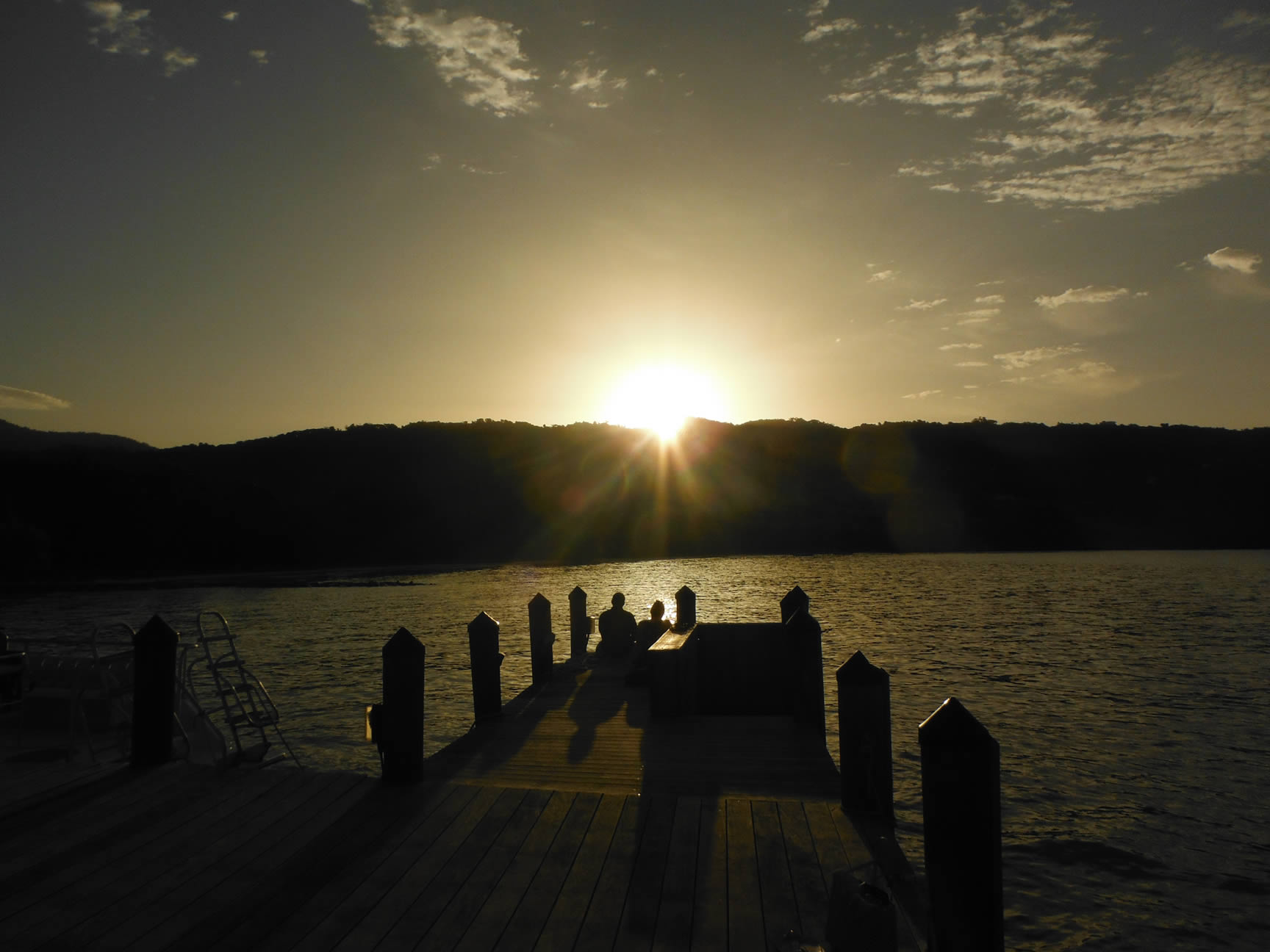 Sandals has resort planning down to the tee – you can tell by how well laid out and luxurious everything is, you can't get lost as its all thought out and after 2 days it feels like home. If you want to relax and stay in your hotel with enough going on this is it!
---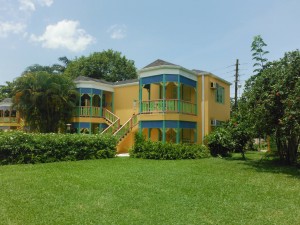 Upon arrival you are greeted by funky bright colours and a homely feel. The first port of call was the poolside, where it looked like something out of a magazine – immaculate and looking beyond refreshing in the morning heat! We meandered down to the beach-side section to gawk at the stunning beach – a splendidly wide beach with sports and activities and still plenty of space to spare for sun bathing.
---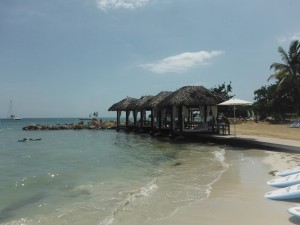 I loved this hotel before even arriving as I spent plenty of time at the office staring at the beautiful photos. It certainly didn't disappoint, its a superb hotel, from check-in you can see its a more relaxed and less spread out hotel. The beach is always a short stroll away and the more compact layout does not lose the luxurious feel. Although the beach is narrow it is no less spectacular and the ocean is pure turquoise – I can see myself returning to this resort in the near future for a longer break, I just loved it!
---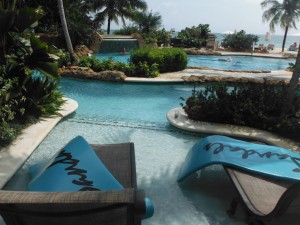 Beaches Negril boasts 20 acres of resort space and an amazing beach. When we arrived I could see quite a few families checking in composed of different generations, highlighting the strong point of this hotel – it is perfect for families and groups, but also doesn't detract from catering to a couples experience either. A relaxing and friendly vibe was evident throughout the hotel and the kids clubs was a huge area with amazing and staff. A worthy note for all those families with teenagers – the Xbox Lounge here is massive and it was not just kids I spotted in there!
---
Tonight's plan was cocktails and a hosted dinner in the oriental restaurant. When I arrived back at my suite to get ready, the butler had made a monkey from a towel and hung it from the corner of my four poster bed, he had also kindly run me a Jacuzzi bath with petals and lit candles, along with a bottle of champagne ready to start the evening on the right footing. I just love the surprises that the butlers at Sandals resorts do to make things special.
Day 3
Each night when your bed is turned down you're left a newsletter with what is happening in the resort the next day, along with a weather forecast and sunrise and sunset times. There are also discounts and Spa specials, forthcoming activities and entertainment and restaurant times – well worth a read.
At lunch time, after some sun worshipping, we took the Glass bottom boat tour along with some snorkelling which was a great experience and free for everyone to try. After a bit of exercise swimming with the sea life, it was time to grab lunch from the jerk shack on the beach – delicious!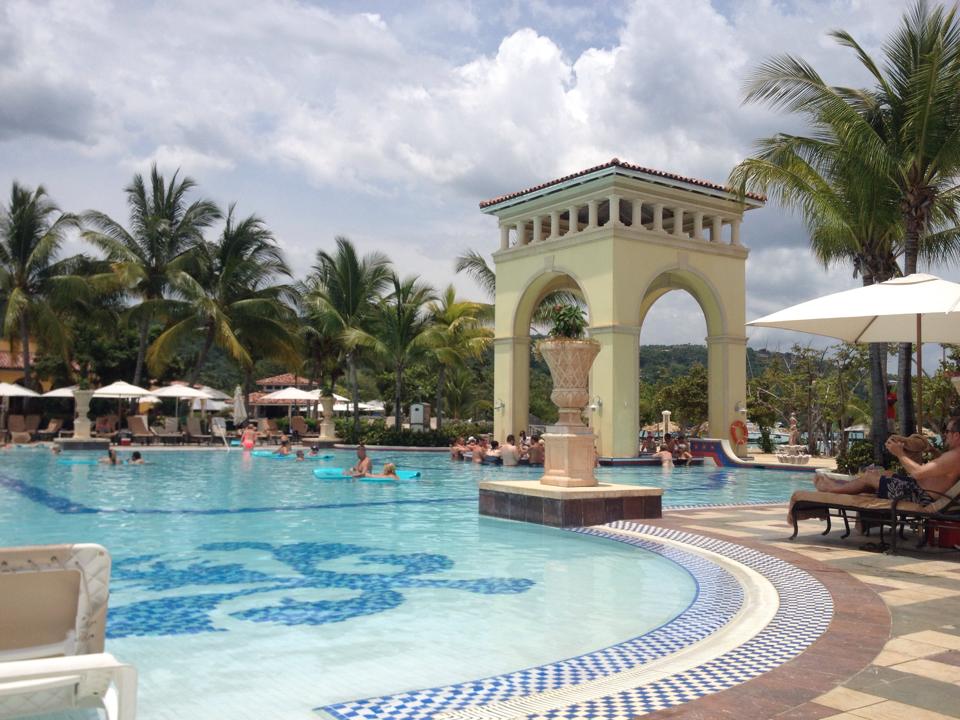 As this was a day of pure relaxation it was also a day of being in and out the sea and pool to cool down from the heat of the sun. Tonight's entertainment was in the theatre with the Silver Bird Steel Pan Orchestra. The band played a fantastic show and got the crowd going for most of the evening! The best way to round off the night was a few drinks at the martini bar, along with a piano sing-a-long and a bit of dancing. It was a great night and the bar staff are superb at tricks when pouring your drinks.
By Christina