7 Indisputable Reasons to Choose Sea Breeze Beach Hotel for your Next Caribbean Adventure
Last time Kirsty gave us a highly compelling argument to tear off our clothes and gallop to the The Club Barbados post-haste. This week, we've got the pleasure of reading the second half of her amazing journey at Sea Breeze Beach Hotel, and you'll be cracking out the trunks all over again…

The best Chicken Caesar on the planet
It was time for a change of scenery, so today we moved down the south coast to Sea Breeze Beach Hotel, where we were greeted with a drink and a nice cold towel. Check in was quick and easy, and we were swiftly shown to our room. We'd picked an Ocean View Room, which you definitely need in your life. The views at this hotel are amazing, and these rooms make the most of them. They're also very spacious, with a generously proportioned balcony. You even get a mini fridge, filled daily with bottles of water. Best life.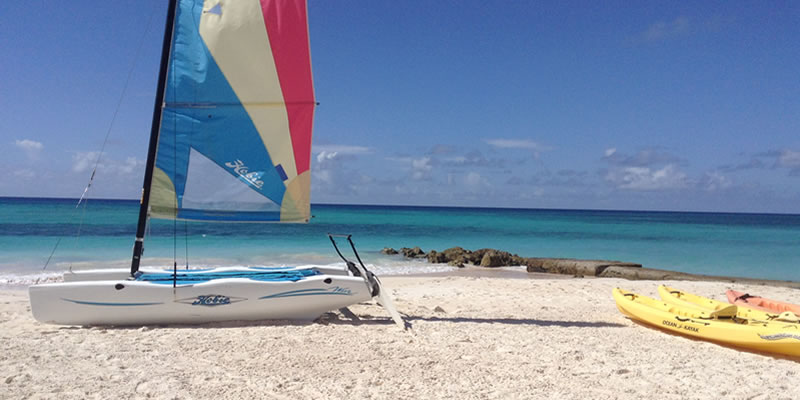 We decided to go to the beach grill for lunch, and the food was amazing. They had pizza, burgers, and fish amongst many other things too delicious to capture with words.
Hot Tip #1: They have the best Chicken Caesar Salad ever. Seriously, go now and feed well, it's revolutionary.
We spent the rest of the day winding down, before gearing up for another hard day's relaxation in Barbados.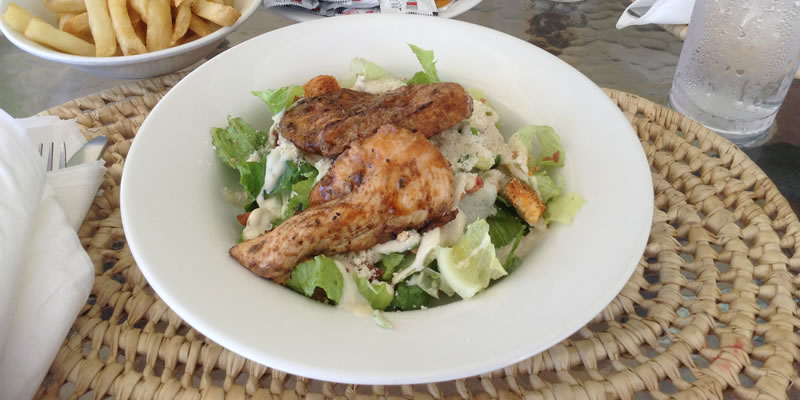 A fine beach for frolicking
Without a shadow of a doubt, the beach at Sea Breeze Beach Hotel is the best beach I have had the pleasure of frolicking on. It has the purest, whitest sand I have never seen, and the sea is so blue it defies description. No-one would ever get bored of that view.
That evening we decided to venture out to the famed St Lawrence Gap (known as "The Gap" for short), which is just a 5 minute busride away.
Hot Tip #2: The buses in Barbados are an experience in themselves. Known as the Reggae Buses, they play fun music filled with sunshine, and for only 60p you can get off anywhere!
We had a few drinks in a local bar, and the atmosphere was fantastic! Local music, modern music, and live singers, all happily coexisting together. There was a mixture of tourists and locals, and everyone was so friendly. I felt very safe, and I firmly believe that the Gap is a must when visiting Barbados!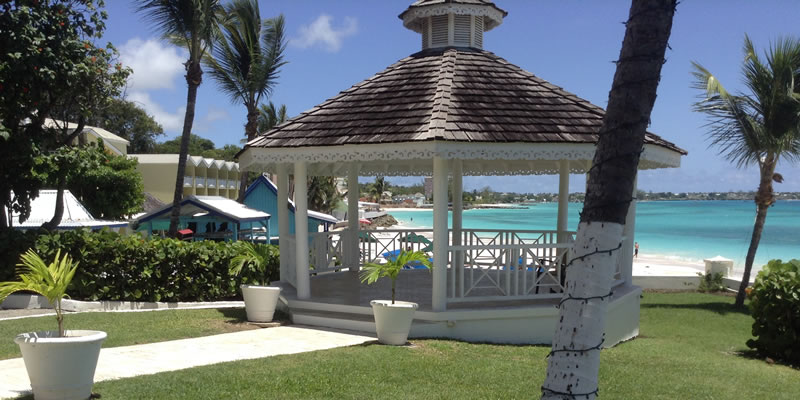 Building some bridges
We noticed in our welcome pack that Sea Breeze Beach Hotel offers a shuttle service to Bridgetown, which only cost the equivalent of £4 per person for a return trip. This rapidly gained our seal of approval, so we pencilled it into our schedule.
Hot Tip #3: As an added bonus alongside the cheap rates, the journey is only 15 minutes long and is a lovely way to absorb some quality island landscapes.
Once we arrived in Bridgetown we headed straight to Broad Street, which is the quintessential Shoppers' Paradise. It's full of jewellers, perfume shops, bag shops, and big brand names like Guess, Tiffineys, and MAC. Once you've shopped yourself out, you can go see the original Nelson statue and the Bajan parliament!
Hot Tip #4: Make sure you take your passport, as you get many items duty free, which can save you up to 30% compared to UK prices!
When we returned to the hotel we spent the rest of the afternoon relaxing around the adults only pool. This is a great place to chill out as the sunbeds had proper cushions, which made catching some Z's fairly painless.
That evening we booked into the Azul restaurant, which offers a sterling à la carte menu and excellent sea views. This place had a beautiful atmosphere and the food was outstanding! You could eat here twice a week free of charge, and I thoroughly recommend you take advantage of this privilege!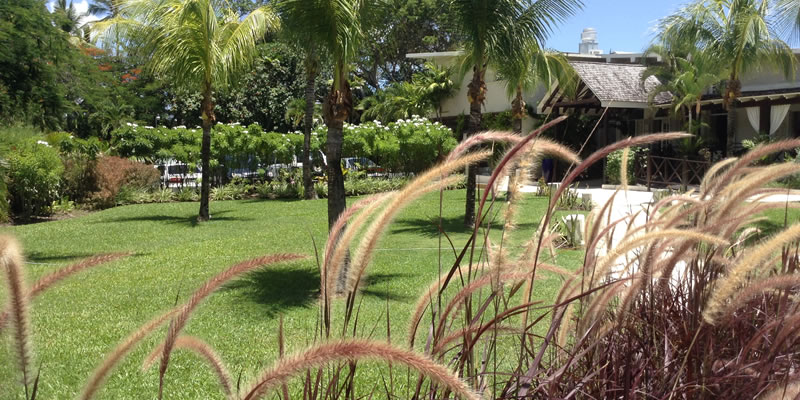 Out with the proverbial bang
Today was our last full day in Barbados, so we decided to hop on a bus and go to The Boatyard in Carlisle Bay. This was a place where you can spend all day on the beach, with music, all different kinds of water sports, and a great atmosphere.
Hot Tip #5: You pay 40 Bajan dollars to get in, but that gets put towards food and drink at the bar. We spent all day at Carlisle Bay and didn't spend anything extra, so it's well worth it.
Bonus Tip #6 – Cruise Savvy: If you're visiting Barbados on a cruise, this is a great place to go, as it's only 5 minutes away from the cruise port.
We decided to live our last night in style, so we chose to hit up Harbour Lights. If you've not caught wind of Harbour Lights, here's the lowdown: it's an open air night club in Carlisle Bay, and is fabulous fun! You pay 50 Barbados Dollars to get in (which is only about £15) but your drinks are free until 2am! This was just fantastic, and it really made our last night on the island an amazing one! There were locals and tourists all dancing and having a jolly good time. If you like a bit of safe nightlife fun, this place is right up your alley.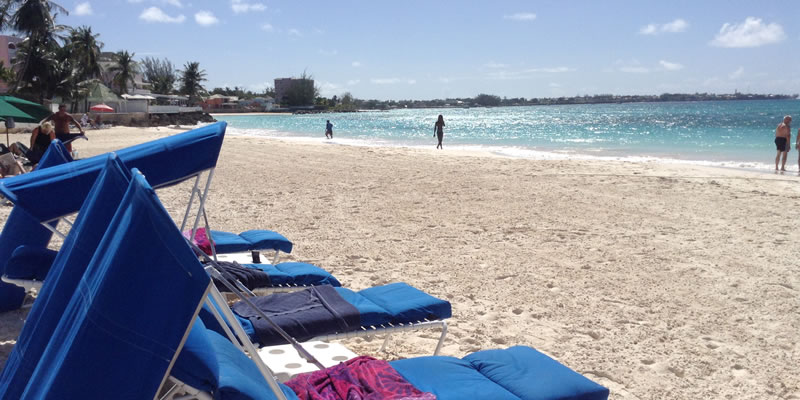 Farewell to all that
Home time was finally upon us. If I could have sneaked into a room for a few extras nights I think I would have done, that's how sad I was to leave. We spent one last morning sunbathing, and Sea Breeze kindly stored our luggage after 12:00pm when we checked out.
Hot Tip #7: I would recommend booking a private taxi as they take you directly to the airport, and it only takes about 15 minutes. Very quick and easy, and it's a smart exit strategy.
All things considered, Barbados is by far my favourite Caribbean Island. It has everything from duty free shopping, to bars and nightclubs, to amazing white sand beaches, to year-round sun. Best of all, the locals are some of the friendliest people you'll ever meet. They're so genuine and couldn't do enough for us! I cannot wait to book my next visit here, and if you've ever thought of visiting the island just do it!