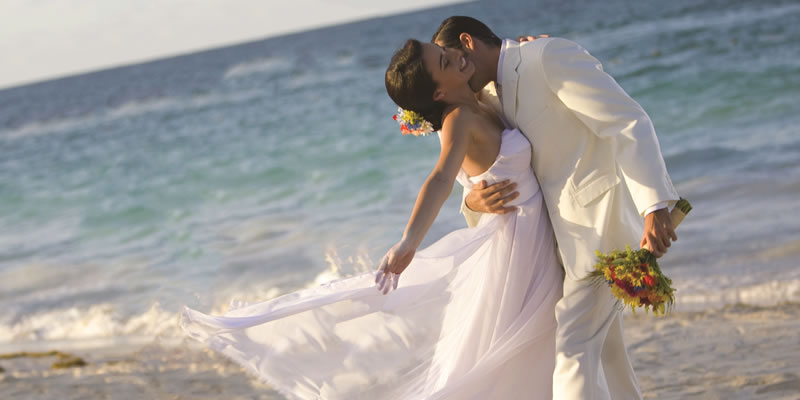 It's the happiest day of your life, so make sure it's perfect at Occidental Grand Xcaret
Everybody wants a wedding to remember. It's the biggest day of your life, so you're after something really special. Our fair England, for all its charms and quirks, is not famed for sunny skies, so many couples look to distant shores for their dream wedding.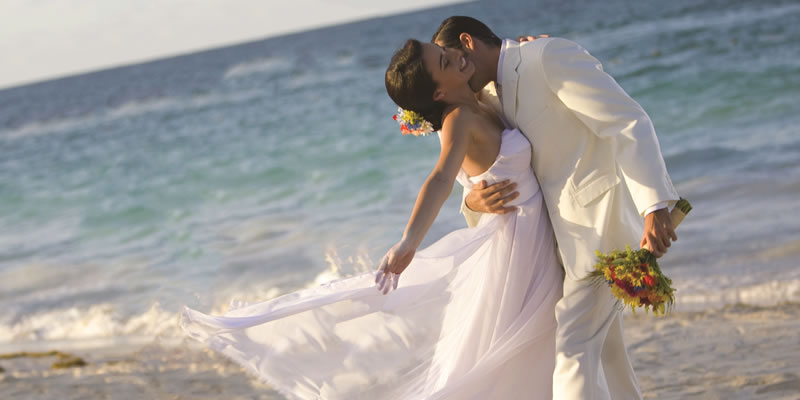 A popular choice for UK couples is Mexico. And why not? It's a grand country filled with sweeping oceanic panoramas and vibrant culture. But let's get specific. Mexico is rich and diverse, so knowing where to look is vital when it comes to perfecting your destination wedding.
It's no easy task, mind you. Everywhere from the Riviera Maya to Los Cabos has its own indigenous charms seducing your attention. But there is one place that stands out; a place so unreservedly stunning it deserves our full consideration. That place is Xcaret, and it more than deserves the spotlight.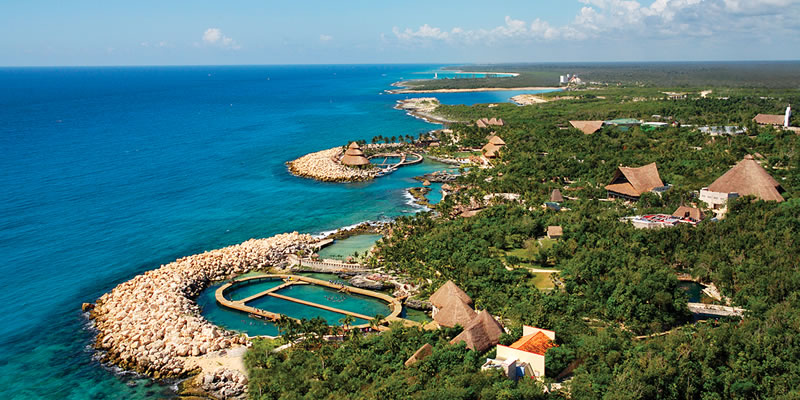 Xplore Xcaret
Xcaret is fringed by the glorious greens of the Mexican-Caribbean jungle, fading into the turquoises of the Caribbean Sea. It's a meeting place for all things culturally magnificent in Mexico, from ancient Mayan civilisation to the astonishing variety of native wildlife. A single cast of the eyes can drink in the alluring ruins of the Mayan heydays, the landscape's vast tropical diversification, and the beautiful intricacies of modern Mexican architecture.
It's no surprise that a place saturated with such colour and history is held among the world's most distinctive wedding destinations. To make the most of Xcaret you need a hotel that embraces this distinguished heritage, and our top recommendation is Occidental Grand Xcaret – no questions asked.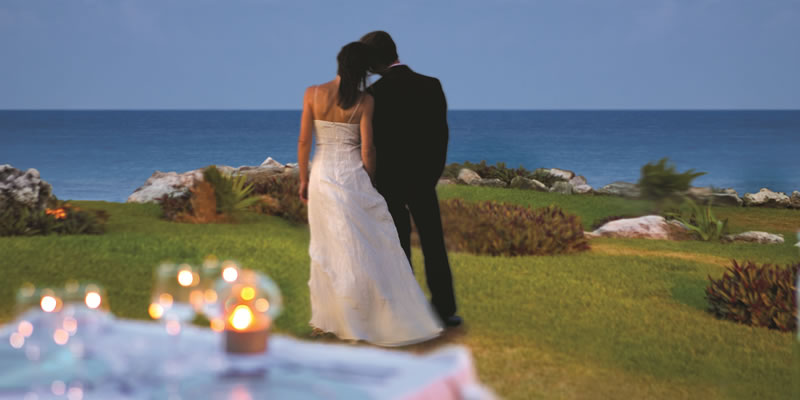 Fact Off 
Occidental Grand Xcaret effortlessly resonates with the cultural mosaic of Xcaret. Moreover, its wedding packages are first rate, one of which can be completely free. So let's lay down some facts.
If you had a pang of déjà vu when you saw "Occidental Grand Xcaret" that's because it served as Mel B's judge's house during X Factor 2014. And rightly so: Occidental Grand Xcaret is a hotel born for stardom.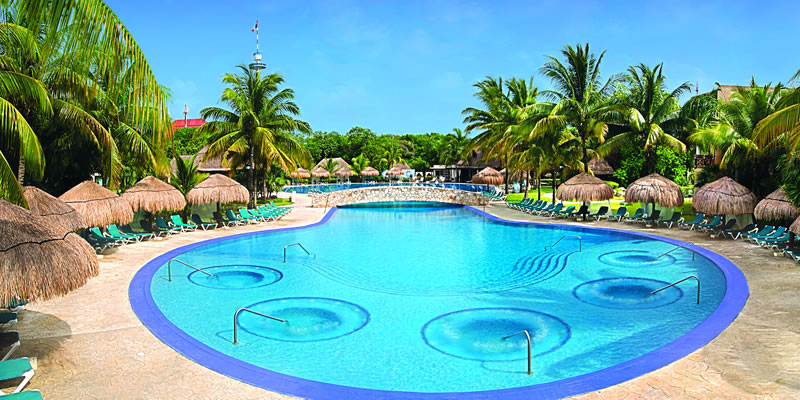 Xperience Xcaret
A fantastic scheme called the Unlimited Xcaret Xperience at Occidental Grand Xcaret (or "UXX" to its nearest and dearest). UXX operates in partnership with the neighbouring Xcaret Park, and it's the ideal way to enhance your destination wedding with Xcaret's gorgeousness.
So, what is Xcaret Park? It's a sanctuary for all things important to the region's identity, from the ecological to the archaeological. Its curiosities include:
•   Botanical garden with 118,000 plants, including 149 orchid species
•   Sea turtle conservation programme, helping 220,000 turtles
•   Huge butterfly pavilion, with 4,000 butterflies born each month
•   One-of-a-kind reef aquarium
•   Mayan village re-enacting Ancient Mayan customs
•   Other awesomeness beyond the scope of humble bullet points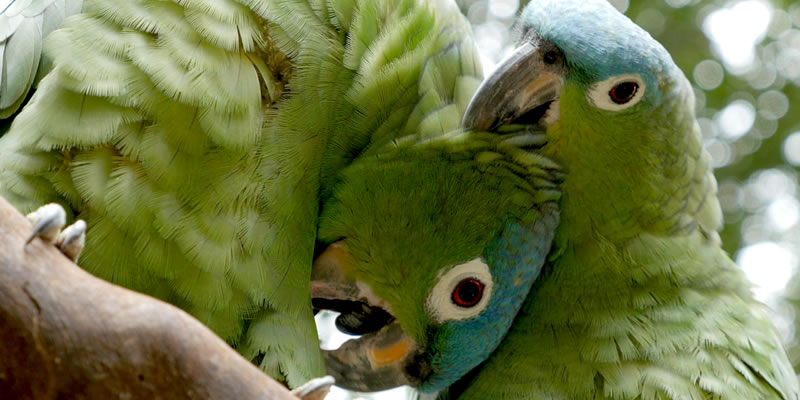 The UXX grants you all day unlimited access to Xcaret Park, $980 of resort credit, VIP check-in with Mayan welcome, a private eco-cultural tour, and more excellent entertainment. What better way to start your new life together than by striking out on a mini Mexican adventure?
And that neatly returns us to the main event: your destination wedding at Occidental Grand Xcaret.
The destination wedding you dreamed of
The exotic shoreline of Xcaret serves as an unequalled sea-view backdrop for your marriage, or do something wonderfully different and exchange vows at the foot of a Mayan ruin.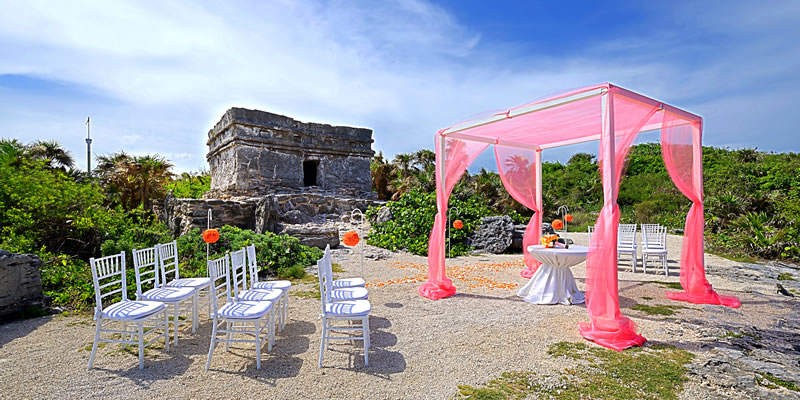 Every wedding at Occidental Grand Xcaret comes with a professional wedding coordinator, who will arrange everything just the way you want it. But it gets better. Book 3 rooms in any category for at least seven nights, or book a Royal Club Luxury room (or higher) for at least 7 nights, and you'll receive the Simple Love wedding package absolutely free. This package accents your special day with some beautiful finishing touches:
•   Use of the wedding gazebo or beach location
•   Rose petals, shepherds hooks, and silk pomanders for the aisle
•   One-tier Wedding Cake for up to 10 guests
•   Chilled sparkling wine for wedding toast
•   More elegant details
The location, inclusions, and affordability of Occidental Grand Xcaret have garnered the title of UK market top seller, and your destination wedding will be endlessly enriched by the resort's facilities.
Did you get married in Mexico? Got any questions about a Mexican wedding? Let us know in the comments below!
If you'd like to know more about Occidental Grand Xcaret, tap the orange button and we'll have a chat. Or give our wedding experts a buzz now on 0844 644 8351