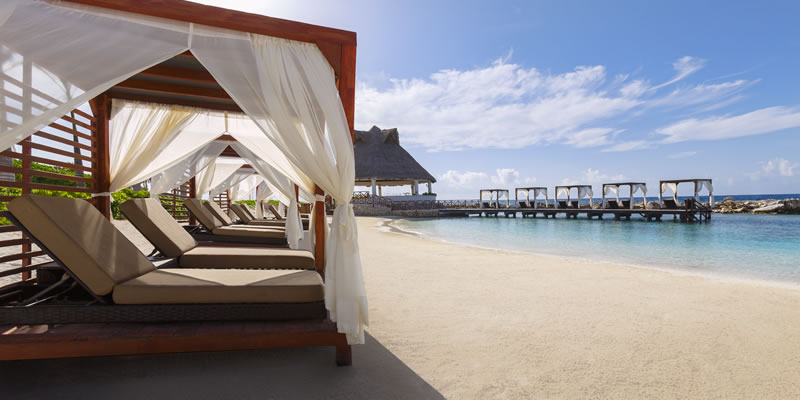 The best thing about a Hard Rock Hotels holiday is the memories. Each resort is a neon Mecca for all the good things in life, perfectly mixing vitality, indulgence, and essential relaxation. They have colour and soul, attitude and style, and above all else they dare to be different. Hard Rock Hotel Riviera Maya is a rising star in the Hard Rock Hotels portfolio, and we're about to spill the beans on its greatest secrets.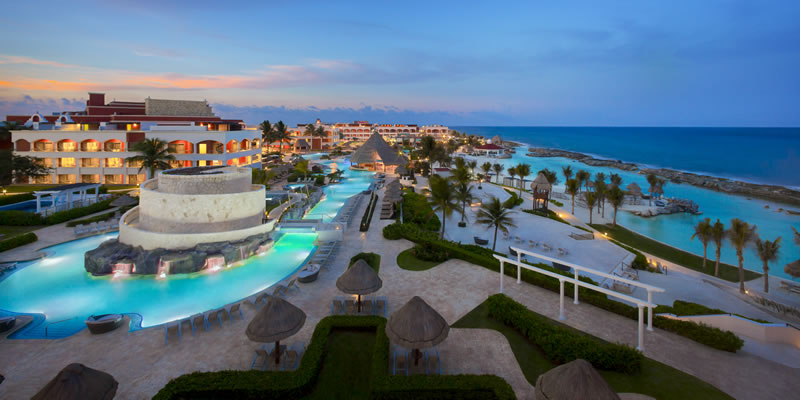 Famed for its glorious white sand beaches, Hard Rock Hotel Riviera Maya is an outstanding example of the legendary Hard Rock Hotels hospitality. Hard Rock Hotel Riviera Maya revolves around you, with a stellar agenda of world-class dining, spectacular bars, and a great pool and waterslide. But it also has another side, a side of even greater exclusivity – and it's a little slice of Heaven.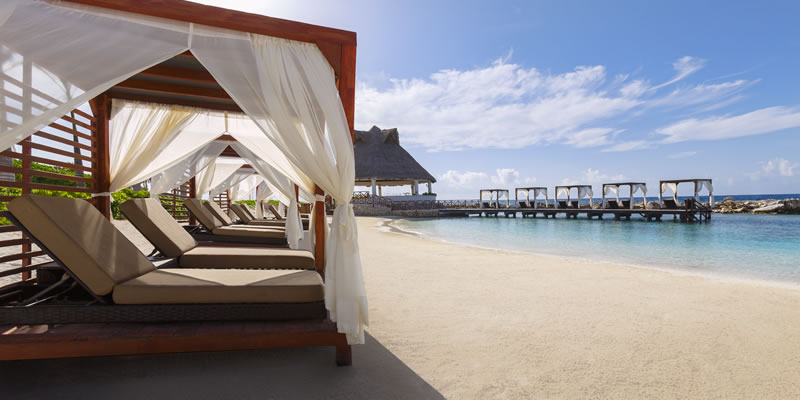 Rock it inside out
Heaven is a resort within a resort. As the name suggests, it's an adults only retreat distinct from the rest of Hard Rock Hotel Riviera Maya, offering its own slant on the Hard Rock Hotels lifestyle. Heaven has its own accommodations, its own dining, and its own nightlife, specifically catering from the needs of adult holidaymakers. We often see hotels that cater for all-out  family fun, but rarely do we find a resort like Hard Rock Hotel Riviera Maya Heaven that caters for the fun-lover inside fully-grown holidaymakers too.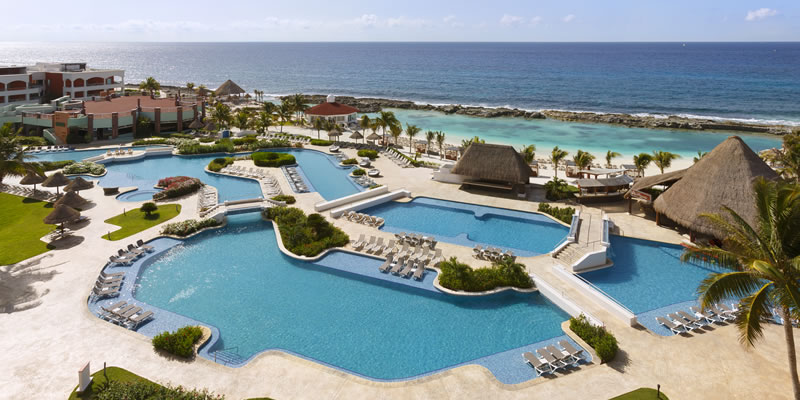 I get up, and nothing gets me down
The hospitality at Hard Rock Hotel Riviera Maya is quintessentially Hard Rock, with all the flourishes of no-limits luxury that come from a name of such gravitas. They take all inclusive holidays with wonderful literalness by including all of the things, polished with an unprecedented modern edge. Heaven takes this even further, with even more swish and style added into the mix.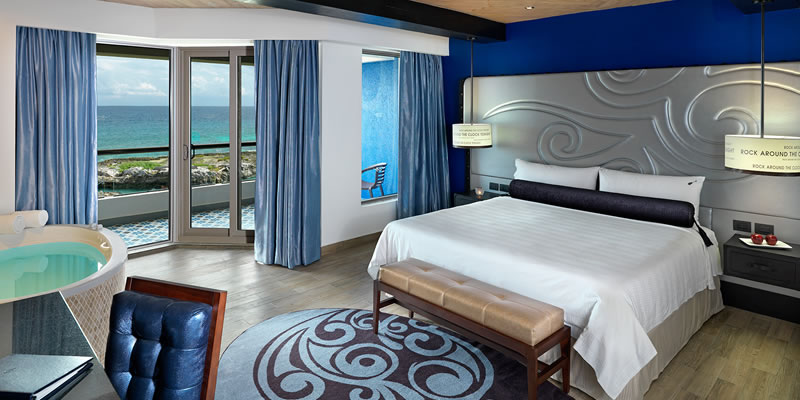 Take the food, for example. Have a juicy steak at Toro. Tour the à la carte menu at Ciao. Savour the flavours of rustic France at Le Petit Cochon. The food at Hard Rock Hotel Riviera Maya Heaven is the kind of straight-face gourmet affair that is the envy of any adults only escape. You even have access to all the restaurants in the main body of the resort, so you wont be short of delicious dining opportunities.
Your evenings will be best finished at Club Heaven, with live DJs, premium cocktails and all the carefree shape-throwing you can muster. The Club at Hard Rock Hotel Riviera Maya Heaven is your space to have fun and feel the music, completely on your own terms. Seriously, when was the last time you danced like no one was watching?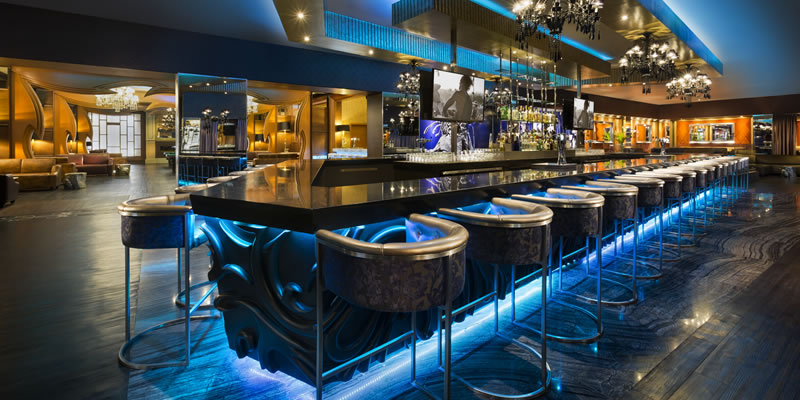 You might not know this, but Hard Rock Hotel Riviera Maya is the proud titleholder of the Caribbean's largest spa. The spa is home to steam rooms, hydrotherapy current pools and even a personal spa butler to ensure you have everything you need. It's a spa fully loaded with the type of indulgent finesse that typifies the Hard Rock experience. Trust us: this really is a one-of-a-kind species of relaxation.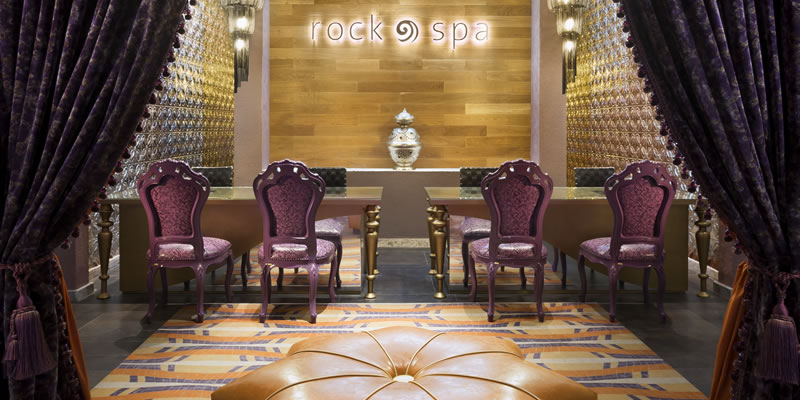 Nothing but a good time
All the adults only rooms at  Hard Rock Riviera Maya Heaven are beautifully finished, but the Bret Michaels Rock Star Suite deserves special attention. It's the crowning jewel of accommodation at Heaven, filled with bonafide rock memorabilia. Bret Michaels (of glam metal band Poison fame) is every bit as legendary as the Hard Rock Hotels philosophy, and his namesake suite is home to his original Hollywood Taxi motorcycle and Every Rose guitar. It's also got a stack of fun one-off facilities, such as a photo booth, a billiard table made from a Camaro, and a raised dance floor. Even the décor reflect Michaels' love of cowboy hats and bandanas. As far as top-level accommodations go, The Bret Michaels Rock Star Suite at Hard Rock Riviera Maya Heaven is a power ballad in a world of mainstream pulp. Funky, stylish, and wonderfully different.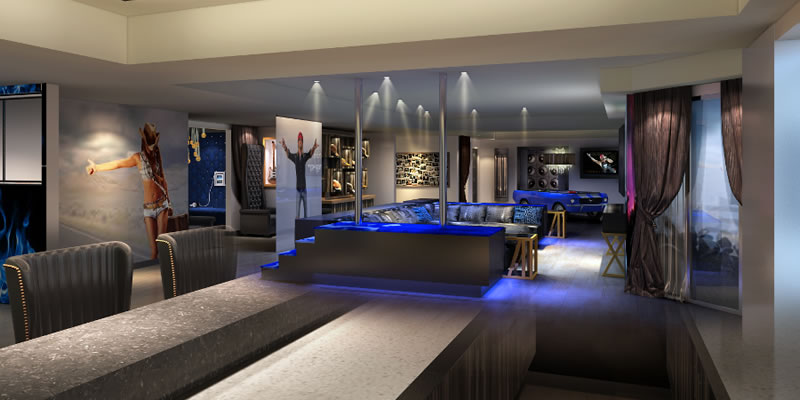 You never ever wanna come down
Best of all, no matter which part of the resort you stay in (Heaven or otherwise) you'll receive up to $3,600 free Limitless Resort Credit! The longer you stay the more credit you get, and you can cash in your creds to partake in epic adventures such as spa treatments, golf, excursions, and more. Yes, you read that correctly: Hard Rock Hotel Riviera Maya will literally pay you to have a good time. Best life.
So, have you been swayed to try a little Heaven? Got any questions? Let us know in the comments below! If you want more intel just hit that big orange button and we'll be delighted to have a chat with you. Talk soon!