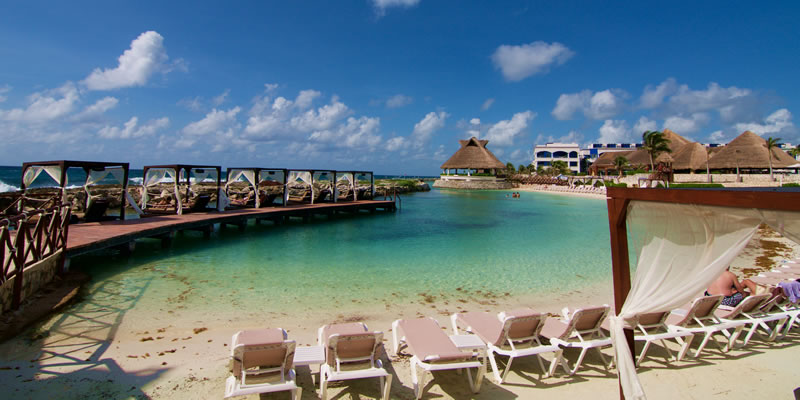 There are a handful of hoteliers that have begun their ascent to a status of truly legendary proportions. One such brand is Hard Rock Hotels, whose current drive to expand and develop their already stunning portfolio has produced some truly cracking resorts. I recently had a mooch around Hard Rock Hotel Riviera Maya (one of the newest additions to the family) and what follows is a little insider intel on the whole affair. Prepare your eye-parts for a thorough wooing, Holidaymaker.
A Brief Introduction
Lets pause the chin-waggle and have a swift overview of the ins-and-outs of Hard Rock Hotel Riviera Maya:
2 Hotels, 1 rock star lifestyle
One of the best features of Hard Rock Hotel Riviera Maya is its twofold approach to holidaymaking. In a nutshell, Hard Rock Hotel Riviera Maya offers a resort-within-a-resort, known as Heaven, reserved exclusively for adults. It's an adults only retreat specifically catering for the fun-lover inside fully-grown holidaymakers. Having been there and seen it for myself, I feel that this description doesn't even begin to scratch the surface of Heaven's holidaymaking magnitude. The resort is quite literally sectioned into two equal parts: one for families (the Hacienda section) and one for adults (the Heaven section).
One of the secret little perks of the split system is separate check-ins. If you choose to dabble in the adults-only paradise of  Heaven, then you will never have cause to see, hear, or even philosophically accept the existence of the family section. Likewise, those of you in the Hacienda section need not fear any looks of forlorn woe from those who booked an adults-only package. During my entire stay I didn't even catch a glance of a family group, even though the two properties are connection via a beachfront walk. I had restaurants and bars on-hand in the Heaven section (all adults-only, of course), and if I didn't already know about the family section I would never have known it even existed.
The partition between Heaven and Hacienda is subtle but effective. There's no constant presence of enforcement, no "bouncers" to contend with, and no sense of isolation on either side of Hard Rock Hotel Riviera Maya. If you're over 18 you can use the facilities on either side of the property, and there are plenty of splash areas and activities for the junior holidaymakers on the Hacienda side of proceedings. The Little Big Club for the younger members of the family uses beloved cartoon characters such as Thomas The Tank Engine and Angelina Ballerina to bring their imaginations to life, and The Cave ushers in video games and sports for teenagers. Wins for everyone. Best of all, no matter which part of the resort you stay in (Heaven or otherwise) you'll receive up to $3,600 free Limitless Resort Credit!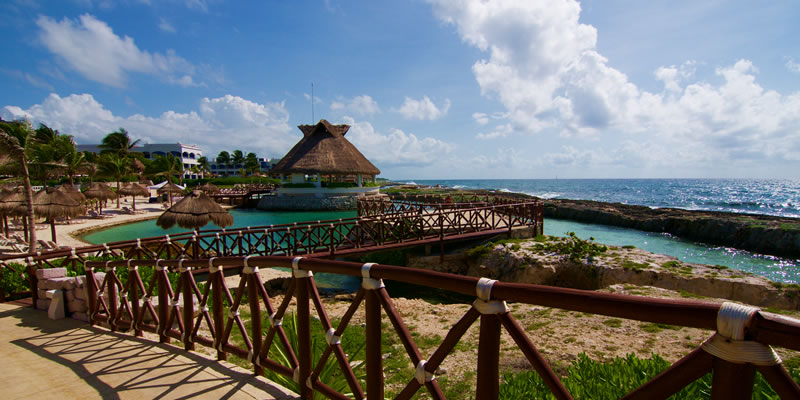 Living it Spa
Hard Rock Hotel Riviera Maya takes all inclusive holidays with wonderful literalness by including all of the things, polished with an unprecedented modern edge. Hard Rock Hotel Riviera Maya is the proud titleholder of the Caribbean's largest spa. Everything you could wish for is at your fingertips with steam rooms, hydrotherapy current pools and even a personal spa butler. It's a spa fully loaded with the type of indulgent finesse that typifies the Hard Rock experience. This really is a one-of-a-kind species of relaxation.
A Unique Beachfront
As far a beaches go, the shoreline of Hard Rock Hotel Riviera Maya is somewhat unique. The sea here has too much gumption to allow for safe swimming, so the hotel has built wave breakers from local rocks to tame the ocean. Not only does this make swimming and splashing super safe, it also creates a series of perpetually tranquil lagoons filled with natural sea water. It's a peaceful beachfront 24/7, with lush beach beds to make the most of the seafront calm if you don't fancy getting wet.
A beneficial side effect of this lagoon system is a "pocketed" series of mini beachfronts up and down the coastline. Not only does this make each section of sand feel VIP-level exclusive, it also massively reduces beach crowding. Holidaymakers spread out up and down the coastline, finding their own little piece of breachfront to savour and enjoy. Hard Rock Hotel Riviera Maya may be a larger resort, but not once did its natural charms feel congested. No jostle, no hassle, and no horseplay. That's my kind of beach, Holidaymakers.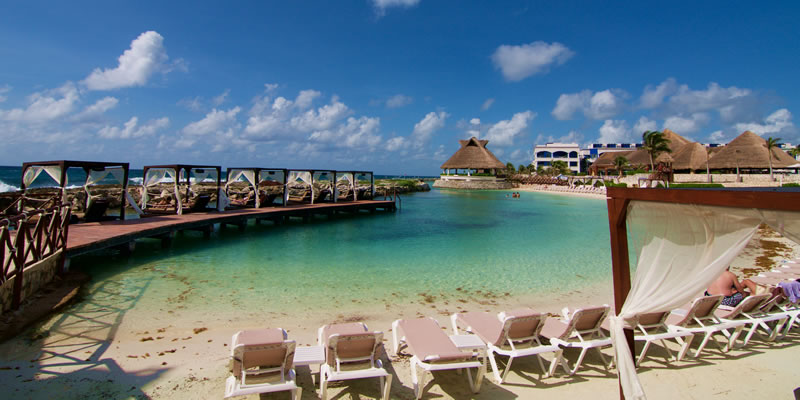 The Sunset Scene
The Heaven side of the proceedings has an ace up its sleeve that's I can assure you will trump the nighttime nonsense of other all-inclusive offerings on the market. Heaven  has its own nightclub. It's not a jazzed-up bar, and nor is it a concrete box stuffed with ill-fated dubstep beats. The Heaven Nightclub is a full-on, no-messing, classy nightclub, populated with indulgent white-leather seats, classic sun-down tunes, and all the party drinks you can handle. You can even Tweet the DJ to request your favourite jam, which is a prime example of how Hard Rock Hotel Riviera Maya not only lifts everything to the next level, but fully embraces 21st century holidaymaking.
It's a stark contrast from the placid beachfront, but that's the kernel of glory that sits at the heart of the Hard Rock Hotel Riviera Maya ethic. Yeah, you can party with your hair down, but Hard Rock Hotels is not defined by the party life. The philosophy at play is a concerted effort to perfect all species of holiday, without sacrifice, so that your hard-earned escape can be customised any way you see fit.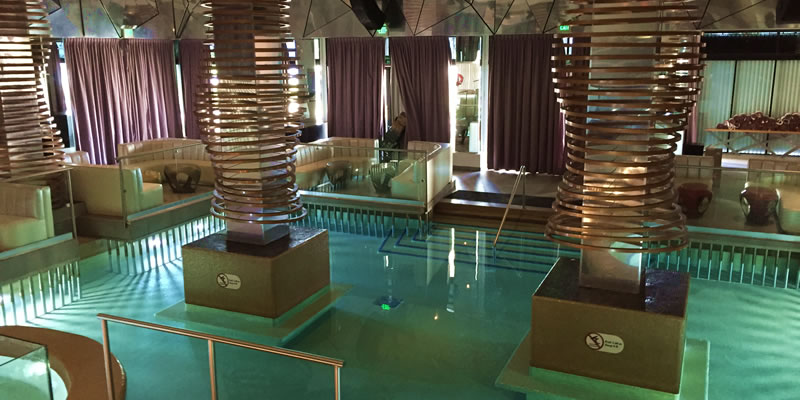 The Swish Digs
There are some pretty rad things that one can do within the glorious rooms at Hard Rock Hotel Riviera Maya, and mere words will not suffice. Here's a little face-time to unravel the inner accommodation workings:
 Get involved
This just scratches the surface of the amazing things you can do at Hard Rock Hotel Riviera Maya. If you'd like to get yourself some more truth nuggets, hit that lovely orange button and we'll have a chat. If you've sampled Hard Rock Hotel Riviera Maya for yourself and what to spread the love, tell us all about it in the comments below.

Live like a rock star at Hard Rock Hotel Riviera Maya from only £1,477pp