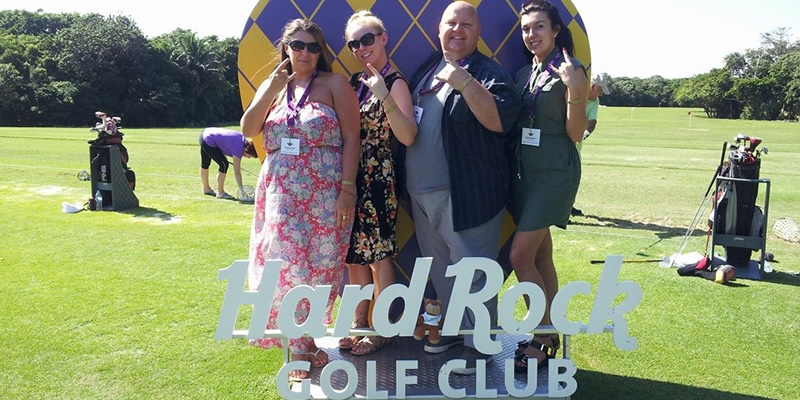 With Hard Rock Hotel Cancun under their belts, the School Of Hard Rock Tour head over to Hard Rock Hotel Riviera Maya for their next stop. Their aim is simple; to soak up as much of the Hard Rock lifestyle as they possibly can so they can find out the top tips for making the most of a Hard Rock getaway.
Here's what they've found.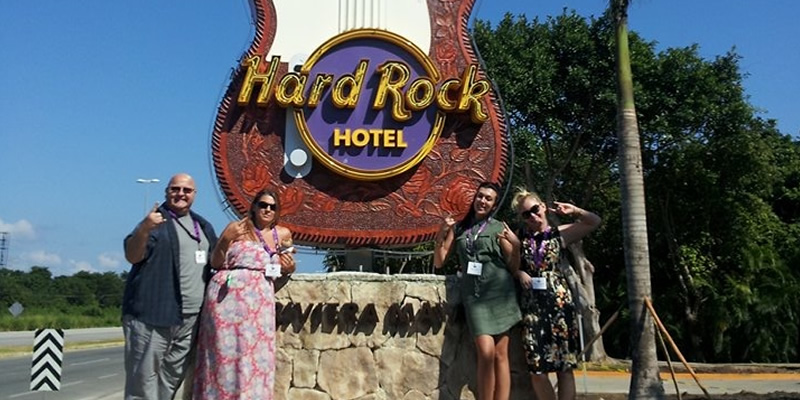 An Inside Look
The Hard Rock Hotel Riviera Maya Experience
Hard Rock Hotel Riviera Maya is divided into two sections; the adults-only Heaven section and the family-friendly Hacienda. These two resorts within a resort are connected via the beach front, a top stroll for Holidaymakers who want to cross the threshold to see life on the other side. Fear not, you can always catch a golf buggy if the beach walk doesn't tickle your fancy.
The two resorts have the same underpinning premise; to give Holidaymakers the time of their life. Holidaymakers over the age of 18 are welcome to make the most of the facilities from both sections, and we recommend you do. Who would say no to double the fun?
Soaking up the atmosphere
What hits you as you walk in to Hard Rock Hotel Riviera Maya is the host of quotes that line the wall to remind you that you're here to 'let the party start'.  The same eucalyptus scent that greeted our senses at Hard Rock Hotel Cancun infiltrates your nose and reminds you that you're back in rock star land. The décor at Hard Rock Hotel Riviera Maya Heaven is modern and simplistic with blues and whites that give it a calming vibe. Hard Rock Hotel Riviera Maya Hacienda oozes with the same feel as its adults-only twin next door, but the terracottas of the Hard Rock Hotel Riviera Maya Hacienda bring an authentic Mexican charm.
Both sections are centred around a main square that hosts the restaurants and bars; the resort's hub. The atmosphere throughout sure is lively. There's a party feel with music playing, pool parties, and staff that make sure you're fully entertained. The resort feels spacious with lots of different places to explore, including the individually themed restaurants serving top food and stunning views.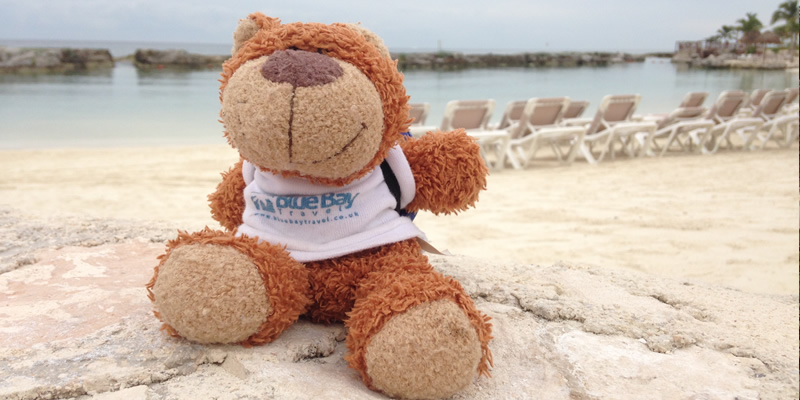 La Petit Cochon Restaurant – Heaven Section
Our favourite restaurant at Hard Rock Hotel Riviera Maya Heaven would have to be  La Petit Cochon. La Petit Cochon serves French cuisine and it is exquisite. With a welcome champagne cocktail on arrival, the sparkling standard was set for the evening to come. There are five courses on offer so you can indulge on fine cuisine to your heart's content. The added level of class came in the form of a sommelier who talked us through fine spirits that delighted our taste buds and added an extra bit of attention to detail to an already well drawn evening.
Frida Restaurant – Hacienda Section
Over in Hard Rock Hotel Riviera Maya Hacienda, our bellies turned to Frida. Frida is full of Mexican allure. The restaurant itself is decorated to inspire those Mexican feelings and we dined on enchiladas, nachos, burritos, and pulled pork… yum!  What's more, the food was, well, simply incredible.
Riveria Maya Golf Course
We're no Tiger Woods we admit, but we know a good view when we see one and the golf course at Hard Rock Hotel Riviera Maya ticked this box. The Riviera Maya Golf Course is a 20 minute transfer from Hard Rock Hotel Riviera Maya which is free to Hard Rock Holidaymakers. The Hard Rock vibe is not lost, it sails through the golf course from beginning to end. Each of the 18 holes are individualised by their unique quotes that fix them firmly in to Hard Rock Hotel Riviera Maya's way of life.
Hard Rock Hotel Riviera Maya Holidaymakers can make the most of unlimited food a drink while they practise their swing as part of the all inclusive package. And, if you're feeling a thirst for improvement, you can have a lesson from the pro.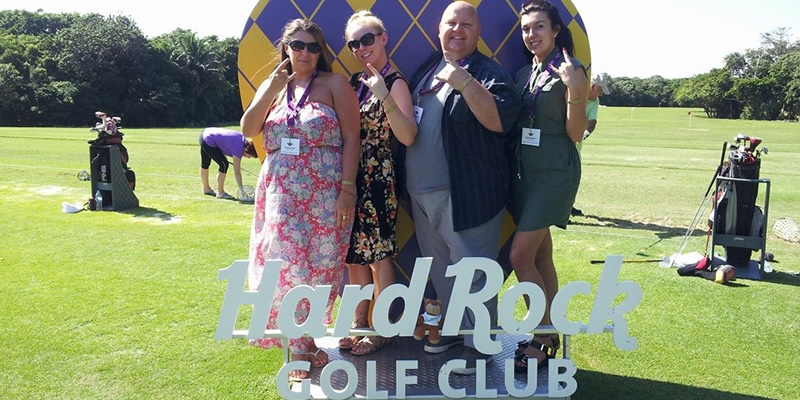 Club Heaven
Now, where to begin with Club Heaven? One word: amazing. With live DJs, private booths, a moet bath tub, and indoor pool; this is certainly a club with a twist.  We'd definitely recommend giving it a whirl. If your party feet can hold out past 1pm, the atmosphere soars to the next level. Oh, and try the pool… in your evening clothes. Yes, you read that right. It's an experience and a half. What makes Club Heaven even more spectacular is that the whole experience is included in the all inclusive package so that's extra fun for no extra dollar!
Rock Spa
After partying hard we decided to take advantage of the Rock Spa at Hard Rock Hotel Riviera Maya. My, it was relaxing. With over 72 treatment rooms, a hydro pool, steam room, cold room, saunas, it has the works. The décor was stunning with lighting and music to add to the atmosphere. We enjoyed 50 minutes each of aromatherapy massages. It wasn't just about the individual treatment, it was the whole experience as you we were taken on a journey to relaxation. Right up to the complimentary rose tea at the end of your session. We were so relaxed we thought we may miss the flight to the Dominican Republic…
Follow the Tour
The tour keeps on going as the School Of Hard Rock Tour team head to the Dominican Republic to give Hard Rock Hotel & Casino, Punta Cana a spin. If Hard Rock Hotel Riviera Maya has caught your eye, have a little push of the orange button.