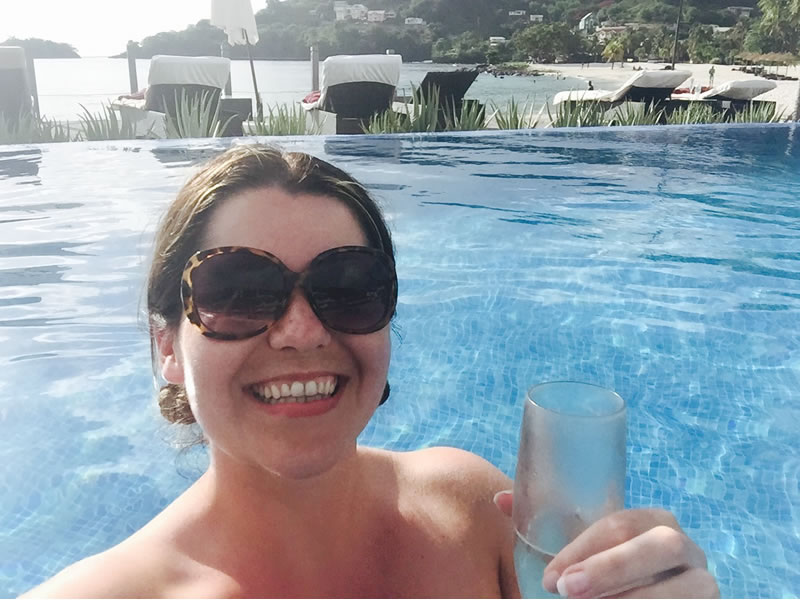 Phillipa Golightly recently won one of our competitions, bagging herself a 7 night stay at Buccament Bay Resort in St. Vincent and the Grenadines. She kindly shared a taste of her winning experience with us, and you can read about her holiday fun-times in this here blog.

Finding out that I'd won the grand prize trip in the Twelve Days of Christmas Competition wasn't just a "pinch me" moment; to say I was flabbergasted would be an understatement! I got the email just before Christmas, and when I called up Blue Bay and spoke to the team they were excited as I was – it really made it even more amazing.
With a long list of willing guests to accompany me to Buccament Bay Resort in St Vincent & The Grenadines, I briefly considered hosting my own Hunger Games to pick who would come, but quickly decided it would of course be my husband. Working with the Blue Bay Team over the Christmas break, we quickly made our arrangements and the dates were confirmed for us to travel in June 2016.
Between booking and travelling in late June, I was in contact with Blue Bay Travel as well as the Guest Services Team in-resort with my usual million and one questions. I can honestly say communication from both sides exceeded any expectation I had, and any question or concern was promptly addressed. Before we travelled Guest Services provided sample menus allowing us to pre-book the dinner reservations for our first 3 evenings.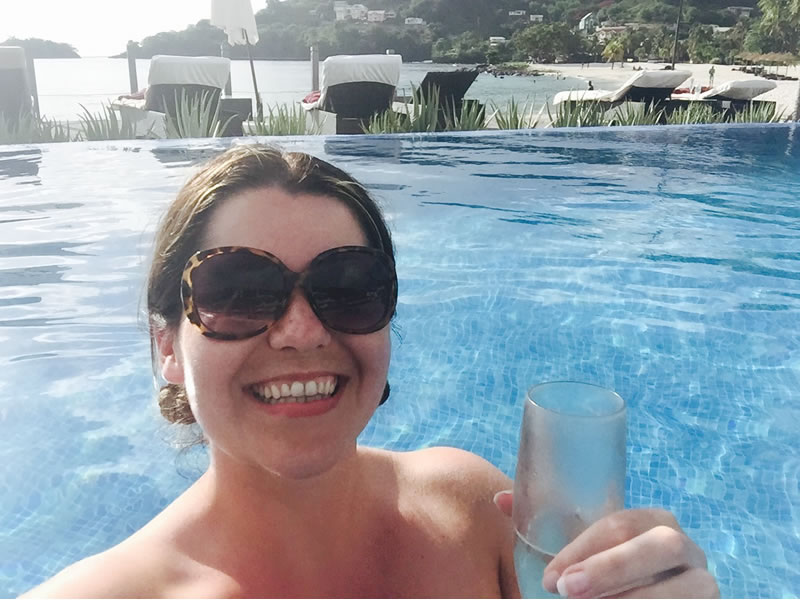 The 6 months from booking soon came and went, and we were on our way! It was the first time either of us had flown with Virgin and we had no complaints with the full service. Landing in Barbados, we had a few hours until our connecting flight with Liat, so we arrived in St. Vincent around 11pm local time. We were taken by a private taxi transfer to the resort and quickly shown to our Garden View Villa, and we requested check-in the following morning so we could get unpacked and rest. Restaurants closed at 10pm, but we had chicken salad wraps waiting for us and they even accommodated my request for chips and a couple of cold beers. We then unpacked and crashed after best part of 24 hours travel.
The resort itself is simply stunning, flanked on either side with dramatic hills, dotted with properties on one side and full tree cover on the other. With the pristine white sand beach (really couldn't have been any cleaner!) and meandering pathway through the resort, it really is something to see for yourself.
The bulk of the accommodations are low-level villas with private pools of varying shapes and sizes depending on the location of the villa. The resort also has some suites in a block located towards the back of the development. However, the villas are stunning; even the One Bedroom Villas are huge, with a large living area, Lavazza coffee machine, 2 mini bar fridges, sofa and two chairs, leading out onto the plunge pool and patio area. We also had a spacious and amazingly comfortable king-size bedroom with en-suite and wardrobe area, which offered the most storage of any resort I've ever stayed in! The rain fall shower – OMG! I honestly don't think I can say much more about that.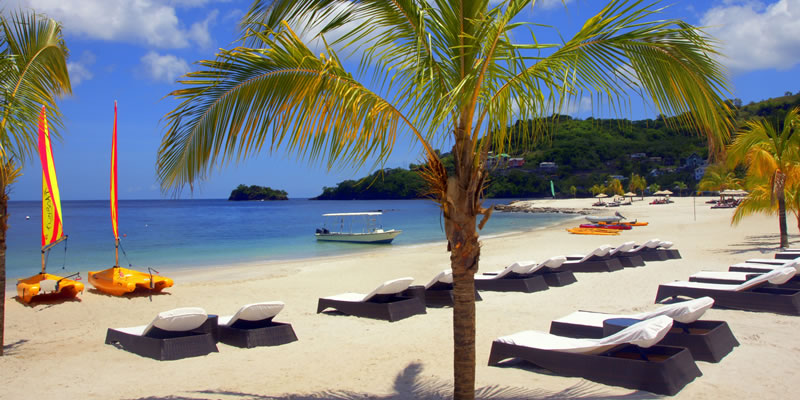 Buccament Bay Resort has a pool close to reception, but the main pool area has 2 curved pools with an ample choice of sunbeds. The views from the pool are spectacular, especially with a Sundowner after a blissful day's relaxation. Sunbeds are plentiful and comfortable, with towels provided each day at the poolside. Both my husband and I found the pool staff to be friendly and chatty,  checking if there was anything we needed – from drinks to freshly-cut Aloe Vera leaves to soothe sunburnt British skin (for which my husband will be eternally grateful).
Food at the resort is plentiful. The Bay Beach Club is the main location for breakfast and lunch, with a buffet breakfast consisting of hot food choices each day, an omelette and fresh egg station and a smoothie bar. At lunch, it was a choice between the buffet and ordering from a menu, and for 5 days of our stay Chef Biggs manned the BBQ. During the evening, The Bay Beach Club varied between an á la carte menu and extensive buffet options, and Guest Services were able to let you know option would be served that evening. The Indian restaurant, Safran offers a good selection of dishes, and the Italian restaurant Arlecchino served up an amazing range of seafood and pasta, sand the teak and chicken dishes were lovely. But Jack's was our favourite restaurant; the steaks were faultless, although I did make a "mistake" ordering the Cow Girl cut, wrongfully assuming that the use of the word girl in the description would make it a small portion. No. But I am proud to report at the sacrifice of my side dishes, I managed to eat it all.
The resort also boasts HQ which is a wonderfully air-conditioned ice cream, coffee and snack bar. I would recommend anyone who visits to try the Dulce de Leche ice cream. I may have developed a daily habit of getting one for the walk back to the room…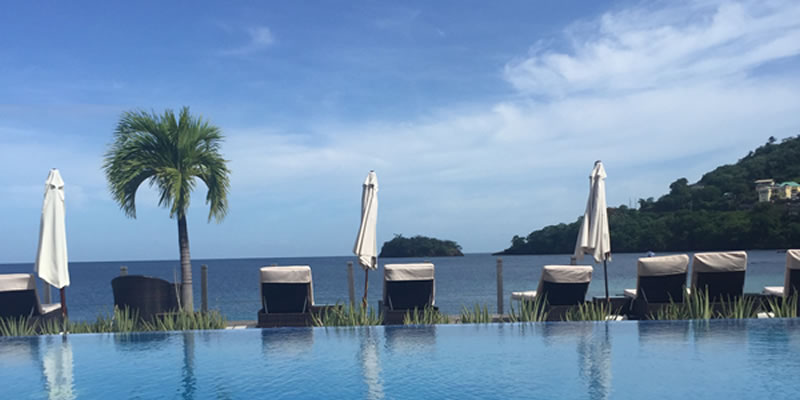 With the quality and quantity of food available, it came as no surprise that Buccament Bay Resort has a well-equipped fitness centre, alongside its other impressive sporting facilities. The on-resort shop sells essentials which are mainly UK brands at reasonable prices, alongside clothing that ranges from swimwear to branded and autographed merchandise.
When thinking back over our stay, the one thing that stood out the most was definitely how friendly the resort was. Every member of staff we encountered was upbeat and approachable, from gardeners to management, as were the other guests. What I liked the most was how they spoke to you like a long lost friend, taking a genuine interest in making conversation when they were able. The staff who stood out were: Shaun for introducing us to Sparrow Rum, distilled on the island and tastes amazing with ginger; Ramon for his special cocktail, and how he kept my glass magically full and told us about the local culture; and Fathmath and her team in Guest Services, who helped to coordinate the trip and our requests.
The resort has this wonderful exclusive feel to it that I really can't put into words; it's truly special in that regard. And with that, we can't thank Blue Bay Travel enough for the opportunity to visit. Would we return? Absolutely!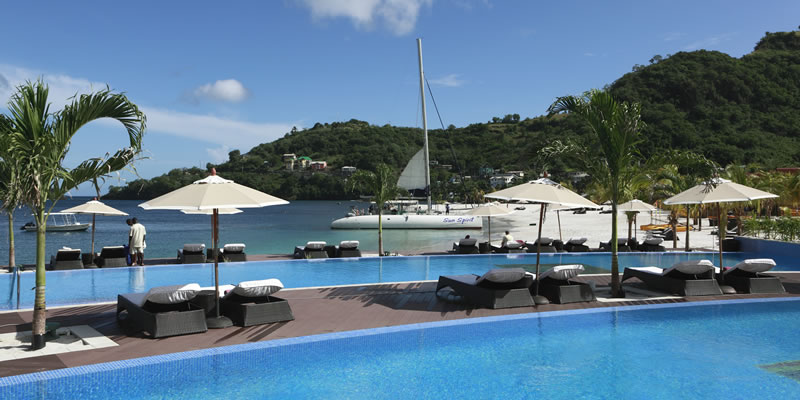 Well, Philippa seems smitten with Buccament Bay Resort. If you'd like to know more just have a press of that orange button, or leave your questions in the comments below.
We're looking for was to help holidaymakers discover more of the world, so keep an eye on our Facebook page for all the latest competitions. Good luck, Holidaymakers.


Taste that Sparrow Rum for yourself from only £0pp