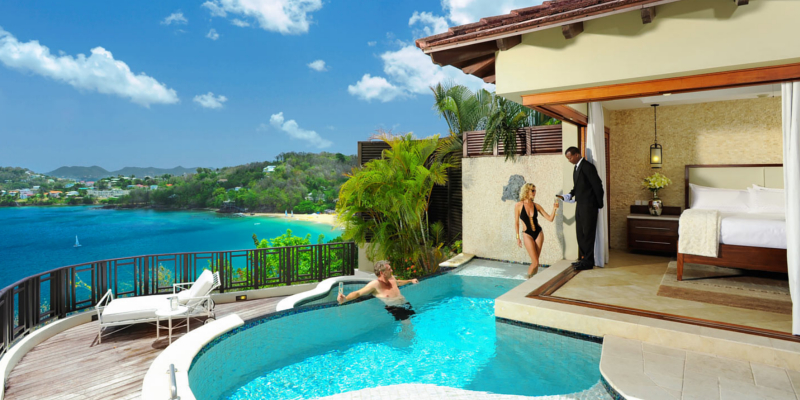 Turquoise waters, sugar-sand beaches, colourful flowers and champagne sunsets mould the serene scenery of St. Lucia. An emerald blanket spreads over much of the island, covering plunging valleys and rising peaks in lush rainforest. And Sandals Regency La Toc Golf Resort & Spa captures that very exoticism. I fell completely head-over-heels in love with St. Lucia and the Sandals Resorts concept, I cannot wait to return. Here's the insider information from my escape: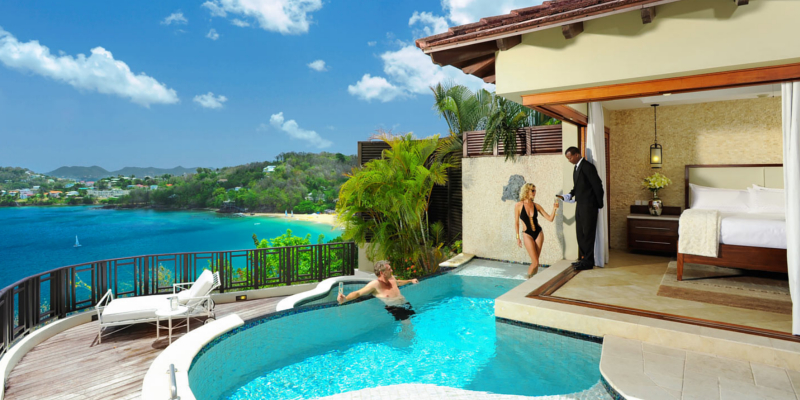 Fast Facts
• Sink your toes into half a mile of secluded white sands. Hello, paradise.
• No matter where you sit at the Emerald Village Pool, the view is simply magnificent.
• Hop on the complimentary shuttle bus to Sandals Halcyon Beach and Sandals Grande St. Lucian offering up a total of 27 dining options.
• Tee off with a panoramic view of the Caribbean Sea at the brilliant 9-hole golf course, all green fees complimentary.
• Nestled a mere 10 minutes away from Castries, the hub for duty-free shopping.
• Sit back with a cocktail and watch the chefs get to work at Soy, home to exotic sushi creations.
• Enjoy incredible snorkelling in some of the Caribbean's best reefs.
• Douglas at the Pool Bar is awesome. He totally made our holiday and whipped up the most fantastic Rum cocktails.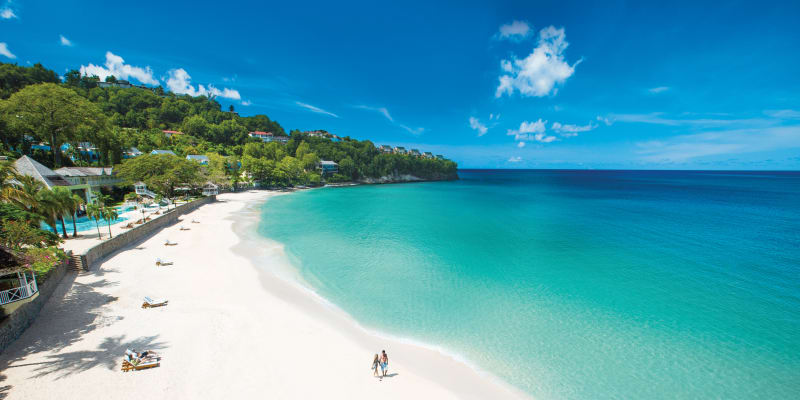 Top Tips
• Stay in a Butler Suite, it's worth every penny. Your butler will reserve your sunbeds, arrange romantic dinners and everything in between.
• Hop over to Martinique for the day. It's a cosmopolitan, sophisticated island boasting beaches, boutiques and rich cultural heritage. An absolute must.
• Looking to explore? Hire a car and create your very own road trip taking in all of the beautiful scenery.
• Head down to The Caribbean Street Party teeming with local Caribbean delicacies, limbo and entertainment.
• If you're anything like me, and love a good sing-song, The Piano Bar will be your go-to. I was in there every night.
• Soak up the stunning views in true comfort and style with your very own Beachside Cabana.
Get Involved
All that's left to be said is see it for yourself! If you'd like to find out more about Sandals Regency La Toc Golf Resort & Spa, push the delightful orange button below, or leave a comment below.