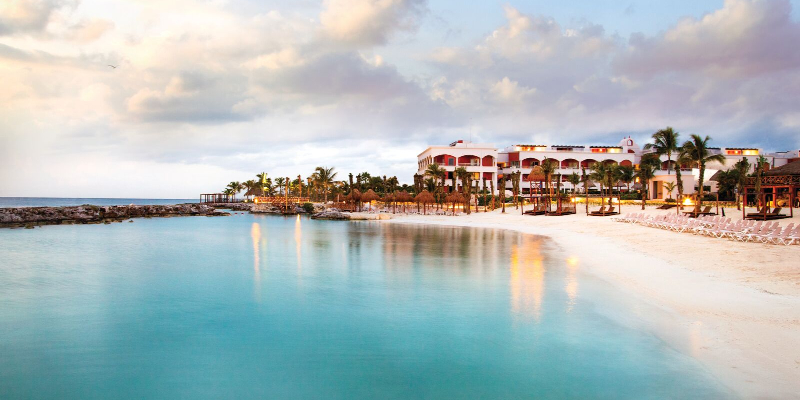 On the coast of Riviera Maya along a white sand beach offering stunning saltwater and serene tropical views, awaits a true rock star experience at Hard Rock Riviera Maya. Walk in the shoes of music's great heroes as you embrace incredible family activities from snorkelling to dryland snowboarding and so much more, all within an experience moulded around music. Despite its traditional design and organic surroundings, this resort is anything but ordinary, harbouring the inclusion of legendary Hard Rock hospitality.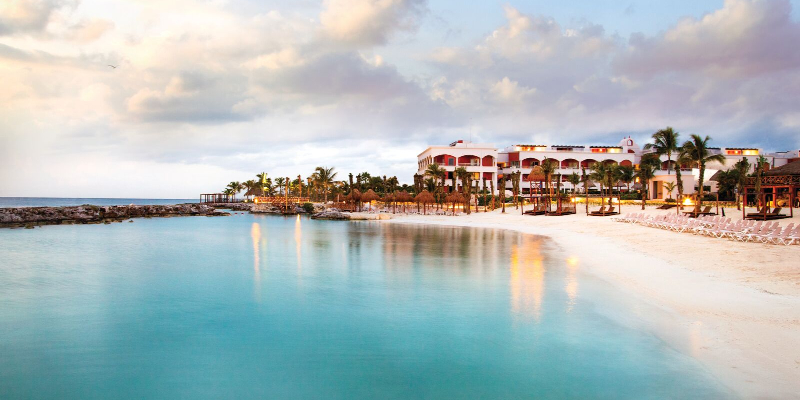 Rockstar Thrills
Holidaymakers aged 7 and above will love hanging out at Woodward. Showcase your stunts with BMX, scooters and skateboarding in addition to indoor dryland snowboarding and skiing with ParkBoard™ and ParkSki™ whether you want to learn more skills, expand current hobbies or just show the world what you've got. Expert instructors guide you through the lessons and sessions to perfect your skill and even cover activities such as trampolining, dance and cheering. Don't forget to rent a GoPro to record what you can do.
For even more hands-on action, try the Wrecktangle obstacle course. Find your inner ninja as you challenge your friends, family or your own personal record as you climb, jump, swing and sprint to victory!
The rock stars of the family will favour the DJ booth where bands and music enthusiasts take the limelight. Become the entertainment as you lay down your own tracks and play works of your own.
Kid's club
A backstage experience awaits at the Dance Studio for kids aged 4 to 12 years old, where an array of activities including singing, dancing and building lessons allow children to get an early start in their rock star lifestyle. Kids stay and play free at Hard Rock Hotels, promising an endless assortment of activities to keep them entertained as you acquaint yourself with The Rock Spa® or adults-only areas, but when upgrading to an Ultimate Playtime Package, you pay just once per child and receive babysitting, toys and supplies, waterproof cameras and more, depending on your child's age and needs.
A back-stage experience awaits for teens in The Cavern Club to give younger guests an early taste of super-stardom, where flat screen TVs, table football and more offer great entertainment. Studio time, Jam Band, Spin Sessions and more are also offered as part of your All-Inclusive Experience for holidaymakers 12 and over to better their music skills and get a feel for the life of a rock star.
The Rock Spa
Consisting of an immense total of 75 treatment rooms, the Rock Spa® is the Caribbean's largest. Treat yourself to a music-centric spa experience in Rhythm and Motion where you're pampered with Swedish massages, facial treatments, body wraps and more, or enjoy daily instructions accompanied by tropical views at the on-site Yoga Temple. For a VIP treatment, visit the Posh® Beauty Salon and leave looking exceptionally glamorous.
Whether you're hoping to wind down after an action-packed day, or you prefer to relax in the steam room as your family work off their own steam at Woodward, the Rock Spa ensures that you leave feeling entirely rejuvenated.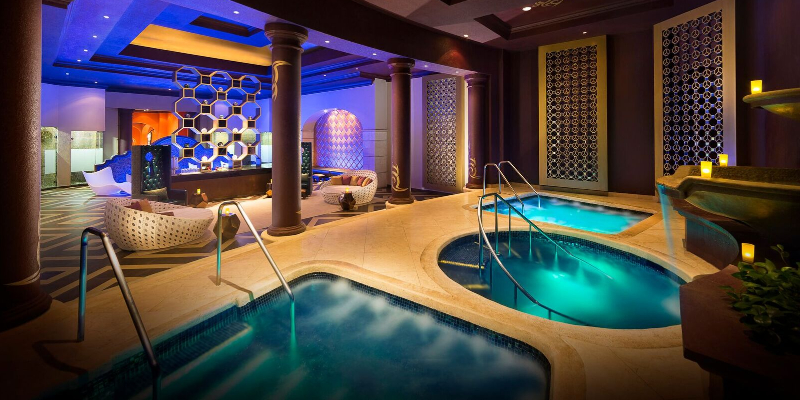 Tempted to embrace the rock 'n' roll lifestyle for a week or two? Hard Rock hotel Riviera Maya offers the life of a star with vistas to die for. If you're looking for the best of both words, click the button below to speak to an expert.