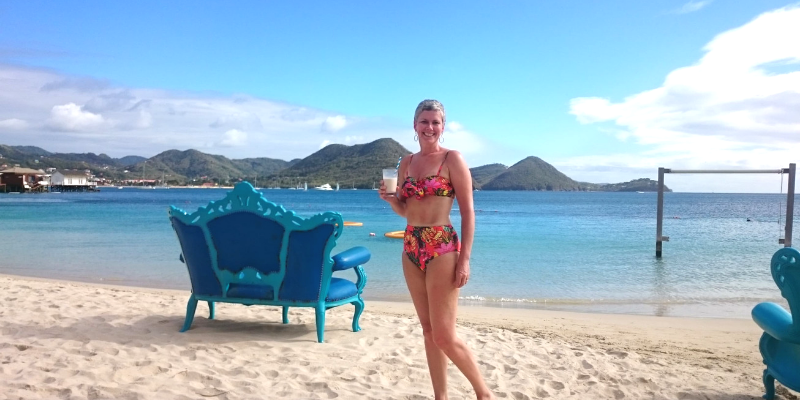 "Congratulations, you have won a Sandals Holiday in our 12 Days of Christmas competition!"
I must have read this half a dozen times before it finally sunk in – We were going on our first ever Caribbean holiday, courtesy of Blue Bay Travel.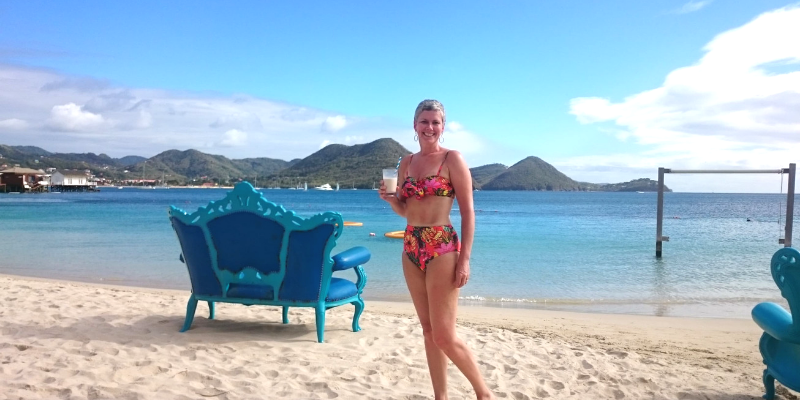 We were able to choose from 16 Sandals Resorts, this was the hardest decision of the entire holiday as every resort looked stunning, but we finally decided on Sandals Regency La Toc Resort & Spa and couldn't wait for April 1st to come around!
We flew from Gatwick with BA and from the moment we arrived at the airport to the moment we arrived back home, everything ran so smoothly. We had an extremely comfortable flight and were taken to the Sandals Lounge straight away where we were given snacks and a Piton beer to quench our thirst whilst waiting for our shuttle bus.
The journey from the airport to our resort took approximately 1 hour. It's certainly a journey to remember and we got to see lots of St. Lucia including their amazing banana plantations, lush rain forests and very very windy and steep roads!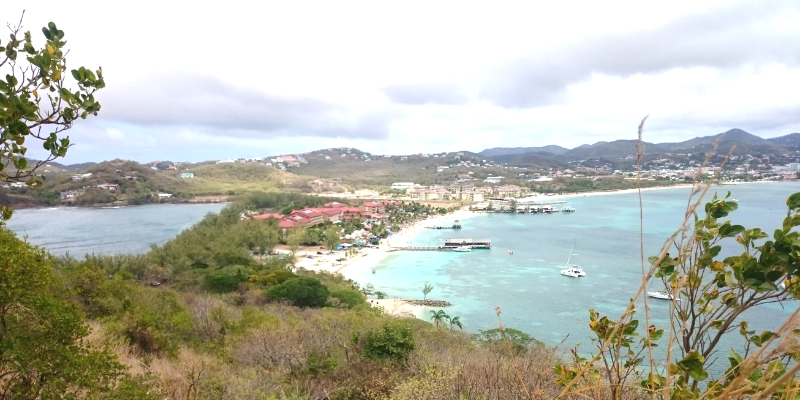 Arrival in style
As soon as we arrived at Sandals Regency La Toc Resort & Spa we were greeted with a huge smile, warm welcome and handed cold flannels and champagne – the holiday was real – we were going to be spending 10 nights in the most idyllic setting we'd ever been to.
We were escorted to our room and our cases followed swiftly after. Light, bright, spacious and with the biggest bed I've ever laid on, we were delighted with our room. We could see the sea from both windows and woke every morning to see a coconut tree swaying in front of us. The well stocked fridge full of complimentary beers, sodas, waters and wine was much appreciated too!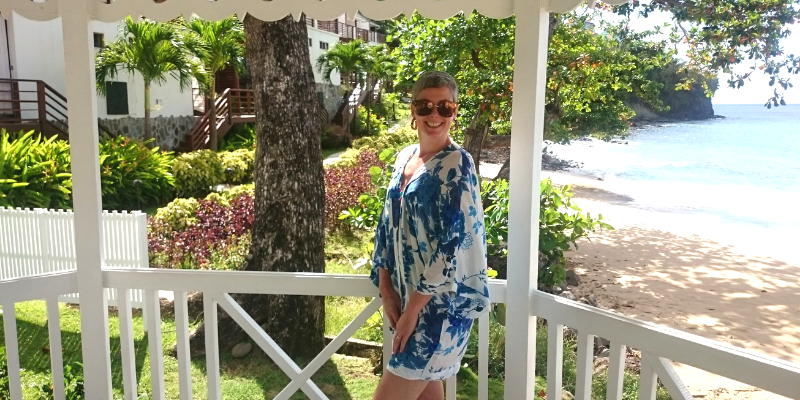 Settling in
The resort is set into the side of a cliff so is very hilly. It's incredibly pretty and maintained to the highest standard. It was certainly a great workout heading back and forth to our room and some of the restaurants. Everywhere you look there are gorgeous flowers, trees and shrubs lining the paths. We loved seeing the lizards and hearing the frogs, but got a fright when a huge one greeted us one evening walking back to our room!
St. Lucia is definitely a holiday to kick back, relax, drink cocktails and eat delicious food which we did in abundance. Our resort had 9 restaurants to choose from all offering something different. We loved the eggs benedict for breakfast. There were plenty of sun loungers and cabana's, both around the pools (all 3 of them!) and on the beach. We always went onto the beach to sunbathe as we love to be looking out to sea. The sea at La Toc is pretty choppy – exactly as we like it. Watching and listening to the waves crashing is wonderful and very therapeutic. Paul went in the sea more than I did – I'm more of a dip my toes in kinda girl! We felt so spoilt having waiters bring us drinks on the beach whilst we sunbathed.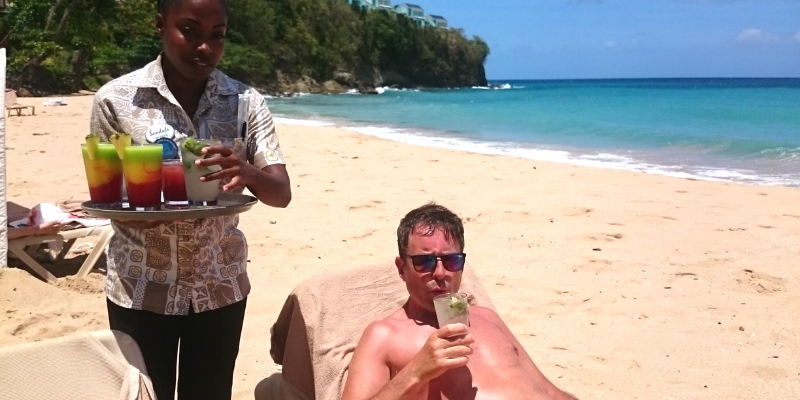 Getting out and about
As much as we like to relax we also love to explore so were keen to book a couple of excursions.
One of the highlights of our holiday was a day trip with Joe Knows. You're taken on a speed boat to see the awesome Pitons soaring through the sea. Marigot Bay where the likes of George Foreman has a mansion and the cliff top where Doctor Doolittle was filmed. As if that wasn't enough we went to a Volcano with Mud Baths. Here we smothered ourselves from head to toe in sulphur clay before getting into the hot water baths to wash it off. The sulphur smelt like rotten eggs but that didn't bother us and we embraced smearing every part of our bodies, it was so much fun!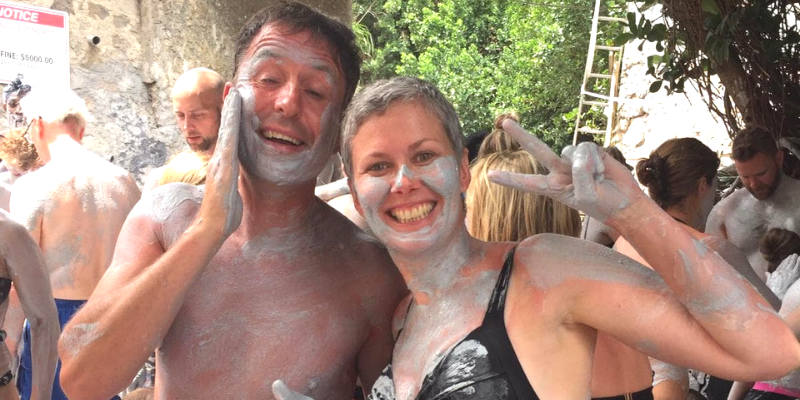 After the baths we were taken to a waterfall amongst the green lush rain forest which was fabulous. We actually got to walk right under it – the force of it hitting your head was something else! After all these amazing sights, including the stunning flora and fauna that we loved to stop and look at, we had a delicious Caribbean lunch. The speed boat journey back included stopping for snorkelling. Wow the coral, urchins and fish were amazing, I'm sure I saw Nemo! To finish an amazing tour we all had a party on the boat back to La Toc and lots of Rum Punch – wow, that's powerful stuff!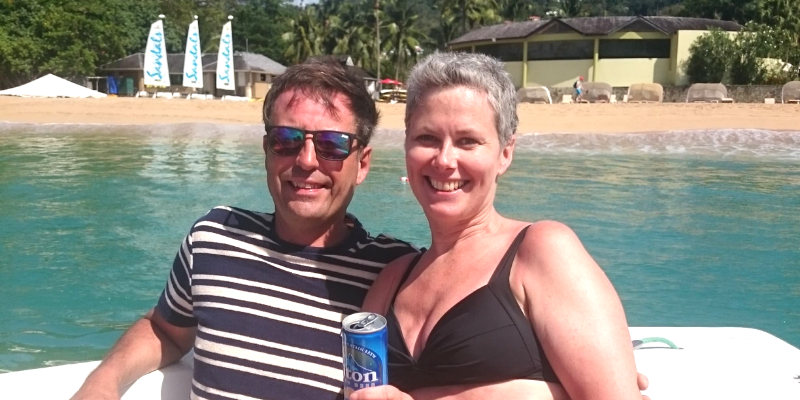 Exploring the capital
We were keen to seen what St. Lucian life was like away from the resort, so one morning we headed into the capital, Castries. We booked a taxi from the resort and arranged a time and place for it to collect us a few hours later. The markets and general hustle and bustle was great. We bought their famous Hot Sauce to take home with us and we walked around the streets seeing lots of the old buildings, beautiful cathedral and Derek Walcott Square. Castries has a large harbour where the cruise liners come in so that was lovely to walk around too. Seeing ladies walking around with fruit baskets on their heads and men playing dominoes in the shanty looking bars was exactly what we'd hoped to see. In fact we had a few Pitons (beer) in those bars!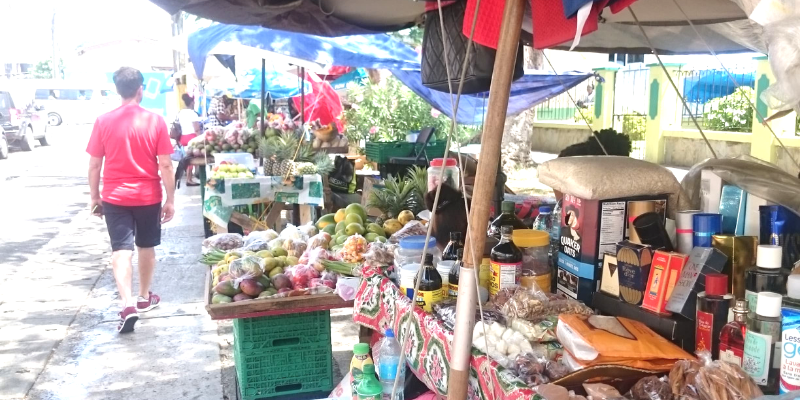 Sampling more of the Sandals Resorts
Sandals Regency La Toc Resort & Spa is one of three Sandals Resorts in St. Lucia. Sandals Grande St. Lucian Spa & Beach Resort and Sandals Halcyon Beach being the other two. The beauty of staying with Sandals is that you can stay at one and play at all three. With this in mind we headed to
Grande St. Lucian on the free shuttle bus which only takes about 30 minutes. We'd researched that there was a National Park at the end of their beach and an old Fort – Forte Rodney, which once climbed, offers magnificent views back over St. Lucia. Entry costs $8 each and it was worth every penny. We spent about 3 hours wandering, climbing and sitting perched on cliff tops taking in the breath-taking landscape.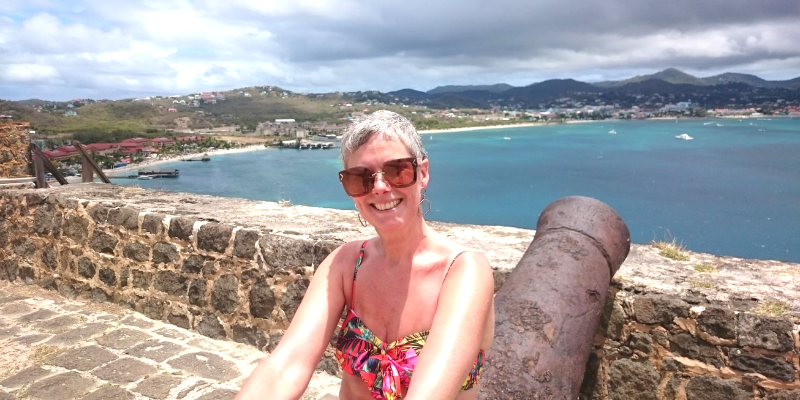 Another highlight was a humming bird in a tree just arm distance from us. Once back down to beach level we relaxed on a sunbed for a couple of hours with a cocktail or two before dipping into the turquoise tranquil sea. Grande St. Lucian was a lovely resort, but much larger, flatter and noisier than La Toc and personally we preferred La Toc!
It was the holiday of a lifetime!
We spent 10 nights at Sandals Regency La Toc Resort & Spa and this was just perfect. We sampled lots of lovely food and cocktails, sunbathed, explored and met some wonderful people – we even attended 2 weddings whilst there! I have to say that all of the St. Lucian people we spoke to were so happy and polite and the staff at Sandals just couldn't do enough for all of the guests.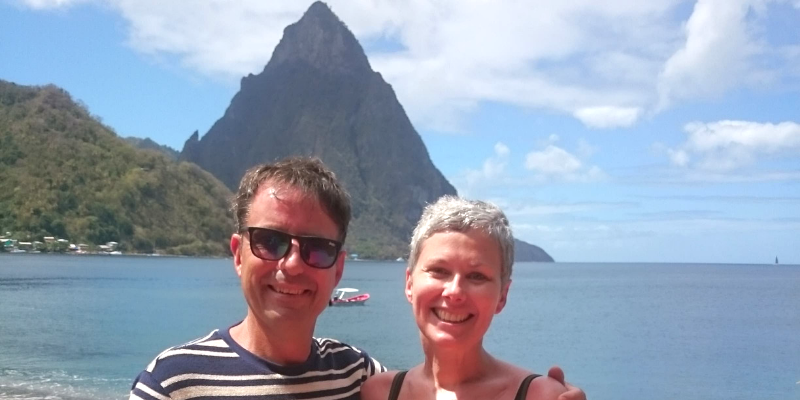 To sum it up, Sandals Regency La Toc Resort & Spa is a very romantic resort oozing sophistication and luxury. It never felt busy, rushed or cramped. Nothing was too much for any of the staff. The entertainment was fun and there were activities all day long should you wish to join in, equally there were areas of total peace and quiet. Fire pits, hammocks and pagoda's were dotted everywhere so be able to sit down and drink in the atmosphere at any time of day or night. We saw the most amazing rainbows and sunsets – you just can't help but fall in love whilst there. We loved every minute of our holiday, and can't thank Blue Bay Travel enough for giving us the holiday of a lifetime!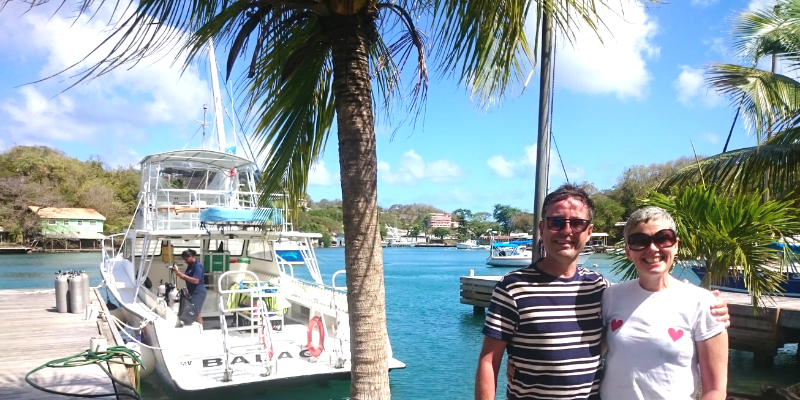 Has Melissa inspired an escape to a Sandals Resort? Click the button below to see the full collection or talk to one of our personal travel advisors to find out more.

All of our holidays are ABTA & ATOL protected, so you can book with confidence, knowing your money is in safe hands. Find out more »