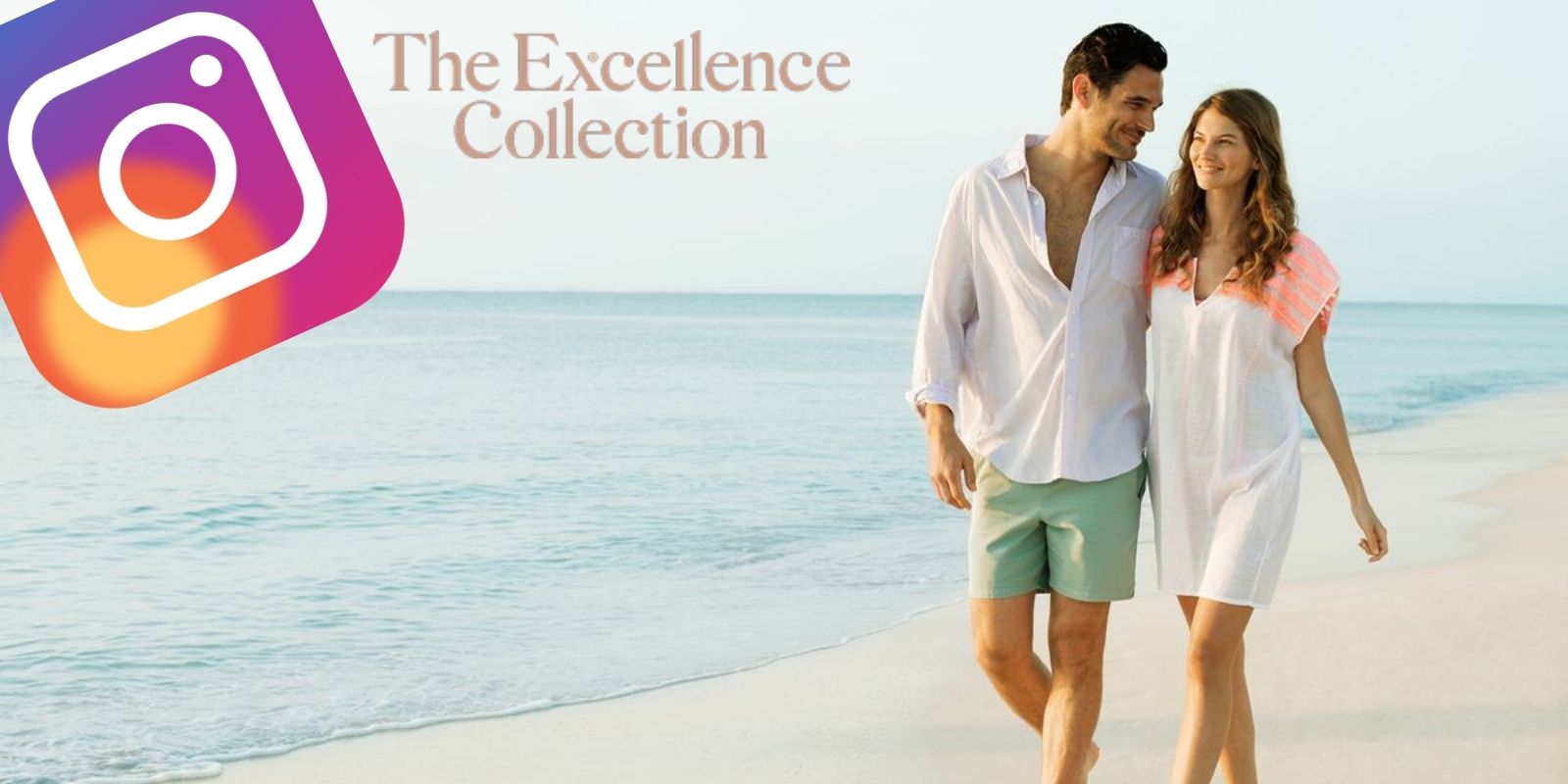 1. An Excellent Entrance
Rolling up to those huge automatic double doors, synonymous with The Excellence Collection. You know you are home when you breeze through that signature Excellence scent. This is just the beginning…
2. Love at first sight
The scene is set as soon as you arrive at Finest Playa Mujeres. You know you are going to LOVE everything about your holiday.
3. A stairway to heaven
So after you have gotten over your warm welcome, the first sight any Excellence Collection visitor is greeted to is the famous Martini bar. The grand walk down to the bar rivals that Titanic stairway scene in our opinion!
4. Allllll of the room service
When the finest food is available straight through your suite 24/7, we dare you not to order EVERYTHING and create your own balcony buffet.
5. This is just the SPA-t
The Mille spa is a must visit no matter what Excellence Collection resort you visit. At excellence riviera cancun it is the heart of the resort, for anyone who has been before it is impossible not to get pangs of nostalgia every time you see the now famous hub of health.
6. Not even the tip of the iceberg
The list of excellence fans favourite cocktails is endless. From the mudslide, to the pina loca, you are never left anything but hydrated. But just a snap of the iceberg takes you straight back to those lazy days by the pool.
7. Bags of reasons to enjoy Exellence
If you haven't got excited to take your The Excellence Collection bag on its first jaunt to the beach, you are way more restrained than us!
8. Trucks of temptation
As if there weren't already an endless array of culinary options at your fingertips, excellence make it that much easier with these handy food trucks serving up tasty treats. Good luck resisting a cheeky taco as you stroll by (even if you are already on your fifth meal of the day!)
9. Yet another reason to flaminGO
These darlings are a sight to behold if you are holidaying at The Excellence Collection in the Dominican Republic. It's scary how much time passes just watching these majestic beauties.
10. A crafty cookie
Ok so for anyone who hasn't been to an excellence resort may think this is just a biscuit. But stay at the collection and I dare you to resist picking one up at every buffet visit or coffee shop call. We wouldn't even be able to total how many were consumed on our last visit!
11. Always be a PIZZA the action
A visit to the beach isn't complete without calling upon a handy waiter to bring you a freshly made pizza. Delivered direct to your sandy spot, this delicious treat is not to be missed.
12. HANG on, this is all too much!
Just the sight of these hammocks is enough to make me book the next flight available. Even if it does take at least half an hour to appear somewhat graceful!
13. That sweet AROMA!
A daily coffee at Aroma is a rite of passage on any visit to The Excellence Collection. I can almost smell the Java now!
14. JUICEd look at all of those options!
Ok so whilst we may all try the juice craze from time to time at home, if you're anything like us, it always falls by the wayside. Somehow the rainbow of options available on tap at The Excellence Collection make it so much easier to get your fix every day.
15. Those extra Excellence touches
The excitement to return to your room each evening to see what treats have been left everyday is a highlight of any stay.
16. Drinks, when you want them, where you want them
The personal service of a drink delivered wherever you are is the hardest thing to recover from when you return home. "You mean I actually have to make it myself?"
17. Ending with a bang!
Any evening at The Excellence Collection is a delight but you can't leave without seeing the famous fire show. Just a glimpse at this video takes us back to some of the best nights ever!