About the hotel
Galley Bay Resort & Spa is the meeting place of luxury and beauty, where refined and unpretentious indulgence combines with the turquoise seascapes of the Caribbean Sea. This boutique hideaway is nestled between a sweeping three-quarter-mile powder-white beachfront and verdant tropical foliage, and focuses on exceptional all-inclusive experiences. Galley Bay Resort & Spa will welcome you into a world of refinement, where you can decompress, escape from the world, and enjoy living the dream amid 40 acres of gorgeous gardens. Each room or suite provides an unprecedented sense of privacy with all the finest amenities, and 3 al fresco dining options await you with delicious dishes and stunning views. It's easy to see how Galley Bay Resort & Spa was named among the "Top 100 resorts of the World" and among the "Top 10 Best Resorts for Romance in the Caribbean". Experience the Caribbean with finesse and distinction at Galley Bay Resort & Spa.
Luxury adults-only retreat in the beautiful landscapes of Antigua
Most accommodations enjoy a beachforont location with easy beach access
Go Green programme ensures the resort is environmentally friendly
At a glance
Couples
Luxurious Accommodations
Galley Bay Resort & Spa combines the best elements of luxury living with stunning beachfront locations.
Superior Beachfront Rooms
Located directly on the beach, these vaulted-ceiling rooms are traditionally furnished to evoke better times, and benefit from direct beach access that places the glorious Caribbean sea just seconds away. Louvred windows, colourful local art and rattan furnishings create a mood that is quintessentially Caribbean, rounded out with a private terrace and en-suite bathrooms for your absolute comfort.
Deluxe Beachfront Rooms
Take your sun worshipping to the next level with a Deluxe Beachfront Room, located in one or two-storey buildings directly on the beach. From a Deluxe Beachfront Room you can walk straight onto the sands from the lower-level, and upper-floor rooms boast spectacular views over the Caribbean Sea. These spacious rooms also benefit from a walk-in wardrobe, a bathroom with a shower and a large beach patio with a beach shower.
Gauguin Suites
Start each day with stunning views and glorious birdsong in a Gauguin Suite. Located on the cusp of the bird sanctuary lagoon, just 50 yards from the beach, each of these romantic suite consists of two thatched rondovals (one a bedroom, the other a bathroom) with a large enclosed air conditioned sitting area. The stunning ocean views can be enjoyed from the comfort of your sitting area or your private plunge pool.
Premium Beachfront Suites
The most astonishing suites at Galley Bay Resort & Spa are the Premium Suites, offering wonderfully upmarket beachfront living beautifully complemented by gleaming granite accents and dark acacia furnishings. Step outside onto your balcony or patio and you'll find a pair of comfy, all-weather rattan chaises to settle into. This is the finest way to experience Antigua.
Suite Features
Living rooms with a wet bar
Floor-to-ceiling windows
Private furnished terraces or balconies
Wall-mounted LCD televisions
DVD player
iPod alarm clocks
WiFi access
Individual climate control
Bathroom Features
Gilchrist & Soames luxury amenities
His-and-hers showers
Deep, corner-installed bath for two
Double sinks
Premium Spa Suites
Premium Spa Suites offer all the perks of a Premium Suites, but add a daily 45 Minute spa treatment per person from a set menu.
Gourmet Dining
Part of the joy of staying at Galley Bay Resort & Spa is sampling finest cuisine spread across 3 alfresco restaurants,.
The Seagrape
The Seagrape serves breakfast, lunch and dinner, offering a blend of European culinary techniques and Caribbean-Creole flavours. The laid-back beachside dining at The Seagrape comes complete with live entertainment or the relaxing metronome of the sea lapping the shoreline.
The Gauguin
This intimate restaurant awaits you with candlelit dinners for two, specialising in dishes that merge European and Caribbean fare into timeless delights. Sit in a thatched cabana for two, watch the evening sky, and rediscover that sense of togetherness.
Ismay's Restaurant & Bar
Any special occasion is ripe for a meal at Ismay's, a beachfront restaurant and bar adjacent to the tropical gardens. Ismay's incorporates the island's fresh, local ingredients into its menu, serving up classic island specialities. This stunning timber restaurateur is situated at the southern end of the three-quarter-mile white sand beach, with beautiful views of Shell Bay. Dining at Ismay's requires a small surcharge.
The Barefoot Grill
The Barefoot Grill offers you a laid-back beachside atmosphere. Open daily for lunch, the Barefoot Grill serves up hot and tasty basket-style sandwiches such as the classic Cuban and grilled quesadillas.
Afternoon Tea & Little Treats
In addition to serving three delicious meals, the resort also provides afternoon tea, evening hors d'oeuvres, top-shelf beverages, live entertainment, cocktail parties and a Caribbean beachside barbecue on Thursday evenings.
Refreshing Bars
Enjoy a cooling break from the sun or a satisfying nightcap at any of Galley Bay Resort & Spa's 3 open-air lounges.
TeePee Bar
Make a point of stopping by the distinctive TeePee Bar, famous for the Galley Bay Resort & Spa Special, a delightful frozen mixture of Cavalier light rum, coconut cream, grenadine and fresh bananas.
Lounge Bar
The Lounge Bar is the ideal place to kick back and enjoy your cocktail of choice, or perhaps enjoy a few fine hors d'oeuvres in a comfortable, social setting.
Gauguin Bar
The Gauguin Bar welcomes you into a private atmosphere, ideal for a pre-lunch or pre-dinner drink.
The Galley Bay Coffee Shop
New for 2016 and open daily from 07:00 - 22:30, you are treated to endless drink options including premium coffee and some super tasty treats to go along with it. Enjoy whatever you choose in the lounge or take your treats outdoors into the sunshine.
Rum Shack
New for 2016, this dedicated Rum Shack is perfectly placed in the gardens by the lagoon and is open between 18:00 - 23:00 every day. You can't come to the Caribbean without sampling rum, whether it be straight up, with ice or in an expertly prepared cocktail, this is the place to sample over 20 rums from across the Caribbean and learn all about their heritage, history and culture. Learn something new and find a new favourite drink, what more could you want?
A True Paradise
Surround yourself with spectacular scenery thanks to oceanfront rooms and lagoon-view Gauguin suites that bring the beauty of Antigua straight into your room. Spacious sundecks and gorgeous al fresco restaurants and bars allow you to live and breathe the idyllic landscapes.
Nature World
Swooping pelicans, majestic frigate birds and elegant herons are just a handful of Galley Bay's numerous bird sanctuary residents. You might even be fortunate enough to spot a bright-red ghost crab.
Romantic Perfection
Galley Bay Resort & Spa is a romantic hideaway for couples, with a particular charm for honeymooners or those planning a distinguished wedding. From private beachfront dinners to secluded suites with private plunge pools, Galley Bay Resort & Spa is the lovers' escape of your dreams.
Endless Activities
Complimentary water sports come as standard at Galley Bay Resort & Spa, as do outdoor activities such as cycling and tennis. If you want to work on your physique, try the air-conditioned fitness centre. Just beyond the resort's grounds are stunning dive spots and amazing golf.
Premium Touches
Depending on your room, there are a range of indulgent facilities awaiting you:
WiFi
iPod alarm clocks
Quality furnishings
Beach showers
Private patios or verandahs
Gilchrist & Soames bath amenities
Relax Your Body and Mind
Choose from an amazing array of face, body and massage treatments each designed to refresh, relax and rejuvenate your entire being.
Water Sports
The stunning three-quarter-mile crescent of sand that frames Galley Bay Resort & Spa is a fantastic natural playground for a host of non-motorised water sports:
Windsurfing
Kayaking
Stand Up Paddle Boarding
Hobie Cat Sailing
Sunfish Sailing
Swimming
Snorkelling
Diving excursions
Land Sports
There are loads of ways to have fun and stay dry:
Tennis
Table Tennis
Croquet
Jogging
Cycling
Excursions
Get out and explore Antigua with a fabulous excursion:
Adventure Antigua Extreme Circumnavigation
Adventure Antigua Eco-Tour
Wadadli Cats
Excellence Catamaran Cruises
Stingray City
Nightwing Charters
Antigua Rainforest Zipline & Kayak Adventure
Antigua Rainforest Canopy Tour
Tropical Adventure 4x4 Discovery
Full Island Tour
Tropical Adventure Land & Sea Tour
Shirley Heights
Pinchin Bay Picnic
Indulge Spa
Envelope yourself in birdsong and the tranquilly of the lagoon at the Indulge Spa. An extensive range of therapeutic, rejuvenating treatments are available, using Pevonia Botanic skincare products ranging from body wraps and facials to a romantic Swedish massage for two. An à la carte spa menu is available on request, and you can get a new perspective on your therapy from tree-top treatment rooms.
Indulge Saloon
For a new look or a quick refresh, the salon will bring you back into style with cuts, colour and styling wizardry for special occasions. You can also treat yourself to a manicures, pedicures and and treatments so you can look your best during your stay.
Stunning Destination Weddings
The three-quarter-mile white-sand beach that makes Galley Bay Resort & Spa so striking serves as the ultimate romantic escape and the perfect choice for one-of-a-kind destination weddings.
The Elite Wedding Package
Decorated Site for the Wedding Ceremony (the wedding is set up for a maximum of 6 persons)
Best Man or Maid of Honour (if needed)
Bouquet of Fresh Local Flowers for the Bride
Boutonniere for the Groom
Wedding Cake (Single Tier)
One Bottle of Sparkling Wine
All Hotel Taxes and Gratuities
Optional Extras
Photography
Videography
Hors D'Oeuvres
Private Dinners
Additional Wine
Beauty Treatments
Local Entertainment such as Steel Bands
And More
Special Honeymoons
The outstandingly beautiful tropical vegetation, powdery beaches, and aquamarine coastline of Galley Bay Resort & Spa is an exceptional location for an all-inclusive honeymoon.
Romance & Private Package
Romantic champagne picnic on secluded beach
An evening of in-room romance package with candles, flower petals and aromatic bath oils
Two massages (one each) with trained masseuse
Two matching galley bay bath robes
Pampered & Indulged Package
Champagne continental breakfast in bed
Two soothing 1-hour aromatherapy massages (one each)
A his & hers treatment of choice (manicure, pedicure or facial) per person
A spa pack of body products
Two matching galley bay bath robes
Anniversaries
Make any special occasion even more special with by choosing to celebrate in the luxurious environs of Galley Bay Resort & Spa
Renewal of Vows Package
Decorated site for the ceremony (the renewal of vows celebration is set up for a maximum of 6 people)
Services of the wedding coordinator
Commemorative certificate
A renewal of vows cake (single tier)
One bottle of sparkling wine to toast the ceremony
Eco-Friendly
Galley Bay Resort & Spa offers a wide range of eco-friendly initiatives to preserve and protect the local area, including:
A state-of-the-art reverse osmosis water purification plant which produces fresh water from the sea.
Use of recycled paper products
Energy-efficient lighting
Sensored air-conditioning that detect open doors
Expertly trained staff who understand the importance of conserving engergy
Re-use of waste for practical purposes, including re-using kitchen oil to fuel local farm vehicles
Waste food is separated and given to local farmers for feed processing
Installation of solar water heaters in the newly completed premium suites
On-site herb, fruit and vegetable garden delivering the freshest ingredients to the table
Non-motorised watersports
And much more.
Galley Bay Resort & Spa has been awarded the Green Globe Certificate for sustainable tourism highlighting their commitment to making positive contributions to people and the planet.
With Elite Island Resorts you are not only a valued guest, but a treasured friend. Each of their 8 properties is a vibrant gateway into the island it calls home, where culture and hospitality coincide to create truly authentic Caribbean experiences. Think Caribbean, think Elite.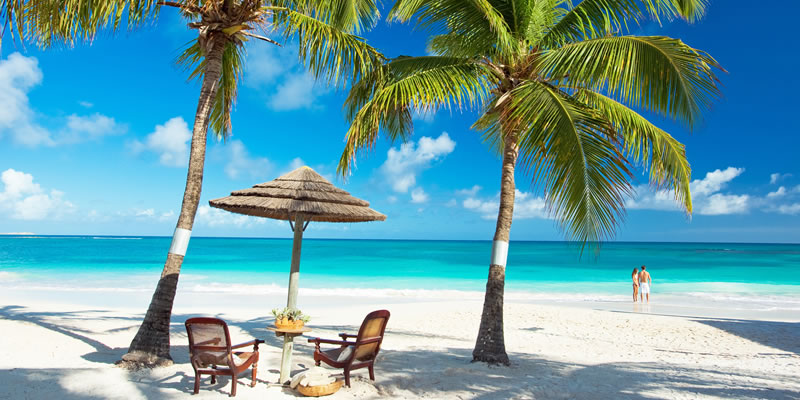 Much-loved for its 365 beaches, one for each day for the year, Antigua has stolen the heart of Holidaymakers far and wide. Powder-fine white sands, cerulean seas, and an authentic Caribbean warmth form its triple-pronged approach to fully satisfying Holidaymaker's wanderlust time and time again. That's before looking below the surface to the thriving underwater life, colonial history, and mastery of the finest sunsets known to mankind. So, let's delve a little deeper into Antigua to highlight 3 boss-level resorts.
Read now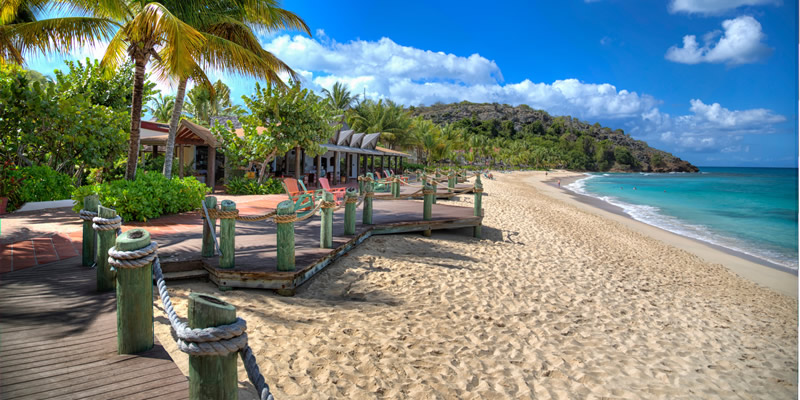 Top 3 Eco-Friendly Caribbean Resorts
White sun-kissed sands, distinct mountain peaks, lush green forest, warm turquoise seas; the Caribbean's finest offerings. Mother Nature's magic oozes out of every Caribbean landscape. Preserving these pristine vantage points is at the heart of the Caribbean's Eco-Friendly Resorts as they play their part in doing a little good and going green. Ecotourism lets Holidaymakers rest easy knowing their carbon footprint has been significantly reduced.
Read now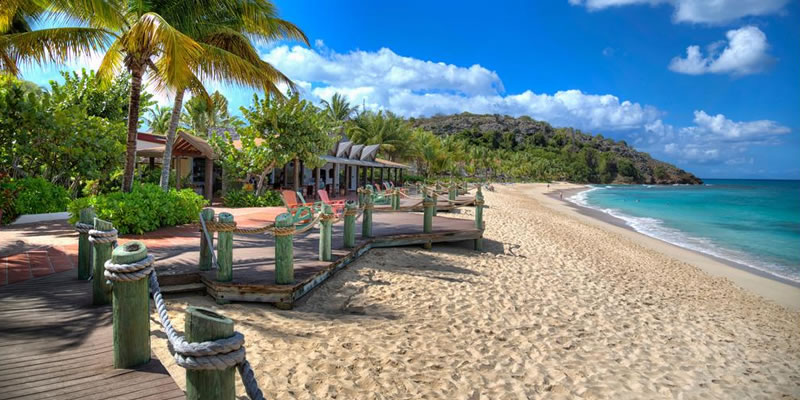 Everything You Need to Know About Galley Bay Resort & Spa, Antigua
Sometimes we need to find ourselves a holiday that pushes out the whole marina, let alone a humble boat. We want an excellent location, luxurious accommodations, and the kind of all-inclusive programme that can anticipate our every need. Galley Bay Resort & Spa, Antigua, delivers on all accounts, exceeding even the highest expectations. Here's everything you need to know to become familiar this exclusive Antiguan hideaway.
Read now
Galley Bay Resort & Spa
Join us as we go #InFocus in Antigua and take you on a tour of Galley Bay Resort & Spa
Play Video
Galley Bay Resort & Spa - Blue Bay Travel Top Picks
We give you the Top Picks specifically chosen by us here at Blue Bay Travel, so you know what to check out first at Galley Bay Resort & Spa
Play Video