About the hotel
St James's Club & Villas is an exclusive hideaway on a tranquil 100-acre peninsula with two white-sand beaches and sweeping views of Mamora Bay. The sheer range of activities at St James's Club & Villas makes for exceptional value holidays, with 6 distinctive swimming pools, a spa and salon, a range of delicious dining options, and an award-winning kids club. The service here is outstanding too, with a long-standing reputation for thoughtful, caring service that makes every escape a truly special occasion. The Village area of the resort even provides larger villa-style accommodations ideal for larger groups who want to discover the Caribbean together. You can pass the time relaxing to the laid-back tempo of the island, or strike out and make the most of a range of water sports and boat tours. St James's Club & Villas is an elegant, welcoming and refreshing retreat that awaits all holidaymakers with open arms.
Sequestered location on a peaceful 100-acre peninsula
Two glorious beaches: one facing west, one facing east
Village of luxurious villa accommodations for larger groups
At a glance
Couples
Club Rooms & Royal Suites
St. James's Club & Villas offers an excellent range of elegant accommodations ranging from contemporary guestrooms to luxurious villas. All rooms and suites at James's Club & Villas come with everything you need for comfort and relaxation.
Club Rooms
Club Rooms await you with indulgent rooms or suites with a variety of excellent inclusions:
Hardwood furnishings
Two double beds or a king-sized bed
Terracotta floors
Private balcony or terrace
Air conditioning
Ceiling fans
Cable television
full bathroom
Hair dryer
Safe
Direct-dial telephone
Radio-alarm clock
Garden views or partial ocean views
Premium Club Rooms are available with ocean views
Beachfront Club Rooms are available with easy beach access
Junior Suites
Located on the southern edge of The St James's Club, the Junior Suites provide an oversized haven and are perfectly positioned for a short stroll to the resort's amenities. In-room luxuries include:
Over 400 sq ft of living space
Open air balcony with stunning views of the turquoise reef-flecked sea
King-size bed
Air-conditioning
In-room refrigerator
Coffee maker
In-room safe
Writing desk
Hair dryer
Flat screen television
Bathroom with double vanity
Oversized bath with shower
Available from 03 Jan 2019 onwards
Royal Suites
The 48 waterfront Royal Suites are the best rooms in The Club area of the resort, offering spectacular views over Mamora Bay. Each Royal Suite will uplift your holiday experiences with a host of added amenities:
Sunken living room with marbled top wet bar
Floor-to-ceiling windows
Private furnished balcony
Expansive bathroom with his-and-hers showers and deep soaking tub
HD flat-screen TVs
iPod docking stations
DVD players and internet access
Royal Spa Suites are available with a daily 45 Minute spa treatment from a set menu
Villas
Ideal for couples, families and groups, The Village at St James's Club & villas offers 13 two-bedroom villas, all of which overlook Mamora Bay from a glorious patio or balcony. The vast villas come with loads of extra space and facilities ideal for larger groups of holidaymakers.
Private bath and shower
Separate dining and living areas
Master bedroom and second bedroom with all the standard facilities
Full kitchen
Balcony or patio overlooking Mamora Bay
Plush bathrobes
Air conditioning
Ceiling fans
Televisions
Two three-bedroom villas are also available, accommodating up to eight persons
Exceptional Dining
St. James's Club & Villas features four restaurants and a beachside grill, and dedicated children's menus for the junior holidaymakers.
Rainbow Garden
The eponymous tropical garden of the Rainbow Garden Restaurant provides a lush Caribbean backdrop for breakfast, lunch and à la carte dinners. Afternoon tea is served daily on the adjacent patio 16:00 - 17:00.
Coco's Beach Restaurant
Coco's Beach Restaurant & Bar is a casual dining venue with classically Caribbean ocean views. Open for a la carte breakfast 07:30 - 11:00 with a self-serve fruit and pastry bar. Open for dinner, reservations required. Serving Caribbean delicacies in a tapas style.
The Docksider Restaurant & Bar
The Docksider offers waterfront dining overlooking Mamora Bay from 11:00 - 16:00, specialising in Caribbean-inspired dishes that use freshly caught fish
The Beach Bar & Grill
The Beach Bar & Grill serves up burgers, grilled chicken sandwiches, hot dogs, drinks, cocktails, and other beachside favourites until 18:00 daily.
Eleven/11
Open all day for dining 11:00 - 23:00. Serving a range of pasta, pizza, paninis, salads and burgers.
Piccolo Mondo
Piccolo Mondo is the resort's fine dining restaurant, passionately serving Italian cuisine with Caribbean twists. The restaurant's hillside setting provides breathtaking bay views perfect for a romantic dinner for two. A small surcharge is required to dine at Piccolo Mondo.
Everything You Need
St. James's Club & Villas has a range of facilities on-site to keep you happy and entertained:
4 restaurants and 5 bars
2 Great Beaches, one facing east and one facing west
6 swimming pools (including family and adult-only pools)
4 tennis courts
Air-conditioned fitness centre
Spa Tranquility (recently refurbished)
Guest Services, tour desk and car hire
Complimentary "wireless hot spot" in the Lobby and Garden Patio area
18-Slip Marina
Kids Club
The award-winning kidz club is a safe and exciting place for your kids to make the most of your time in the Caribbean. Experienced staff run a schedule of different activities throughout the day, changing weekly to keep everything exciting. The creative activities on offer are executed with typical Caribbean flair, ranging from treasure hunts and crab races to fun crafts such as mask-making and finger-painting.
Water Sports
Make the most of the glorious Caribbean shoreline at St. James's Club & Villas:
Diving
Windsurfing
Sailing
Kayaking
Stand-up paddle boarding
Marina & Catamaran Cruises
Land Sports
There's still plenty to do if you'd prefer to stay dry:
Tennis
Billiards
Golf
Fitness Centre
Sunbathe on 2 beaches
Tranquility Body & Soul Spa
The Tranquility Body & Soul Spa is an expansive and elegantly appointed hideaway for restorative treatments. The spa has 5 suites and one couples' suite, all of which offer private bathrooms and showers. An outdoor treatment provides wonderful views overlooking the Mamora Bay, perfectly complemented by Pevonia Botanica spa products and a full-service salon.
Weddings in Paradise
St James's Club & Villas is a glamorous Caribbean destination perfect for a wonderful wedding ceremony. Panoramic terraces, scented gardens and breathtaking beaches make for romantic venues and unforgettable experiences.
Free Elite Wedding Package
The Elite package is free for couples staying 12 nights or more at St James's Club & Villas in a beachfront room or higher.
Services of a wedding co-ordinator, marriage officer and witness (if required)
Registrar costs and ceremony charges
Bouquet of fresh, local flowers for the bride
Decorated wedding venue
Boutonniere for the groom
One-tier wedding cake
One bottle of champagne
All taxes and gratuities
Optional Extras
Photography
Videos
Hors d'oeuvres
Private dinners
Additional champagne
Beauty treatments
Local entertainment
Anniversaries
Recapture on your special day with St James's Club & Villa's Renewal of Vows Package:
Services of the wedding co-ordinator
Decorated nuptial venue
Services of the registrar
A Renewal of Vows cake
A bottle of chilled champagne to toast the ceremony
Optional Extras
Photography
Videos
Hors d'oeuvres
Private dinners
Additional champagne
Beauty treatments
Eco-Friendly
St James's Club & Villas fly the flag for going green with this environment-conscious practices:
Air conditioning units are fitted with special attachments to detect open doors and windows
Sustainable cleaning procedures
Solar powered laundry facilities
Desalinization plant process which yields 110,000 gallons of freshwater a day.
Growing an artifical coral reef to increase local marine life and stop erosion
St James's Club & Villas has been awarded the Green Globe Certificate for sustainable tourism highlighting their commitment to making positive contributions to people and the planet.
With Elite Island Resorts you are not only a valued guest, but a treasured friend. Each of their 8 properties is a vibrant gateway into the island it calls home, where culture and hospitality coincide to create truly authentic Caribbean experiences. Think Caribbean, think Elite.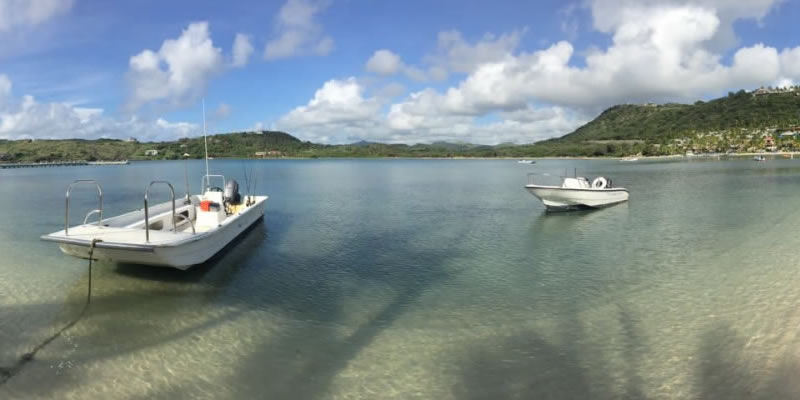 Amy's Traditional Caribbean Escape at St James's Club & Villas, Antigua
If you're looking for a traditional Caribbean getaway, St James's Club & Villas has got your name written all over it. I headed to Antigua wanting just that, and St James's Club & Villas happily obilged. A rustic, laid back, peaceful escape had me relaxed to the max in no time. Here's all the intel on my getaway for you to feast your eye-parts on.
Read now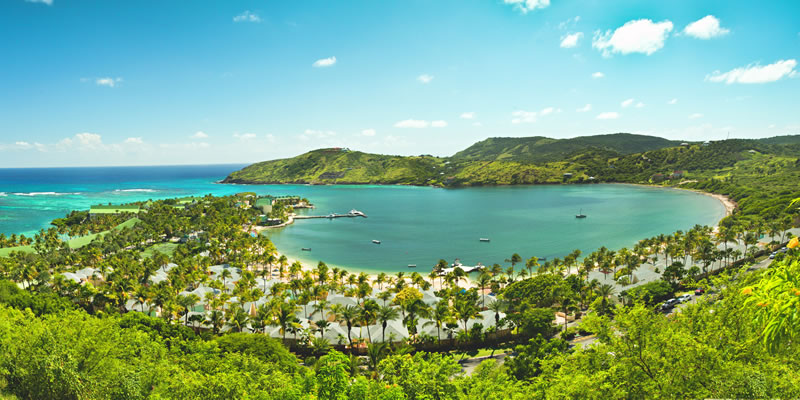 Find True Caribbean Tranquillity at St James's Club & Villas, Antigua
There are a handful of resorts in the Caribbean that are quality all-rounders for all holidaymakers, and St. James's Club & Villas is one such member of this elite group. It deftly combines facilities for fully-grown holidaymakers and junior travellers alike, and these fast facts and exclusive video reviews will get you up to speed with this excellent value hideaway.
Read now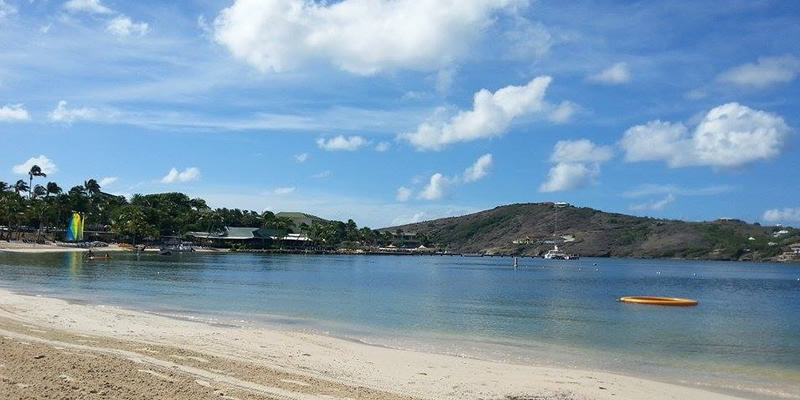 Vic Takes a Holiday at St James's Club & Villas
Vic took a well earned getaway to St James's Club & Villas where she swooned over the wildlife, wooed her eyes at the spectacular beaches, and had a compulsory boogie at Shirley Heights!
Read now
St James's Club & Villas
Join us as we go #InFocus in Antigua and take you on a tour of St. James's Club & Villas
Play Video
St James's Club & Villas - Blue Bay Travel Top Picks
We give you the Top Picks specifically chosen by us here at Blue Bay Travel, so you know what to check out first at St. James's Club & Villas
Play Video