True Blue Bay Boutique Resort
Saint George's

,

Grenada
About the hotel
True Blue Bay Boutique Resort takes its name from the shimmering waters of the bay it overlooks, gracefully tucked along Grenada's south coast. Set your eyes on panoramic sea views that meet the horizon and stunning vistas of lush tropical gardens. Designed to lull you into relaxation, True Blue Bay is on-hand with the signature facilities such as the tranquil spa, yoga pavilion, 24-hour room service and those that make life easier like a complimentary shuttle to Grand Anse Beach. Immerse yourself in the true essence of Grenada with guest-centric resort activities, cooking classes and rum tasting. This Caribbean hideaway with this romantic and secluded backdrop encourages you to bask in Grenada's beauty whilst preserving that special, warm atmosphere only a boutique resort can achieve. The friendliness of owners Russ and Magdalena Fielden and their dedicated team means you quickly become part of an extended family, making True Blue Bay Boutique Resort your home away from home.
Family-run boutique resort with personalised service
All rooms feature a sea-facing balcony
Unique waterfront Caribbean restaurant
At a glance
Family Friendly
Accommodation
Elegant rooms, suites and villas are tucked away into the hillside, commanding views of the Caribbean Sea and the gorgeous True Blue Bay. Beautifully appointed colourful details, comfortable furnishings and fabrics designed for the tropics make these rooms a relaxing Caribbean heaven. All rooms include:
King-size or twin beds
Air conditioning
Cable TV
Ceiling fan
Equipped kitchenette
Free WiFi
Hair dryer
Alarm clock
Iron and ironing board
Patio or balcony facing the sea
Daily housekeeping
Turndown service
True Blue Rooms
Six simply elegant rooms have teak furnishing, charming terraces give way to views of the bay, bay view pool, and gardens.
Tree Top Rooms
Three double occupancy, first-floor accommodations--oversized balconies and picture-perfect views of almond and mahogany trees plus prolific blooming bougainvillea are a repeat guest favourite.
Indigo Rooms
Popular with families and divers these twelve double occupancy units overlook the bay, infinity pool and gardens. They are near the dive shop and marina and all have a charming spacious shady balcony, teak furnishings and inspiring Caribbean colours.
Bay View Rooms
Four first-floor double occupancy rooms offering stunning views of the resort's gardens and bay. Teak furnishing, with classic Caribbean colours and spacious verandas.
Wheelchair Friendly Rooms
Four spacious and comfortable rooms at True Blue Bay are accessible by wheelchair from most public areas of the hotel. The room furniture, spaces and facilities are easily adapted to accommodate your needs. The bathrooms have easy access with compliant rails, vanity and shower. The height of the bed, desk and dining table are adapted to suit.
Suites
Designed to ensure the utmost comfort, the Waterfront Suites and Tower Suites at True Blue Bay provide you with phenomenal views. The calm waters of the bay and astonishing evening sunsets provide the perfect backdrop for romance, rest, and relaxation.
Garden Suite
Offering a view of the resort's lush tropical gardens, the single-level Garden Suite has a luxurious bathtub built into the bedroom space.
Waterfront Suites
Nine spectacular suites by the water's edge, specially designed to bring the natural beauty of True Blue Bay into a room full of Caribbean comfort and leisure. Featuring tropical designed furnishing, indulgent fabrics and easy-going colours, these two-level suites have relaxing living room, kitchen, dining area and generous balcony with comfy furnishings on the lower floor. The upper level has a queen bed, ample bathroom with shower and an intimate veranda with cosy outdoor chairs to sit and enjoy the astounding panoramic view of the bay.
Tower Suites
Three second floor units are owner Magdalena's favourites. Incredibly romantic and private, each room features its own tower equipped with a confi-chair and a magnificent 360 panoramic view of True Blue Bay. The oversized balconies provide an ideal setting to watch a sunset or gaze upon the aquamarine waters of the Caribbean Sea. Tasteful tropical wood and palm furnishings, huge bathroom with shower and whirlpool bathtub, comfy 4 poster king bed, overstuffed couch and dining suite are quite lavish.
Honeymoon Suite
One fabulous and exceptional suite designed for romance. Four poster king size bed, soft and enticing furnishings and fabrics, custom designed décor, exotic tropical fresh flowers, stylish, relaxing and spacious living area, oversized bathroom with whirlpool tub & shower, spacious veranda with stunning views of the glinting Caribbean Sea. Hideaway and romantic location connected by a bridge through the tree tops. Customized room service menu.
Villas
Blue Bay offers five lavish 2-bedroom villas accompanied by an infinity pool overlooking the marina. Each villa features a king bed and a whirlpool bath in the master suite, and a second bedroom that provides either a king or two single beds and a bathroom. Upstairs accommodations include top of the line appliances, spacious dining and living room areas, a uniquely refreshing plunge pool, and a spacious veranda overlooking the Marina.
Rooms are allocated on arrival, specific rooms maybe requested but are not guaranteed.
Dining
Dodgy Dock Restaurant & Lounge Bar
Dodgy Dock Restaurant & Lounge Bar is not only a popular lunch spot, but a celebrated sunset scene. Conceptualised by owners Russ and Magdalena and designed by the well-known local architect Brian Bullen, this unique Caribbean waterfront restaurant is a great contemporary location to enjoy drinks, lunch, snacks, or dinner enveloped by a 270-degree-view of True Blue Bay.
Thanks to the special combination of secret recipes, Magdalena's Mexican influence, and international chefs, the menu at Dodgy Dock offers a wide variety of unique dishes prepared with fresh local produce. Maintaining a welcoming atmosphere, the charismatic bartenders dream up Caribbean inspired cocktails that keep guests and locals alike coming back for more.
Facilities
Two pools: Bayview & Sundeck pool and Infinity Beach pool
On-site retail boutique
Concierge
Le Conch Spa
Dive facility located on-site and operated by Aquanauts Dive Centre
Marina and Horizon Yacht Charter
Internet station
High-speed WiFi
Wedding co-ordinator
Car rental
Complimentary shuttle to Grand Anse Beach, reservations required
Complimentary sailing hobie cats
Complimentary kayaks
Two children's playgrounds
Kids menus
Babysitting
Leisure
True Blue Bay Resort offers numerous activities with a special emphasis on water sports, as guests take advantage of the gorgeous Grenadian waters.
Water Sports
Kayaking
Hobie-cat sailing
Water bicycles
Snorkelling
Sailing
Fishing
Marina (25 berth) and moorings
Land Activities
Rum tasting
Cooking lessons
Sankalpa Yoga Studio
This lovely open yoga space, designed by Russ and Magdalena Fielden, follows the colourful and casual style of the resort. Taking advantage of the natural island breeze and spectacular views of True Blue Bay, Sankalpa is a vibrant and energetic space in which to practice yoga. Hotel guests receive 2 free yoga classes per week stay.
Open: 06:00 - 15:00 & 17:30 - 22:00
For the Family
Bubble making program (an introduction to scuba diving, snorkelling in the pool)
Dodgy Dock children's playground
Bayview Pool playground
Kayak lessons
Hair braiding
Jewellery making
Blue Haven Spa
The spa offers a quiet tranquil place to relax, be pampered and rejuvenate. Taking advantage of the wonderful range of local Grenadian organic herbs, oils and produce, expert massage therapists have designed a number of delicious body treatments and facials to soothe and invigorate your body and spirit. Coconut oil, cucumbers, noni, honey, papaya, nutmeg, cinnamon, Grenadian chocolate and fresh mint are some of the ingredients used for the treatments.
Open: 09:00 - 18:00 (Monday - Saturday)
On-Site Scuba Diving (£)
Named "Best Diving Resort in the Caribbean" by Sports Diver magazine, True Blue Bay and Aquanauts provide dive docks and boats located on-site at the marina. Dive enthusiasts know that Grenada is a paradise for wreck diving. The Bianca C, the island's signature wreck, known globally as one of the most spectacular dive sites in the world (over 600 foot luxury cruise liner that sits upright in depths of 90 to 140 feet) is a divers paradise. Other popular wrecks such as Quarter, Veronica, Twin Wrecks and Buccaneer are well suited for divers of all skill levels. Aquanauts Grenada is a PADI 5 Star-Gold Palm Resort, SDI & TDI facility offering scuba diving classes, daily dive trips to nearby reefs and wrecks and snorkeling adventures. Their professional and spacious diving vessels provide a comfortable and speedy transport to all sites.
Sailing with Horizon Yacht Charter
If sailing is your passion, Horizon Yacht Charter is conveniently based at True Blue Bay Marina, offering you a dedicated service before, during and after your sailing charter. If you have time to take in the land-based attractions or would simply like to spend a few days ashore, they are more than happy to help.
Weddings
Be it barefoot by the bay, dockside on board a yacht or private ceremony from a veranda; True Blue Bay offers a picture-perfect setting, an intimate atmosphere and premiere upscale location to create the perfect wedding day. Your own personal wedding coordinator and exclusive attention to detail makes True Blue a must for brides and grooms considering the Caribbean. The Resort provides an on-site wedding co-ordinator who will attend to the bride and groom's every need, be it photo/videographer, hairstylist, music, keepsake menus or champagne flutes, a True Blue inspired wedding cake, floral bouquets and arrangements are only the beginning of what is offered.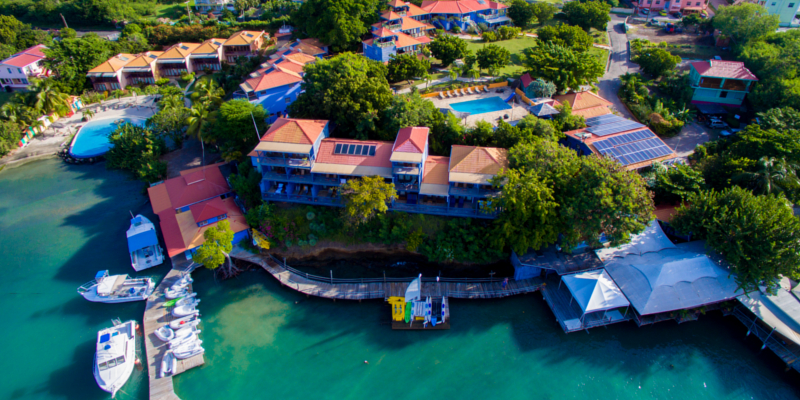 Sarah-Jane Basks In True Blue Bay Boutique Resort, Grenada
It's safe to say Grenada is my favourite Caribbean island I've visited to date. And, True Blue Bay Boutique Resort is nothing short of the quintessential Grenadian wow-factor. This boutique, family-run resort is complete with character, pride, love and truly Caribbean in every sense. As soon as you walk through the front doors, you know you're somewhere special. If you're looking for a unique, authentic Caribbean sanctuary, you have to visit True Blue Bay. Here's all the insider information from my escape.
Read now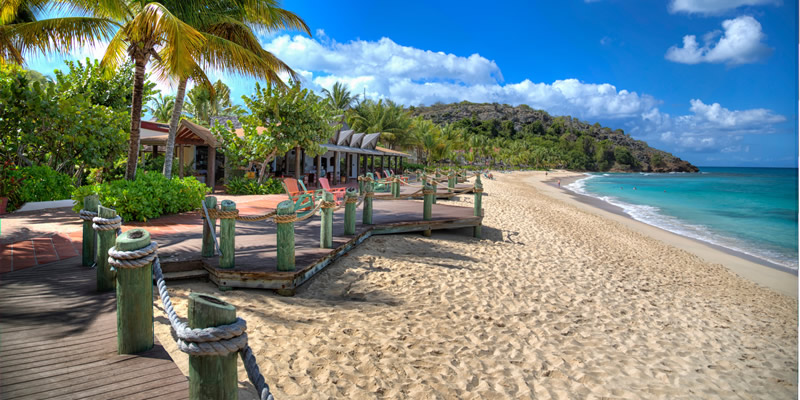 Top 3 Eco-Friendly Caribbean Resorts
White sun-kissed sands, distinct mountain peaks, lush green forest, warm turquoise seas; the Caribbean's finest offerings. Mother Nature's magic oozes out of every Caribbean landscape. Preserving these pristine vantage points is at the heart of the Caribbean's Eco-Friendly Resorts as they play their part in doing a little good and going green. Ecotourism lets Holidaymakers rest easy knowing their carbon footprint has been significantly reduced.
Read now