About the hotel
Beaches Negril is truly a paradise beyond compare. With something for every member of the family, this enchanted place promises perfection and delivers ecstasy. Set your sights on the widest stretch of Negril's famous 7-mile beach where the whole family can enjoy the vibe of the island no matter what you choose to get up to. If you want to embrace the laid back Jamaican lifestyle, the resort offers it in abundance. If you want to amp up the fun then Beaches gives you that too, with lively pools, restaurants and bars all at your fingertips. There is even a water park for you to get your thrills. No matter if you are looking for adventure, relaxation or both, Beaches Negril is here for you and with its spot in the Tripadvisor 2018 Traveller's Choice Awards Top 25 Hotels for Families in the World, you know that it is going to be a fun and luxurious stay for every member of the family.
Located on the widest stretch of Negril's seven mile white sand beach
Caribbean Adventure with Sesame Street® themed activities with daily character appearances, parades and stage shows
Pirates Island Water Theme Park with 8 slides, meandering -oelazy- river, pirate bucket drops and splash deck
At a glance
Family Friendly
Accommodation
Beaches Negril is the resort for everyone. So much so that there are over a dozen spectacular categories of rooms and suites to ensure that everyone is catered for.
Luxury Level
Luxury personified - that's what you can expect when you indulge in a luxury level room:
4-Poster King-Size Bed
Air Conditioning
Airport Transfers
Free WiFi
HD Smart TV
In-Room Electronic Safe
iPod Dock Alarm Clock
Xbox Console
Iron and Ironing Board
Make-up Mirror
Red Lane Spa Amenity Kit
Shower or Tub
Balcony or Patio
Telephone
Negril Deluxe
Located in the midst of the resort's luxuriant gardens, the deluxe room is an oasis for the senses. Enjoy the garden view where the palm trees sway just outside your own private patio or balcony.
Maximum Occupancy: 3
View: Gardens
Negril Honeymoon Deluxe
This deluxe room is a lush honeymoon hideaway, set amongst the vibrant gardens filled with wildlife and tropical flowers which you can enjoy from your private patio or balcony.
Maximum Occupancy: 3
View: Gardens
Negril Premium
Housed exclusively in the gardens of the Savannah and Santa Cruz, Premium Negril rooms offer tranquillity at its finest.
Maximum Occupancy: 3
View: Gardens
Negril Honeymoon Luxury
These airy rooms provide a view of the resort's gardens as well as Negril's famous seven mile stretch of pristine beach, perfect for relaxing on your private patio or balcony.
Maximum Occupancy: 3
View: Gardens/Partial Ocean View
Negril Beachfront Grande Luxe
The Grand Luxe Beachfront offers a spectacular panoramic view of the Caribbean's turquoise waters and the resort's tropical gardens from your patio or balcony.
Maximum Occupancy: 4
View: Gardens & Beach
Negril Premium Family Rooms
Premium Negril rooms offer tranquillity at its finest, and can connect to a Negril Deluxe Room to offer the perfect private retreat for the whole family.
Maximum Occupancy: 7
View: Gardens
Concierge Level
The Concierge Level grants you access to extraordinary privileges, unique experiences, and exceptional services:
Concierge Services
Met on arrival by Concierge agent
Privately checked in at the Concierge Lounge
Escorted to room by Concierge agent
Given property orientation by Concierge agent
Daily contact with guests throughout their stay
Handling of all queries, concerns, or complaints
Escort you to bus when you're going on tours
Assistance with planning vacation - weekly planner presented to you on arrival
Assistance with booking reservations - dinner, spa, tours and private private dinners
Plush bathrobes
Free basic WiFi
Fully stocked bar - premium spirits, beers, juices, water, sodas, wine and sparkling wine
Concierge weekly soiree
Reserved tables at the weekly buffet (e.g. Jamaica night beach party hosted by concierge agent(s)
Recognition of birthdays, anniversaries, and special occasions
Concierge Lounge
Open 08:00 - 22:00
High-definition flat-screen TV
Selection of board games
Fresh coffee and selection of teas
Times Fax or Britain Today
Air-conditioned for your comfort
Alcoholic beverages, sparkling wine, juice, sodas and water
Day and evening amenities - sandwiches, fruits, cookies
Concierge Signature drink
Guest check-out with concierge agent
Negril Honeymoon Beachfront Grande Luxe Concierge Room
Enjoy picturesque views of the Caribbean Sea from your room's private balcony.
Maximum Occupancy: 4
View: Ocean and Gardens
Caribbean Beachfront Concierge Suite
Wake up to the sights and sounds of the ocean lapping the shoreline in this expansive beachfront suite.
Maximum Occupancy: 5
View: Ocean and Beach
Caribbean Beachfront One Bedroom Concierge Suite
This beachfront suite incorporates a generous reception room featuring French style doors leading to a private patio or balcony. It even has a master bedroom with two en-suite bathrooms.
Maximum Occupancy: 6
View: Beach, Gardens and Ocean
Negril Beachfront Concierge Family Rooms
Perfect for the whole family to enjoy, these suites emphasise privacy for all. One room features a four-poster king size bed and the other features 2 double beds, and both feature a marble-finished en-suite bathroom, a spacious wardrobe and a flat screen TV and a Xbox game console. Enjoy an awesome view of the Caribbean Sea from your private balcony.
Maximum Occupancy: 8
View: Ocean and Gardens
Caribbean Beachfront Concierge Family Suite
This family suite of two connecting rooms creates a huge space for the whole family to enjoy, with concierge luxuries as well as a patio or balcony in each room. This is the ultimate choice for any family holiday.
Maximum Occupancy: 9
View: Ocean and Beach
Butler Level
The butlers at Beaches are experts at getting to know your every need, and they're always on hand to make your stay as carefree as possible.
Ensure your preferences are in-suite upon arrival
Arrange airport transfers
Greet you with lemongrass-scented hand towels to refresh you from your flight
Offer welcome cocktails
Ensure accommodation is ready
Handle private check-in comfortably in your suite
Offer to unpack your luggage
Press your first nights clothes complimentary
Arrange any personal accommodation preferences
Bring you amenities before dinner
Escort you to dinner where they have reserved a beautifully decorated table at the restaurant of your choice - with preferential seating
Ensure your suite is turned down and your room has all that it needs for the night
Make all dinner reservations, tour bookings, on property activities and spa treatments
Serve your favourite drinks while you lounge on the beach or pool
Supply a cooler stocked with your favourite beverages
Serve you lunch on the beach or pool area
Liaise with housekeeping regarding the servicing of your suite
Ensure that your suite is kept in perfect condition and arranged the way you like during your stay
Expedite all room service orders
Arrange a romantic dinner for two in the privacy of your suite or patio. Unlike our competitors, our butler elite guests can order from any resort restaurant menu
Shine your shoes
Tend to your wardrobe
Handle laundry service
Ensure your bags are brought up to the departure area
Process your paperwork for checkout
Escort you to your transportation and bid you farewell
Caribbean Beachfront Two Bedroom Butler Suite
Classic island architecture is set against beautiful wraparound gardens in these two bedroom beachfront suites. You'll also have an extravagant reception room perfect for chilling, lazing and enjoying your beach and ocean view.
Maximum Occupancy: 8
View: Ocean and Beach
Caribbean Beachfront Three Bedroom Butler Suite
If you're coming with a crowd, this is the room for you. With three bedrooms accommodating up to 12 people, you have the ultimate escape featuring epic ocean views, next level luxuries and of course your very own butler to tend to everyone's needs.
Maximum Occupancy: 12
View: Ocean, Gardens and Beach
Restaurants
Beaches Negril knows how to treat the whole family to their favourite dishes, all inspired by different regional specialities.
Bar B Q Park
Serving delicious wraps, burgers and freshly baked Jamaican speciality pastries.
Lunch: 11:00 — 15:00
Late Night Snacks: 15:00 — 03:00
Reservations: Not Required
Dress: Resort Casual Attire
Café De Paris
French Patisserie
Open: 06:30 — 22:30
Reservations: Not Required
Dress: Resort Casual Attire
Dino's Pizzeria
Savoury and sweet gourmet handmade pizzas tossed to order and baked crisp in a wood stone oven.
Open: 11:00 — 18:00
Reservations: Not Required
Dress: Resort Casual Attire
Kimonos
Japanese teppanyaki theatre cooking, where good food comes with a good show.
Dinner: 17:30 — 21:15
Reservations: Required
Dress: Resort Casual Attire
Mariachi
Mexican delicacies served in a refreshingly informal environment.
Lunch: 11:00 — 15:00
Dinner: 17:30 — 21:30
Reservations: Not Required
Dress: Resort Casual Attire
The Mill Restaurant
International Buffets with made to order items.
Early Riser's Breakfast: 03:00 — 07:00
Breakfast: 07:00 — 10:15
Lunch: 12:30 — 14:15
Dinner: 17:30 — 21:30
Reservations: Not Required
Dress: Resort Casual Attire
Soy
Sushi and Sashimi expertly created by professional chefs.
Dinner: 17:30 — 21:00
Reservations: Not Required
Dress: Resort Casual Attire
Stewfish
Classic Jamaican seafood created using the freshest ingredients.
Breakfast: 07:30 — 11:00
Dinner: 17:30 — 21:30
Reservations: Not Required
Dress: Resort Casual Attire (Barefoot allowed)
The Venetian
Discover fine Italian cuisine served in an elegant à la carte format.
Dinner: 17:30 — 21:30
Reservations: Required
Dress: Resort Evening Attire
Dress Code
Resort Casual Attire: shorts or jeans, t-shirts or polo shirts. Swimwear must be covered. Shirts and footwear required.
Resort Evening Attire: Dress trousers or jeans for men, long or short sleeve dress shirts (with or without collar). Dress shoes or sandals. No shorts, t-shirts, sleeveless shirts, trainers, flip flops or slippers. No hats nor caps.
Bars
Take your pick of 7 bars and lounges at Beaches Negril and let the expert waiters recommend a new tipple of choice:
Main Pool Bar: 10:00 - 18:00
Piazza Pool Bar: 10:00 - 22:00
Theatre Bar: 12:30 - 00:00
The Venetian Bar: 17:00 - 22:00
Liquid at Beaches Bar: 21:00 - 02:00
Stewfish Beach Bar: 10:00 — 22:00
Kimonos Bar: 17:30 — 21:15
Facilities
3 pools, 2 with swim-up bars
9 Speciality Restaurants
Caribbean-inspired Red Lane® Spa
Liquid at Beaches Nightclub
Comprehensive Scuba programme
Pirates Island Water park
6 bars serving unlimited premium drinks
Supervised kids camp for kids of all ages
Caribbean Adventure with Sesame Street®
Xbox Play Lounge
Trench Town Teens-only game-room
Scratch DJ Academy
Free WiFi
Entertainment
Dance lessons
Karaoke
Live music
Family shows
Cabaret performances
Disco
Adults only Piano Bar Sing along
Big Top Amphitheatre
Weekly Events
Monday: Manager's Appleton & Ice-cream Cocktail Party
Tuesday: Sandals Select Cocktails & Dinner
Wednesday: Concierge Soiree & Beaches Encore Talent Show
Thursday: Boonoonoonoos Beach Party
Friday: White Night & Chocolate Late Night Buffet
Land Sports
Basketball
Miniature golf
Volleyball (beach and pool)
Croquet
Lawn, outdoor and indoor chess
Billiards
Table tennis
Soccer
Shuffleboard
Tennis
Cards
Board games
Water Sports
Kayaks
Aqua cycles
Windsurfing
Hobie cats
Tubing
Stand up paddle boards
Glass Bottom Boats
Snorkelling
Banana boats
Water-skiing
Knee boarding
Wakeboarding
Scuba diving
Pools
2 swim-up pool bars
Toddler's pool
Teen Centre
The Trench Town Teen Centre is a teen-focused hot spot that reflects Jamaica's vibe and urban culture, with graffiti wall murals and concert posters plastered on the walls. Teens are free to hang out and listen to Sirius Satellite Radio on Trench Town's state-of-the-art sound system, or watch its enormous flat-screen TVs - all in a space created just for them.
Open: 10:00 - 16:00 and 18:00 - 23:00
Kids Camp
The Kids Camp features a wide range of activities in a safe environment, supervised by trained Nannies.
Open: 09:00 - 21:00
Ages: 0-14
Toddler Programme
Toddler pools
Shell collecting
Face painting
Treasure hunts
Puppets
Costume time
Magic shows
Sand castle building
Pre-Teens Programme
Sailing
Snorkelling (ages 8-10)
Swimming
Beach volleyball
Beach soccer
Scavenger hunts
Glass bottom boat rides
Pizza making
Reggae jam sessions
Teens Programme
Dedicated pizza and soda bars
Nightclub with karaoke
Water sports
Boat cruises
Pool Olympics
Tennis clinics
Karaoke
Discos
Dance parties
Talent shows
Liquid at Beaches Nightclub
Liquid at Beaches Nightclub, with a nightly DJ, offers tweens, teens and adults a cool place to visit when the sun goes down.
Open for Teens: 21:00 - 23:00
Open for Adults: 23:00 - 02:00
Sesame Street®
Only at Beaches® Resorts can children of all ages meet and play with the lovable and friendly cast of characters from Sesame Street®. As part of your luxury-included holiday, the kids will get to hangout with their favourites characters and and get involved with endless fun and activities including:
Storytime with Elmo
From trash to treasure with Oscar the Grouch
Bake with Cookie Monster
Discover treasures with Abby Cadabby
Rock n' Roll dance party with Elmo & Friends
Surprise Tea Time with Abby Cadabby & Elmo
Explore with Grover
Make number magic with The Count
Puppet making with Bert & Ernie
Exploring outer space with Elmo
Pirates Island Water Park
Fun for the whole family, head to pirates and while away your day in the waters featuring:
200' Long Water slides
Misting Pool
Lazy River
Plunge Pool
Swim-up Bar
Ice-cream Machine
Beach Grill
Kiddie Area
Pop-up Jets
Cranks and Spray
Whirlpool
Easy Beach Access
Red Lane® Spa
Rejuvenation at the Red Lane® Spa is a journey of endless self-discovery and essential well-being, taking your relaxation to the next level. Treatments include:
Massage
Body Scrub
Body Polish
Salt Mousse Treatment
Bath Soak
Seaweed Treatment
Facials
Manicure
Pedicure
Fitness Centre
The 24/7 gym has everything you need for solo workouts and group exercises. Dedicated Fitness Professionals will lead you through a workout of a variety of movement combinations that exercise your muscles while you have fun in the sun at the same time. All ages and fitness levels will enjoy the classes, perfect for earning an extra cocktail or treat.
Beaches WeddingMoon® Packages
If marriages are made in heaven, then a WeddingMoon® at Beaches is like heaven on Earth. No other resorts are so completely dedicated to couples in love, and a Beaches WeddingMoon® is the perfect start to the perfect marriage. Happily ever after begins here.
WeddingMoon® Packages:
Stay 5 nights or longer in ANY room category and your WeddingMoon® is free.
Personal pre-travel wedding planner
Personal resort wedding planner and dedicated resort wedding team
Picturesque Wedding Location
Preparation of marriage documents
Chiavari Chairs
Musical Accompaniment (pre-recorded)
Witnesses upon request
30 minute Sparkling Wine & Cold Hors d'oeuvres Delightful Reception for Bride, Groom and up to 6 guests
Wedding gift from Beaches Resorts
Free Wedding Website and Gift Registry
30 Minute "Feet First Massage" for the Groom
"Simply You" Manicure for the Bride
Romantic Honeymoon night turndown service for Bride & Groom
Mimosa Breakfast-in-Bed for Bride & Groom any Morning of Choice
Honeymoon dinner for bride and groom at a resort speciality restaurant with white-glove service and a complimentary bottle of sparkling wine
Complimentary 5x7 Honeymoon Photo for Bride & Groom
Wedding Options
Beautiful Beginnings
The Beautiful Beginnings wedding helps you celebrate your special day with elegance and simplicity. It includes a sweet bouquet and boutonniere, as well as a table for four with crisp linens, a lovely centrepiece, and a charming white cake. It's the perfect choice if you're looking for an intimate and memorable occasion. At Sandals & Beaches Resorts, your Beautiful Beginnings wedding theme is complimentary for stays of five nights or longer. If staying fewer than 5 nights, government and administrative fees apply.
Vision in White
The classic white wedding you've always envisioned takes on a dreamier quality when transported to a lush island setting. Hints of eyelet and lace grace every detail, from the party favours to the desserts. You have the choice of an elegant white cake or cupcakes, both decorated with doily accents. White pillar candles wrapped in eyelet fabric cast a soft, romantic glow over the reception table for an exquisite setting you'll remember for a lifetime.
Flutter of Romance
Create a day filled with joyful romance and a playful spirit when you choose the Flutter of Romance wedding. Pretty butterflies add a touch of whimsy to menus and place cards, and they also top the pale pink cake or round mini-cakes for a look that's charming and sweet. The bridal bouquet, boutonniere, and centrepieces are made up of rosy pink and red flowers that coordinate beautifully with the rest of the décor.
Seaside Serenade
Capture the romantic spirit of the ocean's sweet, flowing melody with the Seaside Serenade wedding, featuring accents inspired by the sun, sand, and surf of an island oasis. Exchange vows under a bamboo ceremony arch, strung with strands of capiz shells, then enjoy your reception at a beautiful table set with seashell, coral, and sand accents. You have the choice of an aqua fondant cake with white coral accents or cupcakes topped with white sugar seashells. Every delightful detail, in white, aqua, and coral, evokes the natural beauty of a seaside celebration.
Chic & Natural
The Chic & Natural wedding imbues your special day with a feeling of serene enchantment. Clean lines and organic elements set a tranquil tone that is modern and full of romantic charm. The ceremony and reception are accented with green cymbidiums, polished black river stones, vibrant green moss, and touches of natural linen. Whether you choose a pale green cake topped with a white camellia or cupcakes topped with small green cymbidiums, the Chic & Natural wedding guarantees you'll start your new life together in style.
Island Paradise
The Island Sunset wedding brings the soft, warm colours of a Caribbean summer evening to your celebration. Gorgeous orchids arranged in coral, yellow, and orange reflect the amber hues of a setting sky and evoke a feel of romantic tropical opulence. Lush banana leaves embellish the bamboo ceremony arch, while natural wood trays filled with tropical fruits and bright blooms serve as the centrepieces. The cake (or square mini-cakes) is trimmed with rattan pattern fondant and covered in fresh orchids for a delightfully Caribbean feel.
Terms and conditions apply
Family getaways of the highest calibre await you at every Beaches Resort in the Caribbean. Play on pristine beaches, splash in crystal seas and treat everyone to the finest luxury amenities you can imagine. Unforgettable family fun in the sun is part and parcel of a Beaches Resorts holiday.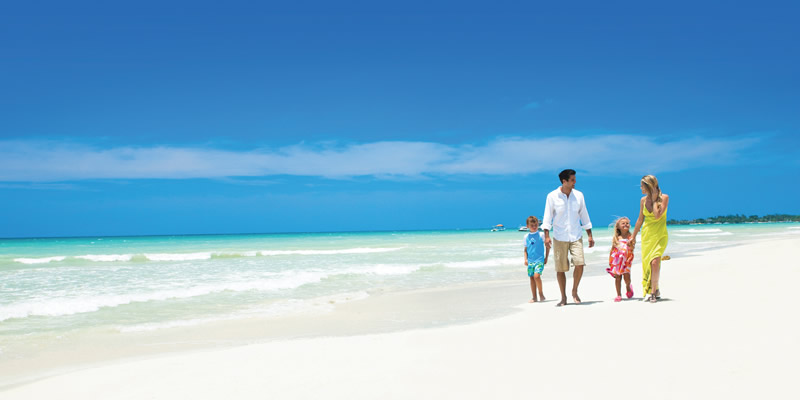 Beaches Resorts' Together Nest Suites® for Luxurious Get-Togethers
A get-together should have nothing compromised. From intimate gatherings to large soirees, the simplest of touches take encounters to the next level. Beaches Resorts have created a concept that adds suave to your retreat. Introducing one-of-a-kind accommodation; Beaches Resort's exclusive Together Nest Suites.
Read now