About the hotel
Nestled along a glorious beach in a secluded area of El Dorado Royale in Mexico's glorious Riviera Maya, El Dorado Casitas Royale by Karisma is an adults-only resort elegantly designed for romantic escapes. A outstanding array of amenities and services makes this resort an unrivalled destination for couples, especially if you're looking to celebrate a wedding, honeymoon or anniversary. Relax in your private, picturesque casita directly on the beach and enjoy the ultra luxurious perks of a truly indulgent hotel, complete with in-suite Jacuzzis and 11 gourmet dining options. Experience the heightened pleasures of being together in this one-of-a-kind Gourmet Inclusive resort.
All-suite adults-only beachfront accommodations
Exclusive pool and bar access for Casitas guests
Unique Gourmet Inclusive® programme with 11 outstanding dining options
At a glance
Couples
Exclusive Casita Suites
The romantically designed Casita Suites offer an exclusive pool area with a swim-up bar and beach loungers. Each of these suites offers breathtaking views of the white sand beaches that frame El Dorado Casitas Royale, and every suite comes with a range of indulgent features:
Aguas del Amor (roofless outdoor shower)
High ceilings
Palapa roof
Double sink
Full bath and shower
Jacuzzi
Air conditioning
Ceiling fan
King-size bed
Night table with radio alarm clock
Suit rack
Scale
iHome
Slippers and bathrobes
Safe deposit box
Hair dryer
Cable TV
Amenity kit
Iron and ironing board
Coffee maker
Daily turndown service
Daily stocked minibar
Casita Suite
Casitas Suites enjoy an oceanfront setting with breathtaking views that you can enjoy from a secluded balcony with an exterior double bed, a table and two chairs. The maximum occupancy for these suites is 2 adults.
Individual Casita Suite
The individual Casita Suites are unique, standalone one-room buildings ideal for an added sense of privacy. Here you'll enjoy stunning views of the beach and beyond from your own balcony. The maximum occupancy for these suites is 2 adults.
Swim Up Casita Suite
Enjoy direct access to the lazy river in front of your private balcony, which is also a great place to relax and overlook the largest artificial coral reef in the world. The maximum occupancy for these suites is 2 adults.
Infinity Pool Casita Suite
These luxurious Suites offer you ultimate privacy, with your own private infinity pool for soaking up the incredible views. The maximum occupancy for these suites is 2 adults.
Infinity Swim Up Pool Casita Suite
These luxury casita suites are located on the ground Level with your own private plunge pool leading into our lazy river. The maximum occupancy for these suites is 2 adults.
Presidential Casa Suites
Presidential suites await with a range of additional premium inclusions:
Varying premium spirits in an upgraded minibar
Welcome amenities
Personalised butler and concierge
Selection of sports activities
A private shuttle within the resort
Individual butler phone.
Studio Presidential Infinity Pool Casita Suite
These outstanding suites come with the privacy of your own infinity pool, and enjoy upgrade amenities alongside stunning coastal views. The maximum occupancy for these suites is 2 adults.
Studio Presidential Swim Up Casita Suite
These incredible suites offer views of the white sand beaches from the ground level, with your own private swim up pool. The maximum occupancy for these suites is 2 adults.
One Bedroom Presidential Casita Suite
The one-bedroom presidential suite features an oversized ocean front terrace with a private swimming pool, private beach palapa, and an outdoor bed and hammock. Once during your stay you can enjoy an in-suite dinner prepared by an expert chef. The maximum occupancy for these suites is 2 adults.
Gourmet Inclusive® Restaurants
Exquisite restaurants and delectable dishes make El Dorado Casitas Royale a truly gourmet getaway.
Cocotal
Enjoy cuisines from across the globe, served à la carte from the chef's menu.
Continental breakfast: 06:30 — 07:00
International breakfast: 07:00 — 11:00

la Carte Gourmet Dinner: 17:30—22:00
D'italia
This romantic Italian restaurant is perfect for a cosy evening together.
la Carte Dinner: 17:30 — 22:00
La Isla
Enjoy Mediterranean specialities from an à la carte menu, served in an open air palapa.
Breakfast: 07:00 - 11:30
Lunch: 12:30 — 15:30
Dinner: 18:00 — 22.00
Jojo's
Savour fresh seafood served alongside spectacular views of the Caribbean Sea.
Breakfast: 7:00 - 10:00
Lunch: 11:00- 18:00
Dinner: 18:00 - 22:00 -f
Fuentes
Behold some of the world's most avant-garde culinary theatre concepts in Fuentes' open kitchen. This one-of-a-kind gourmet experience takes you on a journey filled with exquisite aromas, colours, textures, contrasts and flavours using the finest ingredients from the resort's greenhouse.
Single sitting at 19:00, followed by the dinner and show at 19:30
Reservations required
Rincon Mexicano
Grab some authentic Mexican street food at lunch, or come for a caulks dinner of Mexican specialities.
Lunch: 12:00 — 15:00
Dinner: 18:00 — 22:00
Kampai
Kampai has its own sushi menu served amidst eyecatching oriental décor.
Lunch: 12:30 — 17:00
Dinner: 18:00 — 22:00
D'italia Casitas
Savour contemporary Italian cuisine in a luxury beachfront setting.
Santa Fe Grill
A fusion of American and Mexican culinary ethics, the Santa Fe Grill is an innovative eatery serving coal-oven-cooked dishes. It also offers spectacular sunsets through the surrounding mangrove.
Breakfast 07:00 — 11:00
Dinner 06:00 — 22:00
La Cabaña Pizzeria
Wood burning oven pizzas and a selection of Angus burgers, gourmet bites other succulent Mexican "botana" preparations.
Las Olas
Serving delicious salads and sandwiches
24 Hours Room Service
Available for all room categories, with some restrictions on rainy days
Gourmet Inclusive Bars
El Dorado Casitas Royale has a vast range of bars, each with a unique ambiance.
Swim Up Bar Pericos: Open 09:00 — 17:00
Swim Up Bar Papagayos: Open 09:00 — 17:00
Swim Up Bar Pelicanos: Open 09.00 — 17:00
Swimp Up Colibri: Open 09:00 — 17:00
Swim Up Quetzal: Open 09:00 — 17:00
Swim Up Faisanes: Open 09:00 — 17:00
Swim Up Albatros: Open 09:00 — 17:00
Gaviotas Seashore Bar: Open 09:00 — 11:00
Swim Up Bar Tucanes: Open 09.00 — 17:00
Bellinis Bar: Open 18:00 - 22:00
Martinis Lobby Bar: Open 12.00 — 14:00
Bar Las Guacamayas: Open 17:00 - 02.00
Swim Up Bar La Isla: Open 09:00 — 17:00
Jojo's Beach Bar: Open 09:00 — 02:00
Health Bar: Open 08:00 — 16:00
Dress Code
Breakfast & Lunch
Sun dresses, elegant sandals, t-shirts and skirts long trousers, formal shorts, polo shirt, sleeved t-shirt, sandals or tennis shoes.
Dinner
Dresses, skirts, long trousers, full shoes, Capri pants, elegant sandals, Long pants, collared shirts, casual shoes.
Gourmet Inclusive® Features
Welcome glass of sparkling wine and refreshing towel
Gourmet meals and speciality bites
Wireless Internet available
Alcoholic and non-alcoholic beverages from a selection of domestic and international premium brands
Minibar with beer, water, and soft drinks stocked once a day
Daily and nightly activity programme with live music and shows
Bicycles provided for riding around the premises
Non-motorised water sports: kayak and snorkelling gear
Scuba clinics in the pool
Hospitality Desk
13 swimming pools, one of which is a natural salt water pool
2 hard surface lighted tennis courts (rackets and balls provided free of charge; restrictions apply at night)
Complementary Shuttle to Cancun and Playa del Carmen (reservation required)
Personal Concierge Service 08:00 - 17:00
Fitness centre, sauna and steam Room
24 hour room service (restrictions apply on rainy days)
Taxes and gratuities
Unlimited free international calls (includes mobile phones and land lines outside of Mexico)
Other Facilities
Scuba diving trips, certificates, rental equipment and deep-sea fishing.
Gift Shop
Car rental
Fax services
Business centre
Wave runners and parasailing
Candlelit dinners 18:00 - 22:00
International wine selection
Laundry service
Money Exchange
Medical services available 24 hours
Special wedding, honeymoon and anniversary packages
Tennis Lessons, Group Clinics, Private Lessons and More
Optional in-room amenities and packages (online store)
ATM (USD only)
Coffee Shop
High speed WiFi
Fabulous Activities
5K run
Aqua gym
Basketball
Beach volley
Crazy game
Cocktail lessons
Crossfit
Dance lessons
Eco tour
Fruit carving
Greenhouse tour
Kayak tour
Spanish lessons
Snorkel tour
Soccer
Spinning class
Stretching
Tennis clinic
Towel decoration
Water volleyball
Water polo
Yoga class
Zumba class
Bonanza Ranch
El Dorado Casitas Royale has a Horseback Riding Stable on-site, awarded a TripAdvisor Certificate of Excellence in 2013 and 2014. Feel the natural rhythms of the Mayan Riviera with a two-hour expert-guided horseback tour along jungle trails.
Náay Spa
The Náay Spa makes your soul feel as bright and fresh and the sun, sand and surf that surrounds El Dorado Royale. Using the fundamental powers of Earth, Wind, Fire, and Water, the Náay Spa will heal and replenish your energies with joy and passion.
Náay Spa services
Hydrotherapy
Herbal therapy
Facials
Body treatments
Reflexology
Variety of massages, included the romantic oceanfront couples Sky Massage
Beauty salon
Private bridal suite.
Design Your Wedding
Karisma resorts bring together exceptional wedding planning and gorgeous styles, inviting you to build your ideal wedding from the themes and styles of your dreams. Their Memorable Moments Signature Wedding Collection offers you a wealth of irresistible possibilities that ensure that your soul and character will permeate every element of your special day.
An award winning attention to detail sets Karisma resorts apart from the crowd, providing you with a flawless, beautiful, and simply outstanding destination wedding. Everything is yours to decided, with a beautiful collection of styles ranging from elegant and understated to the grandest of the grand, put together to your instructions until your perfect wedding is a reality.
Memorable Moments Signature Wedding Collection (£)
The Memorable Moments Signature Wedding Collection™ by Karisma is influenced by designers but inspired by brides. It's a perfectly crafted recipe of high end inspiration, chic décor, and signature accents. Watch your vision come to life while being treated to unparalleled service and a truly gourmet experience:
-f
Coastal Bliss - A Contemporary Seaside Celebration (£)
The ultimate beach affair perfect for the laid back couple. Escape to paradise and experience the serenity of the sea paired with stylish details. Harness the essence of the coast in a sleek and elegant way with this collection, where the natural beauty of the shore will complement your pledge to love one another.
Sophisticated Soiree - A City Chic Affair (£)
A modern celebration for the fashion forward pair ready to stand out. Enjoy a truly cosmopolitan vibe within a stunning scene, and explore the refined style in every trendy aspect of this luxurious collection. Combine that with beautiful destination wedding details and your event is sure to be unforgettable.
Vintage Elegance - Upscale Whimsy (£)
A whimsical event for the timeless bride and groom who enjoy the finer things in life. Take in the romantic details of this enchanting collection as you experience the classic charm of this captivating setting. Toast your everlasting love surrounded by fanciful features in a storybook scene that you are sure to remember forever.
Colonial Charm - Old World Fiesta (£)
An experience for the classic couple ready to embrace all of the charm of this beautiful destination. Create an event to remember with a touch of local culture infused with chic features, as you are invited to utilise traditional Mexican details complemented by sleek, trendy finishes in this exceptionally desirable collection. With an event like this, you are sure to make romantic memories never to be forgotten.
Majestic Flair - An Impressive Occasion (£)
A true reflection of the adventurous, fun loving bride and groom who crave a grand celebration. Relish the exotic details that are sure to make everyone take notice b discovering the vibrant splendour of this rich collection that will sweep you and your guests off your feet. The beauty of this lush experience will be rivalled only by the glory of your love.
Pure Glamour - Classic Hollywood (£)
An alluring fete for the couple that craves style and romance. Revel in a touch of old Hollywood style glitz in a tropical locale thanks to the lavish details of this lavish collection. This engaging affair full of extravagant details will leave you and your guests breathless. -f
Always and Forever Wedding Package (£)
Alternatively, you can sample the delights of the Karisma Always and Forever wedding package
Ceremony Décor
Romantic ceremony location
Table with white linen
Special isle runner
Uncovered white garden chairs
Sound system with speakers and microphone
Ceremony Services
Non-denominational ceremony
Wedding certificate
Filing of all documents
Witnesses
Reception
Dinner reservation for the wedding group in an international restaurant
Personalised menu card
Signature Services
Expert Signature Wedding Designer
Wedding guest concierge
Personal on site wedding attendant day of the wedding — 3 Hours
Groom's room with gourmet bites on day of the wedding — 10:00 to 16:00
Personalised wedding website
Honeymoon gift registry
Terms and conditions apply. Legal weddings requiring a judge will incur an additional charge. Special aisle runner at El Dorado Spa Resorts and Hotels includes red carpet and at Azul Hotels includes wooden plank. Dinner reservation maximum capacity varies between resorts. -f
Honeymoon & Anniversary Package
This package is complimentary when booking a minimum of 10 nights in any room category.
Services of a Romance Maître D
Beachfront sky massage 2 for 1 offer
Chilled bottle of sparkling wine delivered to room after arrival
15% discount on spa services
Romantically decorated suite with rose petals, aroma therapy and candles during stay
Fresh tropical floral arrangement in room after arrival
Terms and conditions apply. Complimentary when booking a 10 night stay or longer in qualifying category. Copy of marriage certificate (or wedding invitation with wedding photo) required at check-in. Must travel within 60 days after wedding date for honeymoons & 30 days before and after wedding date for anniversaries. Decorated suite will be provided one night during stay. Package inclusions may vary without previous notice. Fresh tropical floral arrangement not available in Jamaica. Not valid for any reservations traveling with a group or wedding party.
Karisma Resorts offer an eclectic catalogue of distinguished properties in world-class destinations, most notably in the Mexican-Caribbean. Adults-only escapes and family-friendly adventures are both effortlessly handled for your comfort and convenience.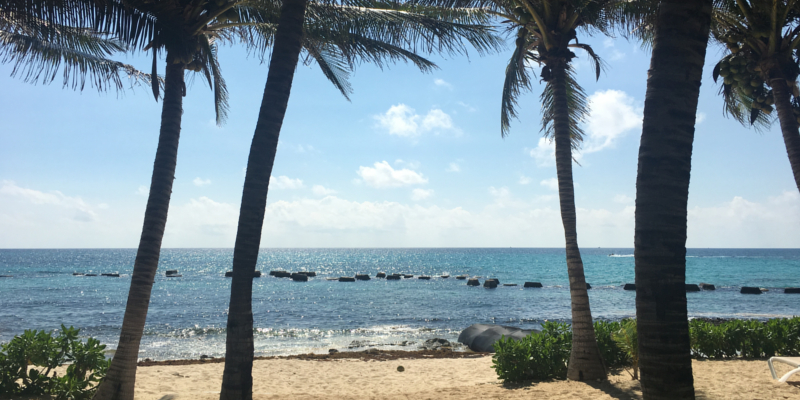 Charlotte's Getaway to El Dorado Casitas Royale
Mexico, for me, is that one destination that lures me back time and time again. And, my most recent escape surpassed my already high expectations. El Dorado Casitas Royale is an AAA Four Diamond award-wining oceanfront sanctuary boasting the highest calibre of luxury escapes - it certainly lives up to it's prestigious title. Luxury is woven through each and every element, from a warm Champagne arrival to the relaxing pillow scent of your choice.
Read now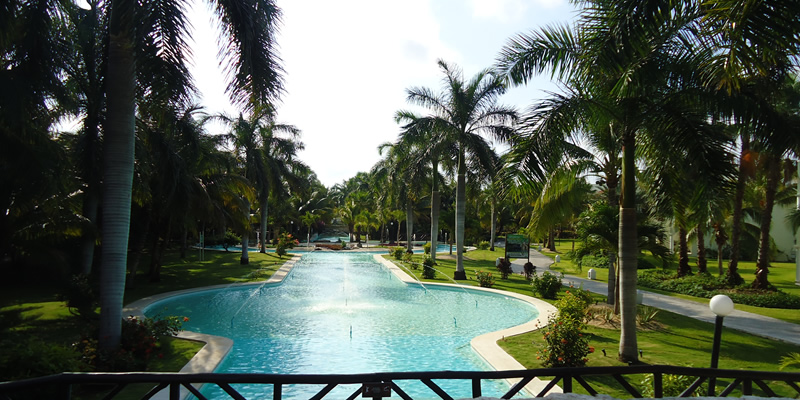 Alice Gets Acquainted with El Dorado Casitas Royale by Karisma
Mexico will always be a little pinch of paradise and my favourite holiday destination. From the historic beauty of Yucatán and exploring Isla Mujeres from the comfort of my own 50's style Chevrolet golf cart, what more could I want? I headed to El Dorado Casitas Royale by Karisma, an adults only retreat nestled along the beach on the Riviera Maya ready to soak up the Mexican vibes. Here's all the intel from El Dorado Casitas Royale by Karisma.
Read now