About the hotel
Named one of the most romantic hotels in the world by Forbes Magazine, this adults-only resort offers an personalised experience unlike any other. On the secluded beach of Kantenah in the heart of Mexico's Riviera Maya, here you'll be welcomed with glasses of fizz, poolside waiter service, and four-poster daybeds. Sensimar Seaside Suites offers an unrivalled combination of relaxation and sophistication, with an exceptionally high standard of all-suite accommodations, all of which come with a Jacuzzi. If you want to treat yourself even further, try a swim-up suite with access to a lazy river and relax complete. Add to this the exceptional inclusions and cuisines of the Gourmet Inclusive® programme and you've got yourself a stellar adults-only all-inclusive escape.
Beautiful all-suite accommodations, each of which features a Jacuzzi
Exquisite Gourmet Inclusive® programme offering outstanding dining across 6 restaurants
Named one of the most romantic hotels in the world by Forbes Magazine
At a glance
Couples
All-Suite Accommodations
Every suite at Sensimar Seaside Suites has everything you need for a relaxing holiday:
Jacuzzi for two
Air conditioning
Ceiling fan
King size or double bed
Marble or Mexican tiled floors
Private shower
Colour satellite TV
DVD player
Minibar refilled once a day
Coffee maker
Hair dryer
Safety deposit box
Iron and ironing board
Umbrella
Terrace or balcony with chairs
Jacuzzi Junior Suites
Romantically decorated suites, with either a king bed or double beds and enticing garden or palm views.
Beachfront Jacuzzi Junior Suites
These romantically decorated suites are located on the ground floor of the closest buildings to the beach, just steps from the white sands of the Caribbean.
Oceanfront Jacuzzi Junior Suites
Enjoy one of the resort's best locations, front-and-centre of the breathtaking turquoise waters of the Caribbean Sea.
Swim Up Jacuzzi Junior Suites
Enjoy your own plunge pool right off your terrace, and slip into a lazy river that connects to a swim-up bar. You'll be just steps away from the beach, ideal for a romantic stroll.
Honeymoon Suites
Start your new life together in style with the privilege of an exclusive oceanfront pool, which will await you with fresh flowers and wine prior to your arrival. You can even round off every night with some Gourmet Inclusive® bites, and you'll get the added bonus of a turndown service, an aromatherapy menu, a daily newspaper, a private beach bed and more.
The Presidential Villa
A spacious master bedroom and a separate living room with plasma TV and fully stocked bar make this villa the paramount luxury offering at Sensimar Seaside Suites. Enjoy a gourmet candlelit dinner in-suite or perhaps a private wine or tequila tasting, or just chill in your private swimming pool or private beach bed. From its romantic design to the extensive privileges it affords, the Presidential Villas are exclusive, spacious, and indulgent.
Gourmet Inclusive® Restaurants
The dining side of your Gourmet Inclusive® package includes a glass of sparkling wine on arrival, all gourmet meals and snacks, and unlimited local and international premium-branded alcoholic and non-alcoholic drinks.
Arrecifes
Enjoy international cuisine throughout the day at this beachfront restaurant.
Breakfast: 07:00 - 11:00
Lunch: 12:30 - 15:00
Dinner: 18:30 - 21:30
Gourmet Pub
Enjoy European specialities served from an open kitchen on big sharing boards, ideal for families and groups.
La Carreta
Authentic Mexican dishes served à la carte, accompanied by flavoured tequilas made in-house.
Mia Casa
Romantic à la carte Italian cuisine offering classy décor, five-star service, and a dedicated wine cellar.
Klay Talay
Inspired by Thai, Japanese, Chinese and Vietnamese cuisines, the menu options at this stylish à la carte restaurant include sushi and sashimi.
Opening Times: 17:30 - 22:00
Bars & Lounges
You'll always be able to fine a cool refreshment at El Dorado Sensimar Seaside Suites.
Guacamayas Bar: Open 09:00 - 02:00
Beach Barbecue: Open 12:30 - 16:00
Sandwicherie: Open 06:00 - 10:30, and 11:30 - 18:00
Los Cotorros: Open 09:00 - 23:00
Arrecifes Swim-Up Bar: Open 10:00 - 18:00
La Cantina Tequila Bar: Open 17.30 - 22.00
Colibri Swim-Up Bar: Open 10:00 - 18:00
Gaviotas Swim-Up Bar: 10:00 - 18:00
Margaritas Bar: Open 17:30 - 22:00
Garcitas Swim-Up Bar: 10:00 - 18:00
Beach Waiter Service: 09:00 - 17:00
Gourmet Inclusive® Facilities
Welcome glass of sparkling wine
All gourmet meals and speciality bites
Unlimited local and selection of international premium brands, Alcoholic and non-alcoholic beverages
Once daily restocked minibar with soft drinks, water and beers
Daily and nightly activity program with live music and night entertainment
Use of in-room safety deposit box
Non-motorised water sports, including kayak and snorkelling gear
Beach towel service
Bathrobes
Scuba clinics in the pool
Three fresh water swimming pools (includes two relax pools)
A hard surface tennis court (not floodlit; rackets and balls provided free of charge)
Fitness center
Sauna and steam bath at the Spa
Activities including beach volleyball, aquaerobics, salsa and zumba lessons, low impact aerobics, seasonal yoga/stretching sessions
24 hours room service (restrictions apply on rainy days)
Other Facilities
Scuba diving trips, certificates, rental equipment and deep-sea fishing
Candlelight dinner from 18:30 - 21:00
Fresh Lobster
International wine selection
Gift Shop and Logo Shop
Jewellery Store "Las Palmeras"
Car rental
Tours desk
Telephone service, internet access, fax services
Laundry service
Money Exchange
24 hours paramedic service
Special Wedding, Honeymoon and Anniversary packages
Sports & Activities
Aqua aerobics
Beach volleyball
Table tennis
Tennis court
Deep-sea fishing
Kayaks
Snorkelling
Scuba diving
Daytime activities
Sports
Trivia
Live music
Aerobics
Kayak tour
Salsa lessons
Aerobics
Design Your Wedding
Karisma resorts bring together exceptional wedding planning and gorgeous styles, inviting you to build your ideal wedding from the themes and styles of your dreams. Their Memorable Moments Signature Wedding Collection offers you a wealth of irresistible possibilities that ensure that your soul and character will permeate every element of your special day.
An award winning attention to detail sets Karisma resorts apart from the crowd, providing you with a flawless, beautiful, and simply outstanding destination wedding. Everything is yours to decided, with a beautiful collection of styles ranging from elegant and understated to the grandest of the grand, put together to your instructions until your perfect wedding is a reality.
Memorable Moments Signature Wedding Collection
The Memorable Moments Signature Wedding Collection™ by Karisma is influenced by designers but inspired by brides. It's a perfectly crafted recipe of high end inspiration, chic décor, and signature accents. Watch your vision come to life while being treated to unparalleled service and a truly gourmet experience:
-f
Coastal Bliss - A Contemporary Seaside Celebration
The ultimate beach affair perfect for the laid back couple. Escape to paradise and experience the serenity of the sea paired with stylish details. Harness the essence of the coast in a sleek and elegant way with this collection, where the natural beauty of the shore will complement your pledge to love one another.
Sophisticated Soiree - A City Chic Affair
A modern celebration for the fashion forward pair ready to stand out. Enjoy a truly cosmopolitan vibe within a stunning scene, and explore the refined style in every trendy aspect of this luxurious collection. Combine that with beautiful destination wedding details and your event is sure to be unforgettable.
Vintage Elegance - Upscale Whimsy
A whimsical event for the timeless bride and groom who enjoy the finer things in life. Take in the romantic details of this enchanting collection as you experience the classic charm of this captivating setting. Toast your everlasting love surrounded by fanciful features in a storybook scene that you are sure to remember forever.
Colonial Charm - Old World Fiesta
An experience for the classic couple ready to embrace all of the charm of this beautiful destination. Create an event to remember with a touch of local culture infused with chic features, as you are invited to utilise traditional Mexican details complemented by sleek, trendy finishes in this exceptionally desirable collection. With an event like this, you are sure to make romantic memories never to be forgotten.
Majestic Flair - An Impressive Occasion
A true reflection of the adventurous, fun loving bride and groom who crave a grand celebration. Relish the exotic details that are sure to make everyone take notice b discovering the vibrant splendour of this rich collection that will sweep you and your guests off your feet. The beauty of this lush experience will be rivalled only by the glory of your love.
Pure Glamour - Classic Hollywood
An alluring fete for the couple that craves style and romance. Revel in a touch of old Hollywood style glitz in a tropical locale thanks to the lavish details of this lavish collection. This engaging affair full of extravagant details will leave you and your guests breathless. -f
Always and Forever Wedding Package
Alternatively, you can sample the delights of the Karisma Always and Forever wedding package
Ceremony Décor
Romantic ceremony location
Table with white linin
Special isle runner
Uncovered white garden chairs
Sound system with speakers and microphone
Ceremony Services
Non-denominational ceremony
Wedding certificate
Filing of all documents
Witnesses
Reception
Dinner reservation for the wedding group in an international restaurant
Personalised menu card
Signature Services
Expert Signature Wedding Designer
Wedding guest concierge
Personal on site wedding attendant day of the wedding — 3 Hours
Groom's room with gourmet bites on day of the wedding — 10:00 to 16:00
Personalised wedding website
Honeymoon gift registry
Terms and conditions apply. Legal weddings requiring a judge will incur an additional charge. Special aisle runner at El Dorado Spa Resorts and Hotels includes red carpet and at Azul Hotels includes wooden plank. Dinner reservation maximum capacity varies between resorts. -f
Honeymoon & Anniversary Package
This package is complimentary when booking a minimum of 10 nights in a Swim Up Suite/Premium Swim Up Suite.
Services of a Romance Maître D
Beachfront sky massage 2 for 1 offer
Chilled bottle of sparkling wine delivered to room after arrival
15% discount on spa services
Romantically decorated suite with rose petals, aroma therapy and candles during stay
Fresh tropical floral arrangement in room after arrival
Terms and conditions apply. Complimentary when booking a 10 night stay or longer in qualifying category. Copy of marriage certificate (or wedding invitation with wedding photo) required at check-in. Must travel within 60 days after wedding date for honeymoons & 30 days before and after wedding date for anniversaries. Decorated suite will be provided one night during stay. Package inclusions may vary without previous notice. Fresh tropical floral arrangement not available in Jamaica. Not valid for any reservations traveling with a group or wedding party.
Karisma Resorts offer an eclectic catalogue of distinguished properties in world-class destinations, most notably in the Mexican-Caribbean. Adults-only escapes and family-friendly adventures are both effortlessly handled for your comfort and convenience.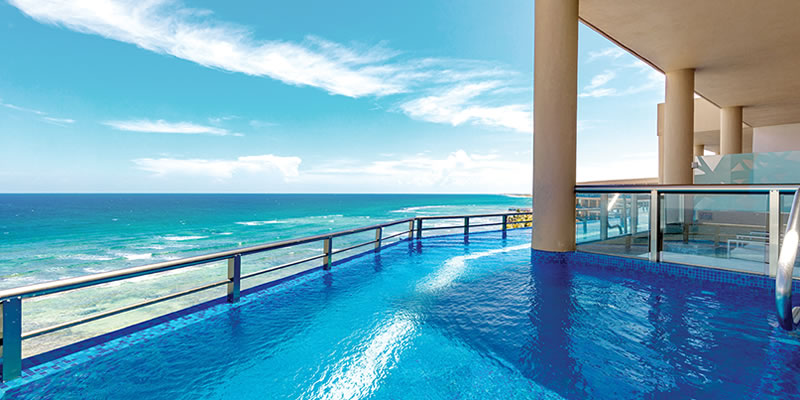 Jenny hits El Dorado Sensimar Seaside Suites
Sit back and let Jenny walk you through her Mexican getaway at Sensimar Seaside Suites, broken down into handy bite-sized chunks. Go forth and discover more, Holidaymakers.
Read now