About the hotel
Oualie Beach Resort is a delightful beachfront boutique hotel featuring 32 quaint cottages scattered across a peaceful coconut-lined beach on the unspoilt island of Nevis. This charming resort is a serene environment for all to enjoy, blessed with epic sunsets, pristine natural landscapes, and ocean views from every cottage. There's plenty to keep you occupied, with live entertainment, BBQ beach parties, managers' cocktail parties and more. Head to the elegantly traditional restaurant and enjoy culinary delights and wonderful cocktails as you drink in the majestic vibe of Nevis. Oualie Beach Resort is a unique experience on a unique island, where relaxation will come to you effortlessly.
Located on a beach widely considered the finest in Nevis
Boutique format of only 32 rooms, creating intimate escapes for discerning holidaymakers
Awarded GreenLeaders Platinum Level status for eco-friendly practices
At a glance
Couples
Accommodation
Elegantly scattered along the beach, choose from just 32 single-storey or two-storey Gingerbread Cottages, each mirroring the traditional feel of Nevis. This delightful boutique resort enjoys uninterrupted views of the beach and neighbouring island of St Kitts, and each room offers you everything you need for a comfortable escape:
Air Conditioning
Ceiling fan
King, queen or 2 double beds
Private bathroom with shower
Fridge
Minibar
Coffee maker
Alarm clock radio
Electronic safe
Iron & board
Hairdryer
Cable TV
Deluxe Queen & Deluxe Double
Scattered along the beach in single-storey Gingerbread Cottages, each Deluxe Room awaits you with a screened veranda offering uninterrupted views of the beach and the neighbouring island of St. Kitts. The maximum occupancy for these rooms is 3 adults, and they offer a 310 sq.feet footprint.
Studio Queen
Situated about 60 feet from the beach, Studio Queen accommodations include a full kitchen and a romantic mahogany four poster queen bed. The maximum occupancy for these rooms is 4 adults, and they offer a 410 sq.feet footprint.
Premier King
All Premier King rooms on either ground floor or first floor have screened verandas for seamless vistas of the beachfront, and the beach itself is only 60 feet away. These room offer a 570 sq.feet footprint.
Executive King
The Executive Suite is located on the top floor of a two storey Gingerbread Cottage, with a screened veranda for enjoying panoramic views of the seafront. You're also just 60 feet from the beach, so you can enjoy the sand-underfoot life style of island living. These room offer a 690 sq.feet footprint.
Restaurant & Bar
Oualie Beach Restaurant
This casual beachside restaurant is open daily for breakfast, lunch and dinner welcoming you in your swimwear for casual lunches, where every dish is made using using fresh, locally grown produce. Get a little more dressed up for dinner and enjoy a slightly more formal vibe, taking in the Caribbean breeze, gorgeous sunsets, and delicious dinners. Look out for theme nights, such as barbecues on the beach, and also the all new new Tapas menu at Oualie Beach for an alternative way to keep your taste buds tantalised.
Go Local
Enjoy a meal at a traditional local Nevisian restaurant, where the locals flock for the very best grub, so you know the food will be superb! This is arranged with the hotel directly and includes return transportation, a meal at one of the local restaurants and local alcoholic and non-alcoholic beverages. This is offered once per 7 night stay per guest and is a fantastic opportunity to sample a traditional Nevisian restaurant and experience a little of the local culture and nightlife.
Oualie Bar
Head to the Oualie Bar and enjoy your tipple of choice with friends, families, and locals. This social hub was created for conversation and dancing, with regular live music and beautifully peaceful sea views. The bar is a fun and vibrant way to end any an evening in the paradise of Nevis. Our top tip? Head here on a Friday for Happy Hour from 18:00.
Facilities
Air Conditioning
Bar
Restaurant
Beach Loungers
Bicycle Tours
Cable TV
Catamaran Sailing
Ceiling Fan
Hair Dryer
In Room Safe
Mini Bar Mini Bar
Snorkelling
Spa
Tea and Coffee Maker
Water Sports (£)
GreenLeaders Platinum Level
Stay at Oualie Beach Resort and rest in the knowledge that the hotel is forever conscious of its surroundings and environment. Breathe easy knowing that your carbon footprint is significantly lowered despite your plane ride into this magnificent resort. From its humble beach bar beginnings, Oualie Beach Resort wanted to be the greenest on the land. They can now proudly claim to be the greenest resort in the federation, being the only property certified as such. Their commitment to the cause of being green has resulted in the receipt of the prestigious TripAdvisor GreenLeaders Platinum Level status.
The TripAdvisor GreenLeaders Programme showcases a variety of eco-friendly hotels and resorts across the globe, all of which have shown a dedicated commitment to green practices including recycling, local and organic food, and electric car charging stations. Oualie Beach Resort goes above and beyond these practices, getting involved with local conservation efforts, including cultural and musical initiatives. The practices have even seen the running costs of the resort fall by 15%, and this saving enables the team to invest in other areas of the resort to ensure your ultimate satisfaction at Oualie Beach Resort.
Tracking energy use regularly
Regularly tracking the records of energy expenditure at least 4 times a year allows the resort to constantly review the best ways to conserve energy. This ensures that you have all of the electricity you need at your disposal in the greenest way possible.
Linen reuse programme
You're encouraged to think and consider your linen usage with handy training and advice on when to request bed changes. Rather than new bedding everyday, you may wish to conserve laundry energy by re-using the linens. The housekeepers are expertly trained to ensure you get the best cleaning service compliant with green practices.
Recycling bins in common areas
Just like at home, you're likely well-versed in disposing of waste into different bins to help the environment. If you see the availability to divide your rubbish, make the most of it and know that you're helping the environment in your new holiday home.
Opportunity for holidaymakers to learn about the resort's green practices during their stay
The team at Oualie Beach Resort are very enthusiastic about going green and are always keen to discuss the ways they help keep the island and resort conserved. The staff always welcome help and ideas if you fancy getting involved with any initiatives whilst you're there to further offset your footprint.
At least 75% of interior light bulbs are energy-efficient
It's a classic and simple trick: you'll never notice the difference, but the benefits of lower energy bulbs, beyond the cost saving, are huge.
Staff training on green practices
The staff are all highly trained and well versed in all things green. They all truly love what they do, and train at least once a year to ensure everyone is right on-track to becoming 100% green.
Nearby
Golf
Snorkelling
Scuba Diving
Romantic Walks
Bicycle hire and ride tracks
Spa
The glorious Caribbean surroundings of Nevis as you take your relaxing escape to the next level at the spa. With an array of different treatments available, this is the way to chill in the Caribbean.
Eco-Friendly
Going green is at the heart of Oualie Beach's holidaymaking philosophy and has seen them awarded the TripAdvisor GreenLeaders Platinum Level. Take a look at how they support sustainable tourism:
Solar water heaters
Low energy lighting
Water saving techniques
Community development initiatives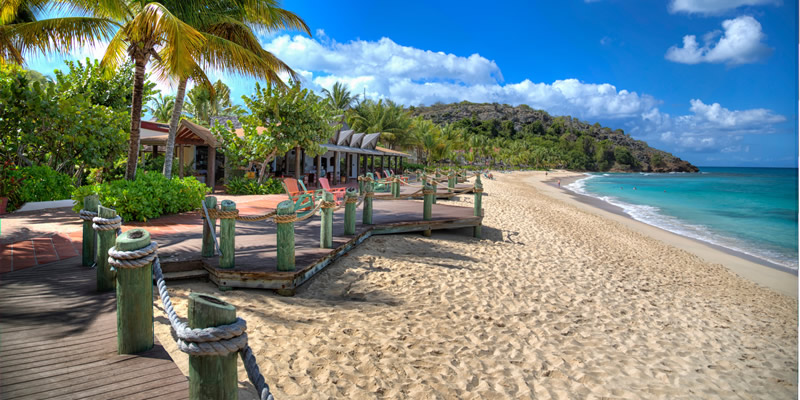 Top 3 Eco-Friendly Caribbean Resorts
White sun-kissed sands, distinct mountain peaks, lush green forest, warm turquoise seas; the Caribbean's finest offerings. Mother Nature's magic oozes out of every Caribbean landscape. Preserving these pristine vantage points is at the heart of the Caribbean's Eco-Friendly Resorts as they play their part in doing a little good and going green. Ecotourism lets Holidaymakers rest easy knowing their carbon footprint has been significantly reduced.
Read now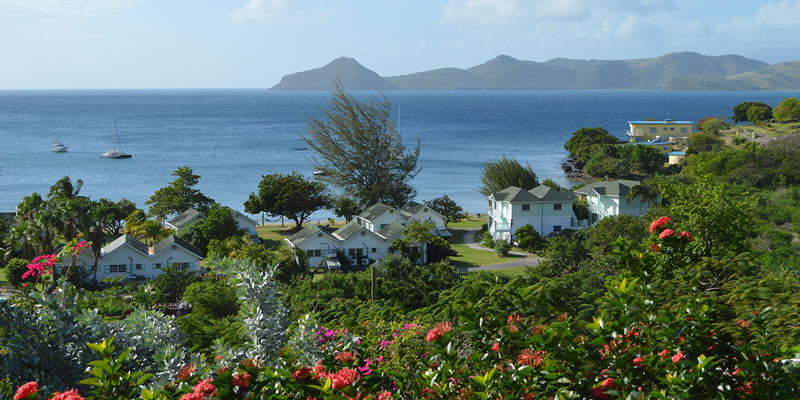 Introducing Oualie Beach Resort, Nevis
Oualie Beach Resort is an intimate, refined, and welcoming destination that promotes peacefulness and privacy on a secluded beachfront in the lesser-trodden environs of Nevis. It's got an unprecedented union of old-world charms and new-age escapism, and you'll be completely enamoured once you start to glimpse the inner workings of this petite paradise.
Read now