About the hotel
Allow the enchantingly clear sea and deep golden sands of St. Lucia to form the backdrop to your candlelit meals and romantic wanderings as you discover the beauty of the Caribbean's most captivating island. Float along a lazy river as it winds its way around the resort past cosy hideaways and secluded nooks perfect for quiet moments or indulge in revitalising spa treatments for complete relaxation. Dedicated to couples, Rendezvous offers hundreds of ways to reconnect and experience your own little haven together. From daybeds in the rockery garden to magnificent four-poster king beds in the accommodations, Rendezvous takes luxury and elegant comfort to another level.
Beautifully adorned luxury accommodations, with beachfront options
Excellent wellness programme, offering yoga, thi chi, and full spa services
Bespoke packages available for weddings, honeymoons, and special occasions
At a glance
Couples
Accommodations
Rendezvous has a range of luxurious accommodations that bring you close to the gorgeous beachfronts of St. Lucia.
Premium Garden View Room
Take in a romantic views from your patio or balcony, accented with tasteful furniture, soft seaside colours and the resort's signature four-poster king bed. These enhanced rooms offer you a spacious wardrobe, a refrigerator, an iPod docking station, a clock radio, and complimentary internet access, and the bathrooms has a bath and shower.
Verandah Suites
These spacious suites feature large verandahs overlooking the tropical gardens, decorated with a large loveseat and traditional hand-carved Caribbean details. These suites are well equipped with a four-poster king bed, a mini refrigerator, tea and coffee making facilities, an iPod docking station and clock radio, and a beautiful bathrooms finished with frameless glass shower doors and a spacious bathtub.
Seaside Suites
Here you can walk directly from your room onto a private deck overlooking the seaside pool and the Caribbean Sea beyond. The bedroom accommodates a king bed draped with canopies of sheer fabric, and Italian marble floors throughout create an unparalleled sense of luxury.
Luxury Beach Front Rooms
Enjoy an enviable location in a traditional vine-covered Caribbean building on the beachfront, complete with a private terrace or balcony with a sitting hammock. Every room is furnished with a four-poster mahogany king bed and a superior sleep-comfort mattress. The large bathroom offers a glass block wall, a shower and a marble vanity unit.
Beach Front Cottages
These romantic semi-detached Caribbean Cottages are set right on the beach, awaiting you with bamboo floors and cathedral ceilings. Relax and unwind in a king-size bed, and drink in the views of the Caribbean Sea and the golden beach just beyond your doorstep.
Luxury Beachfront Suites
The split-level bedroom and sitting area of these suites creates a spacious air of indulgence, enhanced by a four-poster king bed, a superior sleep comfort mattress, a grand sectional sofa, and a comfortable vanity. These suites also offer a mini refrigerator, coffee making facilities, an iPod docking station, and a balcony or terrace with wonderfully exotic views.
Dining
Great food is an essential part of the Rendezvous experience, providing your senses with the same indulgent elements as your accommodation.
Malabar Beach Club
A unique, intimate dining experience with views overlooking the Caribbean Sea. Enjoy dinner under an open sail at this a la carte restaurant offering light cuisine, using local island ingredients and fresh produce from the local market.
The Trysting Place
Dine on delicious à la carte offerings of fine French and Caribbean fusion cuisine, drawing inspiration directly from the culinary heritage of St Lucia.
Morning Pastries: 06:30 - 12:00
Breakfast: 07:30 - 10:30
Malabar Beach Club Lunch: 11:00 — 15:00
Malabar Beach Club Snack Menu: 15:00 — 16:00
Terrace Restaurant Lunch 12:30 - 14:30
Afternoon Snack: 16:00 - Sunset
Dinner: 19:30 - 21:30
Late Night Snacks 23:00 - Late
Terrace Restaurant
Here you can enjoy a breakfast of locally grown fruits or cooked classics including omelet and pancake stations. Lunch is a vast international buffet with an enormous range of flavours, and a variety of themed evenings present you with a plethora of opportunities to taste the globe.
Dinner: 19:00 - 21:00 (6 nights a week)
Personalised Dining
Nothing is more romantic than a candlelit dinner for two, and Rendezvous provides the best cut glasses, the most delicious wines, and a sky full of stars. Find a secluded corner, request a musician, and sample a sumptuous meal prepared by Rendezvous' head chef.
The Champagne Bar
Enjoy your favourite drink in this casual music-filled bar that stays lively until the last holidaymaker goes to bed.
The Terrace Bar
Sit and chat over fine coffee in the mornings, take in afternoon tea, and enjoy pre-dinner cocktails created by the bartender's masterful hands.
The Pool Bar
The Pool Bar is a great gathering spot, where you can swim up, order your favourite drink, and forge new friendships.
Facilities
Rendezvous has spent over US$15 million to to secure its place as the the best romantic destination in the Caribbean:
Luxury accommodations
Unlimited use of all the facilities at the resort
Breakfast, lunch and dinner daily
All beverages including premium brand alcohol and wine by the bottle at dinner
Land and water sports including motorised water sports and SCUBA boat dives with personalised instruction
Unlimited tennis with an on-site tennis professional
Manager's Cocktail Party every Wednesday evening
Nightly entertainment
Taxes and gratuities
SCUBA Diving
Experience the romantic side of SCUBA diving as a couple and you will enjoy first-hand the wonders of the deep ocean with our team. They will take you to the most remarkable dive sites for a truly spectacular look at St. Lucia's amazing underwater world.
Water Sports
The sea at Rendezvous is great for water-skiing, wake boarding and Hobie Cat sailing, all available with instruction. You even get below the waves by swimming and snorkelling amongst the plethora of fish just off the coast.
Archery
The therapeutic concentration of archery has made a wonderful impression at Rendezvous, making its way into the all-inclusive programme.
Golf
Golf pros and passionate amateurs can benefit from Rendezvous's golf clinic, run weekly on a Tuesday.
Bike Tours
Here you can ride to Castries, the island's capital, and sightsee on a romantic bike ride. All excursions use easily navigated flat routes, and you'll learn a little of the island's history, too.
Tennis
Rendezvous maintains a hard tennis court with an excellent playing surface, and can provide rackets and balls on request.
Weddings
St. Lucia is one of the most beautiful and romantic locations anywhere in the world, and Rendezvous will provide you with everything you need to make your special day truly special:
Personal pre-planning wedding consultant, personal on-site wedding planner, and a dedicated resort wedding team
Preparation of marriage documents
Bridal bouquet and groom's boutonnière
Wedding location
Decorated honeymoon room
An opportunity for the couple to learn to give each other body massages
Celebratory champagne breakfast in bed the morning following the ceremony
One-tier vanilla wedding cake
Appropriate mood music
Sparkling wine reception for the couple and 4 guests
Service of witnesses, if required
Specially selected wedding gift
Elegantly decorated dinner table with floral centrepiece for couple and 4 guests in the Trysting Place restaurant
Upgrades
Theme-decorated wedding location
Premium champagne toast with hors-d'oeuvre for the couple and 4 guests
Two-tiered wedding cake decorated according to the theme
Private dinner party with an elegantly decorated table and centrepiece for the couple and 4 guests at a choice location on the resort
Bridal bouquet and boutonnière specially designed for the occasion
Sensuous massage for two
Menu of additional personalisations
Additions
Private airport transfers
Custom-designed wedding stationary including menus, place cards, thank you cards, and more
Private honeymoon candlelit dinner
The Exotic Oasis Wedding Theme
Escape to an exotic location, on or off the resort, and exchange vows of enduring love under a bamboo canopy in a unique setting lit by wrought-iron antique lamps and votive candles. This option offers an exclusive bridal bouquet of purple, lemon and lilac orchids. A wedding planner can help you add personal touches that will make your celebration unforgettable.
Saha wa'afiab! (Moroccan for Cheers)
Sample exotic Middle Eastern hors-d'oeuvres and toast your happiness with Laurent Perrier champagne in the company of family and friends.
Dinner Party
Imagine you're dining like Lawrence of Arabia, surrounded by lush carpets and ottomans, and sampling delicacies from the lands of the Thousand and One Nights with your closest and dearest. It's simply magical.
Just Us Two
Celebrate your new life by stealing away to your favourite nook on the property to enjoy a picnic for two.
The Exotic Touch
Steal some relaxing time together with a calming side-by-side full-body massage.
Private Honeymoon Candlelit Dinner
Alone at last, you can enjoy an enchanting dinner for two under the stars. On the beach, in the garden, or in a gazebo, you can create your own private dinner experience.
The Elope Wedding Theme
Run away to get married in Saint Lucia, an island the way an island was meant to be. Your unique tropical adventure will include all the features of the Premium Ever After Collection, but with the added options of round-trip travel to the wedding location and an exotic bridal bouquet of orange, yellow, rust, lemon, and ivory flowers.
Santé! (French for Cheers)
Imagine running away somewhere romantic, leaving almost everything behind for love. Together you'll savour a chilled Bollinger and scrumptious finger food with the lucky few you choose to include in your escapade.
Dinner Party
Stealing away to a secluded location, you'll feast with family or friends on superb food prepared to your taste by expert chefs.
Forbidden Pleasure
Relax with a soothing side-by-side full-body massage.
Private Honeymoon Candlelit Dinner
Under the stars on the beach, in the garden or in a gazebo, you'll feel like the only two people in the world as you enjoy the fabulous dishes of your choosing.
Stolen Time
Escape to the lovely Pigeon Island for a romantic picnic for two.
Island Romance Wedding Theme
Steal away to a private island and be married on the beach in the most exotic of settings. Walk along a conch shell aisle to a simple standing driftwood arbour, adorned with loose tropical flowers, and exchange your promises of love ever after. This option features a bridal bouquet of orange birds of paradise accented with white orchids.
Ammizè Ków! (Creole for Enjoy yourself!)
On beautiful sunny islands like St Lucia, life is sweet and easy, and celebrations are simple and joyful. You'll toast to your new life with Moët, Chandon, and perfectly fresh delicacies.
Dinner Party
Islanders prepare feasts like no one else. At a table dressed to evoke the beauties of the ocean with coral clusters and barnacles, you'll live an experience unlike any other, with moments filled with love, joy, laughter, and superb food.
Private Honeymoon Candlelit Dinner
Once back at the resort, you can dine alone on one of the river garden islands on any night of your choosing.
Aaaaaah time!
A highlight of your stay, this massage for two gives your bodies the type of soothing peace found only on exotic islands.
Romantic Sunset Cruise
Rediscover the magnificence of the sunset with a romantic evening cruise along the coastline of Saint Lucia. Watch for the green flash, it's said to be the setting sun winking at lovers.
Romance by the Sea Wedding Package
Romance by the Sea draws its inspiration from the beauty and natural elements of the ocean. You'll exchange vows under unique driftwood structures adorned with white flowing sheers, and this option features a bridal bouquet of white orchids, roses and freshly picked sea grapes.
Stin iyá su! (Greek for Cheers)
Would Dionysos, the Greek God of wine, have enjoyed Piper-Heidsieck? Without a doubt, and you will too. It'll be served, along with Mediterranean hors-d'oeuvres, to you and your guests after the ceremony.
Dinner Party
For ancient sea-people, hospitality was a sacred duty and that tradition is still alive today. The island's delicious bounty will be offered to you and your guests, to be savoured in the true spirit of communal friendship and joy.
Seaside Laying of Hands
A soothing side-by-side full-body massage will stimulate all of your senses.
Romantic Sunset Cruise
Like the people of old, you'll cruise into the sunset as if time did not exist. Along the coast of Saint Lucia, you'll feel like ancient explorers on a voyage of discovery.
Private Honeymoon Candlelit Dinner
It's time to be alone. Time to look into each other's eyes like lovers do, and share an intimate dinner.
Romance in Bloom Wedding Package
After a walk down an aisle sprinkled with flower petals and surrounded by lush gardens and an abundance of exotic flowers in a setting reminiscent of an early summer garden party, you'll exchange promises and rings under garden obelisk topiaries draped with flowing white sheers, where the bride will carry a bouquet in many shades of pink.
Salud y Amor (Spanish for Cheers)
Poets of all ages have celebrated the beauty of flowers, and accordingly you'll be surrounded by them as you drink to el amor with Veuve Clicquot champagne and nibble on special hors-d'oeuvre with your guests.
Dinner Party
The bride and groom's dinner will be a feast for all the senses. The flowers will enchant with their delicate hues and fragrances that complement the superb food you'll share with loved ones. Fine wines will enhance this joyous experience.
Romantic In-Room Retreat
After the excitement of the day, what a pleasure it will be to return to your room and let the magic envelop you, aided by soft music, candle-light, flower petals, and exotic scents. As if this were not enough, you'll be spoiled with chilled sparkling wine and sinful chocolate truffles.
Private Honeymoon Candlelit Dinner
Enjoy a special dinner in the Water Garden, with petals floating in the pool. You can indulge all your senses and yield to the pleasures of the moment.
Rekindled Wedding Theme
Renew the beautiful promise you made to each other in a classic, sophisticated setting under a simple garden arch decorated in a palette of whites and silver.
Toast to the Couple
Celebrate the renewal of your commitment with Bollinger champagne and hors-d'oeuvre.
Tender Rendezvous
They will dine together under the stars on the beach, in the garden or in a gazebo, and reflect upon your past and future life together, while enjoying fine dishes prepared to your taste on a table dressed with crisp white linen, glass vases with floating flower buds and silver votive candle holders.
Honeymoons & Anniversaries
A honeymoon is more than just a holiday; it is a celebration of a new life together. As Rendezvous is a couple's retreat, they know a thing or two about what makes that celebration special. In fact they like to make all celebrations special, whether it is your wedding anniversary, special birthday or babymoon.
If you are getting married at Rendezvous or celebrating your weddingmoon or honeymoon with, then they will roll out the red carpet for you and make your stay the perfect start to your life together. They will create the perfect St. Lucia honeymoon all-inclusive package. Choose to have a romantic dinner by candle light on the beach, allow our team to create the perfect In Room Retreat to add a romantic touch to your night or allow us to organise a Sunset Cruise so you can sip Champagne and watch the sun lazily dip down into the Caribbean Sea as you sail around the island. After your wedding or your flight, relax with a Honeymoon Massage or enjoy a special Sunset Rendezvous package; chilled wine, fresh fruits and chocolates on your patio or in your room to create the most romantic evening.
Wedding themes may incur additional charges. For honeymoon packages you will be required to present a copy of your wedding certificate at time of check in
Spa
They trained their team at their sister hotel, The BodyHoliday, which has been voted as the best spa in the Caribbean many times and has the world class Wellness Centre and training facility. Rendezvous now offers everything from simple manicures and pedicures right through to Swedish Massage, Deep Remedial Tissue Therapy, Aroma Stone Massage and Hawaiian Lomi Lomi.
Gym
It is packed full of all the latest equipment including treadmills, bikes, cross trainers and a large selection of free weights. In an air-conditioned open plan gym you can work out at any time of the day. If you want some instruction then they can help you build a programme that is right for you.
Yoga
Although the history of yoga stems back to ancient India, Hinduism and Buddhism, the benefits of its practice are as needed in today's fast paced world as they were then. As your physical and mental wellbeing are important to everyone at Rendezvous, they run yoga holidays, yoga classes and organise private tuition.
Pilates
Over the last few years, Pilates has been a revolution in the wellness market and has taken the USA and Europe by storm. There is a good reason for that. This unique activity is an excellent way of toning and trimming and suits all levels of fitness and age. The basis of Pilates is to control your body alignment and correct your breathing through concentration. At Rendezvous they run Pilates classes regularly and they would welcome you however experienced you are to join them.
Tai Chi
They run classes at Rendezvous to make you feel revitalised, relaxed and healthier in both mind and body. Unlike many forms of exercise and sport, Tai Chi does not rely on strength, force or speed, making it ideal for everyone, young and old alike. If you are looking to try something new, then do join them for a class.
Fitness Classes
If you fancy burning off a few calories and getting some exercise in, then they run a series of fitness classes that will suit all tastes and abilities. They employ fully qualified instructors to run the sessions and the classes are held most days in the resort. Their Tone & Stretch class is designed to increase your flexibility and suppleness. Using modern techniques and equipment, they run the class in the gym area. The Aqua Aerobics sessions are held in the pool in the Water Garden and are open to all. These sessions are great fun as well as being great exercise Cardio Circuit is a class designed to increase your cardiovascular capacity and increase your strength or muscle tone. This session is a great work out. If you want to get fit and learn something new, then try the Limbo and Calypso Dance class. Using dances from the Caribbean, they will teach you a few new steps and help you get fit at the same time!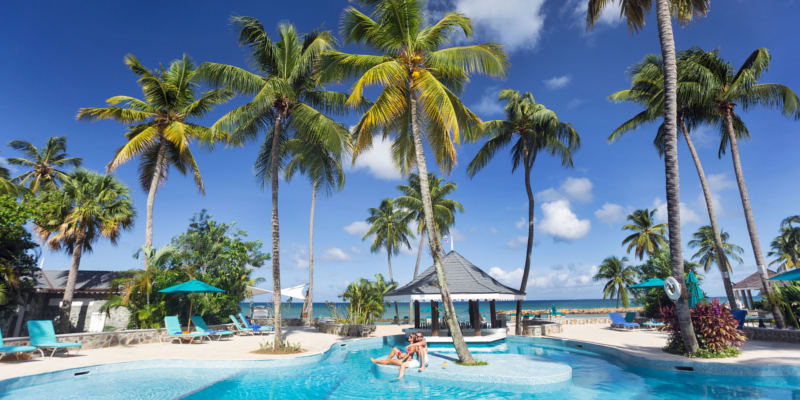 Exclusive Beachfront Luxury Just for Couples at Rendezvous Saint Lucia
Burrowed at the heart of the Caribbean, renowned for its resplendent natural beauty, intimate retreats and luxury of the highest calibre, St. Lucia is the quintessential setting for couples in the first flush of love, honeymooners or seasoned life-partners, alike. On the hunt for adults-only hideaway isolated from the hustle and bustle of urban life? Look no further than Rendezvous; a beachfront boutique resort exclusively reserved for couples craving time to reconnect in an intimate setting.
Read now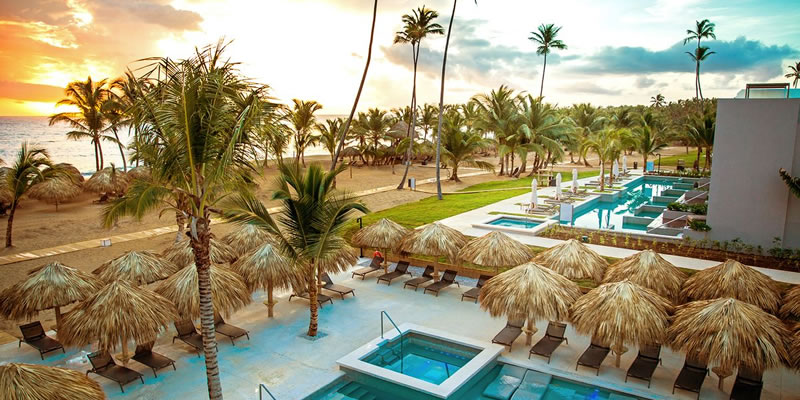 Your Guide to the Blue Bay Travel January Sale 2017
As the new year rolls in over the fading wraiths of leftover turkey and empty wine bottles, it's time to look ahead and nail down your 2017 getaway. Putting a holiday on the calendar is the best way to splice a little happiness into your year right from the get-go, and booking early is the smartest way to travel. You've probably already discovered that the internet is a thicket of holiday deals jumping for your attention, so we've compiled the best deals on your behalf to create our January Sale. Here you'll find a five point introduction to some essential holiday deals that need to make your 2017 shortlist.ed to make your 2017 shortlist.
Read now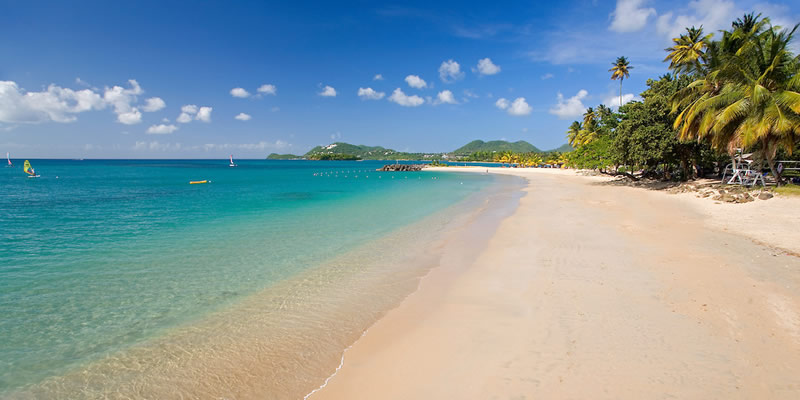 Rendezvous, St Lucia's Boutique Resort
Let's Rendezvous! The beautiful, boutique resort Rendezvous has an intimate atmosphere with a host of unique activities from leisurely bike rides into Castries, walks up to the lighthouse, cocktail making masterclasses and many more short and sweet extravaganzas for you to break up the sun-worshipping. The 4* family led resort really has that personal touch as staff go out of their way to make sure your stay is perfect. There're not many places where you'd have a dance off with the bar staff on your very first night! Alas, here is my version of events from the West Coast of St Lucia. Introducing, Rendezvous.
Read now