Union Island

,

St Vincent & The Grenadines
About the hotel
Price includes return inter-island flights
Palm Island Resort is an exclusive 135-acre private-island hideaway situated in the idyllic archipelago of Saint Vincent & The Grenadines. Renowned for its raw natural beauty, Palm Island awaits you with five white-sand beaches that feel untouched by the modern world. Sample delicious, fresh, locally-grown Euro-Caribbean cuisine while dining beachfront, or partake in an array of low-key activities in tune with the sand and the sea. Palm Island Resort welcomes you with a complete package of amenities and activities befitting a truly special holiday. It's all here in this boutique escape: library, gym, excursions, nature trails, tennis, croquet, table tennis, golf, cycling, and other wonderfully civilised pass times. Everything is right here at your finger tips, in a place free from the concerns of the everyday life.
Live the private island dream on a 135-acre island
Borrow a bike and make the most of the nature trails and 5 white sand beaches
Air of exclusivity with just 43 gorgeous accommodations
At a glance
Couples
The Private Island Dream
Palm Island Resort lets you live the dream of relaxing on your own private island. Each accommodation comes with the following exceptional amenities:
King or 2 queen beds
Air conditioning
Soft bathrobes
Free mini-bar
Daily housekeeping service
Nightly turndown service
Personal safe
Hair dryer
Coffee maker
Alarm clock
Iron and ironing board
All beachfront rooms are outfitted with glass shutters
Palmview Rooms
Palmview Rooms are ideal for sequestered romance. Sitting areas, furnished terraces, and master baths (some with deep-soaking tubs) ensure you have all the space you need to unwind and escape the modern world. Beachfront Rooms have king beds, furnished terraces with views of the Caribbean Sea and Union Island, small sitting areas, and bathrooms with showers.
Superior Beachfront Rooms
Featuring king-sized beds and floor-to-ceiling sliding glass doors to access your very own private walled patio with beach shower, these Superior Beachfront Rooms make the most of their direct beachfront access and with added extras including a luxurious rainfall walk-in shower, conatin everything you need for a luxurious escape.
Island Lofts
The charming Island Lofts are wooden cottages perched on stilts amid lush gardens, featuring two queen beds or one king bed. A private terrace opens up to commanding views of the ocean toward the Tobago Cays or the gardens, and the bathroom feature deep soaking tubs and separate single showers. 2 Beachfront Lofts available on request, for a small supplement.
Seagrape Suites
Seagrape Suites offer premium sunset views due to their west-facing position, ideal for cosy evenings with a special someone. Each of these suites awaits you with a king bed, a pull-out couch in the sitting area, and a bathroom with a double shower and a large soaking tub.
Superior Beachfront Rooms
The brand-new Superior Beachfront Rooms feature sliding glass doors boasting stunning views of the infinite Caribbean Ocean.
Stunning Villas
The two villas on Palm Island Resort offer best accommodations in one of the Caribbean's most desirable locations.
Southern Cross Villa
The Southern Cross Villa is the ultimate escape for couples, enjoying an oceanfront location ideally complemented by honey-toned wood furnishings that blend into the panoramic bluff of its surroundings. The villa includes its own 10-by-10-foot infinity pool, a tiled dining terrace, an arbour patio and two master bedrooms, each with a king bed, a flat screen television, a marble bathroom and a step-in ocean-view shower. A state-of-the-art marble kitchen comes stoked with pantry staples, and a complimentary golf cart is provided for transportation.
Seafeather Villa
The Seafeather Villa is the resort's newest addition, situated on the northern shore on the longest of the five beaches. Three bedrooms with a king bed, a queen bed and a twin bed ensure you have a wonderful night's sleep, and a covered deck adjacent to the ocean's edge allows you to make the most of the amazing views. The villa even features televisions in all rooms, internet access, a full kitchen and a washer and dryer. Refreshments are stocked upon arrival, and a complimentary golf cart is provided for transportation.
Premium Dining
Dining at Palm Island Resort is an elegant (yet casual) affair, where excellent cuisine and premium drinks make every meal an experience in itself.
Sunset Grill
Enjoy a casual lunch of local Caribbean fare in the relaxed beachfront setting of the Sunset Grill. Sit inside for a little shade, or dine with a view directly on the sand. An à la carte dinner is available on Wednesdays and Saturdays, which requires a reservation.
Royal Palm
For a more formal experience, have a sit down meal at the Royal Palm right on the white sand of the beach. Lunch and dinner consist of an array of local and international delights prepared to please any palate. A wide array of coconut delicacies are also presented at breakfast, lunch and dinner via the coconut treasure chest.
Return Guests
If you're a return guest at Palm Island, or any Elite Island Resorts property, you'll be an honorary guest at a weekly cocktail evening with the general manager and the senior team.
Style in Paradise
Palm Island Resort will usher you into the laid-back private island lifestyle with appropriate finesse.
Union Island Airport meet and greet service
Free welcome drink on arrival
Guest services
Tour desk
Daily orientation meetings
Complimentary afternoon tea, served daily
Telephone available in lobby
Laundry Service (not dry cleaning)
Sandy Feet Boutique 08:00 - 17:00 daily
Satellite TV lounge
Complimentary internet access in the lobby and the library
Library with book exchange
Children over 12 welcome on selected dates
Water Sports
Enjoy your glorious island setting in style:
Kayaking
Hobie cats
Paddle boarding
Volleyball
Staff and guest cricket match
Kitesurfing
Land Sports
There's still plenty to do if you'd prefer to stay dry:
Complimentary tennis
Croquet
Table tennis
Beanbag toss
Horseshoe game pit
Shuffleboard
Library
Crafting classes
Island Adventures
Make the most of your exclusive island setting:
Scenic bicycle tour
Snorkelling
Sandy strolls on the beach
Three hiking trails
Lagoon-style swimming pool
Botanical walk
Historic art gallery
Incredible Excursions
Loads of fabulous adventures can be arranged, for a small fee:
Tobago Cays and Mayreau onboard the Yannis catamaran
Pink Lady schooner tour
Deep sea fishing trip
Explore mainland St. Vincent and nearby Union Island
Sunset and starlight cruises
Overnight islandhopping to other islands such as Bequia
The Spa by Palm Island Resort
Newly opened 'The Spa by Palm Island Resort' is a treat for all of the senses and truly basks in its stunning beachfront location. With an emphasis of the outdoors there are two double treatment rooms plus an additional room dedicated to manicures & pedicures. Also check out the hairdressers, perfect for getting glammed up for the night or preparing for your wedding day.
With a Jacuzzi on the terrace overlooking the ocean and a tub on the deck, this is the ideal way to destress in one of the most beautiful places in the world. So soak up, enjoy a glass of Champagne and take in that spectactular view over the Grenadines.
Private Island Wedding Experience
Palm Island Resort is one of the most exclusive locations for a Caribbean destination wedding, thanks to its sequestered setting and wondrous views.
Services of a wedding co-ordinator
Registrar costs and ceremony charges
Venue - Site on property decorated with flowers for wedding and reception
Bouquet of flowers for the bride
Boutonniere for the groom
One-tier wedding cake
Bottle of champagne
All taxes and gratuities
Please note that couples getting married at Palm Island must go to the ministry in St. Vincent
Eco-Friendly
Palm Island Resort has been awarded the Green Globe Certificate for sustainable tourism highlighting their commitment to making positive contributions to people and the planet. There green initiatives include:
Use of solar units to provide energy and hot water throughout the resort
Reuse of rain water
Minimising waste by composting organics and donating wet food to local farmers for use as feed
Supporting WIDECAST, the Wider Caribbean Sea Turtle Conservation Network
With Elite Island Resorts you are not only a valued guest, but a treasured friend. Each of their 8 properties is a vibrant gateway into the island it calls home, where culture and hospitality coincide to create truly authentic Caribbean experiences. Think Caribbean, think Elite.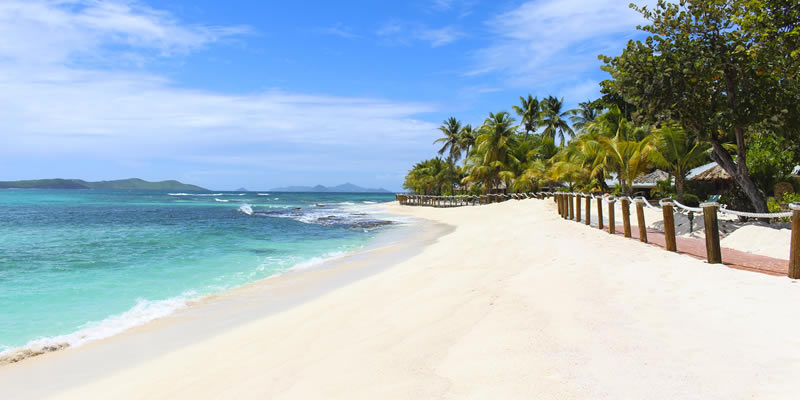 Get Acquainted with Palm Island Resort, St. Vincent & The Grenadines
Not all holidays are equal, you know. There are some places in the world that somehow manage to leave you speechless and breath-taken at the same time, and Palm Island Resort is one such retreat. No matter where you've been in the Caribbean, or the world at large, Palm Island Resort offers you a distinctive sense of calm and exclusivity. If you consider yourself a connoisseur of the Caribbean, or if you're simply curious about one of the best hotels around, the fast facts and video rundowns contained here will lead you to enlightenment.
Read now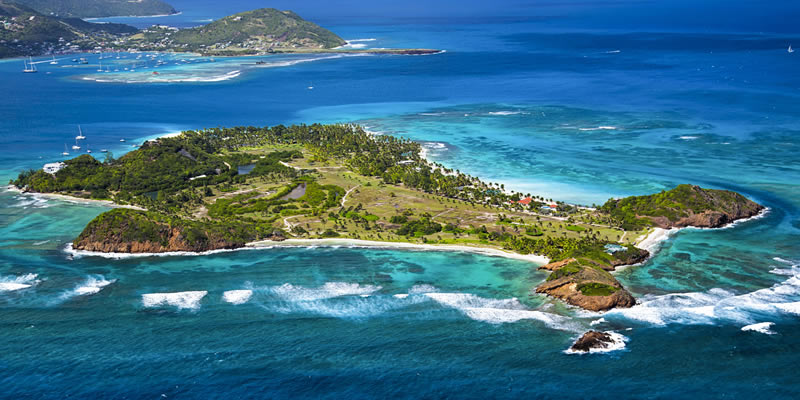 Palm Island Resort: The Best Place to Start Your Quest for the Uncommon
Sometimes you're looking for a holiday that's completely, utterly different. You've tried your hand at the beach resorts, the city escapes, and perhaps even aquatic adventures. It's time to shake up the routine and sample something from a whole new way of life. An excellent place to start this quest for the uncommon is Palm Island Resort, owing to its distinctive catalogue of holiday experiences. This is a journey quite distinct within the canon of Caribbean escapes, and is the perfect fuel for your wanderlust.
Read now
Palm Island Resort & Spa
Join us as we go #InFocus in St. Vincent and the Grenadines and take you on a tour of Palm Island Resort & Spa
Play Video
Palm Island Resort & Spa - Blue Bay Travel Top Picks
We give you the Top Picks specifically chosen by us here at Blue Bay Travel, so you know what to check out first at Palm Island Resort & Spa
Play Video