Turtle Beach by Rex Resorts
Saint Andrew

,

Trinidad & Tobago
About the hotel
Turtle Beach by Rex Resorts is a paradise of lush tropical gardens, elegantly stretched along Great Courland Bay where turtles still lay their eggs. This family oriented resort welcomes holidaymakers of all ages, and the friendly staff diligently see to your every need. Every room faces the sea, bringing the beautiful seascapes of Tobago right into your room. For exceptional value all-inclusive Caribbean Holidays, Turtle Beach by Rex Resorts is one of the finest options in the Caribbean.
Stunning location in Tobago's Great Courland Bay, where turtles lay their eggs
Combines excellent value all-inclusive getaways with Tobago's long-standing connection with the natural world
Great range of restaurants and excursions nearby
At a glance
Family Friendly
Accommodation
Turtle Beach by Rex Resorts offers countless vantage points for enjoying spectacular Tobagonian sunsets.
Air conditioning
Bath
Balcony or patio
Direct Dial Telephone
Hairdryer
Radio
Shower
Standard Seaview
Standard Seaview Rooms offer a beachside location with calming sea views, accommodating up to a family of four.
Turtle Seaview
Turtle Seaview Rooms also offer a beachfront location and seaviews, complemented by a mini fridge stocked once per week with soft drinks and local beer. You'll also be offered free late check out (subject to availability; 5 night minimum stay). Turtle Seaview rooms accomodate 2 adults + 1 child or 3 adults
Deluxe Seaview
Deluxe Seaview Rooms at Turtle Beach are perfect for larger families, sleeping up to a family of 4 with a separate single bedroom to accommodate one child. There is of course sea views and the amenities of the Turtle Seaview rooms and a beachfront location. Deluxe Seaview rooms accomodate 3 adults or 2 adults + 2 children.
Dining
The delicious dining of Tobago is never far away at Turtle Beach by Rex Resorts.
Courlanders Restaurant
Courlanders Seaside restaurant provides a scrumptious buffet with optional à la carte meals in a breathtaking seafront setting. Breakfast is served 07:30 - 09:30, lunch is served 12:30 - 14:30, and dinner is served 19:00 - 21:30.
Kiskadee
Enjoy an informal buffet-style setting in this casual restaurant overlooking the gardens. Breakfast is served 07:30 - 09:30, lunch is served 12:30 - 14:30, and dinner is served 19:00 - 21:30.
Courlanders
An open-air terrace adjacent to the pool, serving tea and coffee throughout the day alongside a varied programme of entertainment during the evening. Afternoon tea is served 16:00 - 17:00.
Surf bar
A beachfront poolside bar with a swim-up counter. Enjoy cocktails as the sun sets, or perhaps an after-dinner tipple. Open 10:00 - 23:30.
Crusoe Bar
A comfortable lounge overlooking the gardens for evening drinks. Open 18:30 - 20:30.
Facilities
Tour Desk
Baby Sitting (on request)
Foreign Currency
Gift Shop
Jacuzzi
Laundry Service (£)
Meeting Room
Safe Deposit Box
Non-Smoking Property
Leisure
Beach Volleyball
Children's Club
Swimming Pool (£)
Snorkelling
Sunfish Sailing
Scuba Diving (£)
Tennis Courts (floodlit)
Windsurfing
Rex resorts has one aim in mind, to provide experiences that leave you with a lifetime of spectacular memories to cherish forever! Adorning the shores of five idyllic Caribbean islands, Rex Resorts beach hotels offer an all-encompassing Caribbean experience for all . There's an island to suit everyone; Antigua, St Lucia, Grenada, Tobago and Barbados, each with their own charm and finesse, receive the Rex Resorts treatment and deliver an incredible getaway each and every time.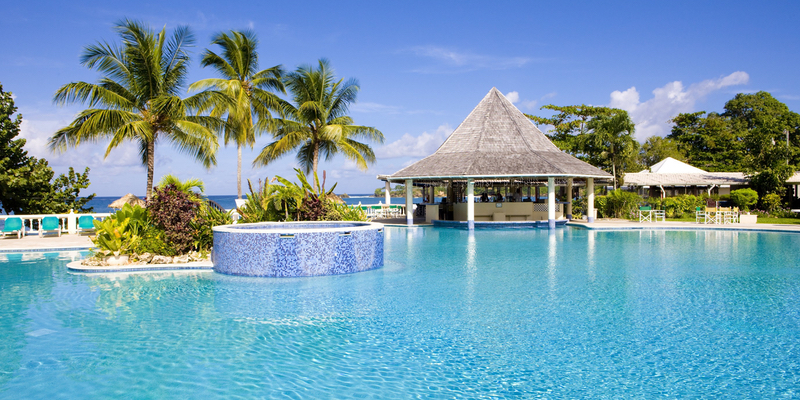 Unique Holiday Memories at Turtle Beach by Rex Resorts, Tobago
Caribbean holidays have become a mainstay in the British holidaymaker's repertoire, but there are still places in the Caribbean that offer an untouched essence of the classic one-with-nature island lifestyle. Turtle Beach by Rex Resorts has caught our eye as one such destination, combining wonderful all-inclusive holidays with Tobago's long-standing connection to the natural world. One-of-a-kind holidays define Turtle Beach by Rex Resorts, and even Caribbean connoisseurs will find something fresh and exciting tucked away on this peaceful Tobago beachfront.
Read now