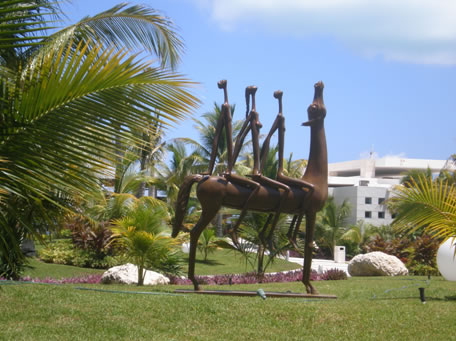 Click here to book Excellence Playa Mujeres from £1,287pp
I stayed at the Excellence Playa Mujeres for seven nights in September 2009. The hotel is modern and beautifully designed.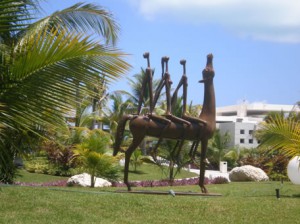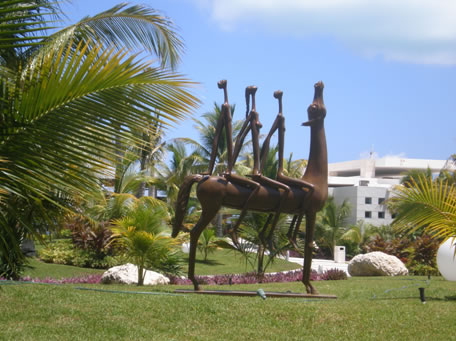 The room was great, identical to those shown on the Blue Bay Travel website, with a four poster bed and Jacuzzi bath. As we were a part of the 'Excellence Club' the mini bar included four bottles of spirits as well as the standard fridge stocked with wine, beers, water, fruit juices and fizzy drinks. Being a part of the Excellence Club provided us with an express, personalised check in service, the use of the Excellence Lounge, 24 hour concierge service and use of the Excellence Club private beach area and pools.
The Excellence Lounge was a lovely idea as it provided computers with internet access, had a small bar area and hot buffet style snacks which were regularly changed throughout the day. Unfortunately due to the location of our room (we were in block 9) we did not make good use of the Excellence lounge as it seemed pointless walking past several bars, restaurants and reception (with internet access) to get there.
The private beach was directly next to and not really any different from the general beach. The beach was a bit sea-weedy at times but the hotel made a conscious effort of trying to resolve this by sending a tractor along the waters edge to collect the seaweed several times a day.
Each Excellence Club block of rooms has its own pool which we found perfect when we fancied a quiet morning as there was never more than a handful of other guests around them. Afternoons were generally spent floating along on one of the lazy rivers sipping cocktails brought to us by one of the many willing waiters. There seemed to be a lack of towels on a couple of afternoons but I think this was probably caused by some guests using three or four at a time and reserving themselves a selection of sun beds with them.
We visited the Miilè Spa for a Marine Wellness package which I would definitely recommend. It involved several different types of water massage, time in the sauna and steam room interspersed with dips into warm and cold plunge pools before relaxing on some heated marble recliners and having a brief head massage.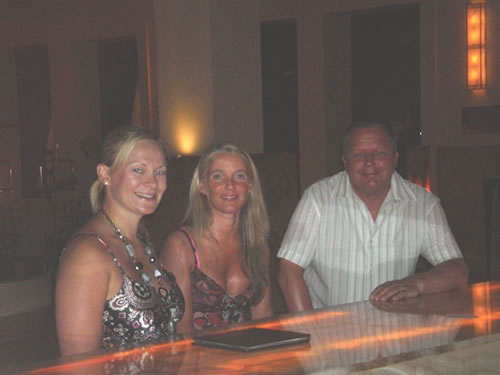 This hotel really does embrace premium all inclusive, offering a massive choice of cocktails and other premium brand drinks (if like me you enjoy selecting your brand of vodka or your flavour of martini you won't be disappointed by the range). The glowing marble of the Martini Bar set the backdrop for many pre and post dinner drinks.
In regards to dining I was particularly impressed by the Spice and Chez Isabelle restaurants. We dined teppanyaki style at Spice in a room with three other couples. The chef and waiter were attentive and entertaining while the setting gave us the opportunity to get to know some of the other guests. The standard of food served at Chez Isabelle was exceptional and we chose to dine there for a second time on our last night.
Overall I'd have to say this hotel delivers a touch of 'Excellence'.