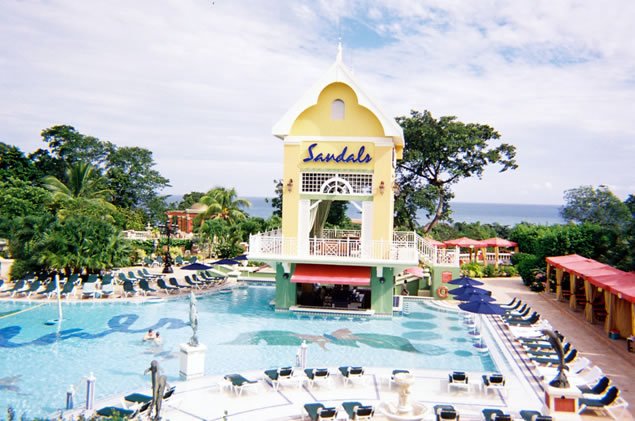 After taking a short domestic flight from Manchester Airport I arrived at London Gatwick where I transferred from the North terminal by a short shuttle bus journey to the South Terminal where Virgin Atlantic are based.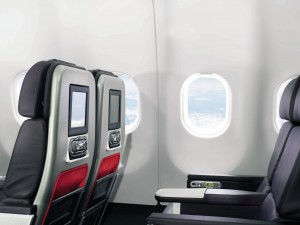 After getting acquainted with my fellow travellers I checked in for my Flight to Kingston. Upon check-in I found that we had very kindly been upgraded to Virgin's Premium Economy cabin which was a lovely surprise !
When in the Premium cabin you get a higher luggage allowance of 2 pieces per person each can weigh up to 32kgs. When we boarded we found that our seats were on the upper deck of the aircraft which was a great experience. The cabin staff met us with a glass of champagne and a hot towel, whilst we were investigating our very spacious seats, with a 38 inch seat pitch, the choice of entertainment and meals was fantastic we watched some of the latest films with an ice-cream and then managed to get some rest in our very comfy reclining seats, the 8 hour 40 minute flight sped by and we were soon landing into Kingston !
On arrival we transferred to the resort of Ocho Rios which took around 4 hours and was very tiring, I would definitely recommend where possible that clients should only take flights into Montego Bay when staying in the resort areas.
Sandals Dunns River Villaggio Resort
We arrived at Sandals Dunns River located 5 miles west of Ocho Rios at around 9pm on arrival we were greeted by the very friendly staff with a glass of rum punch and a cold towel which was very welcome and a great start to our 2 night stay. Dunns River has a definite Italian influence through-out, with mahogany furniture and plush decoration. Named after the famous waterfalls this resort has a very intimate, romantic feel and is very plush and sophisticated.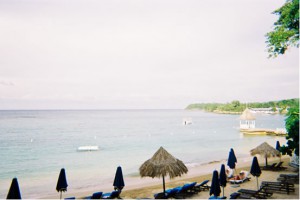 The resort has 250 rooms across 8 categories on 25 acres. The property has an on-site pitch and putt and for the more adventurous there are free transfers to the nearby 18 hole championship course. There are free exchange privileges with complimentary transfers to Sandals Grande Ocho Rios with full use of all their services. The Resort has 5 restaurants and 6 bars catering for all tastes and the breakfast really is second to none with beautiful views over the Caribbean ocean. There are 2 swim up pool bars and 3 whirlpools to enjoy. The beach area is beautiful but as most beaches are coves on this side of the island they are quite small, although the pristine waters are fantastic for all the watersports that are offered.
Sandals Grande Ocho Rios Beach and Villa Resort
This resort is the largest situated on a hillside over 100 acres of gardens. On the North coast between the mountain of St. Ann and the Caribbean sea. 529 villas, luxury rooms and suites with its own rock climbing wall and one of the largest spas with a tropical Solarium it is only a short ride from Dunns River waterfalls, with 7 main pools including a very impressive main entry pool on the Manor side.
Separated into 2 distinct areas the Manor section stretching up the hillside with categories ranging from the Great house Deluxe with views over the tennis courts to amazing Villas with private pools and butler service boasting the most beautiful panoramic sea views.  The Riviera section is reached by crossing the main road which runs through the resort in this section the rooms range from The Riviera Deluxe with Garden views to Luxury one bed suites with ocean views and butler service. The rooms are furnished to a high standard with Mahogany furniture and pastel shades. Some sections of the hotel are currently undergoing soft refurbishments which when finished will help to combat the property looking a little tired in some areas. With 10 restaurants and 10 bars the choice is fantastic and this resort also offers exchange privileges with Dunns River so clients can use both resorts with complimentary transfers. This resort has a wonderful watersports centre with lots going on although again I found the beach areas to be quite small, but this is out-weighed by the massive choice of pool area.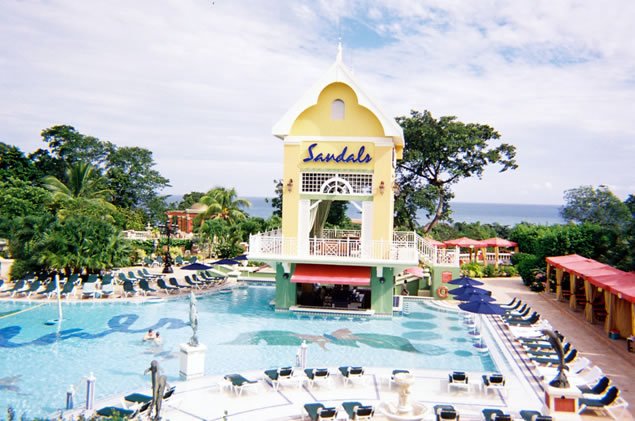 Sandals Golf and Country Club
Situated in Ocho Rios this 18 hole championship golf course designed by PK Saunders is in a really beautiful setting in the hills 750 feet above sea level. Upon arrival we were taken into a beautifully designed colonial clubhouse with a well stocked pro-shop, the clubhouse also has a good restaurant and bar and is the perfect place for all the family to come for a lovely day out away from the main resorts. Daily complimentary shuttles are provided from the local hotels. Green fees are included the only extras payable are Caddy fees which are mandatory at 17US$ per bag and any rentals required such as Clubs / Shoes / Carts. From the Clubhouse we all chose our carts and went for a ride around the course which was a great experience and very funny we all tried our hands on the driving range ( I don't think golf is for me somehow !! ) The course offers Golf schools and instruction for those who really want to improve their game, I got the impression that it really doesn't matter what level you are at from a total beginner to a serious player this course covered it all and was not stuffy but very friendly and they really don't mind how long your round takes as long as you're having a great time !
Beaches Boscobel Resort
Beaches Boscobel is situated 10 miles east of Ocho Rios overlooking the Caribbean. It covers 223 rooms and suites and caters for all types of client from large families to couples and singles. This resort has a very friendly feel and the staff were fabulous and made us feel right at home straight away. This resort is also very close to the Golf and Country Club making the range of facilities very varied to suit everyone. Rooms at Boscobel cover 12 categories and are very well maintained, whether it is just a couple or a family of 5 there are rooms to cater, all have king beds or 2 doubles all modern amenities including a refrigerator in every room. Most rooms also have a double pull-out sofa and also they have room for a further roll-away bed the rooms I visited are very spacious and of a high standard with views ranging from the gardens to the beautiful Ocean. The property has 4 pools, 1 scuba pool and 2 whirlpools, also a full Red Lane spa with Saunas, Steam rooms and a Fitness centre with a range of classes and treatments. With 4 restaurants and 6 bars there is plenty to choose from
The resort has fantastic kids facilities including kids camp for up to 12 years old and the Nursery from birth to 3 years old, the activities are varied to suit the age groups are really well co-ordinated. The X-Box centre is brilliant with all the latest games to play free of charge no kids should ever be bored here ! Another must for the kids is a character breakfast with the Sesame street characters what great fun !!
The recently opened Pirates Island water park has 9 new slides and ranges from 6 kiddies slides with a squirting sea turtle and a misting crab to the larger rides including a speed slide, tube slide and a body slide, great days of fun for everyone !
Royal Plantation Resort
Royal Plantation is definitely for Clients looking for the finer things in life, on a bluff overlooking a beautiful cove and the Caribbean Sea, it's a real getaway from it all resort. It is old world charm in an all-ocean view suite property. Why not have afternoon tea on the terrace ! This property boasts the Caribbean's only champagne and Caviar bar this is a really impressive bar with beautiful chandeliers and heavy wooden furniture taking you back to a more elegant time !
The 2 guest wings span the whole beach providing gorgeous views in a Georgian style with sweeping staircases and really romantic gazebos it is for clients looking for ultimate seclusion away from the world, with 74 suites across 7 categories including the 3 bedroomed villa Plantana, everything is covered from custom crafted mahogany beds to full Roman bath tubs, the facilities are second to none. Dining is a treat with 4 speciality restaurants and 2 full service bars. The resort has 1 freshwater pool and 2 outdoor whirlpools. The entertainment is more low key with Jazz trios and Calypso bands on the beach. The spa is beautiful and they really can arrange anything you desire even a massage on a raft in the sea !!
Sandals Montego Bay
Located very near to Jamaica's second city Montego Bay This resort has a younger livelier feel. Very close to the main airport aircraft noise is experienced, although in true Sandals style they have a romantic answer to this, as an aircraft passes over all couples must kiss and wave this brings good luck !!! Set on it's own private white sand beach this resort covers everything you could need the beach area is much wider than the resorts in the Ocho Rios area and does feel more spacious, the resort has 250 rooms and suites covering 18 categories a lot of these rooms are beachfront with lovely sea views, The standard of rooms was very good with all amenities that would be needed. The resort has 7 restaurants suiting all possible needs and 4 bars including the Cricketers Pint an authentic English pub for those missing home ! Exchange privileges are given at this resort between Sandals Inn and Sandals Royal Caribbean giving guests lots to choose from in the area.
This property has it's own wedding chapel on site ideal for a special day and a great alternative if the beach is not for you.
Sandals Royal Caribbean
My personal favourite this resort is located just East of Montego Bay and only 10 minutes from the airport again some aircraft noise can be heard although I did not find this an un-welcome distraction at all.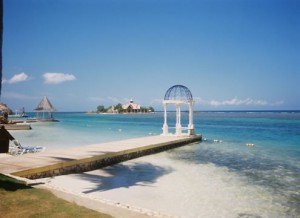 The resort is again built in a Georgian style and is very elegant in style. The unique point of this resort is the offshore island "Sandals Cay" Which is home to an authentic Thai restaurant and some beautiful secluded beach areas, they even have a resident local Parrott !!  The Island is reached by a short 5 minute boat crossing from the mainland and is very picturesque. The beach areas at this resort are again small but there are lots of little areas to choose from so you never feel like anyone is in you way and the sea is more like tap water just gorgeous ! The property has 197 rooms and suites across 18 categories on 15 acres of land. All rooms have king sized mahogany beds and full amenities. The beachfront walkout rooms were my personal favourite right on the sand with beautiful ocean views. The swim-out categories are also beautiful with direct access into pools giving a more secluded intimate feel. The resort has 5 restaurants and 5 bars to suit all tastes, also the resort has 7 pools and 5 whirlpools a great Spa and fitness centre, the sports available are endless and will keep the most energetic client happy for the duration of their stay.
Beaches Negril
In my opinion located on the best stretch of beach on the island, wide long and beautifully white with turquoise water a true Caribbean experience ! This resort had a fantastic feel very warm and friendly staff.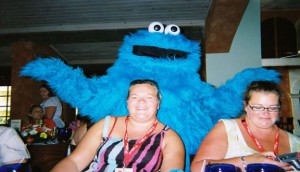 Located on 7 mile Negril beach on 12 acres of land approx. 50 miles from Montego Bay airport. The resort again is fantastic for everyone including couples, singles and families it has 210 rooms and suites across 11 categories all rooms are decorated to a high standard with all necessary amenities and are very spacious catering for any size of family. The resort has 5 restaurants including the fantastic Kimonos Teppanyaki tables, where singing chefs cook all the food fresh before your eyes on hot plates, this was a real fun evening and would be a great experience for all the family ! There are 5 bars to choose from and the entertainment teams are tireless, here we watched a fantastic show with a steel band and dancers you can't help but dance along their enthusiasm is very catching ! On-site there is also a Pirates Island waterpark with 2 slides a splash deck and a 392ft meandering river perfect to keep everyone entertained. From this resort I took a half hour snorkelling trip which is well worth a trip whilst in the Caribbean the marine life is beautiful ! A brilliant feature of this resort is the scratch DJ academy for tweens and teens is a hands on area where you can learn to scratch and burn your own music and get to perform in the on-site nightclub liquid great for budding DJ's.
The kids camps again are brilliantly co-ordinated with clubs for ages up to 12 years.
Sandals Negril Resort & Spa
We stayed at this resort for our last 2 nights it is a very luxurious resort located on 7 mile Negril beach on the west coast of Jamaica approx. 1 hour 15mins from Montego Bay airport. The resort covers 222 rooms and suites across 13 categories on 12 acres of land. The feel is very intimate and secluded, the beach and sea are just gorgeous the real Caribbean getaway, the resort has every facility you could need the rooms are spacious each having a king sized bed and mahogany furnishings. I found the lead in categories a little dated and some did not have a patio or balcony so I feel an upgraded room at this resort is a must if within budget. I was luck enough to experience a loft suite which offers a living area balcony and spiral staircase leading to a bedroom / bathroom area which was very spacious although some of the furnishings are a little dated in areas. The resort offers 6 restaurants of high standard,   Breakfast overlooking the sea is a must ! There are 5 bars / cocktail lounges, the weekly beach party / buffet is a great experience and loads of fun. Again the entertainment was fab and the staff very warm and friendly nothing was too much trouble. The resort offered 3 freshwater pools and 3 whirlpools, the swim up bars were the best of all the resorts we visited the entertainment staff were always on hand to keep everyone busy !
Just a few Unique selling points for all resorts

The first all inclusive to partner with Beringer wines in all resorts to offer a fantastic range of very good quality wines for clients
Preston Bailey / Sylvia Weinstock the celebrity wedding planners can create the perfect unique wedding package in some stunning locations        ( WeddingMoons )
Scuba certification, learn to dive and with professional experienced divers.
The guild of professional English Butlers offer the very highest in service to clients staying in some of the most beautiful suites.
Hire your own beach Cabana over the ocean for a relaxing romantic day on the beach.

There are many, many more fantastic selling points for these resorts in short this trip was informative and very enjoyable, it certainly wetted my appetite for this fantastic Island which has something for every type of client and I will certainly be recommending Sandals and Beaches to my clients.

As the Jamaicans say "Yeh Mon, No Problems !!"