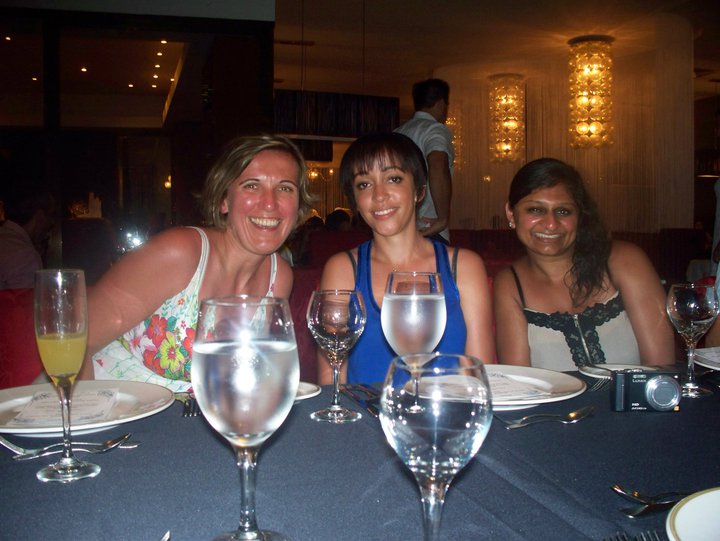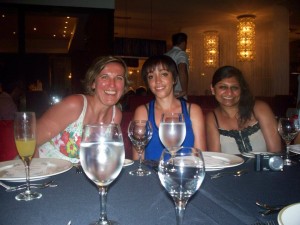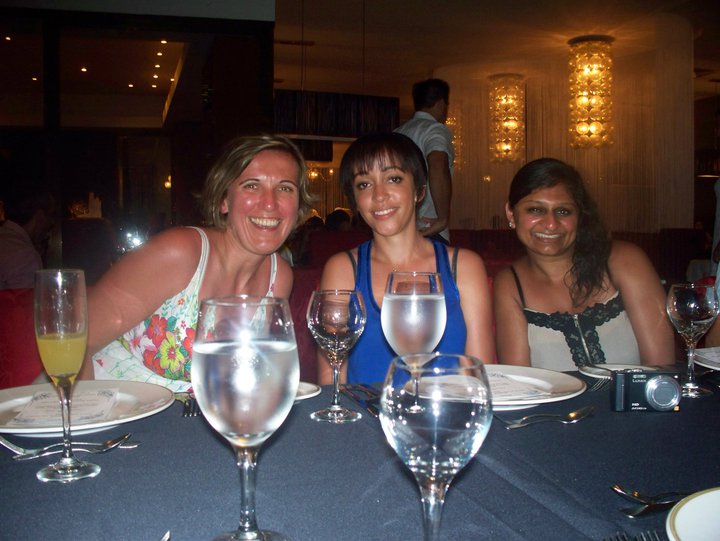 I travelled down to London the day before my AM Resorts Fam Trip to the Dominican Republic and decided to stay overnight at the Sofitel at Gatwick airport. In the morning I literally just had to walk down a corridor and I was in the North Terminal and ready to go.
We flew with BA to Punta Cana International and our flight had a touch down in Antigua, which I was not looking forward to. Surprisingly it did not bother me at all, we were on the ground for less than an hour, passengers who were staying in Antigua got off, they switched the flight crew and we were off again.
Now Larimar
Our first stay was at Now Larimar, a property that is new to the AM resorts chain. The transfer took around 35 minutes and when we arrived we were taken to the Preferred Club lounge which is just to the right of the main entrance. We checked in whilst in the lounge and were shown to our Deluxe Tropical View rooms. I was very impressed; they were extremely specious and the décor was quite modern.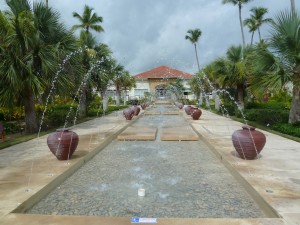 We met before dinner in the Moments Lobby Bar. All of the bars and restaurants are set around a square courtyard which makes everything easily accessible and if there is a wait in one of the restaurant you can simply cross over to one of the bars and wait.
The evening meal was a hosted dinner at Mercure, the French Restaurant. After dinner we went up to the resorts night club, Eclipse, which is open from 10:30 to 1:30 every evening.
The next day we had a buffet breakfast in International Café followed by a site inspection of Now Larimar and Secrets Royal Beach.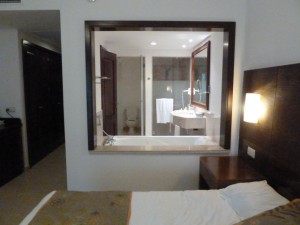 We started off with Now Larimar and had a look at all of the restaurants and a few room categories. We had a look in Scores, which is the resorts sports bar complete with a bowling alley. We saw the kids club, which has two sections, one for children aged 4 to 7 and one for children aged 8 to 12. They do not yet have a teen area, but we were told that this is something that they are looking to put into place.
My favourite feature of the resort was the long water fountain which could be used as a Wedding location. I though it was fantastic, there is a path on either side and couples can get married at the head of the fountain. We were told that one couple had actually had the water turn on just as they had their first kiss, I though that this was an amazing idea.
Secrets Royal Beach
We walked across to Secrets Royal Beach which is literally next door to Now Larimar; there is just a little path and raised grass section separating them. They share the same stretch of beach and guests staying at Secrets are able to use the facilities at Now, but not the other way around as Secrets is the Adults Only property. The resort is relatively small and has just five bars and three restaurants: a buffet, a grill and a sea food restaurant. However, guests are not short of choice as they can dine in all of the restaurants at Now Larimar.
The two resorts also share a Wedding Coordinator and between them they will accommodate up to three weddings a day. We were told that a gazebo on the beach can be set up in a section where there are no sun loungers so it is out of the way of other guests, however, this is at an additional charge.
I think that staying at Secrets Royal beach is a great option for people who easily get bored when confined to the same resort for the duration of the holiday. Being able to use the pools, bars, and restaurants as well as view the nightly entertainment at Now Larimar and Secrets Royal Beach gives you such variety that I could easily stay for two weeks without complaint.
Dreams Palm Beach
We then had a transfer to Dreams Palm Beach for a site inspection, they have fantastic wedding facilities, there are two stunning gazebos, the one on the beach is much bigger and more open which I would recommend for a larger wedding party.
After viewing the grounds and restaurants and having a look into some of the rooms we stopped at the honeymoon suite. It was amazing; there is large separate living area and a bedroom, a huge bathroom with a double sink and a hammock on the balcony. Here we were given snacks and fresh coconut water which everyone was very glad of after such a long day.
Zoetry Agua Punta Cana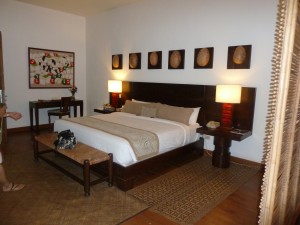 Next was a site inspection of Zoëtry Agua Punta Cana, by this point the weather was horrendous, the rain was pouring down and as there are no closed corridors in the resort, just outdoor paths, we were all given umbrellas to walk to the restaurant.
We passed the Wedding Gazebo, it is in the centre of the gardens and was set up for a ceremony. The Wedding party had already moved inside on to their reception, hopefully they had made it through their ceremony without getting drenched as the Gazebo was not covered.
The resort was at 92% occupancy, but with just 50 rooms, it was still extremely quiet. Perfect for a couple that want peace and relaxation or for a Wedding party, they would pretty much have the resort to themselves if they went out with quite a few guests.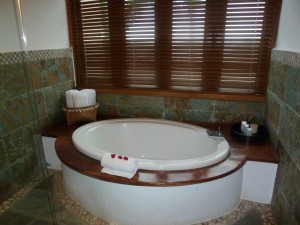 We were only able to view one room category which was the Ocean Front Junior Suite. These rooms are in a fantastic location, you have a little patio with plunge pool and a small grass area which you can walk over straight onto the sand.
That evening, back at Now Larimar, we met later in the Lobby bar for drinks before moving on to Capers which is the Italian restaurant. Following this we went back to our favourite spot, Eclipse night club and popped into the resorts casino on the way back to the rooms … although we only had 11 dollars between us to gamble with.
Ziplining
The next day we checked out of the hotel at around 1pm and got in the Jeep which would take us to the most anticipated event of the trip, the Zipline excursion.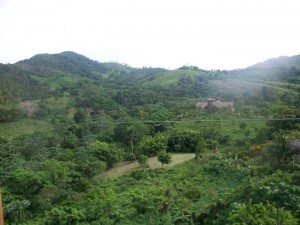 The journey was around an hour and once we reached the mountains the road was rough. At points the vehicle was making some pretty worrying noises as it struggled uphill and as I had chosen a seat right at the front next to the metal beam I hit my head a fair few times, but it was all part of the fun.
There are 11 different wires and you go from one platform to the next, there are staff waiting at each one to help you on and off the wire. The wires get longer and faster as you move on, the views are stunning as you go along and one of the wires goes over the Anamuya Lake, it's really beautiful. The day was amazing, not at all what I had expected but so much better. I would definitely recommend this to anyone!
Dreams Punta Cana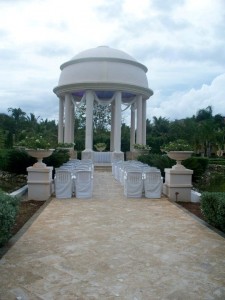 Straight after this we were taken to Dreams Punta Cana for a site inspection. I was very impressed with the Core Zone which is the activity club for teenagers ages 13 to 17 open from 9am until midnight. They have a rock climbing wall, baseball cages, archery facilities and even a mechanical bull.
The Wedding Gazebo was unbelievable; it has a domed roof and huge pillars all around. Chairs can be set up along the stone path leading up to the Gazebo so that the bride can walk down the middle and there is an area next to it where cocktails can be served afterwards.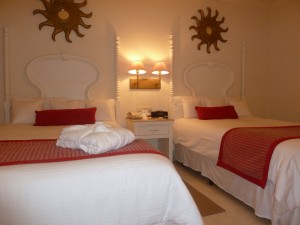 The rooms at Dreams Punta Cana have recently undergone refurbishment so I was quite keen to see the finished result. I have to admit that the rooms were all quite small but the décor made up for it. They were all painted white which made them seem much more open and the touches of colour gave them a modern feel.
The hosted dinner was in Himitsu, the Asian restaurant, and we were seated at a tepanyaki table. The food is prepared in front of you and the chef puts on a bit of a show as he works. As well as being an entertaining experience, the food is fantastic.
Saona Island
We left early the next day on a coach down to Dreams La Romana where we would depart for a trip to Saona island. We had to take a speed boat to the awaiting catamaran and then it was around an hour from there. To our surprise we were immediately offered rum and coke, it was only 9:30 in the morning! But we couldn't say no, Dominican rum is fantastic.
I was interested to find out that you can actually get married on Saona if you are staying in Dom Rep. Legal documentation is prepared in the same way that it would be for a Wedding in the Dominican, you then need to be in Dom Rep for the required residency period and you can take a Dominican judge across to the island with you.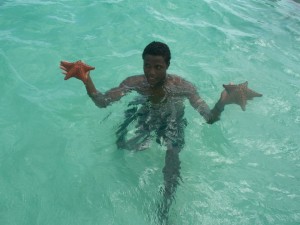 The island was beautiful, food and drinks are included in the cost of the excursion and a meal or traditional Caribbean food is served on the beach. After we had eaten we spent the remainder of our time in the sea. They had a stage on the beach with music and dancing but the weather was too nice and the water was too tempting. It is unbelievable how far you can walk out into the water and it only comes up to your waist.
The ride back is via speed boat, half way there the boat stops and you are able to get out into the sea and see the star fish. The water was still really shallow, even this far out, so you are able to duck down and pick up the star fish. I was amused to see the guides getting of the boat with bottles of rum and coke and plastic cups serving drinks in the sea.
That evening we went to Bordeaux for our hosted evening meal. We had a look at the night club afterwards and had a few drinks before heading back to our rooms.
Dreams La Romana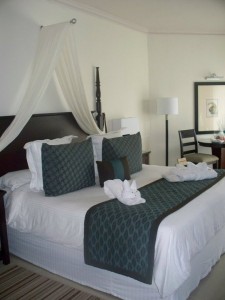 The next day we had a sight inspection of Dreams La Romana. A few people said that this was their favourite resort, and they all loved the rooms.
This resort also had amazing wedding facilities; the pier was my favourite option as you have such an amazing ocean view all around you. But they also have a Wedding Gazebo which is near the beach and is out of the way so you don't need to worry about other guests wandering past during your ceremony.
Secrets Sanctuary Cap Cana
We were then taken to Secrets Sanctuary Cap Cana, our final site inspection of the trip. The resort was beautiful; as soon as we arrived it had such a relaxed atmosphere. We were taken first to the terrace that overlooks the ocean, for an additional charge this can be used as a wedding location. It has a thatched roof and wooden deck floors and all around is a view of the most perfect ocean I had seen so far. It has an amazing colour and is really calm and clear. From here we could see the Honeymoon suites with private pools. I was expecting a small plunge pool but they were huge, perfect for a couple that wants to spend time alone, there really would be no need to leave the suites.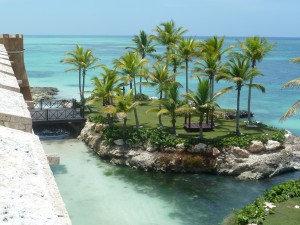 The resort has two island suites; these suites were being refurbished so unfortunately they were not furnished when we went in. From the patio doors there is a bridge that leads out to the occupants' own Private Island. These can be used, at an additional charge, as a wedding location. We had dinner at the Blue Marlin restaurant overlooking the water. The food and service was fantastic and the setting was perfect, this is usually where receptions are held for Wedding parties.
Home Time (unfortunately)
Then, unfortunately, it was time to go home. From Secrets we took the AM resorts limo (which was unbelievably nice) to Punta Cana airport where we flew again with BA back to London Gatwick. I can't really comment on the flight on the way home as I literally slept all the way through, I didn't even wake for the touch down in Antigua; it had been a tiring few days!
This was my first trip to the Dominican Republic and it definitely won't be my last. It is a fantastic destination that exceeded all of my expectations. The resorts were of an equal standard to the AM properties that I had visited in Mexico and the wedding facilities are fantastic. With such a wide choice of options it is easy to find the perfect hotel to suite you as well as the perfect Ceremony and Reception location within each resort.