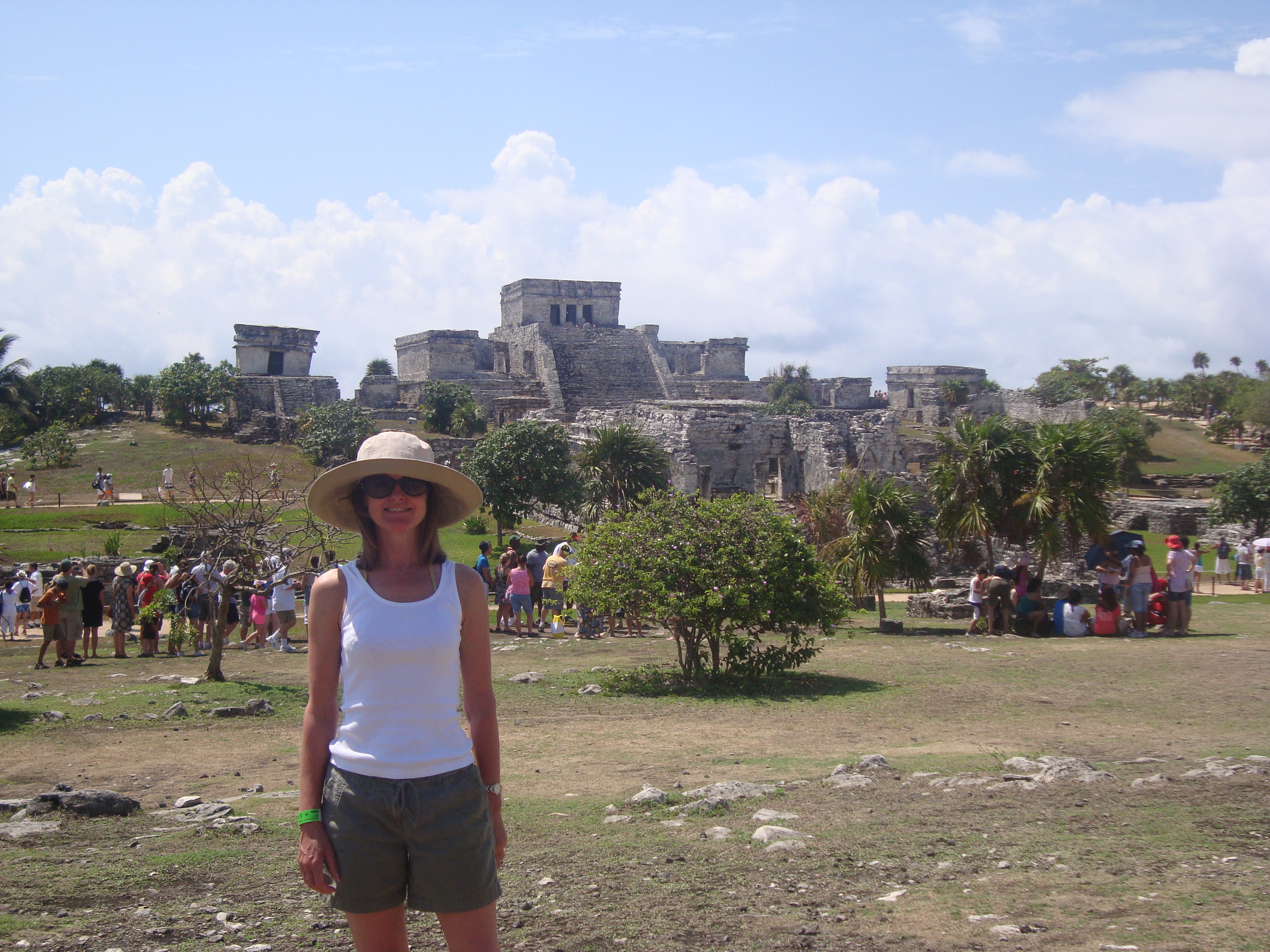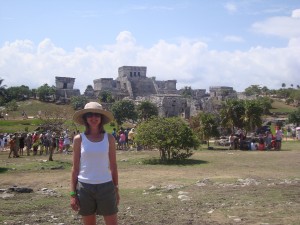 This was to be my first visit to Mexico and I was really pleased to be given the opportunity to go. There were just seven of us on the trip and none had been to Mexico before so we were all able to learn together. The 7 of us met up at Gatwick for our British Airways flight to Cancun. We took off on time and I was pleasantly surprised by the amount of legroom we had – we were sitting in Economy. There were quite a few spare seats at the back of the plane so we spread out and relaxed. The choice of films was huge, and the service on board was attentive and friendly.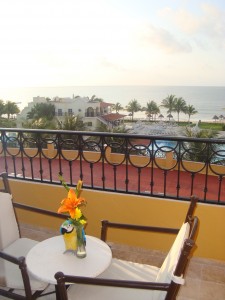 We arrived in Cancun just after lunch, Mexican time and once we had cleared immigration and customs we were whisked off to the Secrets Capri, around a 25 minute journey away. Upon arrival we were greeted with a glass of champagne, a cold towel and a 'welcome home'.
The Secrets Capri is an adults only, all 'Preferred Club' hotel so we were seated in a comfortable, cool lounge where the check in was carried out. We then went off to our rooms to find that our cases had already arrived. The rooms themselves were tastefully decorated in shades of blue and white and the whirlpool bath was a nice touch.
We met in the lobby for our hotel visit and had a good look around. Secrets Capri is a smallish, intimate hotel with a lovely atmosphere. The choice of restaurants is plentiful including the usual buffet offering, together with a la carte restaurants including amongst others an Asian, Italian, Mexican, each with their own theme and no reservations required. We were treated to a candlelit barbecue supper on the beach. The sand was soft and cool beneath our feet and the sound of the ocean in the background was the perfect backdrop. I could see this being a good option for a private wedding supper. The food was delicious, I particularly enjoyed the vegetable skewers, and the fillet steak was cooked to perfection. By this time the long flight and jet lag had taken their toll and an early night was on the cards for everyone.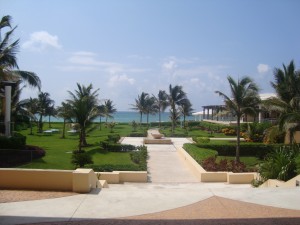 The following morning I was up at 5.30 am ( jet lag!) and after sampling a plentiful breakfast buffet we set off on a short drive to Now Jade in Puerto Morelos. Our guide pointed out an alligator in a lake not far from the hotel but not surprisingly no one expressed much desire to get out and take a closer look.
Now Jade is a very modern, contemporary hotel set right on the beach. We first went to look at the rooms. The first room we saw was large and beautifully decorated, with twin double beds and a couple of steps down to a spacious seating area. Then, best of all, the hotel manager pulled up the blind and there it was, right in front of our eyes, the beautiful white sand and turquoise Caribbean sea. The bathrooms were vast, with twin washbasins, a massive jacuzzi bath right under the window so, if the mood grabbed you, it would be possible to lounge in the jacuzzi looking out of the window at the lovely clear turquoise sea and no, no one could see in!
Another great feature of Now Jade was the restaurants, each themed to within an inch of its life and guaranteed to make the diner believe they were in a different place, if not continent, every night. The choices of buffet, Asian with tepanyaki tables, French, Mexican etc. – it would be very hard to get bored with the food. I particularly liked the coffee shop where you can get a proper cup of coffee and a beautiful muffin, all part of the all inclusive programme, naturally. A contemporary hotel with great facilities which is also welcoming for families.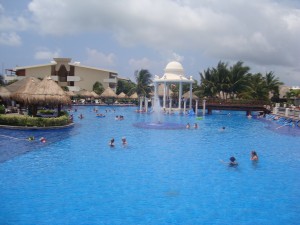 From Now Jade we moved on to Now Sapphire, again just a short drive away. This hotel is part of the same brand as Now Jade but it couldn't have been more different. We were greeted in what we had now realised was the usual way for this quality of hotel, a cold drink, a cold towel and a warm welcome.
Now Sapphire struck me as Balinese in style. This atmosphere was created by the high beamed ceilings and thatched roofs of the main buildings, little ponds and water features, luscious vegetation and a generally peaceful and very relaxing atmosphere. The main swimming pool was enormous, the size of a lake and there were plentiful sunloungers. The rooms were nicely decorated, much more traditional than at Now Jade but the choice of restaurants and bars was equally extensive. One feature I particularly liked was that some of the restaurants had 'private' tables set up under thatched cabanas, surrounded by streams with lily pads and tinkling fountains, a lovely place to eat.
One noteable feature of Now Sapphire, is not only the Explorer's Club for young children but the Club for teens, with activities for 13 to 16 year olds. Now Sapphire really did have something for everyone.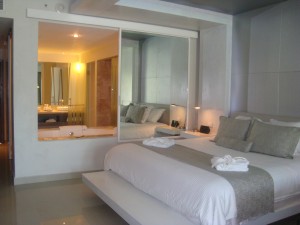 From Now Sapphire we headed off to Secrets Silversands, an adults only hotel where we were to have lunch and an afternoon at leisure. The first thing you see at Silversands (after the inevitable glass of champagne and cold towel!) is a bright, shiny 'art installation' in the reception area. We were told that this had only recently been added to the reception and it really was eye-catching, silver fish swimming in a glass mosaic sea. Everything about Secrets Silversands is massively impressive. Walk to the end of the reception hall and a huge, silver coloured spiral staircase leads down to an equally expansive lobby lounge with a circular bar which looked like it stocked every drink the mind could imagine. There were guests reading, playing cards and just relaxing having a drink. We were told all you need to remember about Silversands is '8'. It opened in 2008, has 8 swimming pools, 8 bars and 8 restaurants. Again the detail which has gone in to the design of the restaurants was astonishing. I particularly liked the wall lights in the Asian restaurant, which included a cheerful looking back lit mosaic budda head.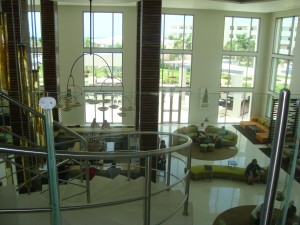 The rooms explain the hotel name – silver. Modern, contemporary and very luxurious, the rooms at Silversands are large, cool and extremely comfortable. The bathrooms have those huge jacuzzis, big enough for two and a sliding mirrored wall which enables guests to close off the jacuzzi from the main room or to slide it back and sit in the jacuzzi looking straight out of the room at the view. These rooms really do have the 'WOW' factor.
We had lunch at the poolside grill and were treated to fresh tuna and a lovely chilled soup. Then we settled down by one of the eight pools for a couple of hours R & R. There were waiters around the pools constantly checking to see if you had a drink or if you needed anything. I lost count of the number of frozen margaritas I had whilst lolling in the pool. What better way to spend an afternoon?
Late afternoon we travelled back to Secrets Capri for our second night and dinner in the Italian restaurant, an absolute joy!
Tulum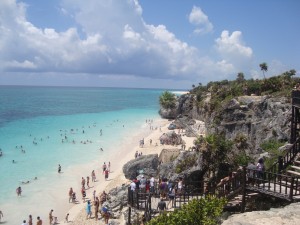 We packed and said our goodbyes to the Secrets Capri and travelled the one hour journey down to Tulum in the south of the Riviera Maya.
We first went to see the Mayan ruins in Tulum, our guide was very knowledgeable and really brought the ruins to life for us, without being in the least dry or boring. The finale of this visit was to look over the cliff down at Tulum beach, paradise.
As the hotel name suggests it is close to the ruins, around a 5 -10 minute drive away. The check in was smooth, as we had come to expect. We were led to our rooms which were very large, cool and tastefully decorated. There are two distinct sections to the rooms at Dreams Tulum, the Hacienda section, which is very pretty and peaceful, built just like a Mexican village. The newer rooms are closer to the beach and set in beautiful tropical gardens. We had a buffet lunch before touring the hotel. The Dreams Tulum struck me as Colonial in style and the general atmosphere around the hotel was laid back. There was one expansive freeform pool with music playing and activities taking place but there was also a second, quiet pool which was also large and rectangular in shape, ideal for the serious swimmer or seven ladies who liked to stand in the pool with a glass of champagne in one hand, which I must confess is how most of us spent the afternoon. A couple of the group went snorkelling, which they said was great, the sea being very clear.
Our night at Dreams Tulum was peaceful and relaxing. I ordered room service for breakfast the following morning which arrived quickly and was lovely, the coffee was particularly good.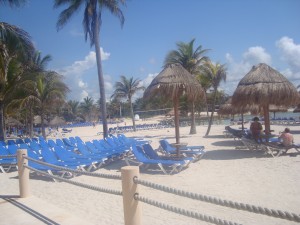 We packed up and left Dreams Tulum, our first stop today being Dreams Puerto Aventuras before we went on to Xcaret.
The visit to Dreams Puerto Aventuras was one of the most memorable, and briefest of our entire trip! The manager who took us around had just moved to the hotel from Dreams Tulum and we were only the second group he had shown around. What a charismatic guy! He got lost in the hotel and initially couldn't answer the questions we asked him, yet because of his infectious personality all of us agreed that we had a great time and learned more about the property because of his great attitude. In fairness, he did find out the answers to our questions and we weren't lost in the hotel for long. The guests around the hotel seemed to know him well!
The hotel is set with the Caribbean on one side and a marina on the other. In addition to the main pool facing the beach and the adults only pool on the marina side of the hotel, there's also a natural seawater pool hewn into the rocks on a headland, perfect for snorkelling. I also particularly liked the round bar out on the headland. The swing seats were a lovely feature. Dreams Puerto Aventuras is a smaller property with plenty going on ideal for families, and for couples there's a lovely adults only pool where peace and quiet is order of the day. The rooms at Dreams Puerto Aventuras are very large, even compared to rooms we'd seen at other hotels, and many can accommodate families of 5. The hotel is set in a nice residential area so it less isolated than many other hotels. I'd come here with my family.
Xcaret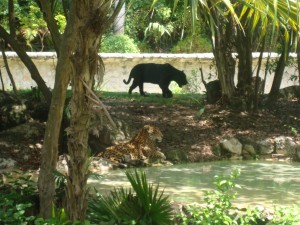 From Dreams Puerto Aventuras we went on to spend the rest of the day at Xcaret. It's a bit difficult to describe Xcaret, it's an eco-park, conservation centre, activity centre and much more besides. I really don't want to call it a theme park because that creates entirely the wrong impression. Some of the things to see include baby turtles which are rescued from nearby beaches and kept at Xcaret until they are big enough to be released back in to the wild, there are dolphins – you can swim with them, shows, a high tower where visitors can get a fabulous view of the whole park and beyond. There's also a butterfly sanctuary, they breed them there and release them into the jungle under huge nets so visitors can walk around admiring them.
One feature of the Mexican Riviera is the cenotes, underground rivers, and some of these run through Xcaret, we each donned our swimsuits and lifejackets and went for a gentle float through one of the cenotes, it wasn't at all frightening as I'd imagined, in fact it was very pretty and peaceful. We didn't get to see the beach or any of the shows, to see Xcaret properly it needs a full day, or preferably two!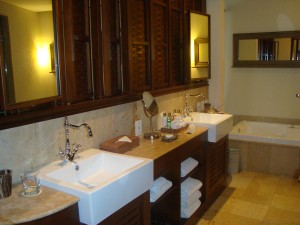 From Xcaret we travelled to our home for the night, Dreams Riviera Cancun. Wow, what a beautiful hotel. The lobby area put me in mind of a proper Caribbean colonial hacienda with slowly rotating fans and lovely oversized furniture. The rooms did not disappoint, yet again they were large and comfortable but the difference here is that the rooms were laid out in a completely different way to any others. The bathroom is behind the bed, rather than in a corner by the doorway as is the usual set up. Each room had an enormous jacuzzi, separate shower and loo and twin sinks. As we had preferred club rooms with a sea view we also had a large jacuzzi on the balcony too! How decadent.
We toured the hotel, visiting various room types including the ground floor plunge pool rooms and managed to watch (from a respectful distance) a wedding taking place.
Our dinner was in the wine cellar in Bordeaux, the French restaurant and was absolutely faultless, the service was stunning and the food even better.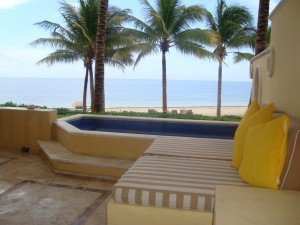 My absolute favourite hotel of the whole trip. Zoetry means 'The Art of Living'. If that's the case then this is where I want to live! Its just 98 suites, each with its own name, rather than a number. My suite was called Alwar, it's on the ground floor with an outdoor plunge pool and, in addition to the palatial bathroom it had an outdoor shower area, accessed through the bathroom. The room was practically on the beach and the enormous bed was high enough to be able to see the ocean whilst lying in bed. Everything had been thought of, a beach bag to use or take home, Bulgari toiletries, well stocked minibar, champagne on ice and even a full bottle of tequila ready with shot glasses, salt and lime. I managed to resist both the champagne and tequila, a long night was ahead.
The atmosphere around the hotel was peaceful and very relaxing. We were treated to a spa circuit including steam room, sauna, whirlpools, hot and cold tubs, and a soak in the mineral pool which is facing the sea and seems to 'fizz' with minerals.
Dinner was at the award winning La Canoa restaurant before we set off to Downtown Cancun and our evening out.
Cocobongo Nightclub
We arrived in downtown Cancun at around 10pm and it was buzzing. It reminded me a little of the Las Vegas strip – but on a smaller scale of course. Cocobongo is a famous nightclub, there's also one in Playa del Carmen. We had seats high up in the club and a great view of the central bar and stage. The show was just as good as I'd been told, dancers, acrobats, famous look-alikes, great music and great service. A few beers later and I must admit it got a little hazy but a good time was had by all and we got back to our luxurious rooms at Zoetry at around 3 in the morning.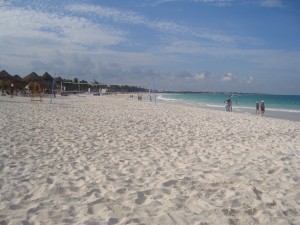 The next morning we had a very civilised late start, leisurely breakfast and transfer to Secrets Maroma Beach. This hotel is reputed to be located on one of the best beaches in the world. I can see why, beautiful soft, ice white sand and turquoise sea. We checked in to our preferred club rooms which had plenty of space, a step down to a comfy seating area, jacuzzi bathrooms and large soaking tubs on the balconies. The style was traditional and beautifully finished. The beds were particularly comfortable.
We had lunch in the buffet restaurant before a surprise, we were each treated to a neck and back massage in the spa. Some of the other ladies in the party chose also to have manicures or pedicures and all reported that they were reasonably priced. The spa itself is extensive, peaceful and intimate in style. After our treatments we were able to use the spa circuit although I must admit that this time I gave the cold plunge pool a miss!
That evening was Mexican night at the hotel with a themed outdoor buffet and the usual dizzying choice (in more ways than one!) of drinks to go with it. We were treated to folk dancing and with Mexican flags fluttering in the breeze and mariachi music playing, the whole atmosphere was festive. There was an array of stalls selling Mexican products from bags and jewellery to scarves and clothes, great for a browse or a spot of haggling.
The following morning was our last in Mexico. After breakfast we headed off to Cancun, stopping briefly on the way at a viewing point to take a few pictures of the Cancun beach, which seemed endless and empty. We drove through downtown Cancun which had everything from nightclubs, modern shopping centres, the ubiquitous franchise restaurants and large well known hotels. We were heading for our final hotel…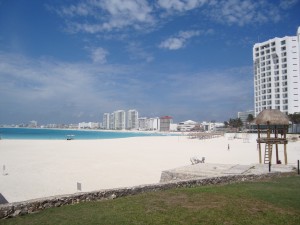 The Dreams Cancun is set on a headland in a convenient location amongst other hotels, bars, nightclubs and shops in Cancun. The main feature of the Dreams Cancun is the Dolphin pool. Some of the rooms have a 'Dolphin view' so you can watch them playing in the pool from your room. Its also possible to swim with the dolphins and there are regular shows throughout the day when the keepers have the dolphins perform tricks. There is a separate tower block housing the preferred club rooms and a separate preferred club swimming pool which is right out on the headland offering peace and quiet and lovely views. Also on the headland is a white gazebo, the perfect location for a wedding, with its endless views and peaceful aspect.
That was our final hotel visit and next stop was the airport, but first we had a couple of hours retail therapy in Cancun – it had to be done. The British Airways flight back to Gatwick was on time and the service was again excellent. We said our goodbyes at Gatwick and then on home and back to reality – sigh!