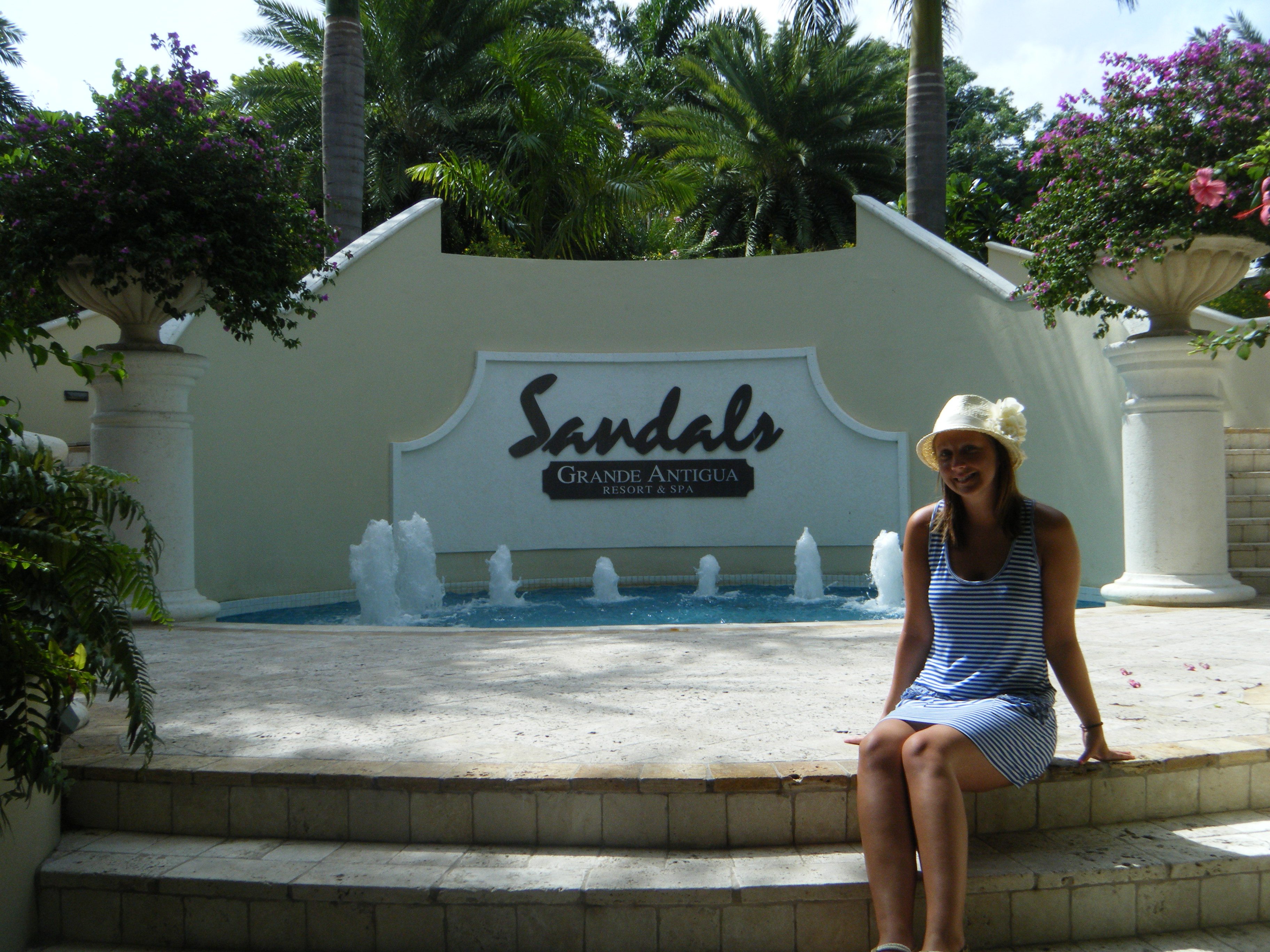 Click here to book Grand Pineapple from only £0pp
Saturday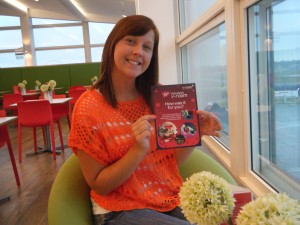 Saturday morning, after swiftly checking in for our Virgin Atlantic flight to Antigua, myself and my mum make our way to the Virgin Vroom.  This was my first time using the Vroom and I was very impressed. If you are traveling with children, it is a fantastic way to start your holiday. There is plenty to keep the little ones occupied, from Nintendo Ds Consoles, to an Xbox 360, table football, and much much more! Also your drinks (excluding alcohol) and food is all included in the price (£20 per adult and £12 per child) so you can enjoy a hot breakfast, cereal, fruit and much more and not have to spend a penny! You can also use the Vroom up to 3 hours before your flight departs, and you have flight updates in the lounge so you know exactly when your flight is boarding! After having a leisurely morning in the Vroom, we decide to head for the duty free shops before our flight was called.
8 Hours later, we land into Antigua! The flight with Virgin Atlantic was really comfortable, we had seat back TV's and a great money saver, your drinks are included throughout the flight!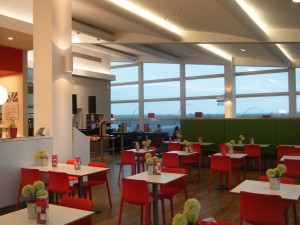 We have a 30 minute transfer to Grand Pineapple, and after checking into the hotel and being shown to our room I was truly amazed! We were lucky enough to be staying in a Tropical Waterfront Suite, the views from these rooms are stunning and the rooms have also been recently refurbished. After a quick un-packing, we head to the gorgeous white sandy beach and enjoy a lazy afternoon and evening.
Sunday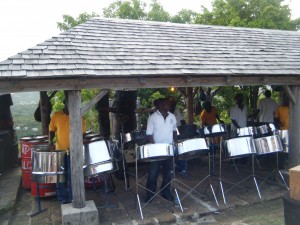 We decide to spend a couple of hours on the beach in the morning, as this afternoon we are going to head off and see The Old English Harbor & Shirley Heights!
We arrived at The Old English Harbor around 4pm. We had a look around a small museum, there are also a couple of small cafes and shops around too, and the Harbor is beautiful! We then ventured on to Shirley Heights. This is a must for anyone visiting Antigua! Every Sunday night Shirley Heights holds the best Caribbean Party on the Island, where many Tourists and locals attend. It is set on a cliff top overlooking the Old English Harbor, and I believe it has the most amazing views and Sunsets I have ever seen in the Caribbean. The barbeque starts around 4pm, and you also have a fantastic Caribbean Steele Band, which is then followed by a Reggae Band, so it is the Ultimate Caribbean Party!
Monday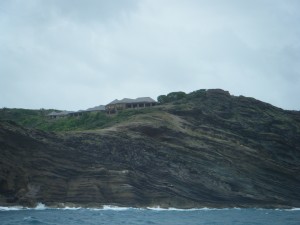 Today we are heading off to St Johns where we will be embarking on our catamaran for the day. We leave the dock at around 9.30am, and head off to Green Bay, which is where we will be spending the afternoon. On our way the staff on board the Catamaran pointed out Oprah Winfrey's House which is situated on Long Bay, and Emporio Armani's House! Upon arriving at Green Bay, I am amazed to see the most beautiful untouched bay! The water here is crystal clear, so many people head off to do a spot of snorkeling, however I hit the beautiful beach. Lunch time soon arrives, and a buffet has been laid out onboard the catamaran. After re-fueling for the rest of the day, we have around another hour left to soak the sun, and then we are heading back to St Johns. On the way back, we again get so see some great points of interest, such as Devils Bridge & Eric Clapton's House.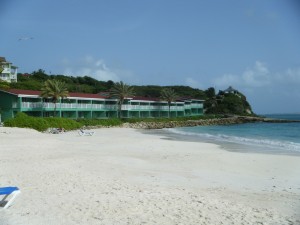 Overall, this excursion I believe is a must when visiting Antigua, its a great way to see the island, and the staff onboard are great! They will keep you laughing all day long with their stories and jokes! On arriving back at St Johns, we head back to our hotel. After a quick shower and change we head off for our evening meal and a couple of drinks before returning to bed, and looking forward to a nice relaxing day on the beach tomorrow.
Tuesday & Wednesday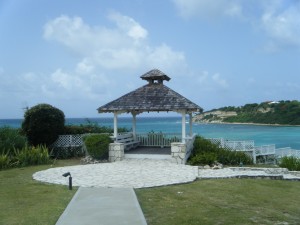 For Tuesday & Wednesday, we have no plans at all. We decide to have 2 lazy days at the beach.
Wednesday afternoon, we head up to the renowned "Mary's Outhouse" which is a small shack on a hillside at the hotel, and Mary herself will greet you with a hug. Be sure to bring along a healthy appetite, so that the legendary Miss Mary can whip you up a delicious homemade snack to accompany your ice cold drink. You can also take part in revered tradition of creating a personalised sign which will immortalise your stay to this one of a kind place!
On the way back from the Outhouse, we have a look at the Wedding Gazebo at Grand Pineapple. For guests wanting to get married out in Antigua, I would highly recommend this resort as the gazebo is set in a very private location, and it has the most amazing views.
Thursday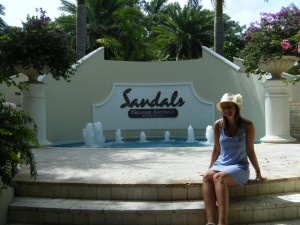 I am feeling really excited about today, as we are off to spend the day at Sandals Grande Antigua. Any guest who is staying at Grand Pineapple is entitled to a free day pass at the Sandals Resort, and I would recommend you definitely use the opportunity, as it is a gorgeous hotel! Upon arriving we are truly wowed by this hotel, it has a very grand entrance, and as soon as you step foot into the building the view you have is looking straight out to the the Caribbean sea. To start the day, we have a quick site inspection with one of the managers, so I get to see a number of the rooms at this hotel, and I must say, I am amazed by the Mediterranean Village at this resort, this is the newer section of the hotel that has only been open around 2 years, and the rooms here are beautiful. After our site inspection, we head to the Pizzeria for lunch, where we enjoy a fresh stone baked pizza, delicious! After enjoying a couple of hours around the pool, I decide to treat myself to a spa treatment at the famous "Red Lane Spa". I chose to have the Hot Stone Therapy Massage, which was amazing! The only trouble was trying to not fall asleep as it was so relaxing!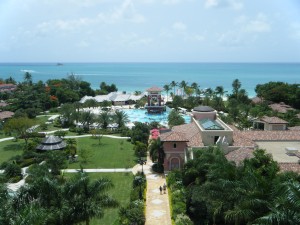 After my spa treatment, we head to Cricketers, which is an authentic English pub, complete with carved walls, rich wooden benches, genuine cricket paraphernalia and a clubby billiards room. Sample some of the best pub grub this side of London, favorites such as Fish and Chips and Cottage Pie are on the menu, you can even enjoy Chocolate Éclairs for Desert! After our evening meal, we decide its time to head back home and rest before our last full day at Grand Pineapple.
Friday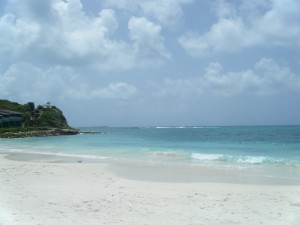 Today, again we have no plans, and as it is the last full day of our holiday, we decide to make the most of the gorgeous beach at Grand Pineapple and soak up as much sunshine as possible! Enjoying a quick lunch from the snack bar and again having a relaxing afternoon, it is then time to start the wonderful job of packing ready for our flight home tomorrow.
Grand Pineapple was a great hotel. The staff made you feel very welcome. It was great value for money, and I would definitely recommend this resort to couples, families, groups of friends and single travelers. Antigua is in my opinion the best Caribbean island I  have visited. I felt completely secure here, even getting into a local taxi to head up to the Old English Harbor and onto Shirley Heights, it was perfectly safe to do so. The locals are great fun, and I would not hesitate to return to Antigua in the future!